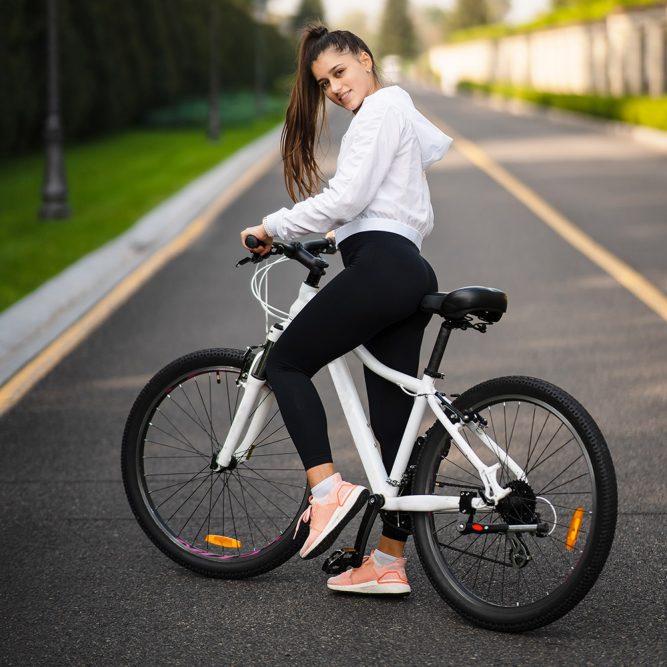 Road bike, or mountain bike? How can I choose a bicycle that suits me? As the saying goes, everyone performs their own duties and fulfills their own responsibilities. Each bicycle has its strengths and weaknesses. When choosing a bicycle, it depends more on our "taste", purpose, riding environment, and riding distance.
Road Bike
Light and speed are synonymous with road bikes, and they are also the first choice for high-speed riding on paved roads. The large wheel diameter and narrow tires make it have extremely low road resistance and provide higher speeds, while the road grip is reduced and it is extremely vulnerable to "traps" such as sidewalks and vertical gutters. The riding posture is more aggressive with lower comfort. Overall, the road bike is more suitable for sports and competitions.
Mountain Bike
Mountain bikes, as the name suggests, are born for rugged mountain forest roads. The fat and coarse-tooth tires, disc brakes, high-strength, and full-suspension frame, allow riders to find sufficient riding confidence. Various technologies on mountain bikes are developed specifically for mountain roads. If your "ambition" is not off-road, you may be more suitable to choose other types of bicycles.
Advantages: powerful baking, off-road performance, and can go through mountain forest roads.
Disadvantages: a little bulky, lower speed, not suitable for flat roads.
City Commuting Bicycle
Urban bicycles perform more of the most primitive function of bicycles – transportation, whose most attractive feature is its simplicity. We can always see it on the way of commuting. The structure of the city bike is very simple, and it almost has the huge advantage of being "maintenance-free". Single-speed, internal transmission mainly, it is enough to meet basic riding needs. In recent years, urban commuting vehicles have become more "retro", exquisite, comfortable, and very "artistic", and it has also become a unique landscape in the city.
Touring Bicycle
These bikes are designed for long-distance travel and are built with sturdy frames, wide tires, and multiple gears for hills and headwinds. Professional touring bikes are mainly made of steel and equipped with 700C road bikes or more popular mountain bikes with 26-inch wheels. The targeted design makes them have extremely high strength, durability, and strong mounting capacity. It allows it to carry supplies and equipment for several months on the journey.
Electric Bike (E-bikes)
The biggest difference between E-Bike (electric power-assisted bicycles) and ordinary bicycles and electric vehicles lies in their unique hybrid power. Electric power assist is an organic combination of pedaling torque and motor torque. You can ride the bike when you turn off the motor, and it can't move forward when you stop pedaling. It's not like a simple electric vehicle, which automatically moves forward when you turn the handle. Electric bicycles not only meet people's travel needs but also allow us to exercise by cycling.
Foldable Bike
Folding bikes are great for short rides, commuting, and mixed rides (traveling with other transport or "4+2" cars with folding bikes). Folding bicycles are the most popular models for office workers in big cities. They are compact and can even fit under a desk after being folded. Folding bicycles can also be connected by buses, subways, and other means of transportation, becoming the best solution for urban transportation.
Gravel Bike
Gravel Bike is not equal to Cyclo-Cross/CX. It is a bike that can be used for commuting, cycling, uphill, training, grocery shopping, and even competitions (long-distance endurance races), a versatile bike. In simple terms, it is the combination of off-road racing (configuration) and endurance racing road (comfortable geometry); its unique taste has quickly formed a trend, and it is deeply loved by North American and Canadian riders.
To pick the right bike for you, consider what type of riding you will primarily be doing and what features are important to you. It's also a good idea to test-ride a few different types of bikes before making a purchase.