Creality, a global pioneer in 3D printing, launched the Ender-5 S1, the latest flagship of the best-selling Ender series on November 3, 2022. Featuring up to 250mm/s printing speed and 300°C high temperature, Ender-5 S1 is a versatile and durable FDM printer unlocking creativities for 3D printing enthusiasts and small to medium-sized businesses.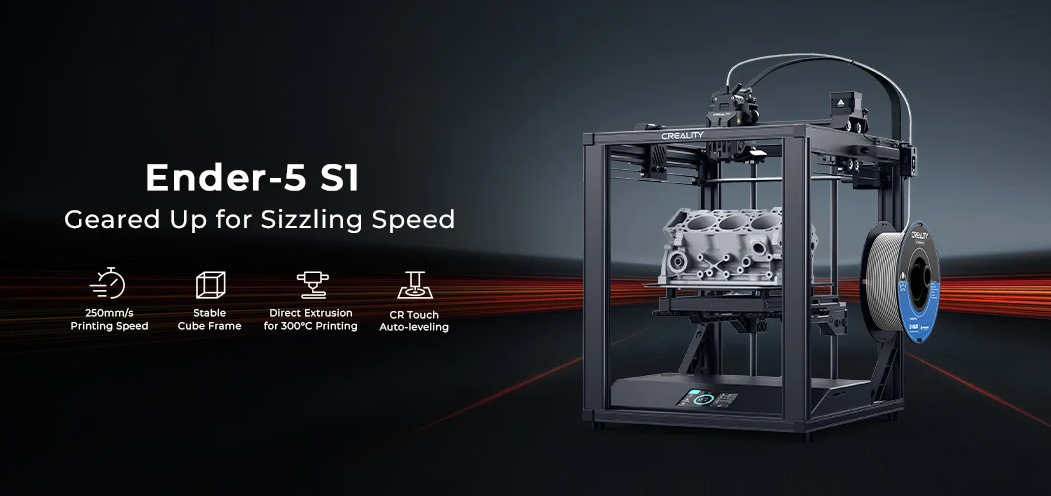 Professional-Grade Stability
Following the success of its Ender-5 series predecessors, the Ender-5 S1 continuously comes with an all-metal cube frame design featuring the classic Cartesian structure. The stability is further enhanced by two Z-axis 12mm Linear Shafts and two profile gussets. Besides, each X/Y/Z axis of the Ender-5 S1 is driven by a powerful high-precision stepper motor, providing robust productivity. A steel transmission shaft is equipped to connect and sync the two Y-axis belts, significantly increasing durability and precision without compensating for the print speed.
High Printing Speed
Creality Lab Test results show that printing a 3D Benchy takes only 54 minutes at the maximum speed of 250mm/s, saving 50% of the time compared to printing at 50mm/s. It also achieved a 100% success rate for 1000-hour printing at 250mm/s high speed and 0.2mm layer height, making it a reliable partner of studios, 3D printing farms, and other small to medium-sized businesses.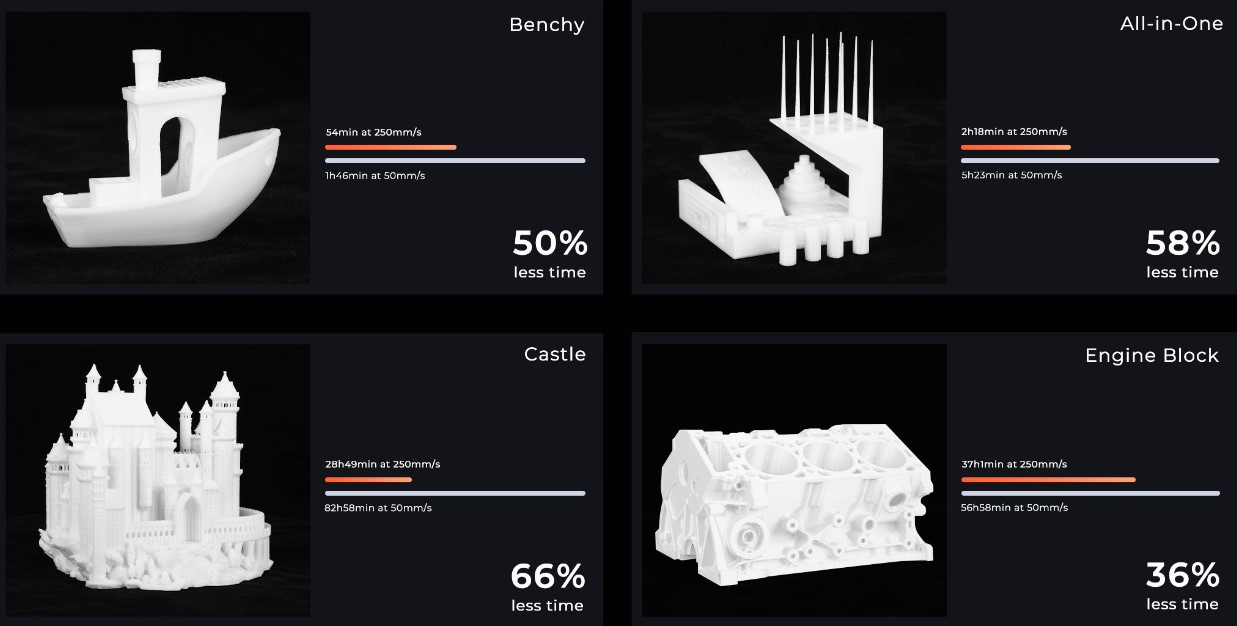 300°C High-Temperature Printing
The Ender-5 S1 is the first to feature high-temperature printing in the Ender-5 series, and it is made possible by Creality's self-developed all-metal "Sprite" direct extruder. The "Sprite" features dual gears with a 1:3.5 gear ratio, delivering a powerful and uniform 80N extrusion force, and is particularly capable when printing with flexible filaments like TPU.
Apart from regular filaments like TPU, a whole new world opens for 3D printing enthusiasts as a variety of heat-resistant engineering plastic filaments are brought into the game including ABS, PC, ASA, and HIPS.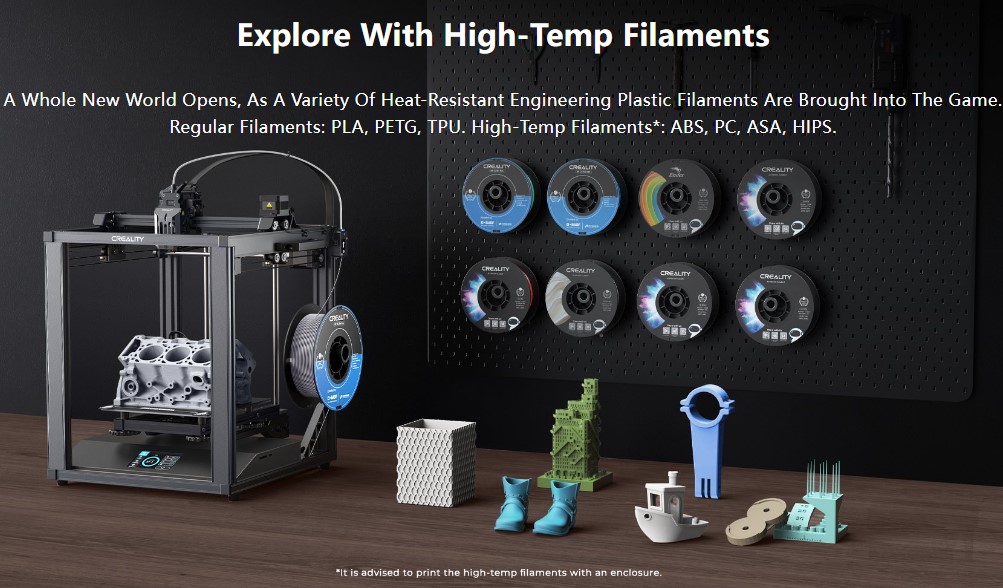 CR Touch Auto-Leveling
Print bed leveling is a crucial part of the whole printing process. Creality's CR Touch 16-point auto-leveling system is installed on the Ender-5 S1 by default, offering a hassle-free bed-leveling experience. For the perfect first layer, users are recommended to adjust the print bed first by the 0.01mm Z-axis offset and then the five-point auxiliary leveling before going through the CR Touch leveling method.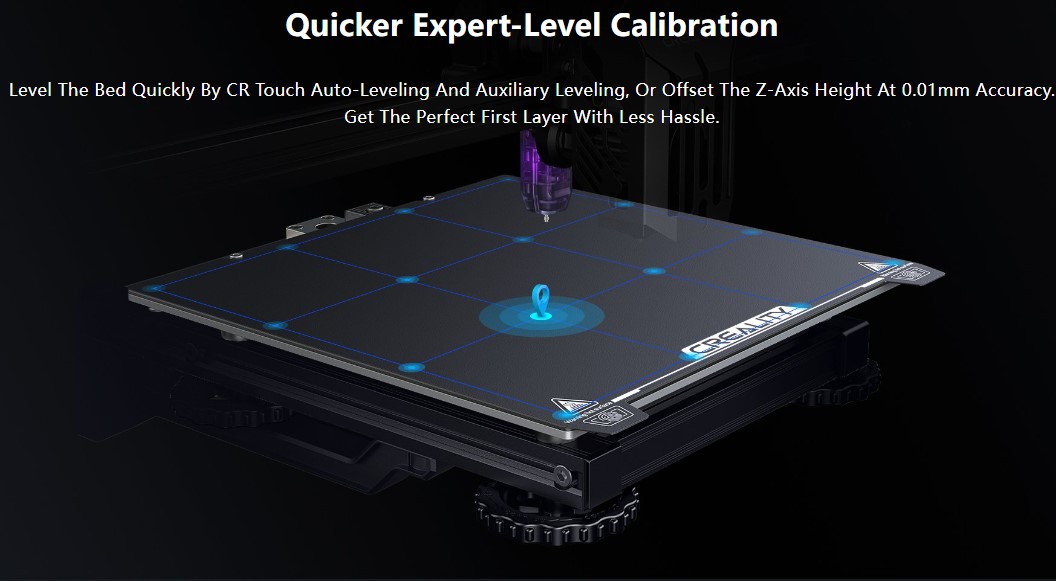 Straightforward Touch Screen UI
All the operations above can be done through the responsive 4.3-inch touchscreen featuring a wide viewing angle and a simplified UI. Temperature PID tuning function is also added for accurate and steady temperature control.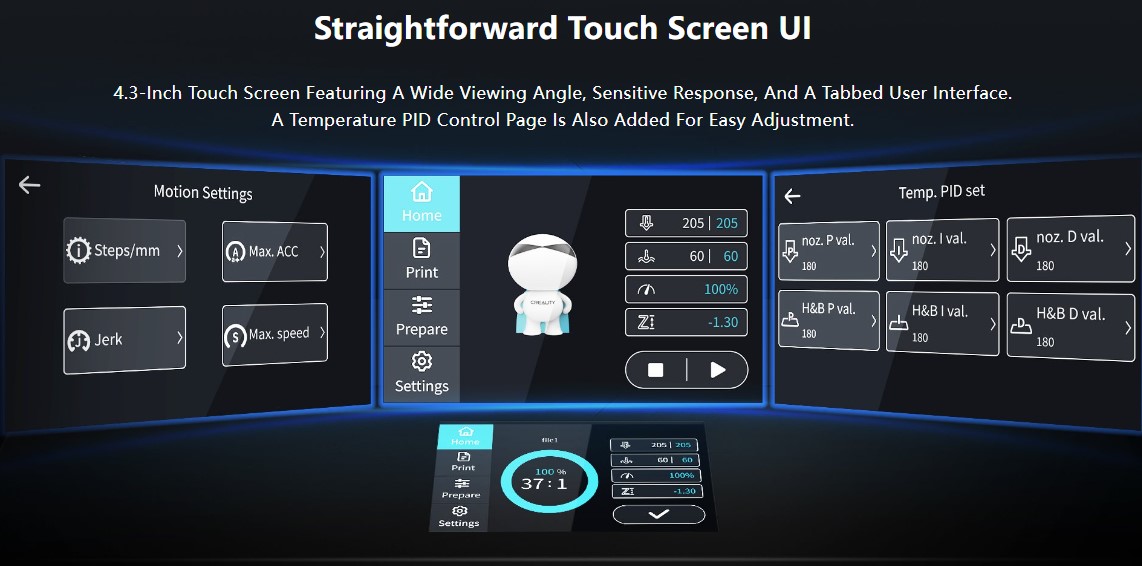 Extra Cooling Technology to Get a Model Promptly
In addition to the upgraded "Sprite" extruder, the Ender-5 S1 is equipped with extra cooling technology to deliver premium performance. A pair of "Urus" air ducts mounted alongside the nozzle channels the strong wind generated by a large 5015 fan to directly cool the freshly printed section. The deposited hot material will harden and bond up immediately, thus avoiding drooping or warping caused by overheating. The additional cooling method will improve print quality for overhangs, bridges, and other detailed objects. With the magnetic PC spring steel sheet that offers better adhesion of the printed models, users can also remove the model easily with a slight bend after printing.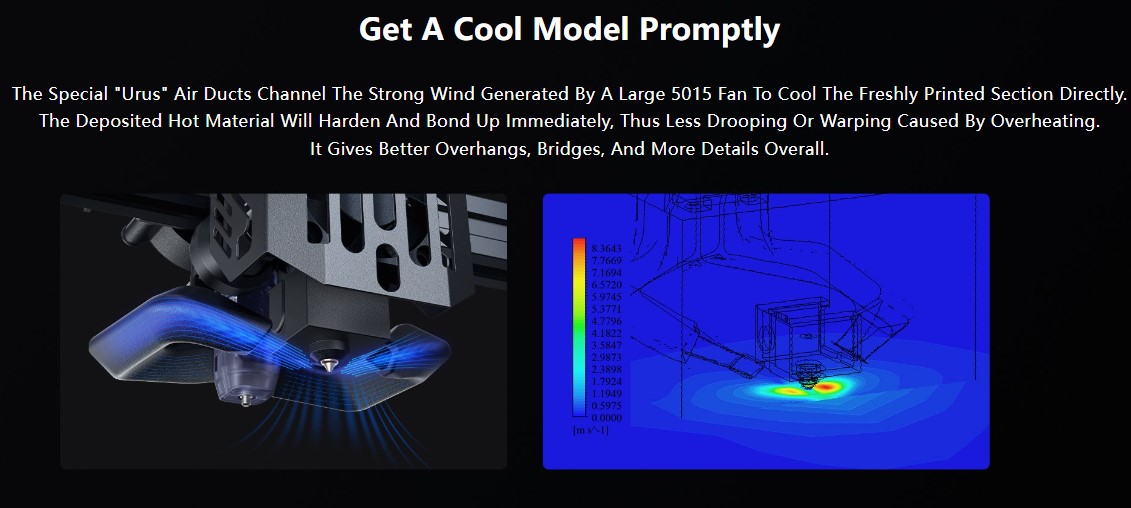 Conclusion
From the above main features, we can easily see that the Ender-5 S1 is designed to be not just another "Ender", but a flagship that integrates and reinvents the essence of this popular series. Regardless of its stability, printing speed, and user experience, it has been well-optimized and upgraded to allow users to experience the best 3D printing fun.