Beginning
In recent years, the outdoor power station has played an important role in flood fighting, emergency rescue, mobile medical care, self-driving travel, picnic camping, aerial photography, surveying and mapping exploration, and other fields. Most of the power stations are made of lithium-ion batteries, which are different from the previous gasoline generators. They can "storage energy" and have great convenience. It is a good solution for emergencies such as power outages, blackouts, and environments that require electricity. Through in-depth research on power stations, this article will share with you what is the best power station on the market and how to choose a practical outdoor power station.
Quick Buying Guide!
Since we have seen many mainstream outdoor power stations, here are some selected outdoor power supplies, and purchasing now will get some discounts, first come first served!
OUKITEL P501 505Wh 500W Portable Power Station
329.99USD US Warehouse, Coupon: 6WQI12HQ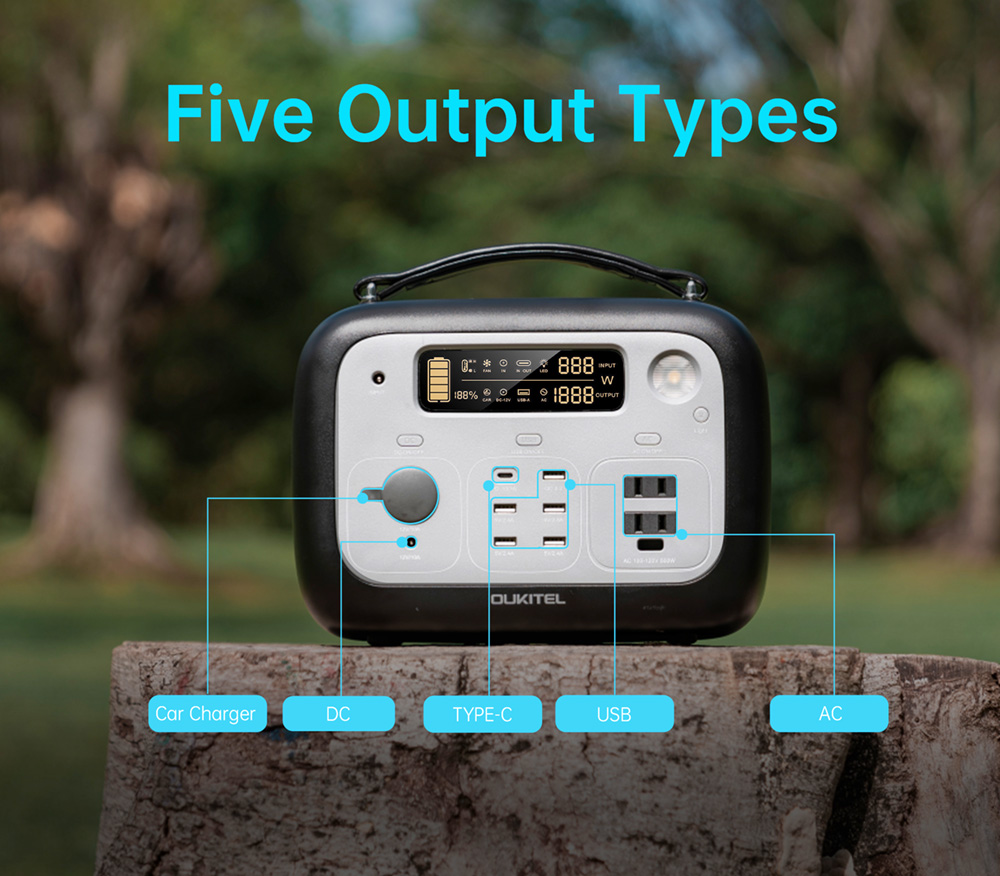 505Wh 140400mah power station features 10 output ports, 1 DC input port, Ternary lithium battery, MBS intelligent protection system, sine wave, and 3 modes LED lights.
OUKITEL P2001 2000Wh 2000W Portable Power Station
1499.00USD US Warehouse, Coupon: 6WQI5YV9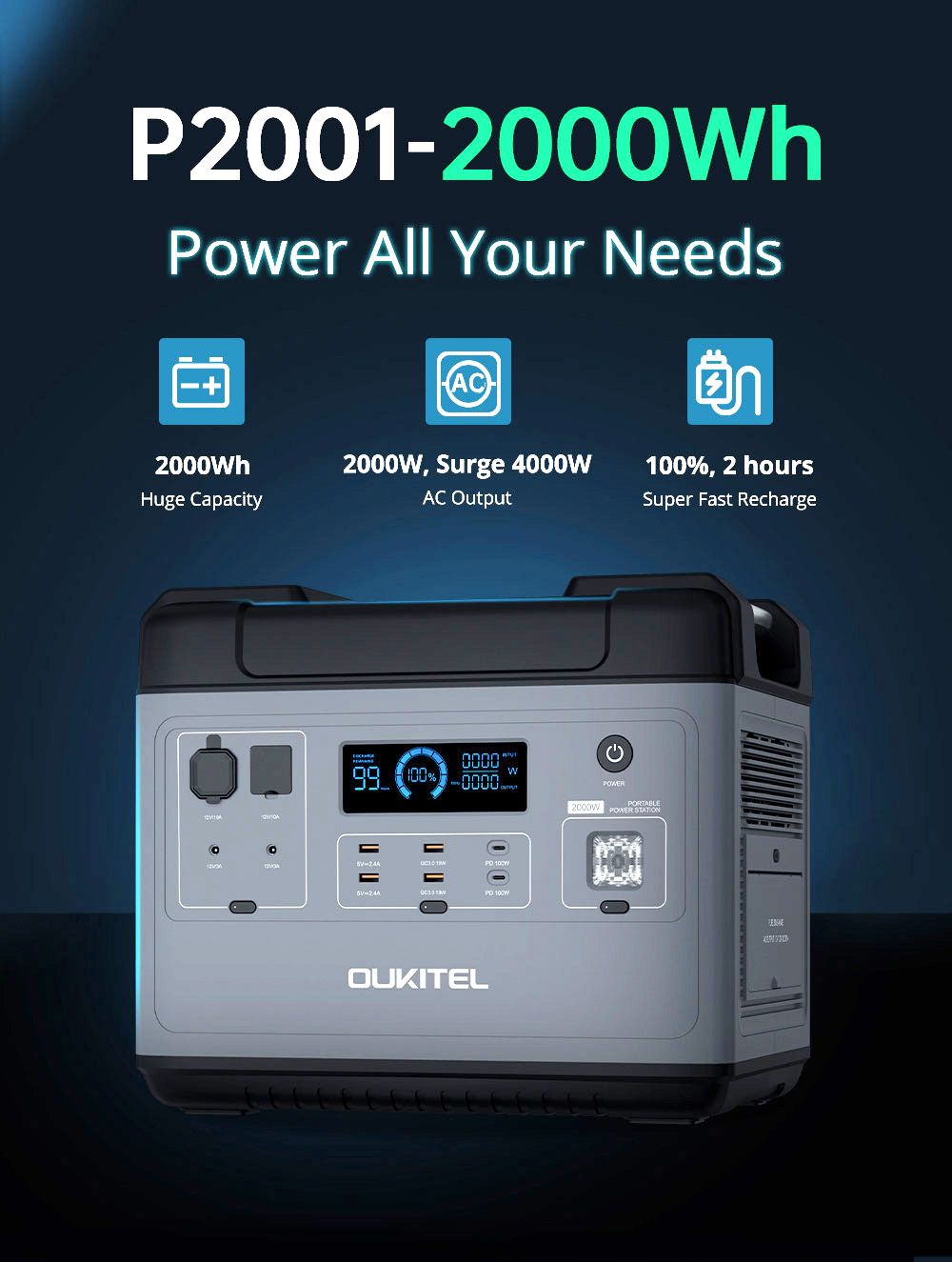 This power station features LiFePO4 battery, 2000Wh battery capacity, 2000W output power, 2W LED Light, 16 outputs, and pure sine wave.
ZENDURE SuperBase Pro 2000 2096Wh 2000W Portable Power Station
1799.00EUR EU Warehouse, Coupon: 6WEZHASI, Free BLUETTI solar panel worth 330USD during the event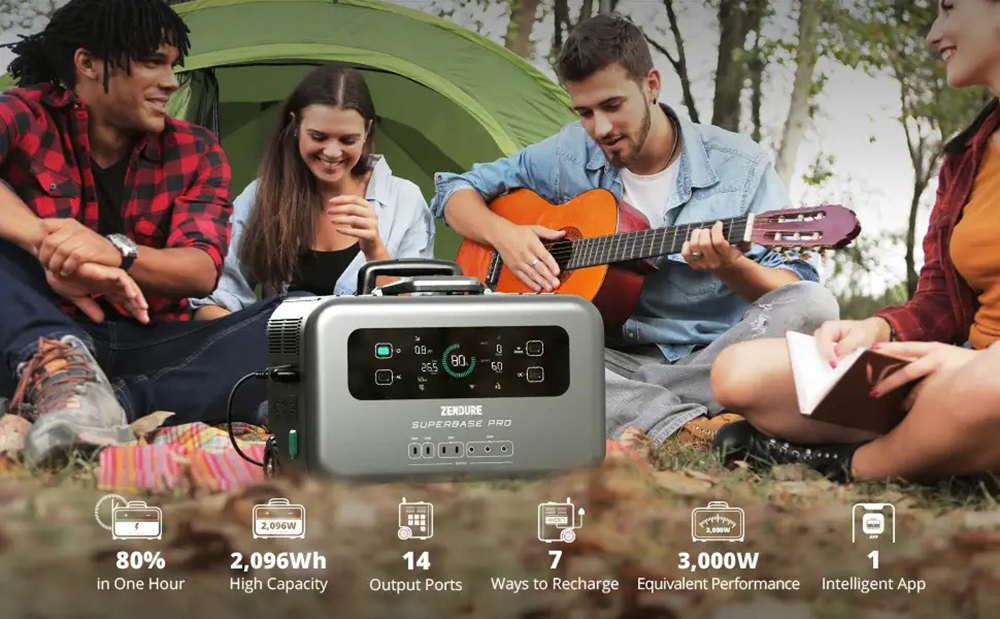 2096Wh 2000W portable power station features Li-NMC battery cells, 14 Outputs, Uninterruptible Power Supply (UPS), 4G IoT, App control, and a 6.1-inch clear display. Moreover, it can be charged to 80% in only 1 hour.
Flashfish E200 151Wh 200W Portable Power Station
119.99USD US Warehouse, Coupon: 6WQ7FOU4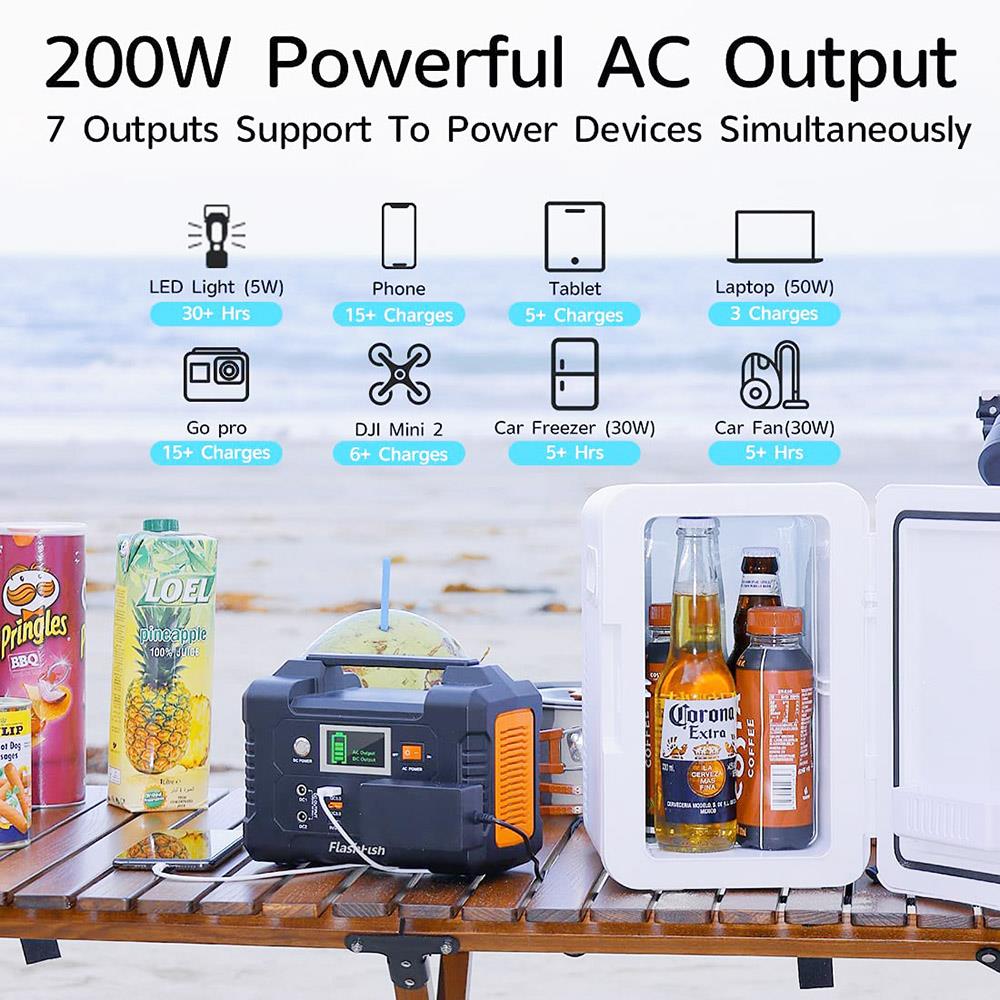 Flashfish E200 features 18650 lithium battery, 151Wh capacity, 200W pure sine wave output, and 7 outputs, and it's super portable.
Flashfish A501 540Wh 500W Portable Power Station
433.04EUR EU Warehouse, Coupon: 6WQ0KY1F
Flashfish A501 features 18650 lithium battery, 540Wh capacity, 500W pure sine wave output, 11 outputs, a battery management system, and an LED flashlight with SOS mode.
For more discounted products, click here:
https://promotion.geekbuying.com/promotion/super_sale_outdoor
How to Choose Outdoor Power Stations?
The outdoor power stations can be used for home energy storage, self-driving travel, outdoor camping, outdoor barbecue, lighting, outdoor work, outdoor fishing, stalls, and other scenarios. At present, there are a variety of power stations with different performances on the market. You can choose an outdoor power station from the following aspects.
What are the Mainstream Brands of Outdoor Power Stations?
The mainstream brands on the market include OUKITEL, ZENDURE, Flashfish, HEADWOLF, BULLBAT, BLUETTI, etc. And it's better for you to choose a big, certified brand that pays attention to safety. Outdoor power supplies are usually lithium-ion batteries, and a small number of them are LiFePO4 batteries, which require relevant battery certification to ensure the safety of the battery. The cell must be intelligent and stable, and it also needs to have a battery protection system to prevent overcharge, over-discharge, overvoltage, short circuits, and so on. The lithium-ion battery of the outdoor power supply will still have more than 80% of its power reserve after 800 cycles, and it can still be used after 800 cycles, but the power reserve will decrease as the number of cycles increases.
Secondly, we have to choose an outdoor power station with a sine wave, and the sine wave will not damage the electrical equipment. However, the correction wave will cause certain damage to electrical equipment. Sine wave output charging is a mode to charge household appliances at home. Therefore, you can choose these brands first.
Select by Power, Battery Capacity, and Output Port
First of all, it depends on the power. Different powers can drive different electrical appliances. It is not necessary to buy a power station with bigger power. You can choose according to your own needs. Now, there are 200W, 300W, 500W, 600W, 1000W, 1800W, 2000W, and larger powers on the market. Depending on the time of going out, you can choose different power supplies for different needs.
Secondly, it is also necessary to look at the capacity of the power station. Capacity determines how long the device can last. The larger the capacity, the longer the power supply time.
Finally, look at the output ports. The output ports are divided into DC/car charger ports, AC ports, USB-A ports, and USB-C ports. The DC port is usually connected to the car refrigerator and air pump; the AC port can supply power to lamps, fans, notebooks, etc.; the USB port is divided into USB-A port and USB-C port, which can charge various electronic products.
Warranty and After Sales
Electronic products are in great need of after-sales support. We often encounter "don't know how to operate" and "how to solve a small malfunction of the equipment". Serious problems include "the battery has broken after a week", "power consumption is too fast", etc., so it is very necessary to have professional after-sales support and a long-term warranty.
Most brands have a warranty between 12 months and 24 months and are trustworthy.
Recommendation for Different Budgets
Outdoor Power Station Recommended for Budget 100-500USD
HEADWOLF D1000 1021Wh 1000W Portable Power Station
449.99USD US Warehouse, Coupon: 6WPFDITT
HEADWOLF D1000 features 1021Wh lithium battery, 1000W power, 9 Outputs, built-in MPPT charge controller, and an LED light with 4 modes.
BULLBAT Pioneer 800 808Wh 800W Portable Power Station
459.99USD US Warehouse, Coupon: 6WPZYEXV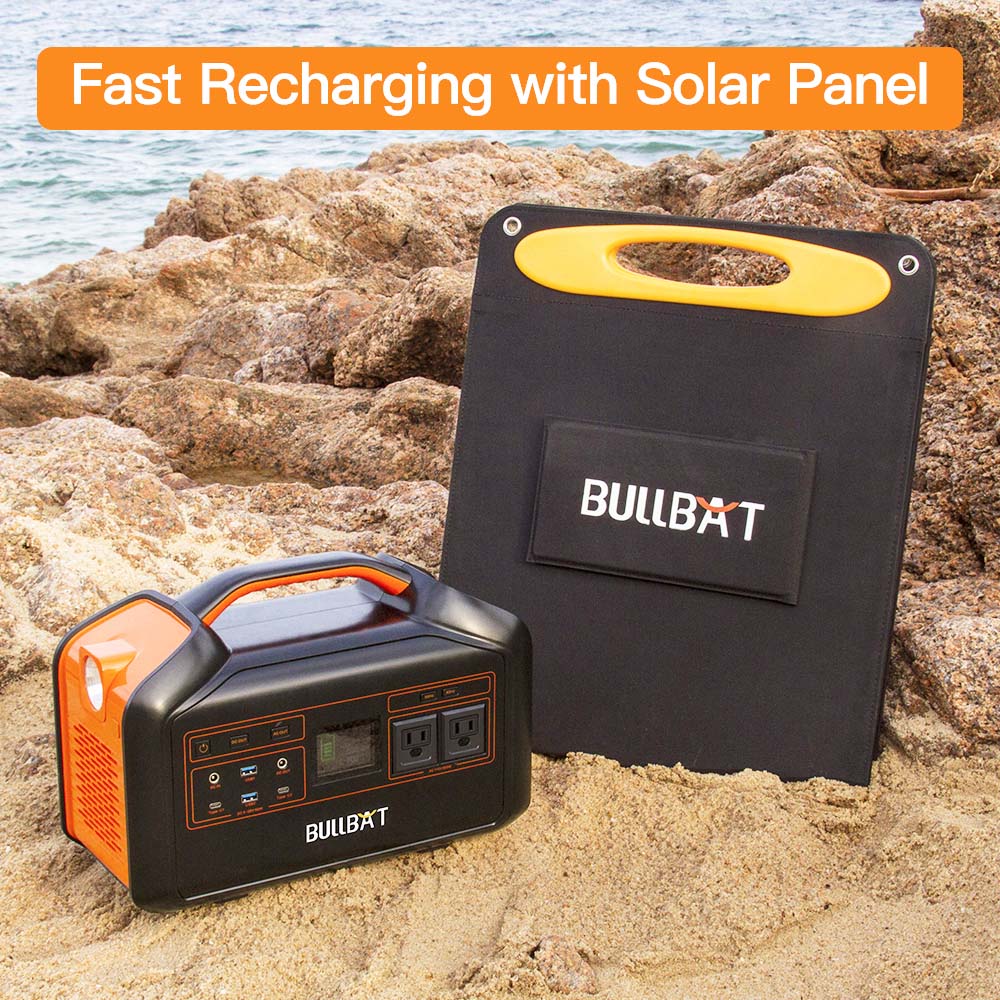 Bullbat Pioneer 800 Portable Power Station is equipped with 808Wh lithium battery, 800W power, 110V standard pure sine wave, 9 Outputs, and a battery management system (BMS).
BULLBAT Pioneer 250 257Wh 250W Portable Power Station
149.99USD US Warehouse, Coupon: 6WPZP0VZ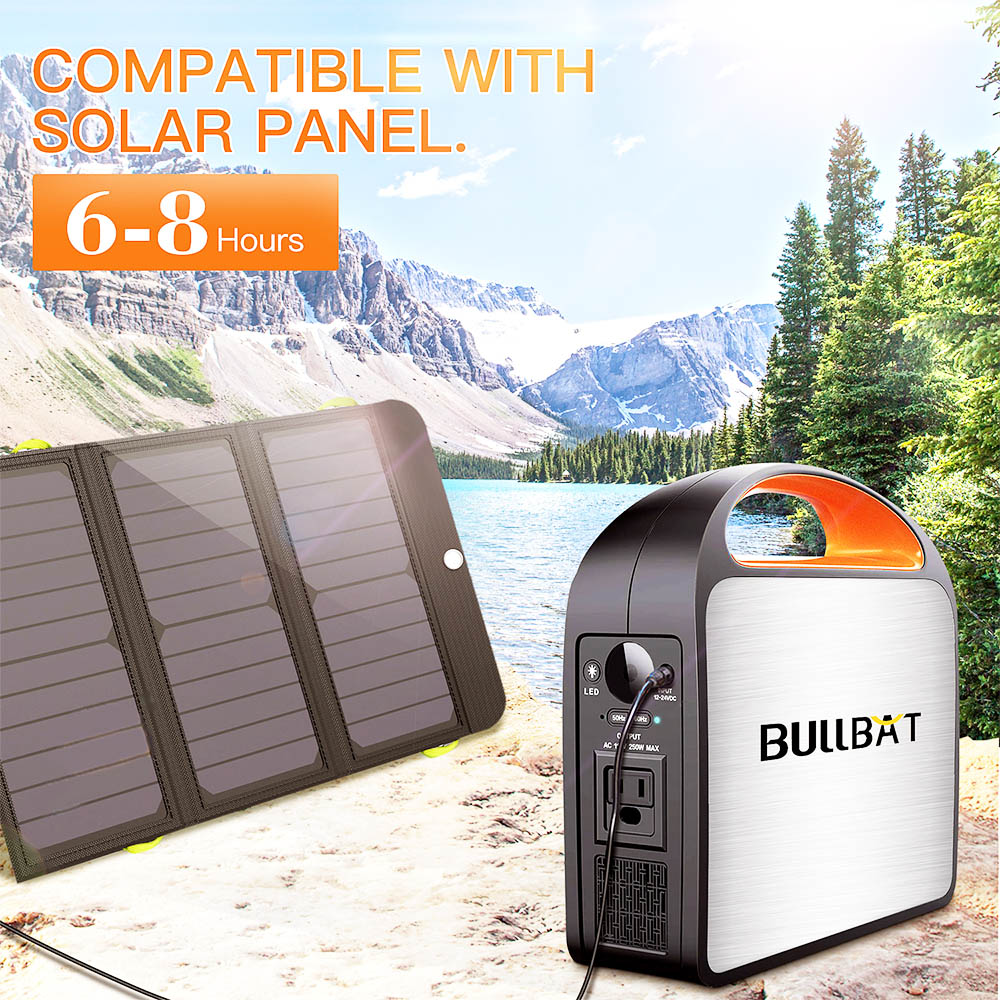 It has 257.52Wh capacity lithium battery, 250W output power, 5 outputs, and a LED flashlight with 2 lighting modes, and it's really portable at 5 pounds weight.
Outdoor Power Station Recommended for Budget Above 500USD
Flashfish UA1100 1100Wh 1200W Portable Power Station
739.99USD EU Warehouse, Coupon: 6WQ0UW44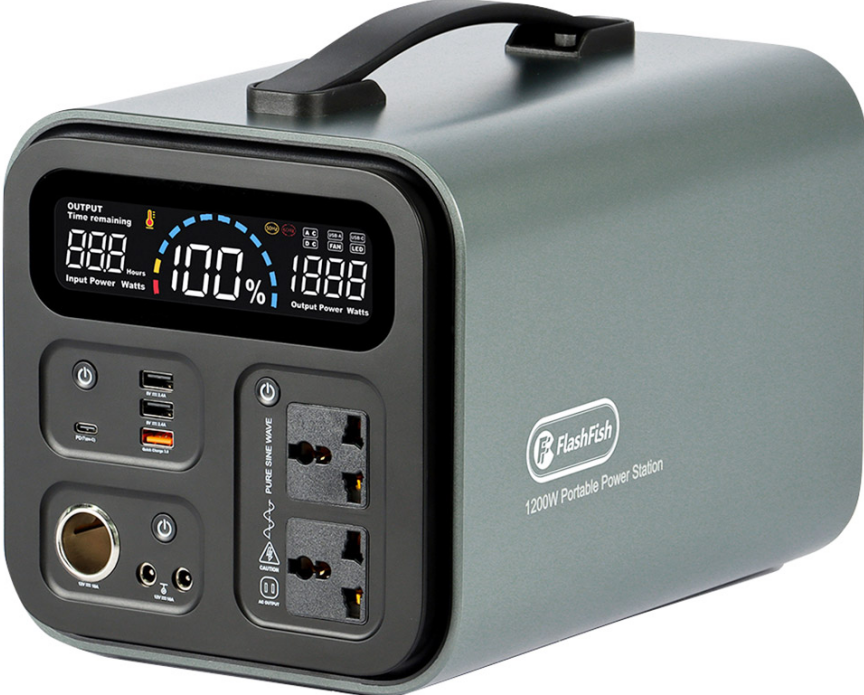 Flashfish UA1100 features 18650 lithium battery, 1100Wh capacity, 1200W power, uninterruptible power supply (UPS), battery management system (BMS), and 5W / 450lm LED lighting.
BLUETTI EB180 1800Wh 1000W Portable Power Station
1049.99USD EU Warehouse, Coupon: 6WP8UD66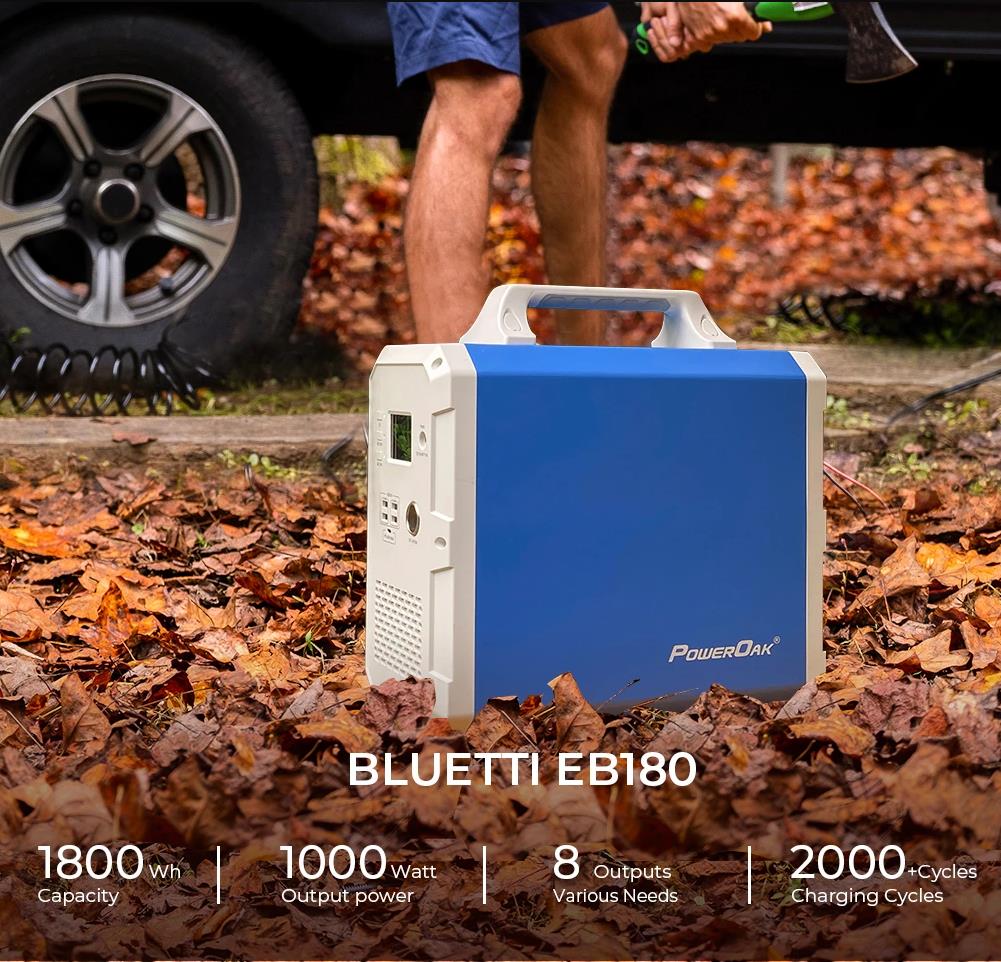 BLUETTI EB180 contains 8 outputs, 1000W power, pure sine wave, 1800Wh LI-NiMnCo battery, and an MPPT solar charge controller. Also, it supports simultaneous charging and discharging.
BLUETTI AC200P 2000W 2000Wh Portable Power Station
1699.99USD UK Warehouse, Coupon: 6WPD8ON5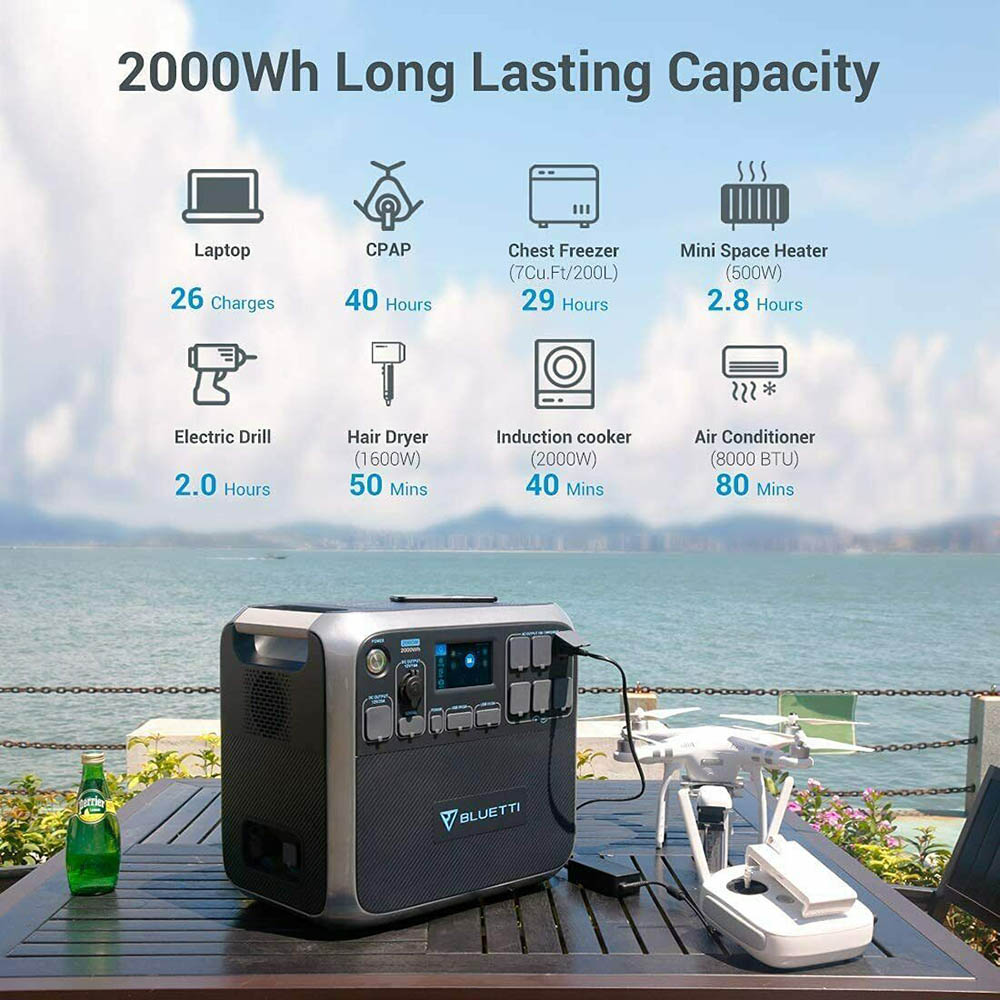 This portable power station is designed with LiFePO4 battery, 2000Wh capacity, 2000W power, 17 outputs, and MPPT solar charge mode.
How Does the Outdoor Power Station Self-charge?
There are generally three charging methods: mains/PD fast charging, car charger, solar panel charging, and some outdoor power station can be charged by the generator. If you often camp outdoors, you can consider configuring solar panels, which can effectively improve the use time of outdoor power and make it more portable. Self-driving tours can use the car to charge the outdoor power station.
How to Maintain the Outdoor Power Station?
Take the outdoor power stations that use lithium-ion batteries as an example. First of all, the characteristics of lithium ions are that they can be used as they are charged, but after a certain number of cycles, the utility will be reduced, which is somewhat similar to the characteristics of Apple batteries.
When the outdoor power station is not used, it needs to be stored at a suitable temperature, stored in a cool place, and not overheated or too cold. It would be very good to buy a storage bag. Do not hit it hard, this is also a digital electronic product, and it should not be close to the place where it is easy to burn.