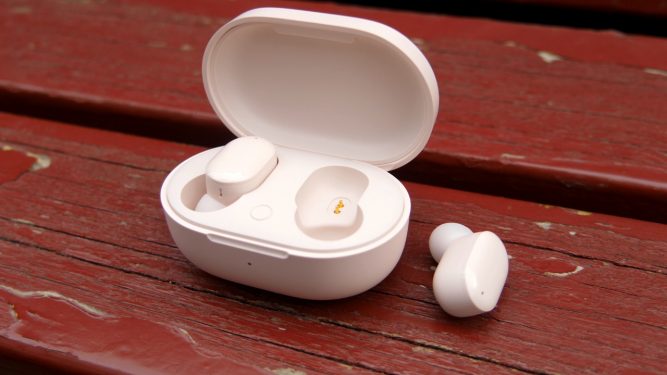 Hey, what's up? Sami here. These are the newest earbuds from Xiaomi: the Redmi Airdots 3. Compared to the predecessor, they have been updated a lot regarding function and features, like the Qualcomm QCC3040 processor, the Bluetooth 5.2, the battery capacity, and of course, the price. It's almost doubled the cost compared to the Redmi Airdots 2. So worth the upgrade? Let's find out in this video.
Unboxing
First things first let's get it unboxed. The box comes with a charging case and earbuds, a Chinese manual, two extra pairs of silicone ear tips, and one short type-c cable, that's it. Regarding the design, they seem to have a way better finish and craftsmanship than the Airdots 2 whether regarding the charging case or the earbuds. After all, you get what you paid right? We can see there is a smooth touch panel, a mic, and an LED indicator on the back. Move to the front, there are two charging contacts, a wearing detection spot, and an ear tip.
As for the gesture control, it doesn't change much. Double-tap on the right earbud to pause or play music, double tap on the left earbud to activate voice assistant. Double-tap on either of the earbuds to answer a phone call or hang up in the middle of a call. However, I do find a bug here, there is no gesture to refuse a phone call. Not sure why this happens, hope it can get fixed soon. As we are talking about the call, let's check out the call quality. Here is how it sounds in the noisy indoor environment and this is outdoors. From my test, the outdoor call sounds clear and quite usable. As for the indoor call, the quality is really not so good. The sound got muffled and can't hear it clearly at all.
audio quality
Now to the most important part, the audio quality. Since they have upgraded to the Qualcomm QCC3040 chipset and are equipped with high-frequency moving iron and low-frequency moving coil, and they support aptX Adaptive codec for better sounding. I do feel the improved sound quality. Overall, they sound much clearer than their predecessor, the bass is punchy and they pick up vocals very well. They feel balanced whether you are listening to summer pop hits, dance music, or some acoustic music, the earbuds handle all of that.
For other features like Bluetooth 5.2, it has a faster connection speed and stable connection. The first time I connect, while I was just going to search the Airdots 3 Bluetooth from the list, the popup occurred and asked me for paring, so convenient and fast. Once you connected, next time when you open the cover they will connect automatically. To be honest I really love the animation, just so soothing to watch. As for gaming latency and video viewing, I don't see any big problem, pretty usable.
In terms of battery life, I can almost reach a total of 30 hours with the charging case. I normally use around 3 hours a day and last for more than a week. Nothing to complain about that.
Is the Redmi Airdots 3 worth buying?
In my opinion, I probably won't. Mainly because I don't like this stemless design earbud, they seem to slip off my ears easily, not good for sports. Also, I found the touch panel is not easy to operate, not so sensitive. They don't give you full control over the earbuds either, and that's something I'm really not interested in. But that's just my own opinion, if you are a Mi fan and want a pair of budget earbuds that have really good sounding, faster connection, low latency features, and also look really well-made and polished, I guess this is for you.
BUY NOW