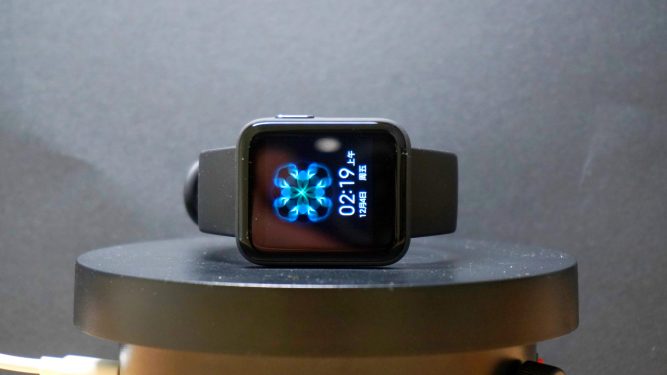 You can watch the video from here if you want:
Here are the text review of the Redmi Watch.
Hey what's up? Sami here. I've been using the Redmi Watch for the last couple of days and here is my in-depth review. Spoiler alert, I don't like the Redmi Watch and I don't suggest you get it.
So first things first, let's get this thing naked. Please note that this is an official unit so that means the package you receive will be exactly the same as mine if you order one now whether through the official Xiaomi site or some trustworthy platforms like Geekbuying.com. On the back of the box, there are some highlights like multiple sports modes, built-in Xiao Ai voice assistant, 5ATM, NFC etc, but many of them can't be used outside of mainland China. Open the box, we see the watch, a detailed Chinese manual, and a charging base, that's all.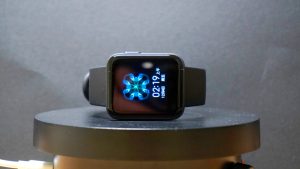 Now move to the watch. I got to say it's really lightweight and it has one of the best wearing comforts I've ever had. The strap is detachable, which gives you a wide range of choices if you want to choose other straps. The back of the watch is no difference to other smartwatches that we've seen on the market, there is a Redmi logo, a heart rate monitor, and charging contacts. On the right side, there is a physical key and a mic, nothing on the left side. Long press the physical key to turn on the watch. The first time you power on, it will show a QR code for you to download the App. However, I guess there is a bug here, because when I scan to download, even successfully downloaded for -multiple times, I can't even find the APK file, when I finally found it I couldn't install. Later I realized I had to delete all the characters behind the apk before downloading, and then it installs itself correctly, what a mess! So I would suggest you just go to Google Play or App Store to search Xiaomi Wear instead of scan the QR code. After that, just like other smartwatch apps, you have to fill out a bunch of your personal information before entering the main interface. Go to Profile, tap Add device to add the Redmi Watch, wait for a while and it will be connected, easy-peasy. Many people are wondering if the Redmi Watch supports English, yes, it is. If your phone language is English, then it will be English, but if your phone is in other languages other than English, then, based on my test, will be in Chinese. As for the App, it has a really detailed user guide, also some workout courses, and of course, it records your daily exercises. Enough about that, let's move to the watch.
Swipe down, is the Notification, I really like the way how it shows the messages. It displays the number of all the messages you received, if you want to check more details just click in and scroll down to read the full information like the video shows. Swipe up we get to see shortcuts like Torch, Raise to wake, Screen unlock, DND, Wake for 5 minutes, and the Settings, you can change your watch faces, adjust brightness or whatever here. Swipe left we can see Heart rate, Sleep, Xiao Ai voice assistant, Weather, QR code, Music control, and Calories. Swipe right is the same just in reverse order. Short press once on the physical key, we can see all the built-in Apps. Short tap to enter the App. Under the sports app, we don't see many sports modes here but I guess it's enough for daily use. It also has an App to show your workouts details, to train your breath etc. What I really want to point out is the Xiao Ai Voice Assistant, I set the watch to English already and when I speak English, to my surprise it recognizes some of them but funny thing is it responds in Chinese. If I speak Chinese, it understands too, actually the answer are pretty informative, but all in Chinese. So, yeah, not so friendly to international users so far. All others seem not so much difference.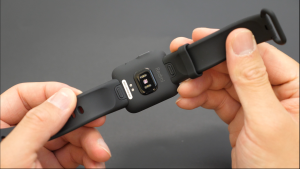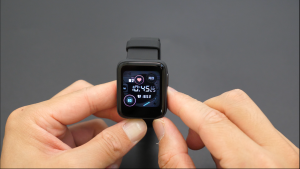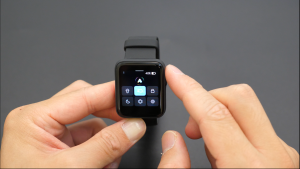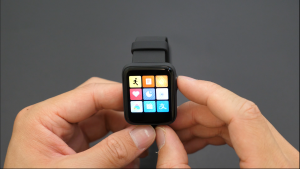 To test the accuracy of the Redmi Watch, I compared it with the Amazfit Bip, the Haylou Smartwatch 2, and even the Huawei Band 3 Pro (Huawei Band 4, since Band 3 is out of production), which has been my daily driver for years. I tested Indoor treadmill, Outdoor cycling, and Sleep. And here are the results. Well, that's the interesting part, if judged from the Sleep data, Redmi Watch is the least accurate one, which is one hour shorter than the other three have recorded. As for Indoor treadmill, they are almost the same. But I really want to complain is the Outdoor cycling. I guess there is another bug here. When I click Outdoor cycling, it says my watch is disconnected and then I tap Got it, then nothing?! Does that mean if I don't bring a phone with me, I can't do cycling? That's ridiculous! Then I changed to Outdoor running mode, it seems work normally. So for the outdoor cycling I can't compare the data since it doesn't record properly.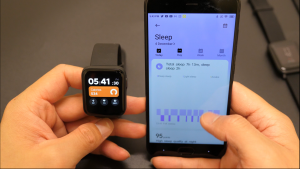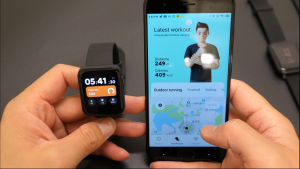 So to conclude. For the good side, the Redmi Watch has a premium fit and finish, feels really comfortable to wear. It has a crystal-clear screen, even under the direct sunlight. Since it's larger than smart band, you can view more messages and have a better interaction with it. The gesture control is intuitive, not that sluggish as you may see, and it's 5ATM waterproofing. But I still find it's hard to recommend at the moment. Especially for international users. That's because some of the cool parts from this watch can't be used, like Xiao Ai voice assistant, NFC, and multiple language support. Other things like the App is not providing the most detailed and instructive information like the AMAZFIT or Huawei band do, looks less professional. And since it's new so the price is not going to be cheap if you choose to buy now, and with this price it doesn't even have GPS, the Amazfit Bip and Huawei Band 3 Pro we are using in this video they all have GPS and they are cheaper and more professional. Also because it's new you will run into some bugs here and there, though not a big issue but still not good, right? So in this way, if you just need a fitness tracker to record your daily activities or remind you to exercise, get a cheaper one like the Haylou smartwatch 2, or if you want a more professional one then go to the Amazfit Bip or even Huawei band or even higher end ones, but not the Redmi Watch.