The ultrabooks are more than just status symbols. These sophisticated and slim laptops are also able to deliver exceptional performance for productivity and to get you through your creative endeavors.
As they're ever so light and compact, they're the ideal grab and go machines, which means that you can edit your photos, render your videos and power through your work, no matter if you're on a train in Europe, at a café, or in between classes.
Discounts on Black Friday and Double Eleven Shopping Day are always excellent times of year to pick up a new ultrabook. We today will introduce to you a wonderful ultra-light laptop Vorke Notebook 15 from quite a few of the ultrabooks there picked out the best competitive one of the lines from our best Ultrabooks list.
Vorke Notebook 15 Specifications:
CPU: Intel Core i5-8250U
GPU: Intel UHD Graphics 620
RAM and SSD: 8GB DDR4 + 256GB SSD
Screen: 15.6" Screen With 1920*1080 Resolution
WiFi: Dual-band 2.4G/5G WiFi
Keyboard: Full-size backlit keyboard
Screen-to-body ratio:89.5%
Ultra-light and full metal body
Let's see the details and compare the Vorke Notebook 15 with the hot sell same main specs item Xiaomi Mi Ruby notebook.
Vorke 15 Notebook PK Xiaomi Ruby——Outlook
VORKE Notebook 15 has an ultra-light full metal body, the Xiaomi Mi Ruby Notebook is an ordinary notebook not with thin and slim body. The VORKE Notebook 15 looks more high-end and fashionable. It doesn't stop there, the Vorke Notebook 15 is with a high 89.5% screen to body ratio. The top and side bezels are so small, they go unnoticed.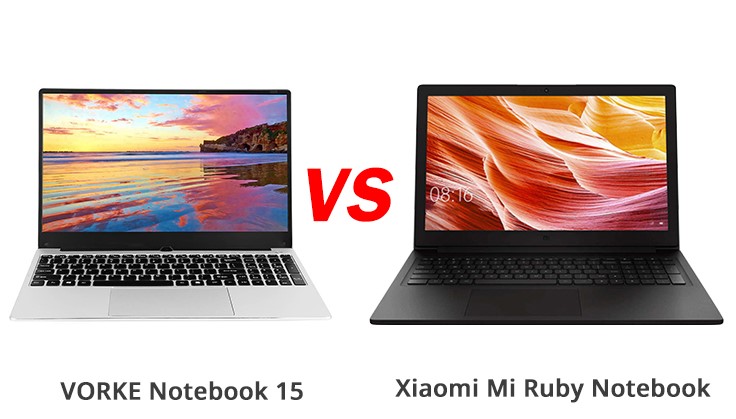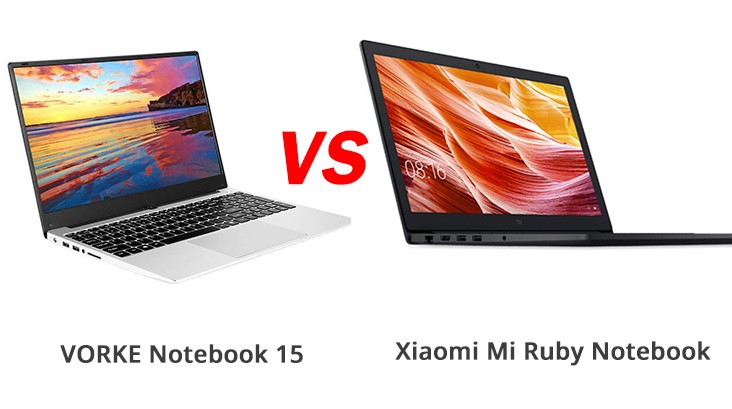 Vorke 15 Notebook PK Xiaomi Ruby ——Main specifications: CPU, RAM, and SSD
Vorke Notebook 15 and the Xiaomi Mi Ruby Notebook are with the same main specs, the CPU Intel Core i5-8250U which is a power-efficient quad-core SoC for notebooks and ultrabooks. The Turbo Boost can go up to 3,4 GHz. And also they with same 8GB DDR4 + 256GB SSD,8GB memory can help games and programs run smoothly because of the fast read and write speed. 256GB is enough for your entertainment data storage.
Vorke 15 Notebook PK Xiaomi Ruby ——Keyboard
Vorke Notebook 15 is with full-size backlit keyboard Large touchpad, fast switching of various gestures 5.9-inch precision touchpad, supports multi-touch multiple gestures, can even replace mouse functions fast and sensitive. Vorke Notebook 15 makes it perfect. backlit keyboard could also support you play in the dark.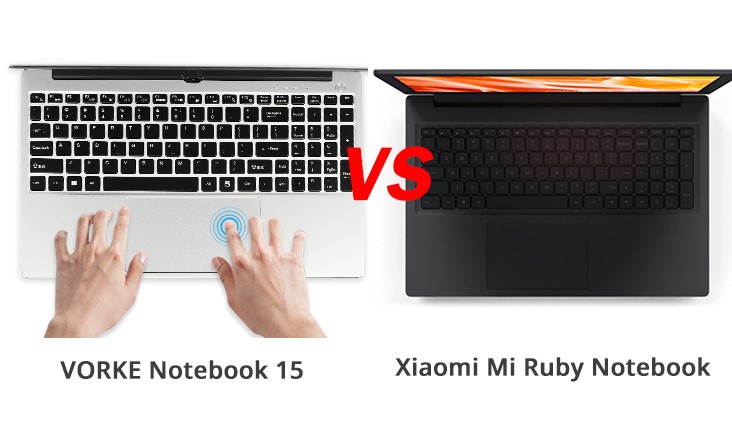 Vorke 15 Notebook PK Xiaomi Ruby—System
The original Vorke 15 Notebook and Xiaomi Mi Ruby Notebook is Windows 10. But VORKE Notebook 15 is great that it's all ready for the MAC OS system. Customers could change to the MAC OS system very easily with the user tutorial.
Vorke 15 Notebook PK Xiaomi Ruby—Price
Same specification item, the Vorke 15 Notebook price is $200 lower than the Xiaomi Mi Ruby Notebook. Really surprised price.
Here below pls refer to the details breakdown: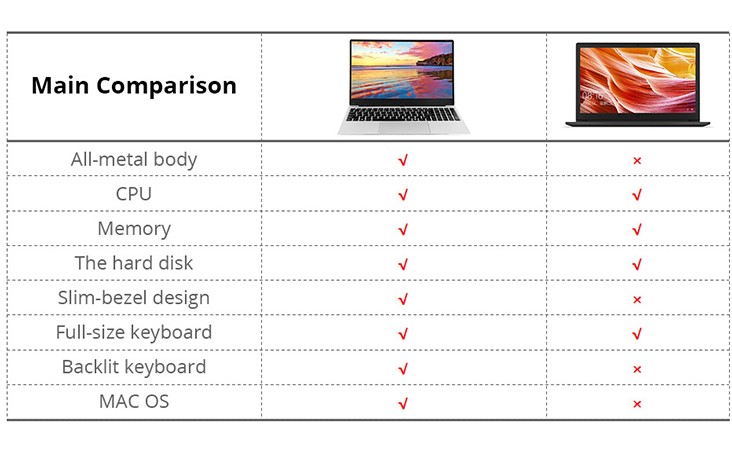 We are taking orders for these two laptop items right now on our site! If you are interested, please check this link:
Thanks!