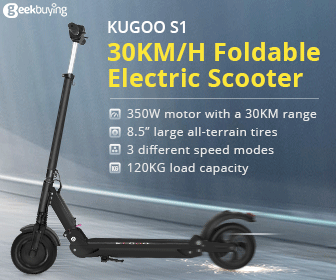 Commission Incentive
1.10% Commission for all KUGOO Scooters at Geekbuying from June 24. 2019 to June 30. 2019
2.15% Commission will be updated after July 7.2019 for corresponding orders of KUGOO Scooters if 20 units sale reached for some affiliates from June 24. 2019 to June 30. 2019, without full refund from June 24.2019 to July 7.2019
$30 Cashback Coupon
1.$30 cashback coupon cannot be used for any kugoo scooter, but it works for kugoo accessories based on sale price.
2.The Cashback Coupon works for 3 days after it was assigned to the related email during 24 hours once the application submitted, each email for related order cannot be applied for a $30 coupon for twice.
3.The Cashback Coupon cannot be shared, only the assigned email is available for the $30 Cashback Coupon.
4.Buy any KUGOO e-scooter and get a one time use $30 cashback coupon!
1.Order must take place from June 24 to June 30.2019
2.Coupon application must be submitted between June 24 and June 30.2019
5.Submit the $30 cashback coupon application FORM with your order numbers and your email of Geekbuying account.
6.You can search keywords "Cashback" at Geekbuying to get the $30 Cashback Coupon application link.
7.To login to your Geekbuying account -my coupons-unused coupons to get the $30 cashback coupon code, as the screenshot shows, in 24 hours after you submitted the application.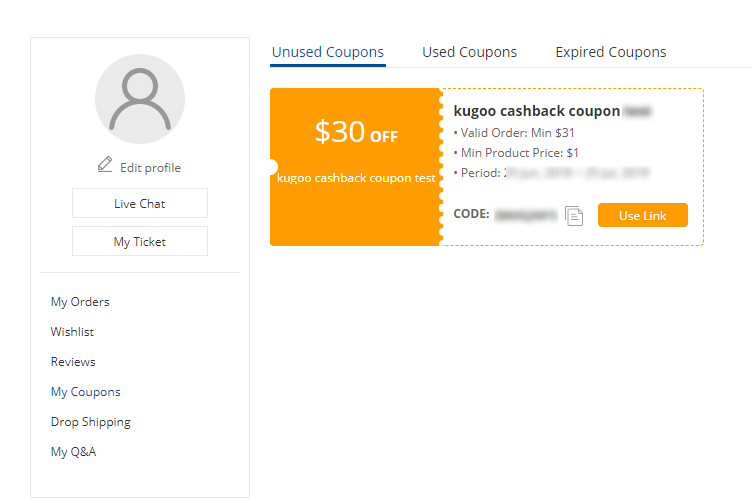 10% Commission for following KUGOO Scooters
1.All KUGOO S1 Scooter Skus
https://www.geekbuying.com/item/KUGOO-S1-Folding-Electric-Scooter-350W-Motor-8-0-Inch-Tire-Black-411071.html
2.All KUGOO S1 Pro Scooter Skus
https://www.geekbuying.com/item/KUGOO-S1-Pro-Folding-Electric-Scooter-350W-Motor-8-0-Inch-Tire-Black-416796.html
3.All KUGOO G-booster Scooter Skus
https://www.geekbuying.com/item/KUGOO-G-BOOSTER-Electric-Scooter-Black-416859.html