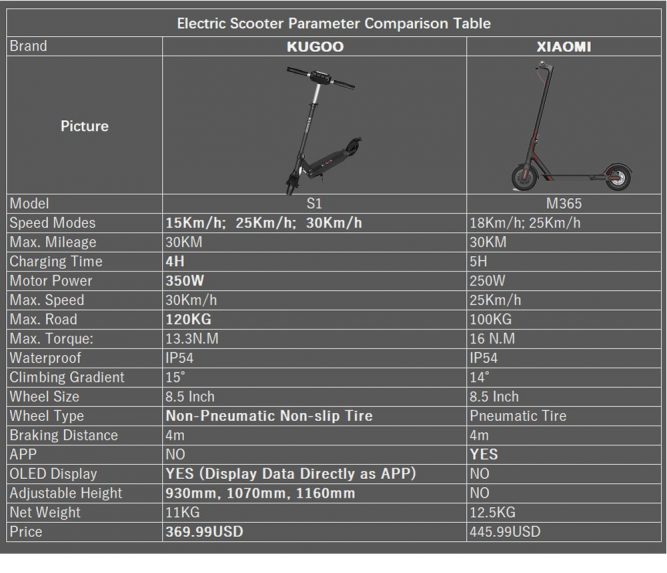 Nowadays in our life, most of us will use transportation to help us save time to do more things we love. We have a lot of choices! Buses, cars, bicycles, electronic scooters, smart foldable bicycles, skateboards and etc.
Electronic scooters have become more and more popular recently because most car trips are short, and electric scooters can be a great alternative for short trips. A lot of people may be struggling to choose the right electric scooter for themselves, that's quite normal. Because we all want to have a practical, fast and durable one. We have tested KUGOO S1 recently. Here's our review.
The Beginning Of Getting To Know The Scooter
KUGOO S1 electric scooter might be the right choice especially when you notice that this one has a 350W strong power and load capacity up to 120kg!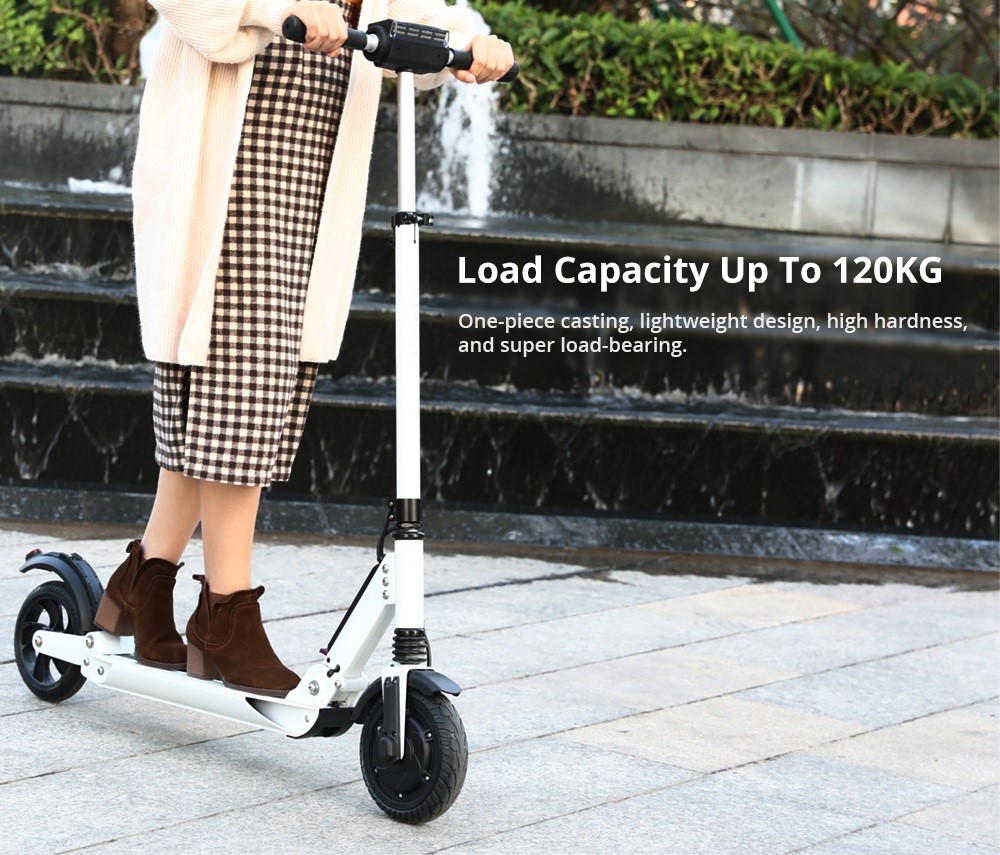 DESIGN AND BUILD
The sturdy frame of KUGOO S1 scooter is made of aluminum alloy and weights 11 kg. So it's not too heavy for girls to take them, along with three colour to choose. Overall the KUGOO scooter appears to be sturdy. You will be surprised it has a lock wrench, it's easy to adjust the height, it has 3 Different height to adjust. 93cm, 107cm, 116cm, so which means it could fit for different people.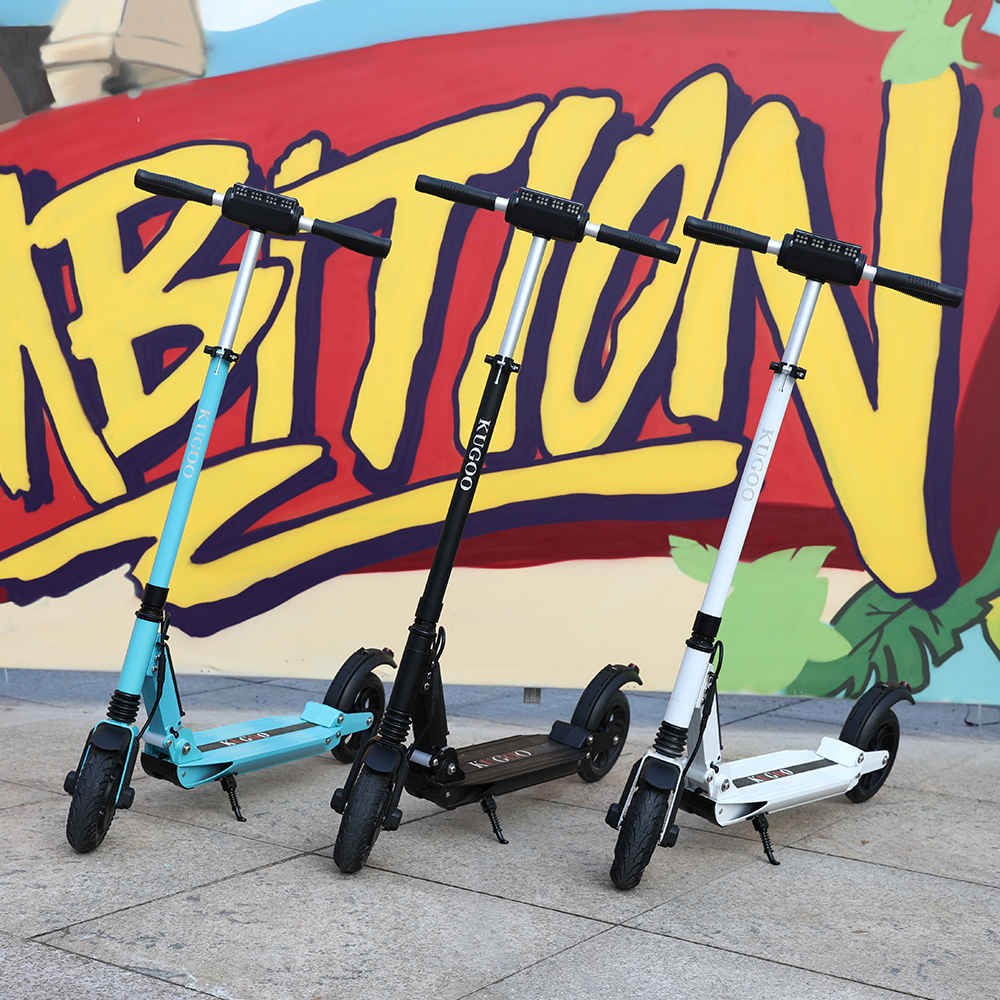 Тhе Кugоо Ѕ1 еlесtrіс ѕсооtеr соnѕіѕtѕ оf fоur mаіn mоdulеѕ: dіѕрlау, dаѕhbоаrd, еngіnе аnd bаttеrу расk. Uѕеrѕ саn еаѕіlу rеmоvе, rераіr, аnd іnѕtаll thеѕе mоdulеѕ. Іt іѕ роѕѕіblе tо uрgrаdе аnd сuѕtоmіzе thе ѕсооtеr – іnѕtаll GРЅ, іnѕtаll ѕреаkеrѕ, еtс. Тhеrе аrе mаnу оthеr аlmоѕt fаntаѕtіс іdеаѕ thе mаnufасturеr соntіnuеѕ tо dеvеlор.
The max weight of the driver shouldn't exceed 120 kg. what's more the folding Size: 96 x 21 x 33cm is quite small, it can be really practical if your daily commute includes entering a train or a bus. Below the footstep, there's a foldout stand to sturdy park your scooter. The mechanism sits between steering bar and footstep. The crossbar connects to the cover of the back wheel to easily carry your scooter which feels well balanced. The e-scooter KUGOO S1 can be folded like a regular scooter, besides this can be done in just a few seconds. The T-bar is also adjustable which is really convenient. Everything flows together in an easy, modern fashion.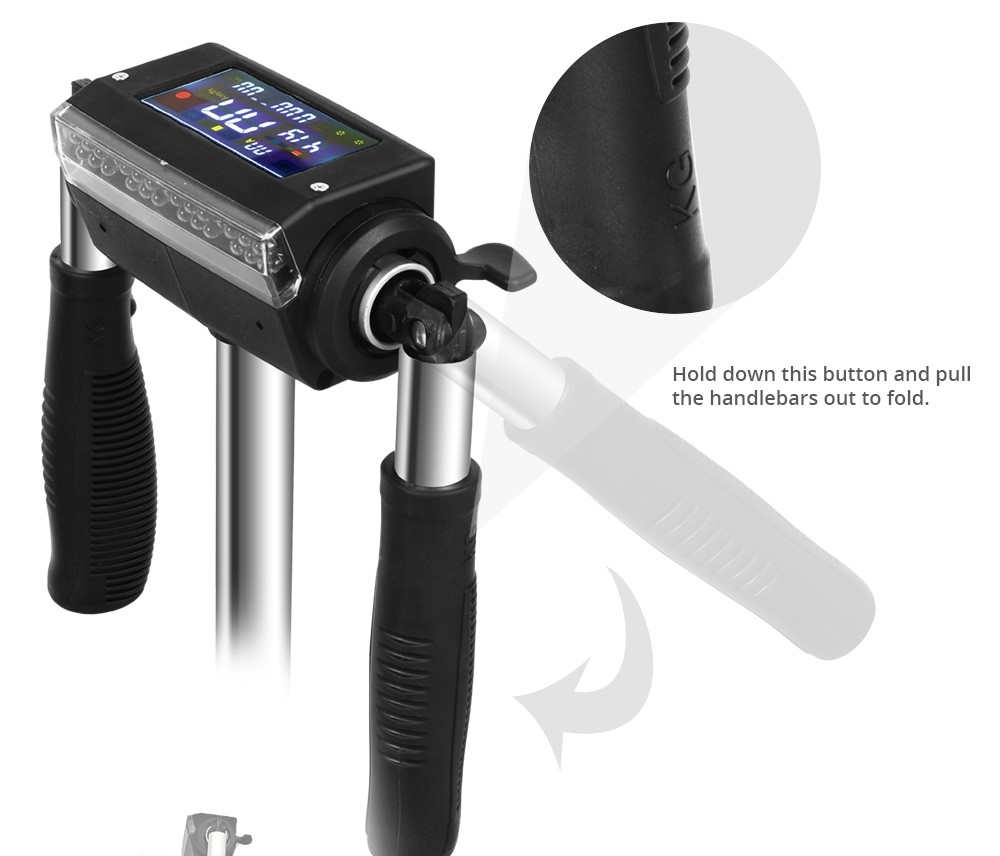 FEATURES AND SPECS
kugoo s1 folding electric scooter looks like it was designed for city life and makes a perfect commuter scooter, with narrow handlebars and an uncomplicated design. Normally you can get a little over an hour of riding with the 18.6 mph (30 km) top speed.And most importantly, KUGOO S1 has three-speed modes: 15KM/H; 25KM/H; 30KM/H. You can control the speed with one key according to the different road surface conditions, which makes driving more comfortable and riding more security.
Also, the S1 scooter has a smart operating driving system. There is an LCD Display Screen you can see all the information so you don't need to download an app to see them. The speed, mileage, time, power, stop, voltage, etc information will be shown via the display screen. The 8.5" tires provide a super smooth ride on top of the 350 Watt brushless motor, and once you've reached your destination you can come to a stable stop on the dual disc brakes。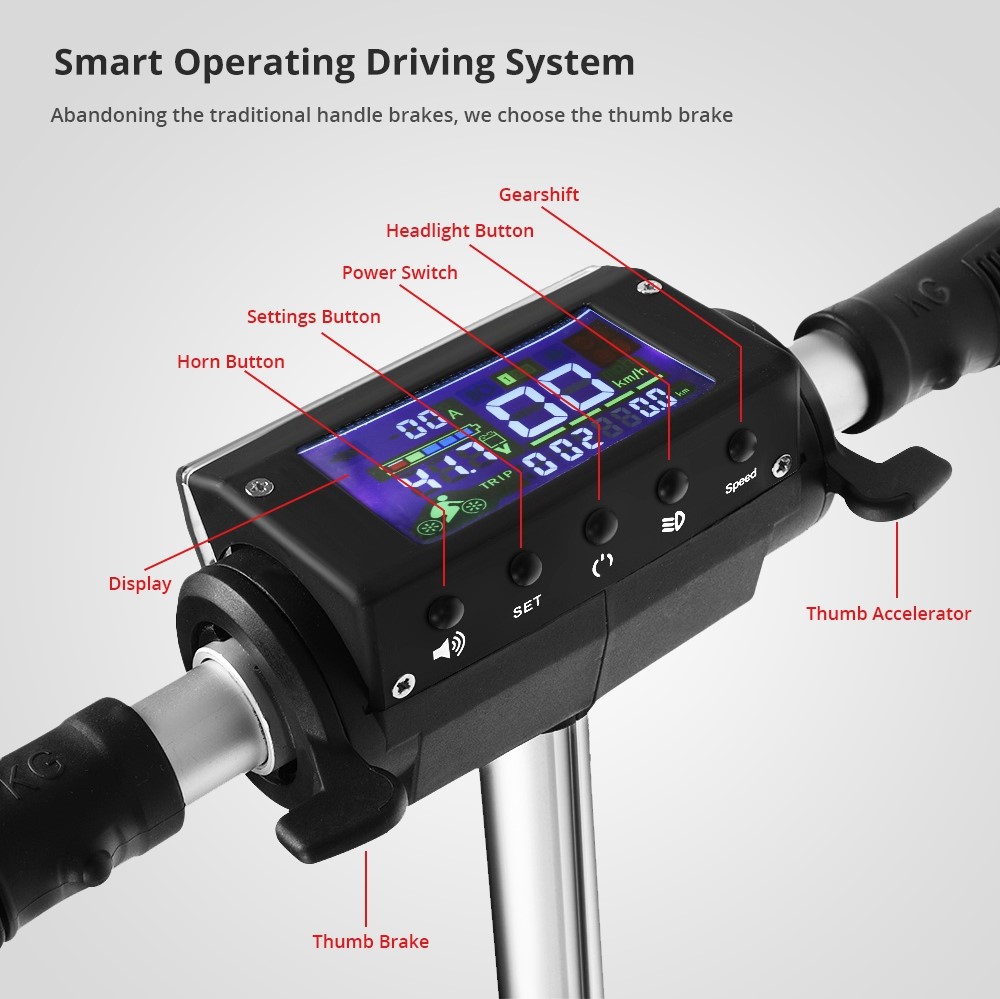 Power & Range
The KUGOO S1 features a 350W brushless front hub motor that can obtain a burst of 540W and a maximum 13.3 Nm torque. This is enough to get you to the top speed and get you up a 15-degree hill.The range on a full charge is just over 18 miles, which is quite far.
The S1 range of up to 30kms. It's got two military free inflatable wheel 8.5″ tires, 350w front hub motor (peaks at 540watts) takes 4 hours to fully charge, the charger has a LED that turns red when charging, as well it will turn green when it's completely charged, so you don't need to keep an eye on it.
The lithium-ion battery will last you for slightly over an hour if you rode at max speed,so I would say that's plenty for a day of traveling around the city or your commute to and from work. The 8.5 Inch Solid Rear Anti-Skid Tire are Strong Grip, Wear-resisting and Safe. It's Suitable for Different Kinds of Roads.
The brakes on S1 are good, too. KUGOO S1 comes with a double braking system – furthermore the breaking distance is 4m. Even when you go at full speed you can stop quickly enough, without getting thrown off the scooter.
Another thing you should know is that the scooter can also be used on wet surfaces, according to the specifications, it complies with the IP54 standard. Maintenance is done with a soft cloth or a damp cloth.
The good
KUGOO S1 has passed RoHS and CE verification, it is a safe product for everyone.
Also, it will be shipped from Poland stock, which means Duty-Free for most countries. Of course shipping will be very fast. KUGOO S1 has very good after-sale service in Poland. So you don't have to wait so long and takes a lot of time sending it back to China to repair.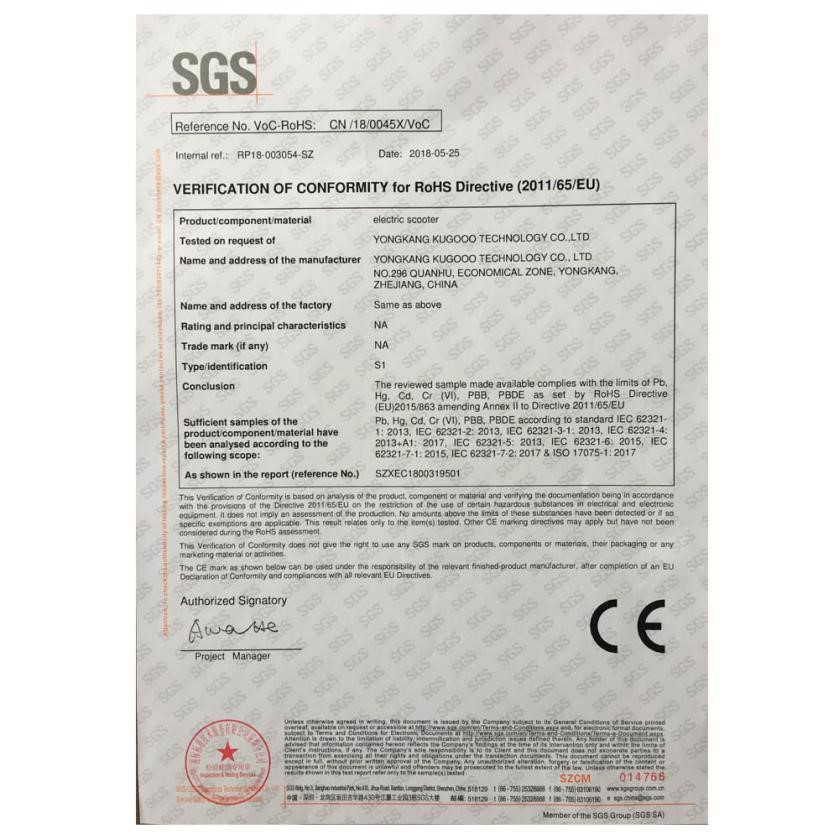 Besides, There you can see the comparison table of KUGOO S1 and Xiaomi M365.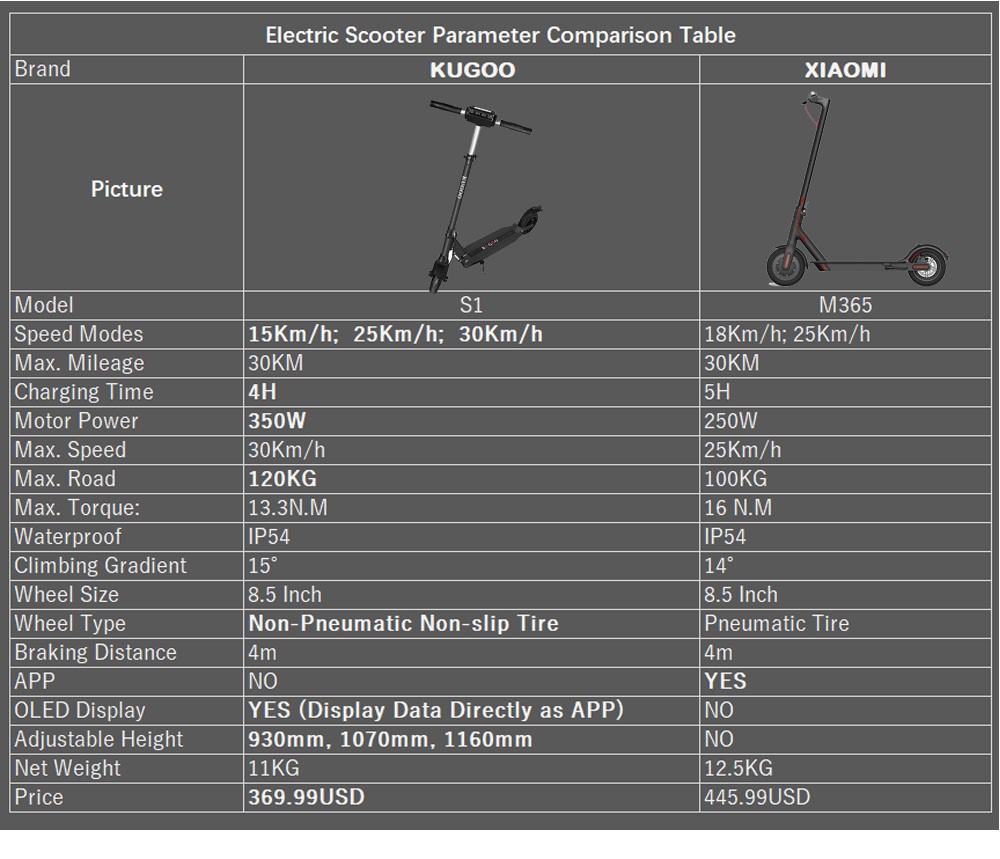 Having shown so many similarities in design, build, and performance on KUGOO S1 and Xiaomi M365, let's see the price.
The Xiaomi M365 Scooter is available for $445.99 from China warehouse, while the Poland warehouse KUGOO S1 can be purchased at only $329.99 with coupon code: WAQDZNDZ.
So what's your idea? If you need to know more, or think we've missed something or want to ask us some questions then comment below or connect with us on Facebook.
Visit Our YouTube Channel with KUGOO S1 here:
KUGOO S1 YOUTUBE REVIEW