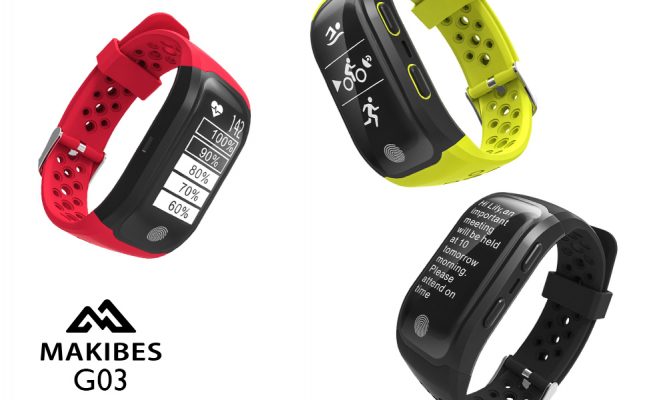 Makibes G03 is a smart band which comes with multiple sports modes —— riding,climbing and running etc. It's also the first Makibes smart band to feature built-in GPS chip to help you locate your movement more specifically. You can wear it when you're doing any kind of sports. The data of your burnt calories and running distance can be tracked and you heart rate can be monitored continuously as it features real-time heart rate monitor. The 0.96 inch OLED provides 128 * 64 resolution touch screen experience. Other functions such as smartphone notification is also included. Check out more information please click here.
Here are the frequently-asked questions we gather from clients who bought Makibes G03 which may help you in purchasing and and further understanding our products.
Q: What is the water proof certification level? Can I wear it into water when I swim?
A: Yes, G03 is designed according to IP68 professional waterproof standard, supports within 2 meters of water depth. However, it does not support the brewing hot water, hot bath, and water vapor. Please avoid using and storing the device at the place of high temperature & high humidity.
Q: What sports modes does it support?
A: It supports for recording swimming, running, cycling, climbing, and walking.
Q: Can it record the trajectory while I am running outdoor without a mobile phone ?
A: Of course it can, Makibes G03 with independent GPS mudule, can record gps trajectory independently, no need to rely on mobile phones. when you finish , you can sync the trajectory to the app.
Q: Can it record my real-time heart rate when i do sports? and will it alert me when my heart rate is out of alert value ?
A: Yes, G03 support dynamic heart rate monitor and heart rate alert , you can set the maximum and minimum values of the heart rate, then it will alert you when your heart rate is out of set value. And it will monitor and update every 10 -15 minutes. At the end of the day you can view your heart rate status on your smartphone through the app
(App Name:HPLUS WATCH)
Q: Will the notifications sync to G03? What languages does it support?
A: Yes, and it supports languages of English, Russian, Spanish, Polish, French, German, Italian, Czech, Portuguese, Japanese, Korean, Chinese, etc.
Q: What to do if I do not want to receive call notifications and save battery power.
A: 1. you can turn off the permissions of notification on the app; 2. you can exit the app on your phone , do not connect G03 to the app.
Q: How about the battery life ?
A: About 6 hours for GPS sports, 5 days for common use, 20 days for standby time. Battery life and charge cycles vary with use, settings, and other factors; actual results will vary. We recommend charging your device every few days to ensure that you're always tracking.