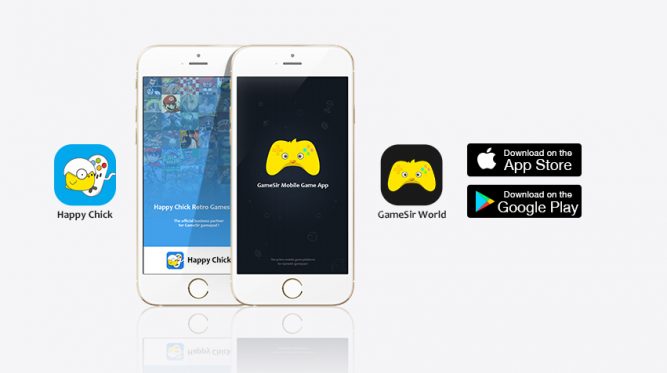 "GameSir World" is best app for your GameSir gamepads. "GameSir World" is a free app available in Google Play.
"GameSir World" is developed by GameSir with thousands of Smartphone games supported by GameSir gamepad. Every Android gamer can grab their favorite mobile games easily now.
The perfect combination of GameSir hardware and GameSir software brings the ultimate gaming experience to every GameSir's user.
Compared to the retro games app" Happy Chick" , "GameSir world" puts emphasis on popular smartphone games for gamer's wide choice.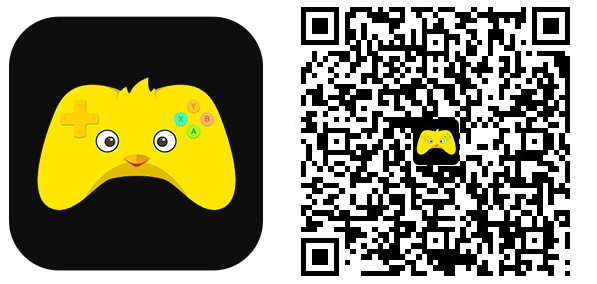 Download "GameSir world" in Google Play:https://play.google.com/store/apps/details?id=com.xiaoji.virtualtouchutil&hl=en
The followings are GameSir gamepad supported android Games.
These games are personally experienced and tested by the player, and recommended to GAMESIR.
If you find that there are more suitable for the GAMESIR controller to play the game, welcome to recommend and share.
1.Minecraft PE
2.Modern Combat 5: Blackout
3.Asphalt 8: Airbourne
4.The Conduit HD
5.Shadowgun: Dead Zone
6.Tiki Kart 3D
7.Tiny Little Racing 2
8.Beach Buggy Blitz
9.Cordy
10.Cordy 2
11.Critter Rollers
12.Dead Trigger
13.Dead Trigger 2
14.Dungeon Hunter 3
15.Sonic CD
16.SoulCraft-Action RPG
17.Steampunk Racing 3D
18.Tap'n' Crash
19.Tiny Little Racing
20.Zen Pinball HD
21.Dark Incursion
22.R-type
23.Time to Rock Racing
24.Another World
25.The Bar'd Tale
26.Final Freeway 2R
27.Grand Theft Auto III
28.Shine Runner
29.Sleepy Jack
30.Virtua Tennis Challenge
31.Chrono&Cash
32.Meganoid
33.Meganoid 2
34.Sonic The Hedgehog 2
35.Asphalt 7: Heat HD
36.Riptide GP
37.Crazy Taxi
38.Aces of the Luftwaffe
39.Angry Birds Go!
40.Bounty Arms
41.Modern Combat 4: Zero Hour
42.Anomaly 2
43.Grand Theft Auto Vice City
44.Assassin's Creed Identity
45.FIFA 16 Ultimate Team
46.Critical Strike Portable
47.Zombie HQ
48.Tainted Keep
49.Sine Mora
50.1941 Frozen Front
51.Alien vs Predator Evolution
52.Unkilled
53.Ace Ferrara&The Dino Menace
54.Stupid Zombies
55.Red Ball 4
56.Badland
57.Leo's Fortune
58.Dead Effect 2
59.Into the dead
60.Grand Theft Auto San Andreas
61.Prince of Persia Shadow&Flame
62.Nebulous
63.Geometry Wars 3:Dimensions
64.Never Alone: Ki Edition
65.Goat Simulator: Waste of Space
66.Grand Theft Auto: Liberty City Stories
67.Valiant Hearts: The Great War
68.Limbo
69.Goat Simulator
70.Hero Siege: Pocket Edition
71.Rayman adventures
72.DX PAC-MAN CE DX
73.Quell Zen
74.Skate Party 3
75.BombSquad
76.Swapperoo
77.Dungeon Hunter 5
78.Driving School 2016
79.Wind up Knight
80.Real Racing 3
81.Reaper
82.Riptide GP 2
83.Dungeon Quest
84.Oddworld: Stranger's Wrath
85.Adventures of Mana
86.Sonic Hedgehog 4 Episode II
87.Fenix Box
88.Sonic The Hedgehog
89.Rayman Fiesta Run
90.Rayman Jungle Run
91.Heroes of Loot
92.DuckTales:Remastered
93.Max Payne Mobile
94.Mount & Blade: Warband
95.Snowboard Party
96.Aircraft Combat 1942
97.Deer Hunter 2016
98.Back to Bed
99.Clarc
100.Beyond Ynth HD
101.Razor Salvation THD
102.Mimpi
103.Infinite Flight
104.Ys Chronicles 2
105.Jetpack Joyride
106.Final Fantasy III
107.Final Fantasy VI
108.Alpha Wave
109.Angel in Danger
110.Ducktales Remastered
111.Archery
112.Lego Star Wars: The Force Awakens
114.Tomb Raider
115.GTA 5
116.NBA 2K16
117.Grand Theft Auto Chinatown wars
119.GT Racing 2
120.Minecraft Story mode
121.Sniper Fury
122.Coach bus simlator
123.Infinite Flight Simulator
124.Beach Buggy Racing
125.Repulze
126.Super Phantom Cat
127.Dream League soccer 2016
128.Racing Fever
129.The Walking Dead: Season Two
130.Crazy Snowboard
131.Blitz Brigade
132.Spider Man Unlimited
133.Six-Guns
134.Chicken Invaders 2
135.Chicken Invaders 3
136.Chicken Invaders 4
137.Dodo Master
138.Drag Racing
139.Gunslugs2
140.Sword Of Xolan
141.Brothers in Arms 3
142.Dead effect
143.The Witching Hour
144.EVAC HD
145.Plasma Sky
146.Sky Gamblers: Storm Raiders
147.The Respawnables
148.Manugnu 2
149.Slaughter
150.Cyclone 2000 VR
151.Gunslugs
152.Turbo Dismount
153.Zombie Gunship
154.Baseball Superstars 2012
155.Boulder Dash 30th Anniversary
156.Boulder Dash
157.The King of Fighters 98
158.Blazing Star
159.GoatZ
160.Metal Slug
161.R-type II
162.Xenowerk
163.Tiny Miner
164.Classic Bomber
165.Acceler8
166.Alpha Squadron 2
167.Animal Battle Free
168.Blood 'n Guns
169.Tomb Raider 2
170.MushRoom Bounce!
171.Multirotor Sim
172.Basket and Ball
173.Call of Battlefield:Online FPS
174.Air Attack HD
175.Alex the Alien
176.Arma Tactics THD
177.Asteroids Marauder
178.B.M. Snowboard Free
179.Invaders from far Space
180.Diversion
181.Dragon, Fly! Free
182.Arcane Soul
183.Beekyr FREE: Eco shoot'em up
184.Bermuda Dash
185.Deer Hunter 2014
186.Farming Simulator 2014
187.Farming Simulator 2016
188.Neon Shadow
189.Rush Rally 2
190.KSI Unleashed
191.Swimming Race 2016
192.Battlebow: Shoot the Demons
193.BeatX: Rhythm Game
194.Bladelords – The Fighting Game
195.Arma Tactics Demo
196.Arma Tactics
197.Radiant HD
198.Radiant Free
199.No Gravity
200.2048
201.Fifa 15 Soccer Ultimate Team
202.Magic Rampage
203.Brotherhood of Violence II
204.Ninja Hero Cats
205.Super Dynamite Fishing
206.Farm Invasion USA
207.Super Jabber Jump
208.Euro Truck Driver (Simulator)
209.iBomber Attack
210.Trine 2
211.Gloomy Dungeons 2: Blood Honor
212.Void of Heroes
213.Toon Wars – Battle Tanks Online
214.SBK16 Official Mobile Game
215.Zombie Gunship Free
216.Twin Shooter – Invaders
217.Marble Duel
218.VR Crossy For Cardboard
219.Tunnel Ground
220.SkidStorm
221.Snowboard Party 2 Lite
222.Snowboard Party 2
223. Re-Volt 2: Multiplayer
224. Cosmic Challenge
225. Battle of Helicopters
226. Farm Tractor Driver 3D Parking
227. WOR – World Of Riders
228. Future Tanks – Online Battle
229. Traffic Rider
230. Tower Madness 2: 3D Defense
231. AirAttack 2
232. Air Defense Command
233. War Tortoise
234. Epic Heroes War
235. Street Robot Fighting HD 3D
236. Re-Volt 2: Best RC 3D Racing
237. Asphalt Extreme
238. Pocket Rally
239. Assoluto Racing
240. Ace of Arenas
241. Heroes of Soul Craft
242. Moba Legends
243. Planet Of Heroes
244. Heroes of Order & Chaos
245. Taichi Panda
246. Bug Heroes 2
247. Taichi Panda Heroes
248. Heroes Evolved
249. Pocket Fleet Multiplayer
250. Ire: Blood Memory
251. Valiant Hearts The Great War
252. Monster Truck 3D 2015
253. Monster Truck: Extreme
254. Snowboard Party Lite
255. Mike V: Skateboard Party Lite
256. Mars Rover: Space Exploration
257. 32sec game
258. Run for Gold – Montezuma