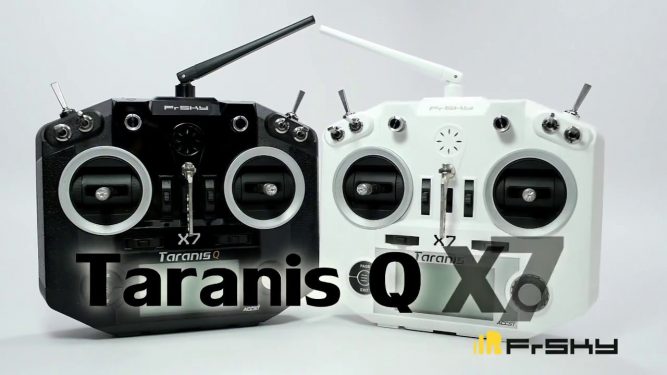 Frsky has recently released a new entry level radio called the Taranis Q X7 which you can think of as a lower cost and simplified version of the Taranis X9D+. The Q X7 features a modern new and sleek look along with an easy to navigate menu and intuitive scroll wheel and button controls. Now, let's take a closer look at the X7.
Main Features
-Quad ball bearing gimbals (not hall sensor)
-Supports up to 16 channels
-Supports Telemetry
-Speech Audio Output
-Supports External TX modules
-Memory Supports Up to 60 Models (more allowed via SD card)
-128×64 pixels LCD screen with backlight
-6 switches (4 of which are three-positioned), 2 pots
-Input voltage: 6-15V (2S and 3S LiPo compatible)
-Model configuration files compatible with Taranis X9D
-OpenTX Firmware Pre-installed
The Taranis Q X7 comes in a big brown box and in which you will find 1 x transmitter, 1 x Back strap, 1 x English Manual. 1 x FrSky Stickers.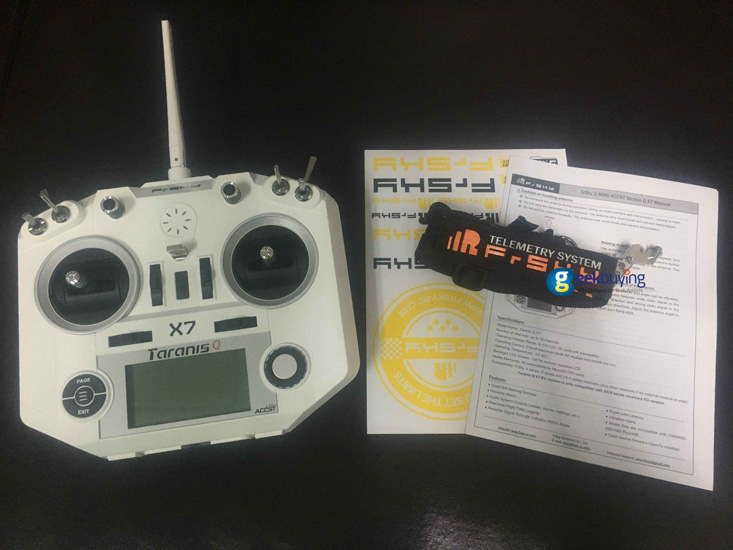 The Taranis Q X7 is available in black and white color.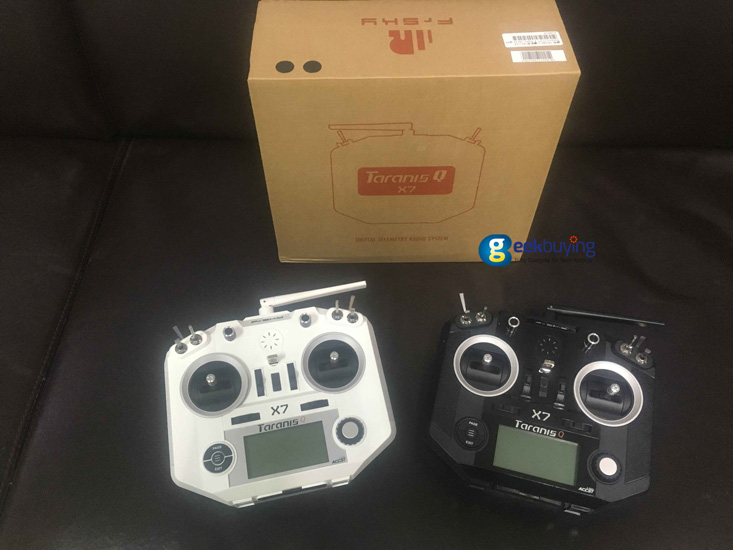 The Q X7 features a modern new and sleek look along with an easy to navigate menu, 16 channels, two knobs and six switches.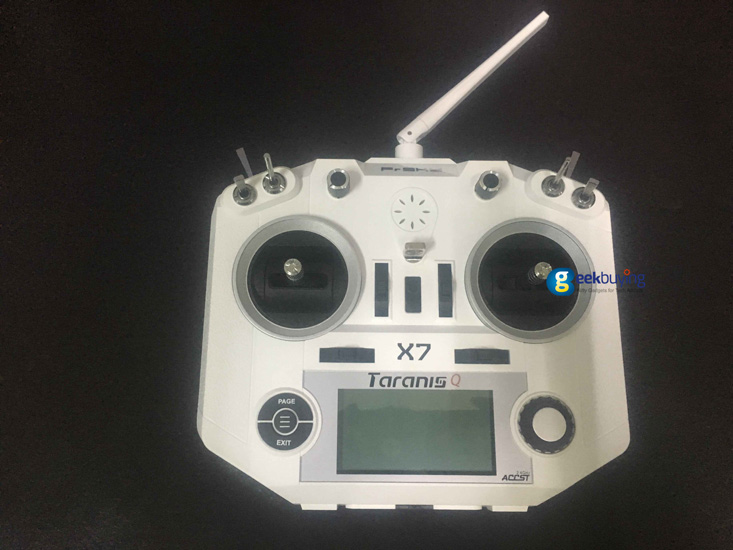 There are large rubber grips on the back. It feels very solid in your hand.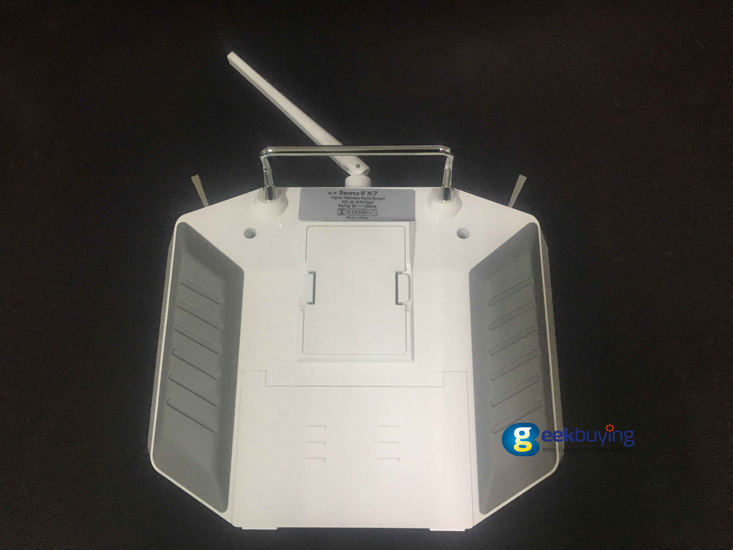 The back side has 2 covers: external JR type module and battery compartment. The JR-type modules can be used with other protocol receivers. The X7 comes with a battery clip that you can drop in normal AA cells into, or you can remove the battery clip and use a 6 cell NiMH or 2S Lipo, Life or other battery pack. It just needs to fit in the battery compartment and have a 2S battery connector to plug into the X7.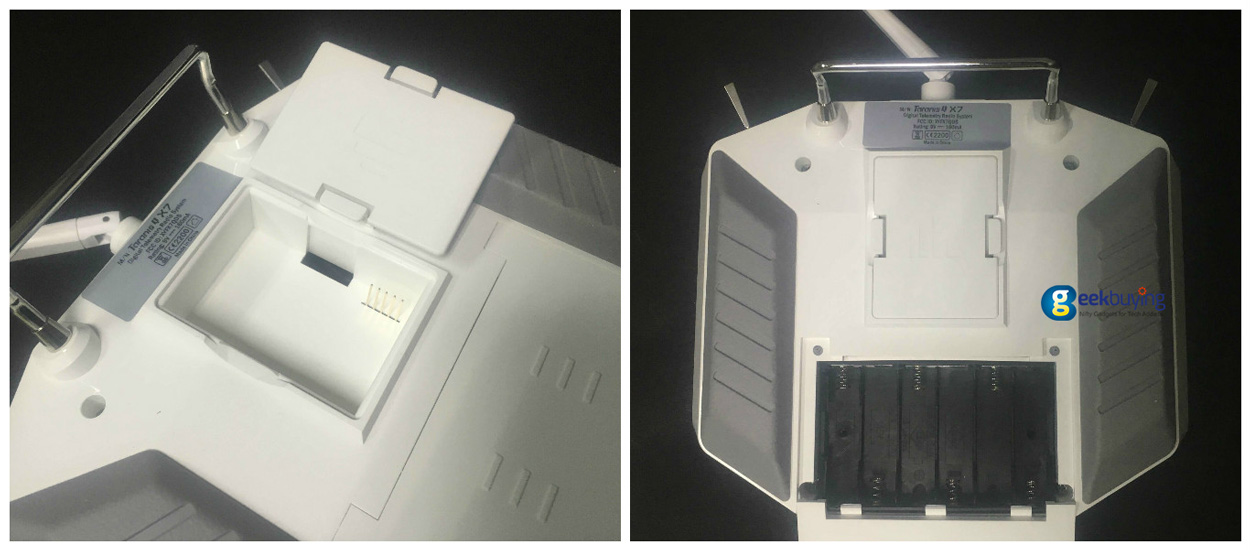 The antenna can be rotated 180 degrees and angled 90 degrees. It features weak radio signal in the forward direction and strong radio signal in the sideways directions. You can adjust the angle of the antenna to match your flying style.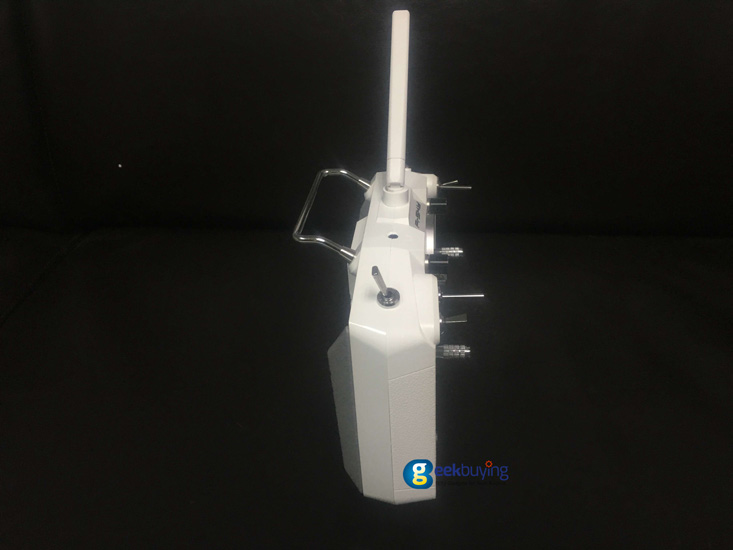 Both sticks come with spring loaded return to center sticks, this makes changing from mode 1 to mode 2 extremely easy to set through the menu and the stick can quickly be set to a stationary throttle by unscrewing four screws and removing a spring.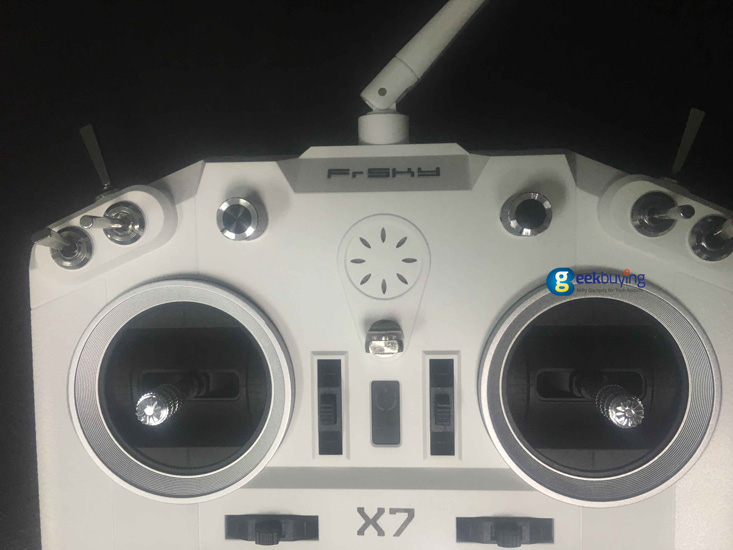 One of the good new additions power button is now equipped with 3 color LED under it. Depends on operation status, warning or switch positions etc, the LED goes Blue, Red or Green. You can simply hold down the ON/OFF button for 3 seconds to power down the radio.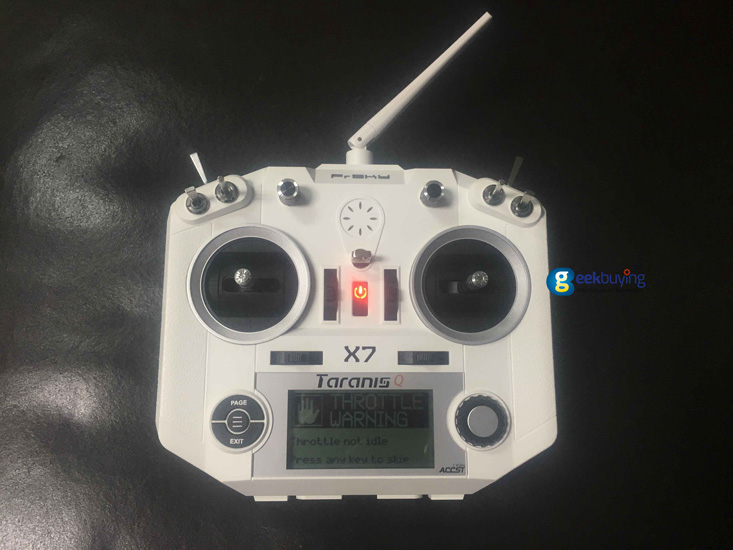 There is a smart port and USB port in the bottom of the QX7, along with a TF card slot. Smart port is now reserved for further development. USB port is for upgrading and reading/writing Micro SD cards and internal memory of radio contents.


The 3 inch LCD display has 128х64 resolution, which is lower than the Taranis X9D 212х64 resolution. Brightness and contrast can be adjusted but backlight color cannot be changed.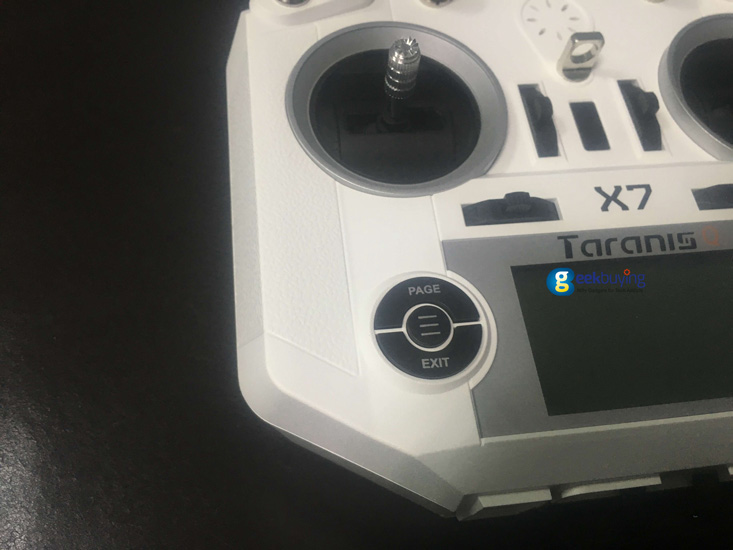 Comparing with the X9D Plus, the audio speaker of the QX7 is very good. It seems that the QX7 has been revised to the point that it no longer produce annoying buzzing.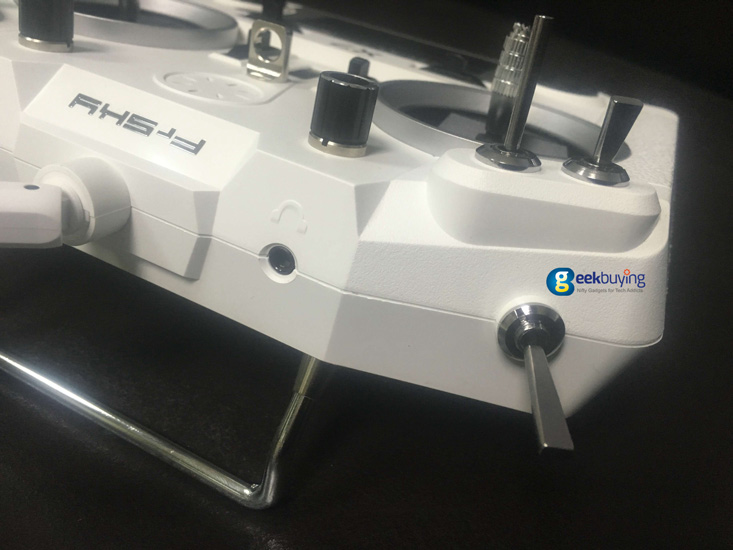 The FrSky Taranis Q X7 definitely designed as an entry-level radio for people focused on FPV drone racing. If you are getting serious about the FPV Drone hobby then you should definitely get a Taranis Q X7.
Click here to buy:FrSky Taranis Q X7