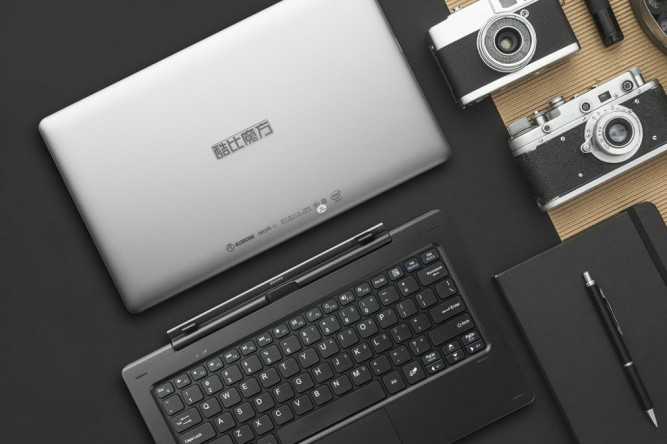 Previously, Intel Atom X5-Z8300 has been widely used in 2 in 1 tablets. Now with the launch of the new Atom X5-Z8350 processor, many tablet manufacturers plan to release tablets with Atom X5-Z8350 processor. And recently, Cube released their new tablet iWork1X, a 2 in 1 tablet with Atom X5-Z8350 processor.
Packaging
The Cube iWork1X comes with a brown box. Inside the box you will find 1 x Tablet PC, 1 x Micro USB Cable and 1 x User Manual. And the keyboard comes with a white box.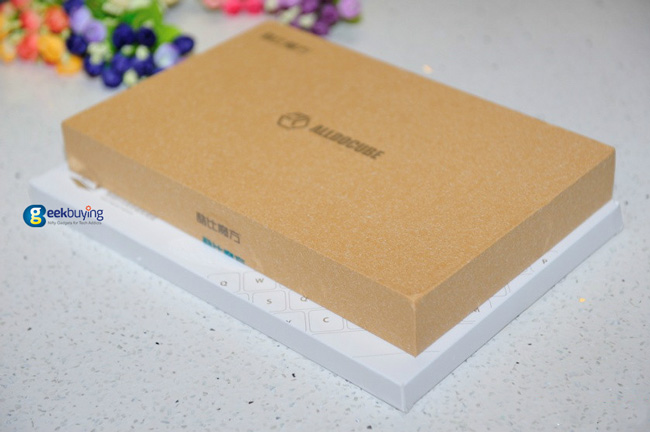 Design
With a slim gray metal build and chamfered edges, the Cube iWork1X certainly looks more expensive than it is. The metal cover has been subtly frosted processed that against dirt and dusting. There are big bezels on each side preventing tablets from scratching. The tablet measures 299.6 x 180.6 x 10.2 mm and weighs 740 grams thereby making it a portable companion for business.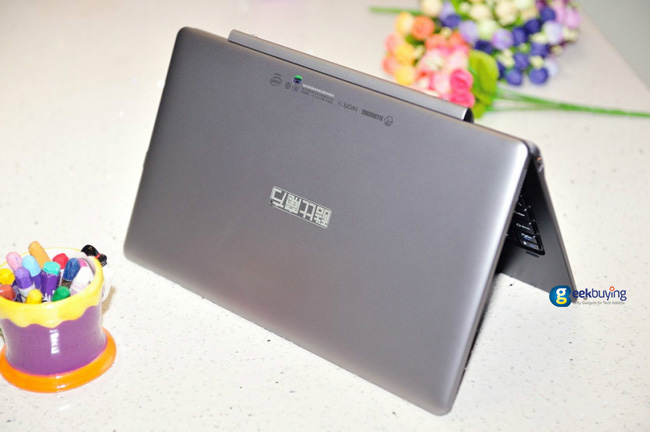 Connections are found on the iWork1Xs left edge. There's a 3.5mm headphone jack that sits just above a Mini HDMI port and a Micro USB charging port, then USB 3.0 port, and a Micro SD card slot. The built-in two Hi Fi speakers create a rich, wide and detailed sound stage when playing music.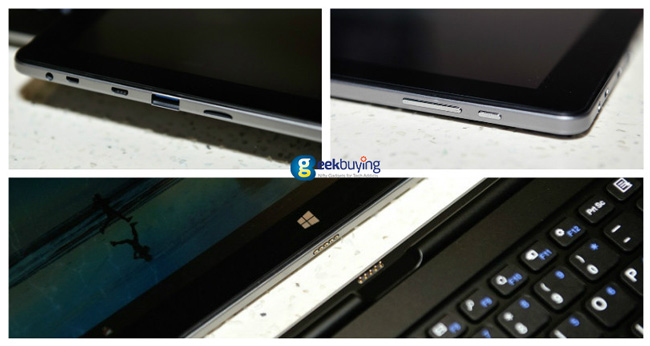 The original Cube iWork1X keyboard is very well designed, with ideal space between different keys, it also offers decent key travel, which gives you tactile feedback when you type. The keys are responsive and so does the touchpad. The keyboard also has two full-size USB port for plugging in your mouse, and other USB devices.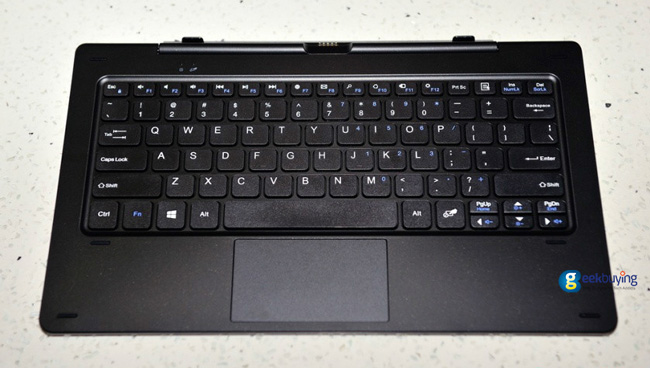 Display
The 10.6 inch touchscreen with full HD 1920X1080 Pixel resolution makes navigation easy around the tablet. The capacitive multi touch screen boasts of IPS technology which offers wide viewing angles, deep colors and excellent clarity. In addition, the screen can automatically adjust the screen brightness into a comfortable state whenever in outdoor or indoor.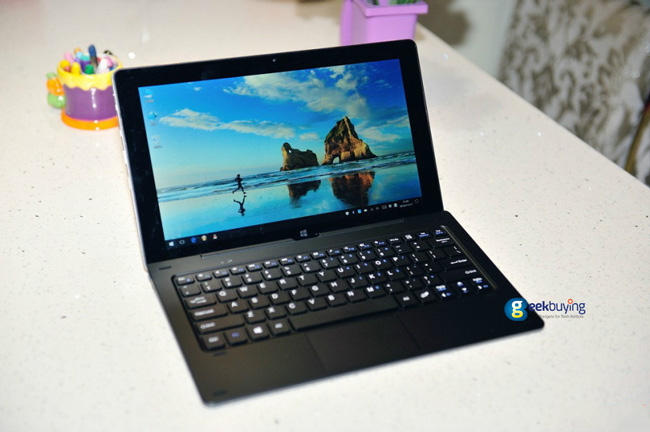 Hardware
Cube iWork1X is powered by Intel Atom Z8350 Quad-core Processor 1.44 GHz that can run up to 1.92GHz with Turbo Boost technology thereby making the device capable of handling the most demanding tasks with speed and responsiveness while preserving the battery life. 4GB DD3L RAM combined with the 12-core Gen 8 High definition Graphics is welcome more especially for the gaming enthusiasts who will find the device efficient in playing demanding games.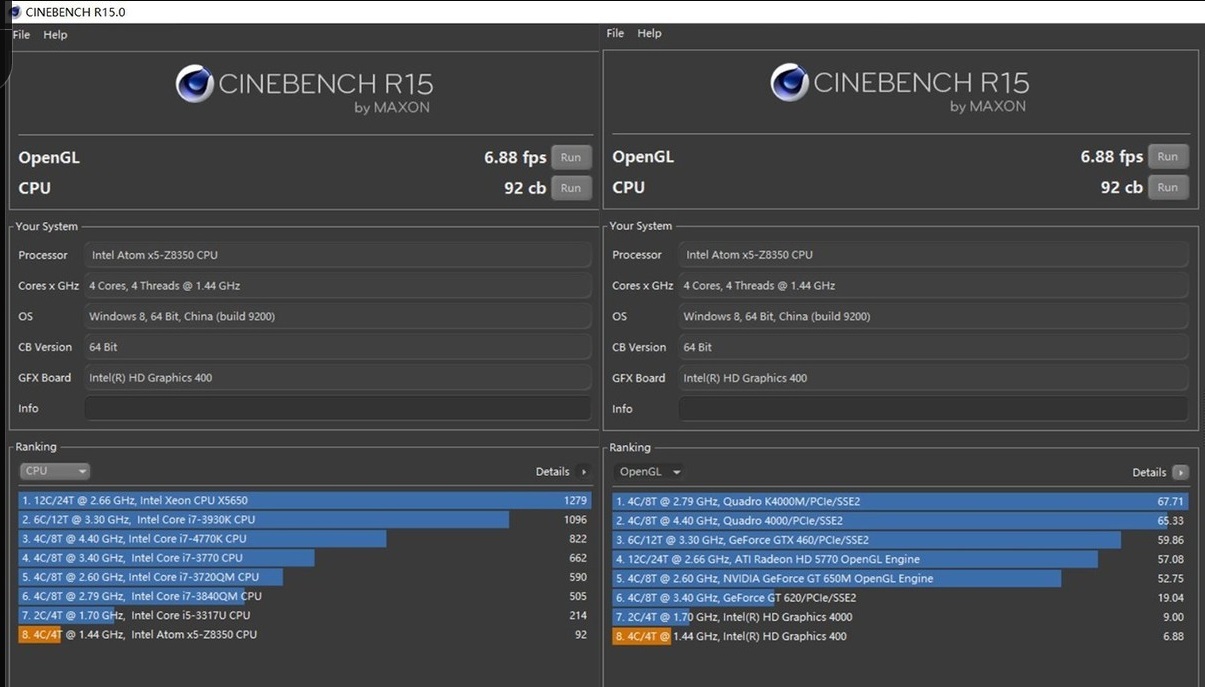 In terms of storage, iWork1X comes with 64GB eMMC of internal storage that offers a stable performance by being able to achieve a reading speed of 150MB/s. the storage is enough to store your music, videos, photos and other files, and you can add an external storage of up to 128GB using compatible cards.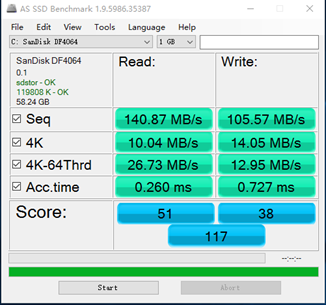 Operating System
Cube iWork1X comes pre-loaded with a windows 10 operating system. Windows 10 allows you to run PC programs like Microsoft Word, PowerPoint, Adobe Reader and Photoshop also browse, watch videos and play undemanding games. In our test, iWork1X runs Microsoft Word and Photoshop perfectly.
Battery
The built in 8,500 mAH battery allowed iWork1X to be used all day! Never plugged it into an outlet once!! The tablet itself lasted about 2 – 3 hours of heavy use and I had 30% battery left when I plugged it into my battery pack which allowed it to last the rest of the day.
Conclusion
The Cube iWork1X 11.6 inch Windows 10 tablet is a great tablet for business use. This is not even a "tablet". It is a small portable computer that you can take anywhere for games, movies, reading, videos, designing like Photoshop. At under $200, this tablet is an affordable option for portable computing power.