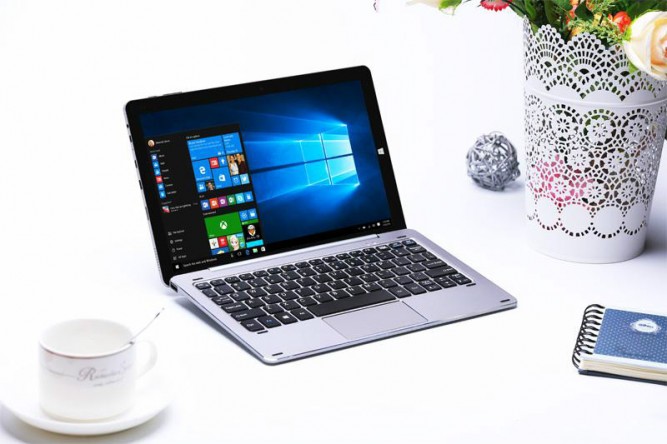 Recently, CHUWI released an upgraded version of the CHUWI Hi10 Plus, The upgrade regards the CPU. The current model features the Intel Cherry Trail Z8300. Whereas the new one features the Intel Atom Cherry Trail X5 Z8350.
CHUWI Hi10 Plus Z83500 highlights
– 10.8 inch FHD display with 3:2 aspect ratio and 450 nits' brightness.
– 4GB RAM/64GB ROM, Windows 10/Remix OS 2.0 Dual OS.
– 8400mAh Li-polymer battery, 2MP/2MP dual cameras, USB 3.0 Type-C port and support 5V/3A quick charging.
– Support for detachable magnetic docking keyboard and Chuwi HiPen H2 stylus (sold separately).
– Aluminum full metal body, industrial design, 8.8mm thin and 686g light.
CHUWI Hi10 Plus Z8300 VS. CHUWI Hi10 plus Z8350
The main difference between Intel Atom x5 Z8350 and Intel Z8300 is on operating frequency, Intel Atom x5 Z8350 is clocked higher turbo frequency at 1.92GHz, but Z8300 only reaches 1.84Ghz, you can check the charts below about the comparison between Z8350 and Z8300, the higher the number of cores and operating frequency are, the better and faster speed the tablet pc can run.
Z8300 vs. Z8350

Pros and Cons
Atom x5 Z8300
Atom x5 Z8350
General recommendations:
Built-in partial virus protection General recommendations:
Clocked higherDrawbacks:
Has lower maximum turbo frequency Drawbacks:
None
As for other specs, the Chuwi Hi10 Plus stays exactly the same as before so a 10.8-inch tablet with 3:2 aspect ratio and 1920 x 1080 pixel resolution, 4 GB RAM/64 GB ROM, 8400mAh battery with 5V/3A fast charge support, full metal body with 8.8mm thickness and 686 g of weight, dual 2MP, full-fledged USB 3.0 port and dual boot of Windows 10/Remix OS 2.0. You can dock the detachable magnetic keyboard or Chuwi HiPen H2 stylus to interact with this device in the way you prefer.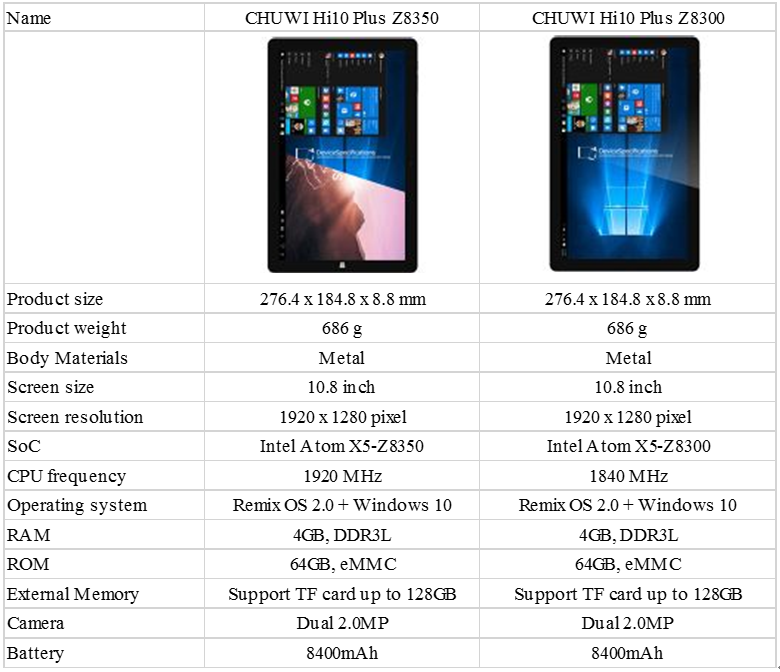 Luckily, this performance bump isn't going to cost you more. You can click here to know more details about CHUWI Hi10 Plus Z83500.