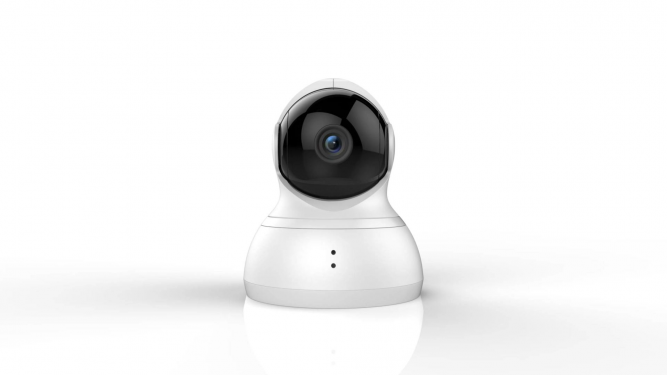 Most customers are certainly very familiar with YI home camera 720P and 1080P. YI home camera is known for its budget price, easy set-up, great picture quality, wide angle lens, great build quality etc. Now, YI technology has released a new camera —YI dome camera. Its biggest selling point is 360° no dead angle shooting. 112° wide-angle advanced glass lens combined with 345° horizontal & 115° vertical rotation range create a complete 360° coverage. In addition, YI dome camera is equipped with 8 built-in 940nm infrared LED beads that allows you to see details in the dark up to 3 meters with zero glare. What's worth mentioning is that YI dome camera supports 2-way audio mode, Intercom mode, hands-free mode. Now, let's have a close look at YI dome camera.
Packaging
YI dome camera came in a simple white box with YI logo and brand name on it.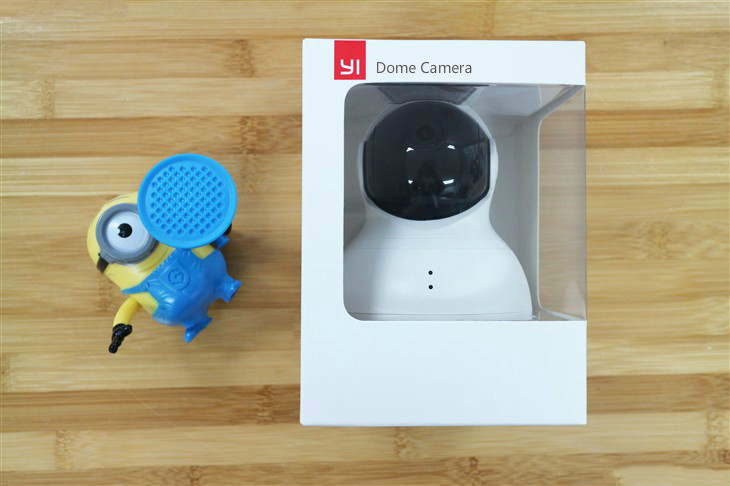 There is a list of YI dome camera's main features on the side of the box, including 720P HD, Panoramic Auto-Cruise, 112° wide-angle, infrared night vision, 2-way audio, motion tracking etc. Inside the box, you will find 1 × YI dome camera, 1 × USB cable, 1 × charger, 1 ×Mounting Plate, 2 × screws, 1 × User manual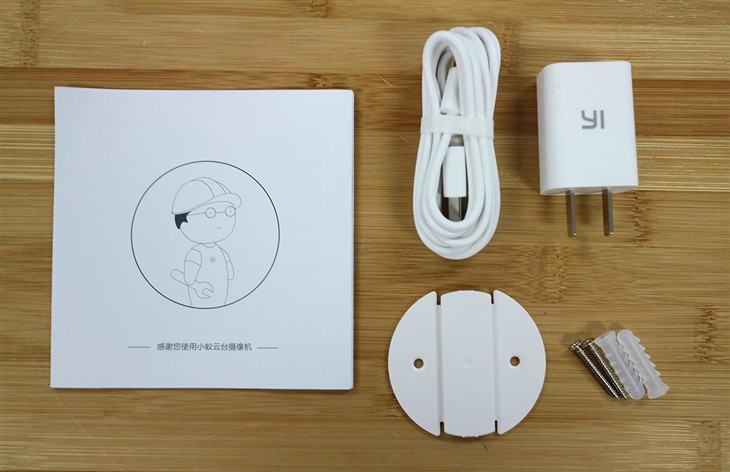 Design
YI dome camera attracts people's eyes with its compact design. The upper part of the device is equipped with a camera that has 112° wide-angle advanced glass lens, 2.6mm focal length, 8 built-in 940nm infrared LED beads. The camera supports 4 times digital zoom and 720P HD shooting. Beneath the camera, there is a microphone.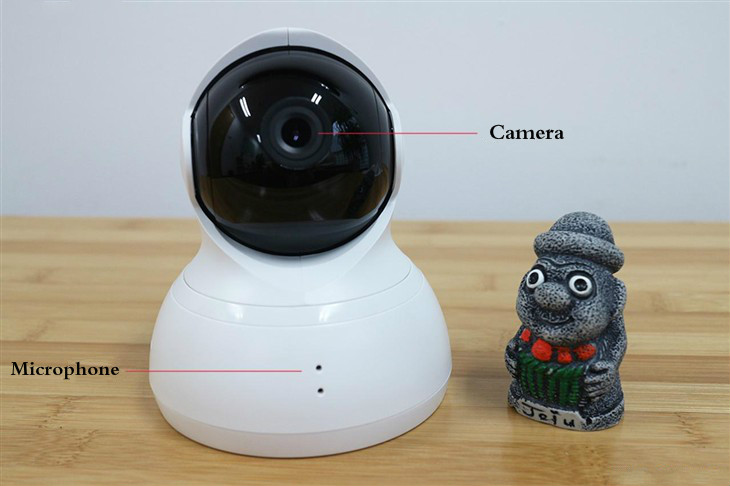 On the side of the YI dome camera, there is a speaker.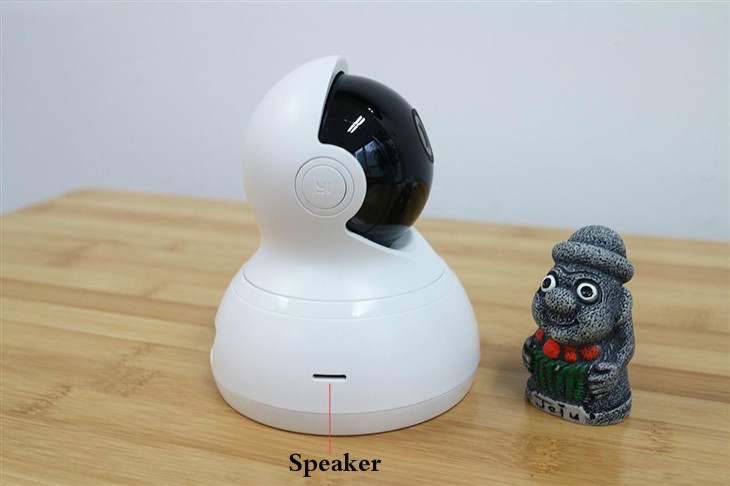 The reset button, Micro USB port and Micro SD slot locate on the edge of the base. YI dome camera supports Micro SD cards up to 32GB.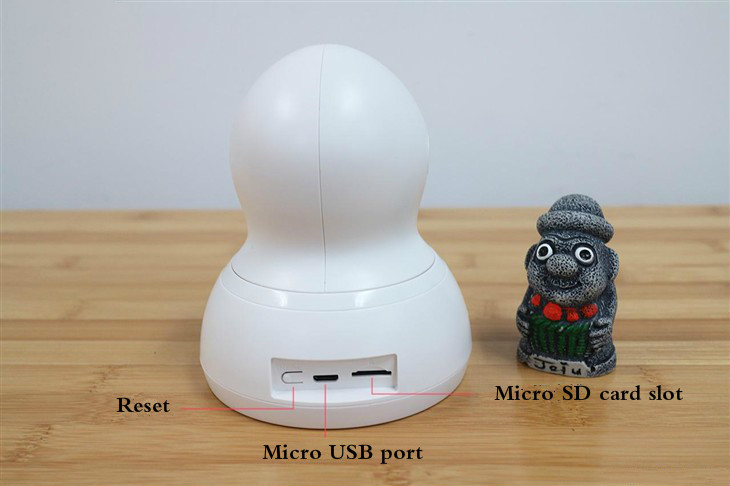 On the base, you can find a non-slip rubber pad, device identification and QR code. You cannot only place YI dome camera on the table, but also can hang it on the wall or mount to the ceiling.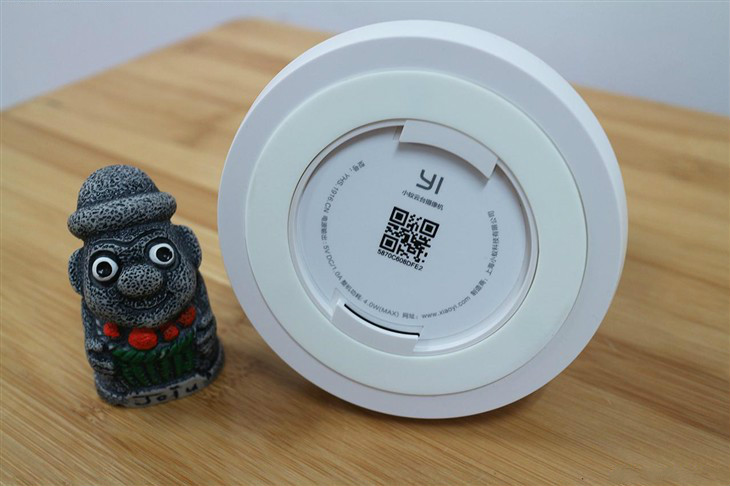 APP connection
Setup is very simple. First, download YI Home APP and then sign up a new YI account or login in your YI account. Then bind your YI dome camera with your phone according to instructions. It should be noted that you need to let the camera scan the specific QR code during connection process. On this way, it improves the connection security. If the QR code is invalid, you can long press the reset button and repeat the above-mentioned process.
Performance
As a home camera, what we pay the most attention to is video quality. YI dome camera can shoot 720P (1280×720) video. The camera adopts 112° wide-angle advanced glass lens and 8 built-in 940nm infrared LED beads. You can choose SD (standard definition) or HD (high definition) two modes to take photos. Now, let's take a look at the sample shots taken by YI dome camera.
When you turn off all the lights, the camera will switch to nigh vision mode automatically. Even there is no light, YI dome camera still can take pictures and shoot videos.
Other functions
1) Motion tracking
When turned on, YI dome camera will track the motion automatically. Alerts can be sent your phone and you can set the sensitivity level of detection to low, medium or high. You can also set the alert frequency to low, medium and high as well. The app will also allow you to set a schedule for alerts or leave it set for 24/7.
2) Panoramic Auto-Cruise
YI dome camera surveys the area 360° horizontally or cruises your bookmarks. It is convenient for large rooms with multiple areas that need a quick scan. You can select up to 8 locations of preferred viewing angles and return to them at the tap of a button. Ultimate flexibility for pointing the camera to high points of interest, such as an upper window, door in the left corner, or your cats favorite lounge spot. Motion Tracking works in cooperation with Auto-Cruise features. Whenever motion is detected, Dome Cam tracks, centers, and records the moving object (optionally sends a 10-second Activity Alert) and then return to where it left off.
3) Two-way audio
YI dome camera supports two-way audio. You can select intercom mode (only one party to talk and listen at a time) or hands free mode (talk and listen freely) to communicate with your family.
Conclusion
YI dome camera meets our daily requirements. It did good job in night shot and offers 360 degree panoramic monitoring and panoramic auto-cruise, which brings convenience and new experience to users. Moreover, YI dome camera also did great job in remote monitoring and in time alert notification. Certainly, YI dome camera has its shortcomings. Currently, pictures and videos taken by YI dome camera can only store in user's smartphone or SD card. Cloud storage will be available in the future. Generally, YI dome camera is a budget high performance camera. If you are looking for a home camera, YI dome camera is a good choice.