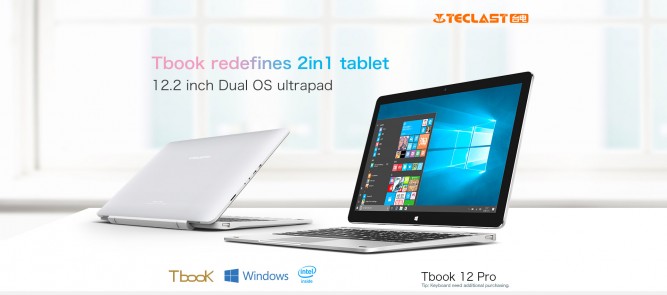 Teclast Tbook 12 Pro is one of the latest models of Teclast. With a vivid touch screen and adaptive display technology, this tablet brings your photos and videos to life. Quad-core processor makes it easy to navigate home screens and apps. HDMI technology integrates your other devices, so you can easily switch from your Tablet PC to your smart TV or smartphone while working and playing. Supports device that allows users to take advantage of both Windows 10 Home and Android 5.1 operating systems on the device. Powered by Intel HD graphics, coupled with 4GB of RAM. Now, let's begin unboxing!
Packaging
The tablet comes in a white box with Teclast logo on it. Inside the box you will find the following items: 1 x Micro USB slot, 1 x TF card slot, 1 x Micro HDMI slot, 1 x 3.5mm Earphone jack,1 x DC jack,1 x Docking interface
Design
Tbook 12 pro is compact and slim. It measures 299 x 202 x 10.6 mm and weighs 829g. The thinnest edge of Tbook 12 pro is 4mm. Its silver metal cover and OGS touch panel build a unique tablet with charming.The front of the tablet houses a 12.2 inch screen with 2.0 front facing camera above it. There are power button and volume button on the top side of the tablet. On the left side of the tablet there are Micro USB port, Micro HDMI slot, 3.5mm Earphone jack, DC jack, TF card slot.
Display
Tbook 12 Pro has a very nice 1920×1200 Full HD display at a 16:9 ratio. While the spec is pretty it is even more impressive when you have it in your hands. The colors are deep and rich and the images rendered are very clear and crisp. Besides, its narrow bezel makes the screen look larger.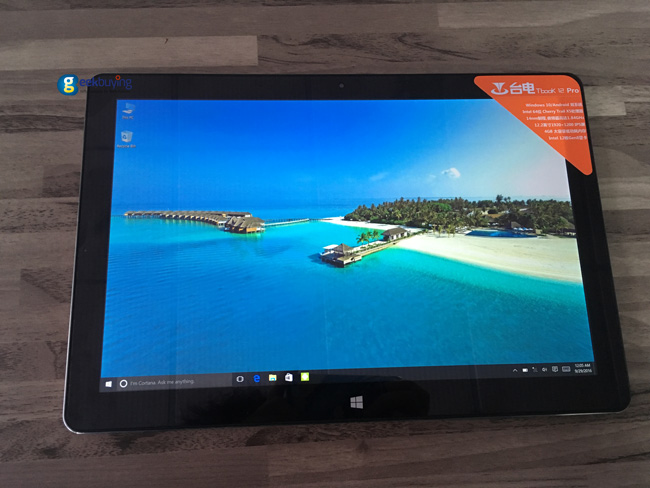 Processor and RAM
Tbook 12 pro is powered by Intel Cherry Trail Z8300 Quad Core Quad-core processor 1.44 GHz that can run up to 1.84GHz with Turbo Boost technology thereby making the device capable of handling the most demanding tasks with speed and responsiveness while preserving the battery life. With 4GB DD3L RAM and 12-core Gen 8 High definition, Tbook 12 pro allows you run casual games smoothly and run photos and video-editing applications, as well as multiple programs and browser tabs all at once.
Storage
Tbook 12 Pro comes with 64GB eMMC of internal storage. The available on board storage is split between the Android and Windows installs. If you're installing a lot of apps, games, or saving movies for offline, storage space will go quickly. Fortunately, there is a micros card slot that can be used to add storage up to 128GB.
Operating System
The biggest selling point of Tbook 12 Pro is its dual OS. It runs Windows 10 and Android 5.1 Lollipop in one device. On the Android side, it is extremely snappy in speed. The quad core Intel CPU that is in this tablet is perfect for it. We have not noticed any hiccups on the Android partition of this tablet. Everything loads extremely quickly and we have access to all apps that we would expect to get from any other android device. The dual boot switching is very snappy.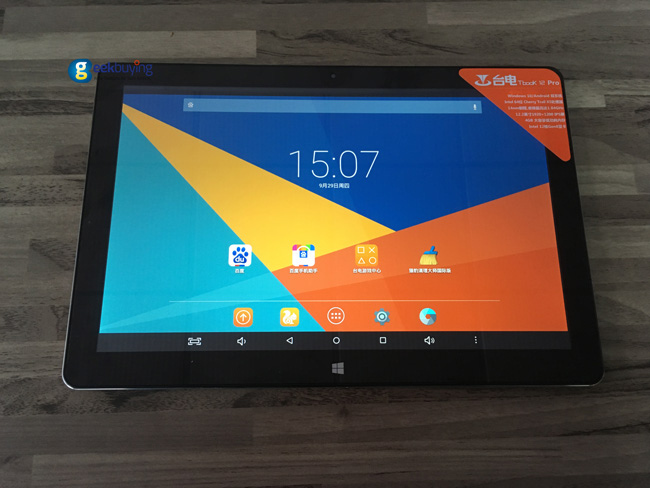 On the Windows side, it is still very snappy, but we have noticed some slight delays in response here and there when we try to play some graphically intensive game. But this does not affect our feeling towards this tablet as it is not designed for running all PC games. As far as functionality compared to a standard Windows 10 laptop or desktop computer, we are able to do all of the same things. We can run all the same software, download and use all the same apps and programs, etc.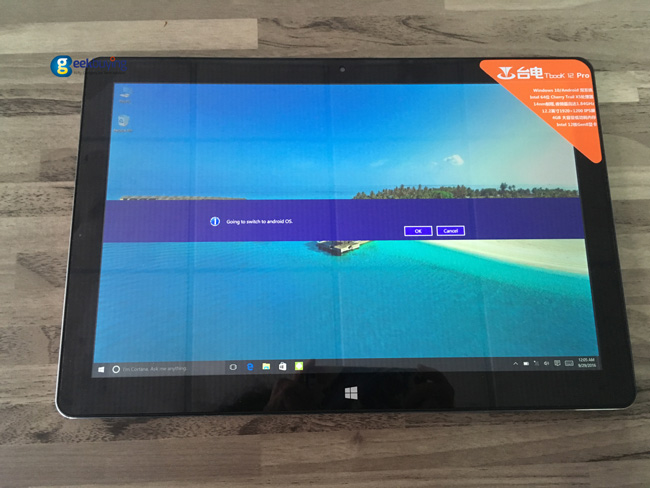 Battery
The tablet comes with 7200mAh 3.7V battery.We did a test. After about 3 hours of video, battery indicated about 70% remaining. For light use, periodically checking email, browsing the web, checking the weather and occasional words-with-friends, the battery has lasted days.
Overall, this is a fantastic tablet with great functionality and we could not recommend it more especially for the price point that this one comes in at.