Recently, Onda released its newest budget tablet – Onda Obook 20 Plus. Onda oBook 20 Plus is a 2 in 1 tablet PC that equipped with a 10.1 inch display that supports for 1920 x 1200 pixels with an aspect ratio of 16:10. Besides, The Onda oBook 20 Plus is a dual OS supporting device that allows users to take advantage of both Windows 10 and Android 5.1 operating systems on the device. It is powered by fifth-generation Intel Atom Z8300 graphics and eighth-generation Intel HD graphics, coupled with 4GB of RAM. Now, let's look at its performance.
Packaging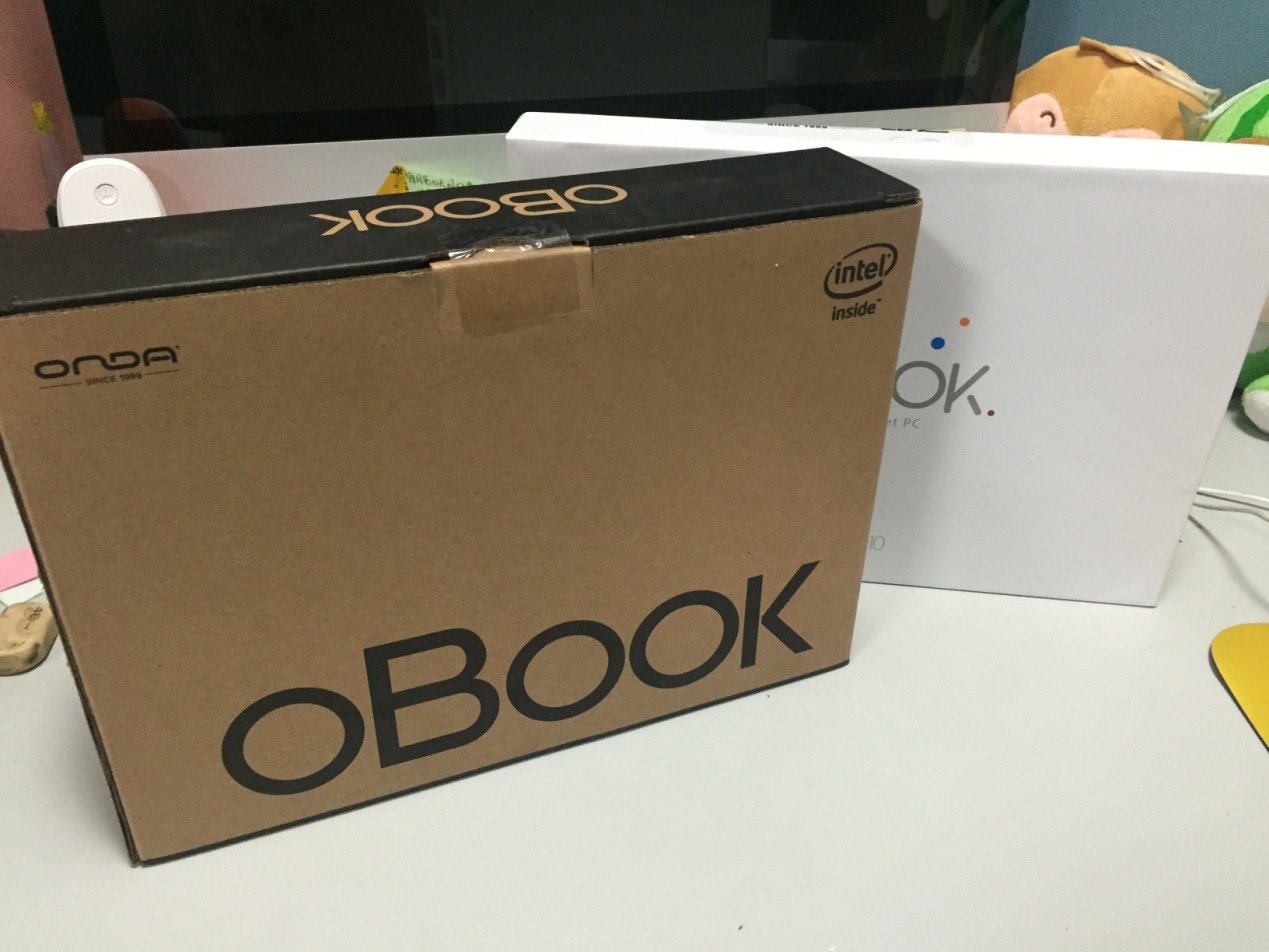 Onda Obook 20 plus comes packaged in a recycled white box and the original docking keyboard comes in a brown box. Inside the two boxes, you will find 1 x Tablet PC, 1 x Power Adapter, 1 x USB Cable, 1 x OTG cable, 1 x User Manual, 1 x docking keyboard.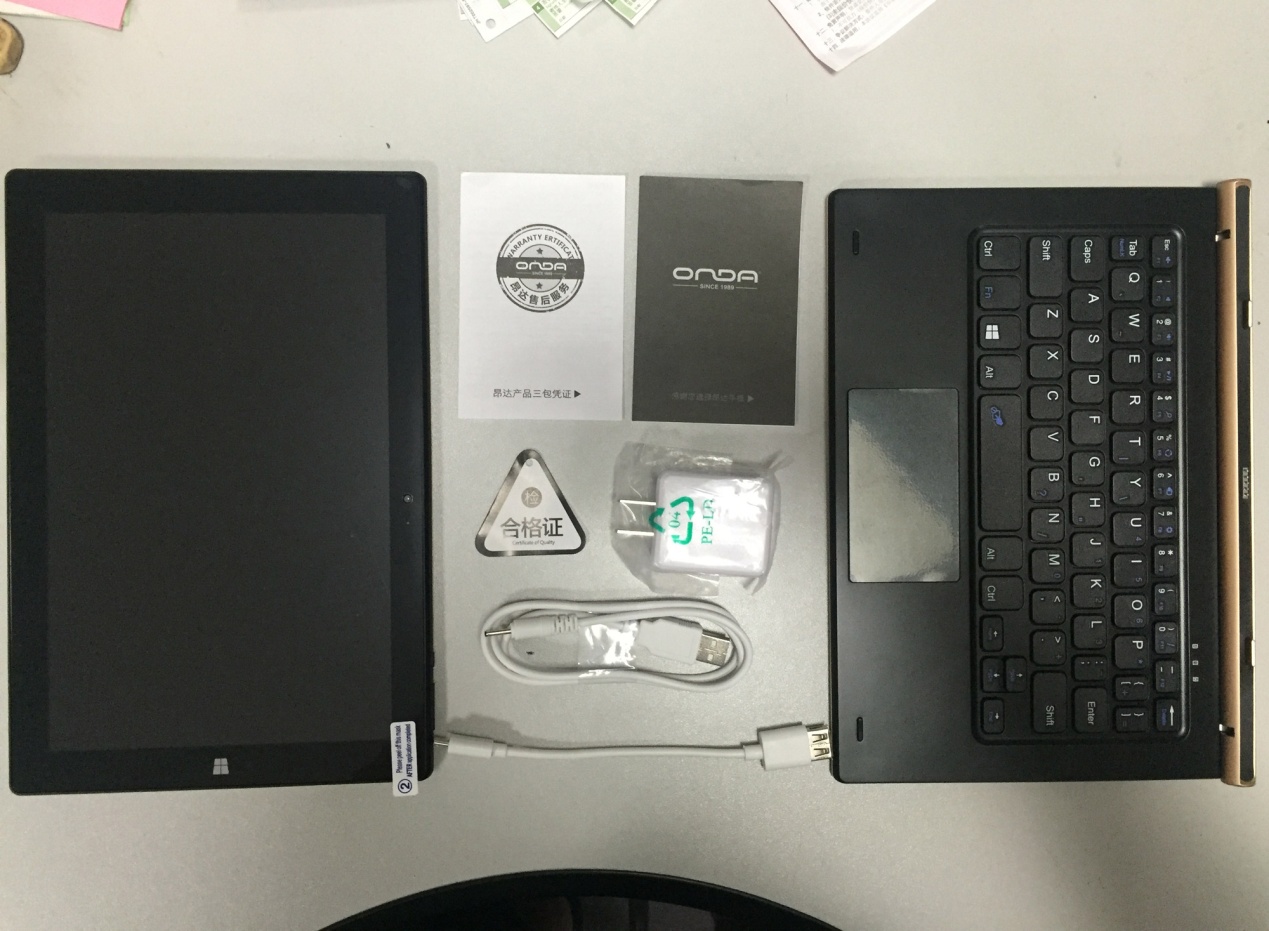 Design
Onda Obook 20 Plus adopts new design with a champagne gold metal body. Its 2 in 1 ultra-thin design makes it different from other common tablet pc. Combined with original docking keyboard, you can switch freely between tablet pc mode and laptop mode. The 10.1 inch Tablet weigh just 560g and 8.0 thickness, with a 3.5mm thickness at the thinnest part.What's worth mentioning, Onda has redesigned the WiFi Antenna and claiming that overall reception and signal strength is much better now.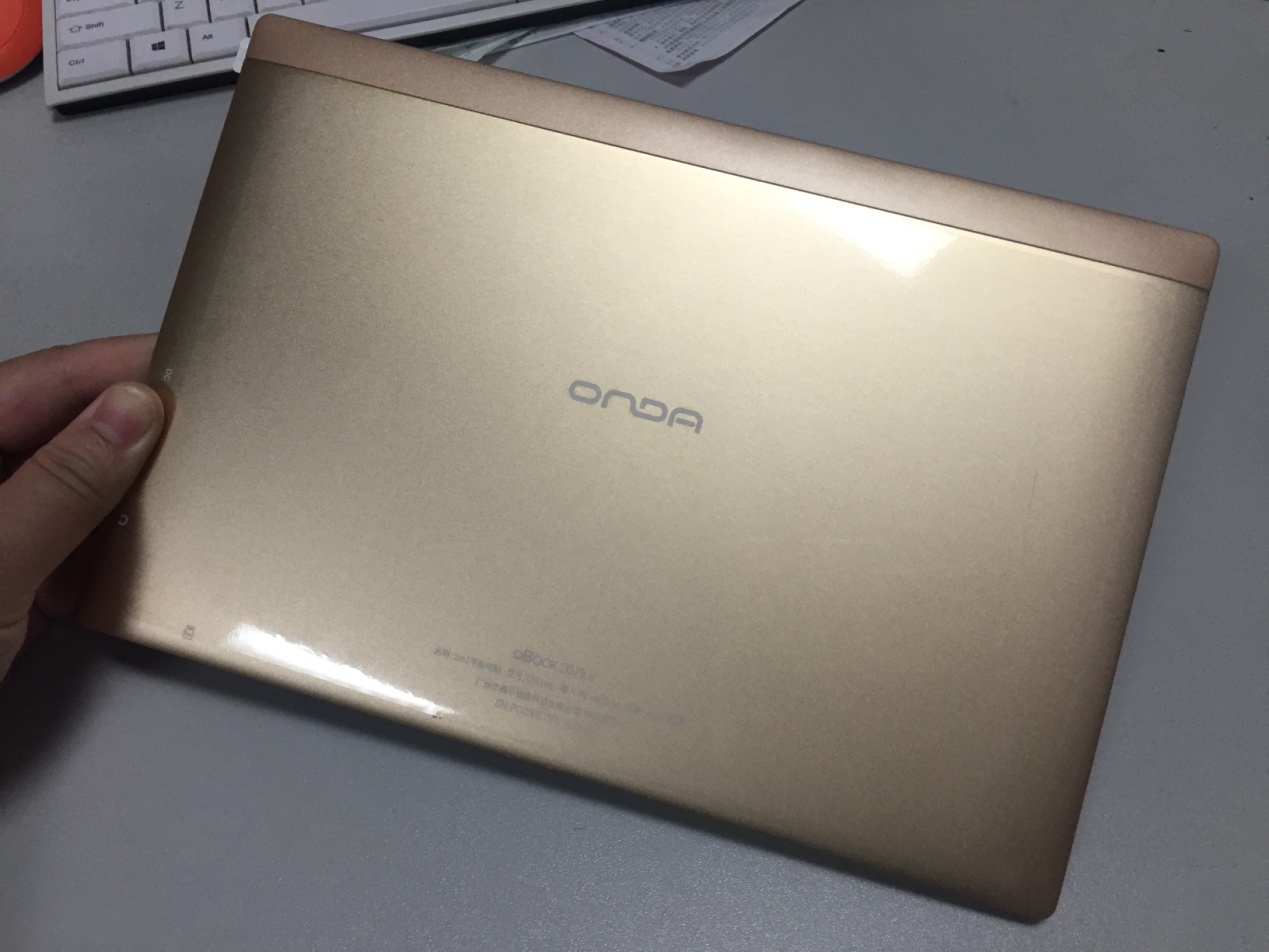 The front of the tablet houses 10.1 inch IPS 1920 x 1200 resolution screen with 2.0 front facing camera above it. It offers excellent viewing angles, true-to-life colors.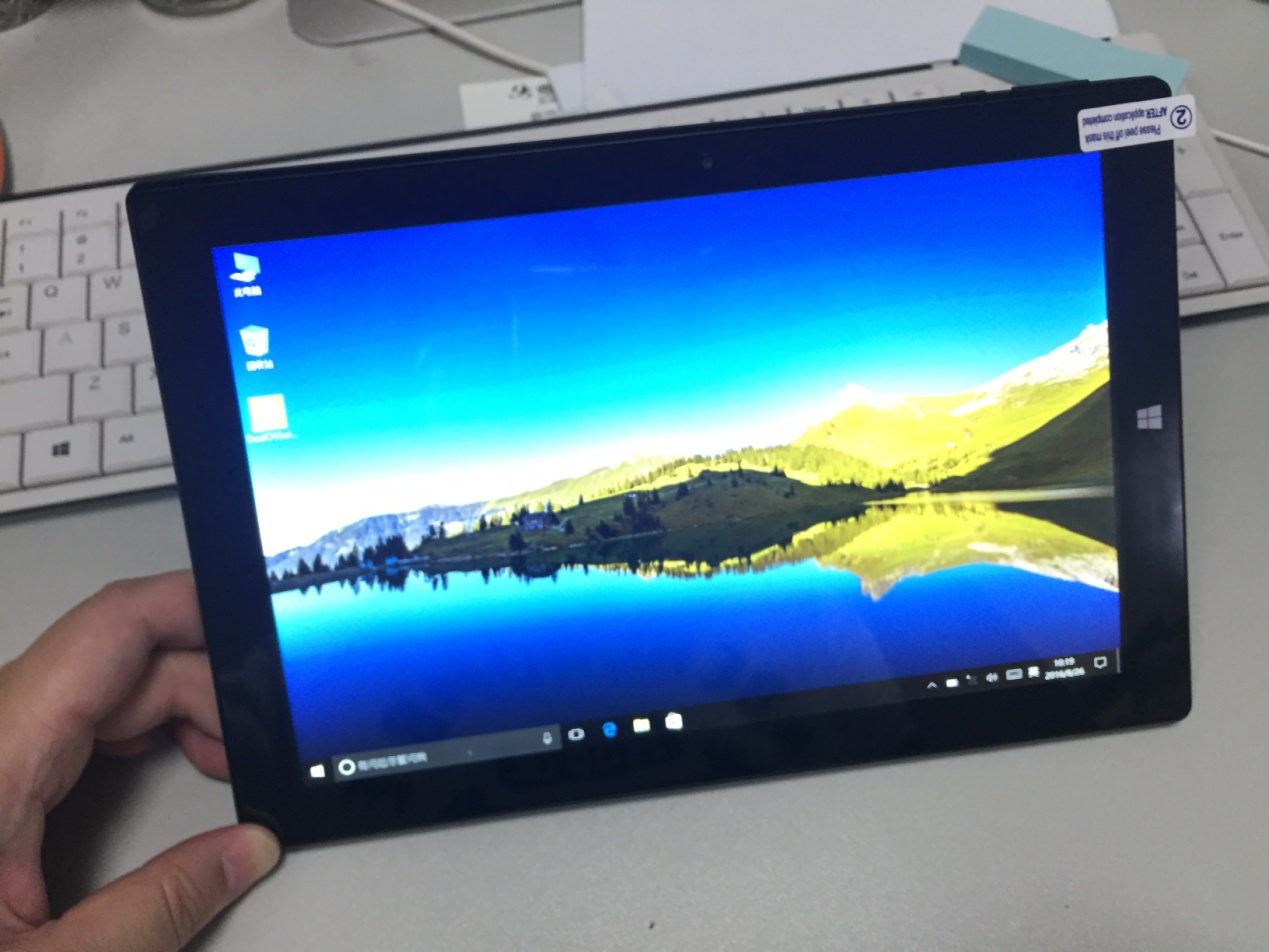 In terms of interfaces, the DC jack, micro HDMI and micro USB slots, 3.5mm audio jack are on the right side of the tablet. The TF card slot are located on the bottom of the tablet. On top of the tablet, you will find volume button and power button.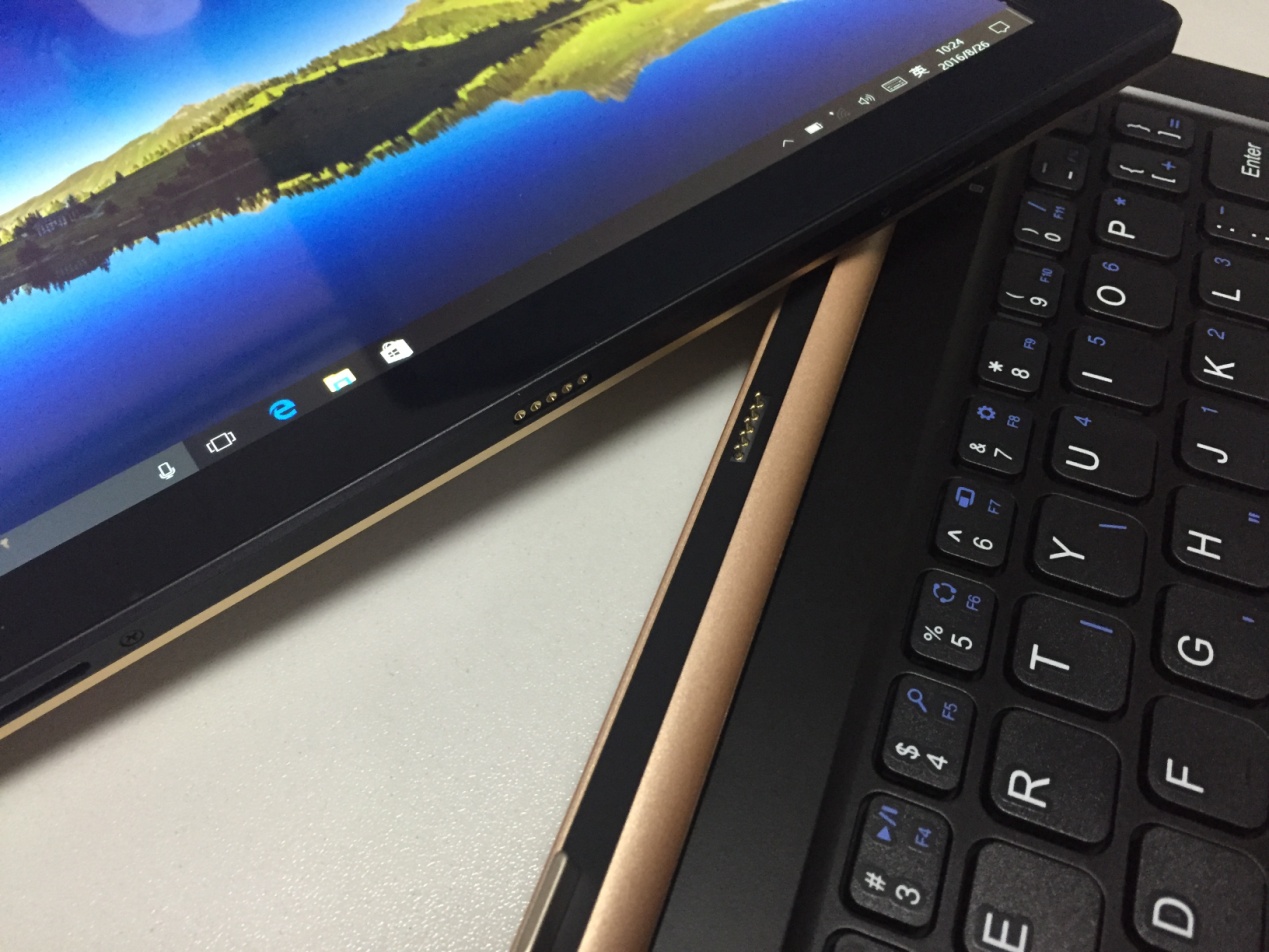 The tablet is thinner than a pen.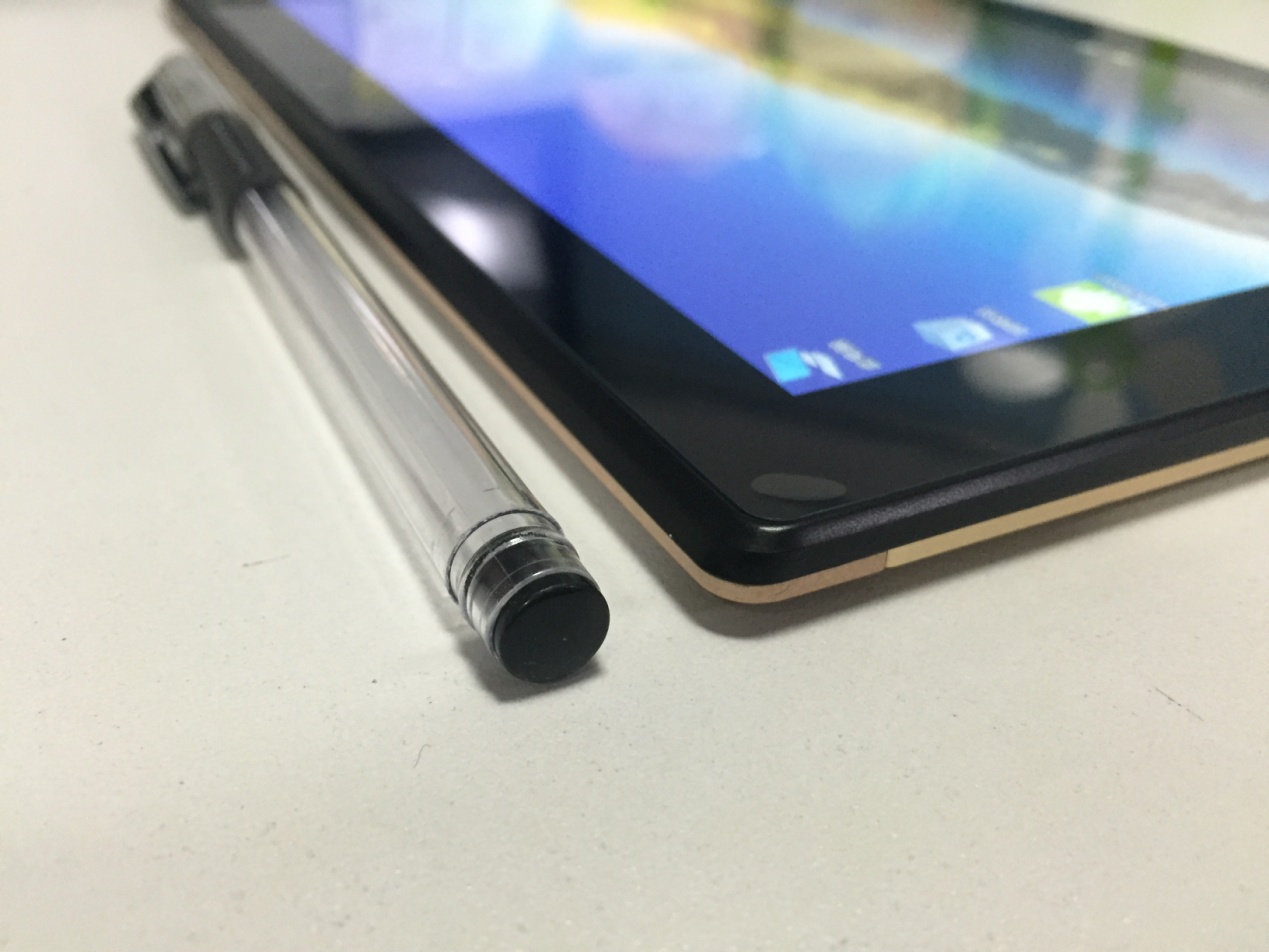 The original keyboard is made of plastic and feels nice. It is responsive with really nice and adequate travel time. Although the keys aren't that spaced apart, the keyboard itself is big enough for me to enjoy typing on it. Meanwhile, multimodal metal rotary shaft allows you to change from laptop mode to tablet mode each other at any time. You can also find a standard USB port on the keyboard.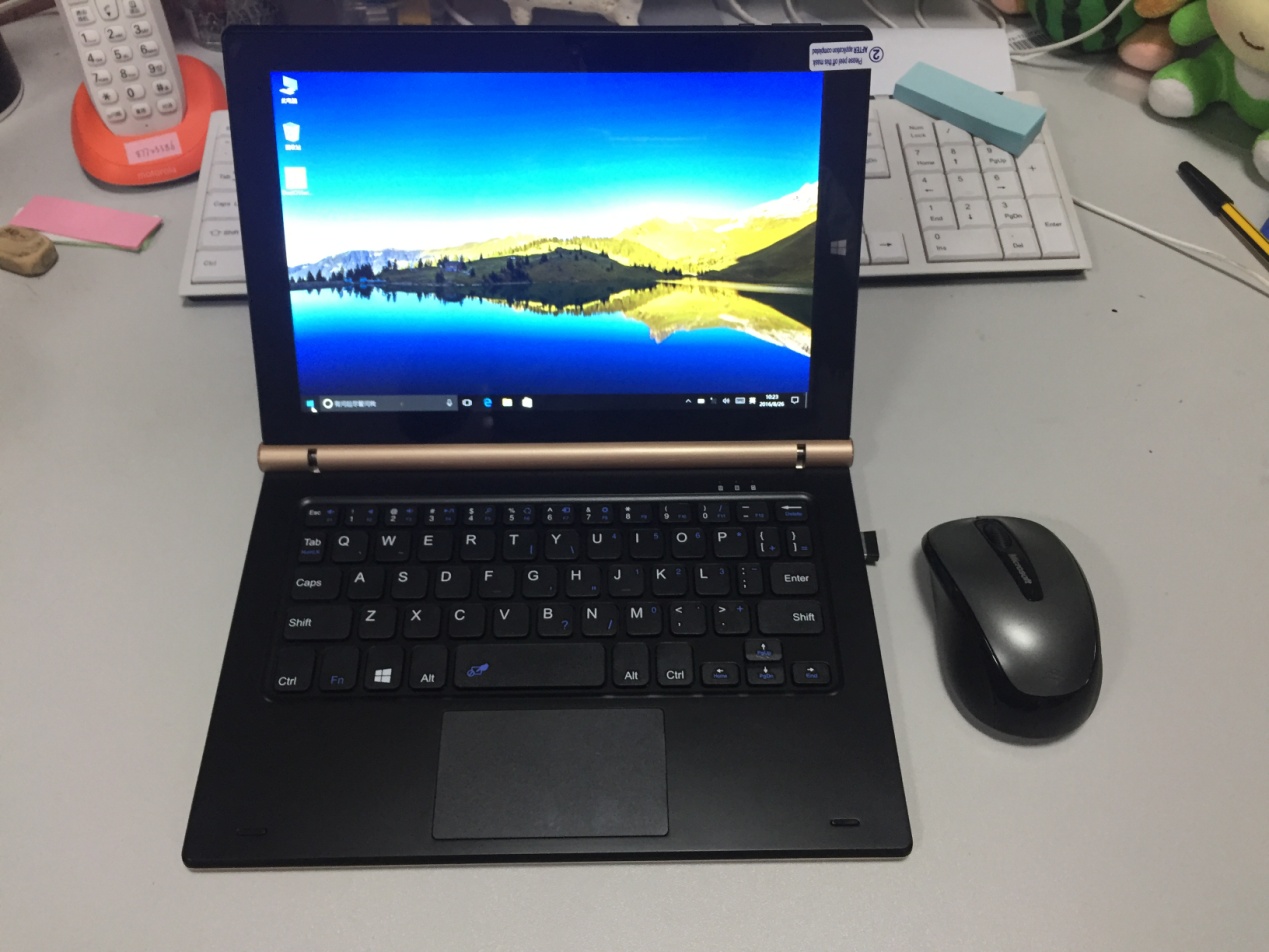 Performance
Onda Obook 20 Plus is powered by Cherry Trail Z8300 with 4GB RAM and 64 GB Storage. It comes with pre-installed Windows 10 and Android 5.1 dual OS.
AnTuTu Benchmark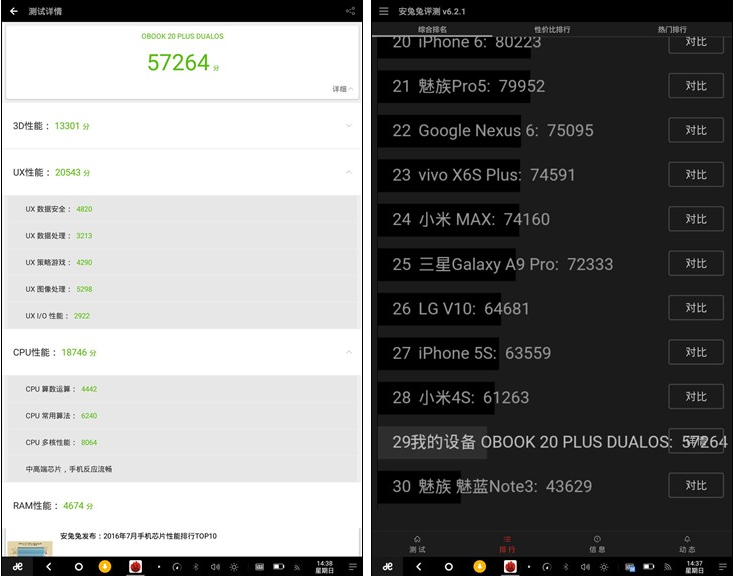 The overall score is 57264, which is the normal level among tablets based on Atom X5 processor. 3D graphics performance 13301 points, UX performance 20543 points, CPU performance 18746 points, RAM performance 4674 points.
Android version 3D Mark Test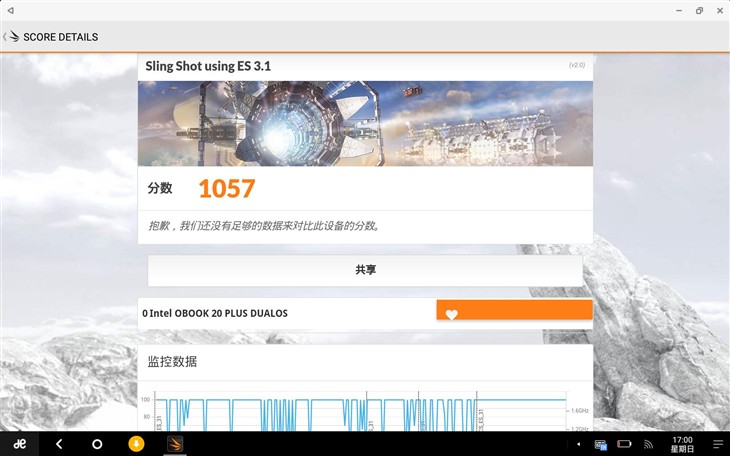 The overall score is 1057, which is above average among tablets based on Atom X5 processor.
CINEBENCH R15 Test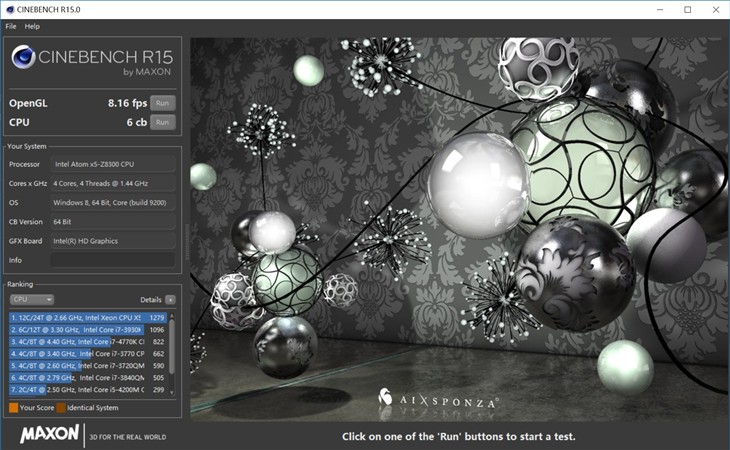 The OpenGL test result is 8.16fps and the CPU test result is 0.88pts, which is the normal level among tablets based on Atom X5 processor.
Windows version 3D Mark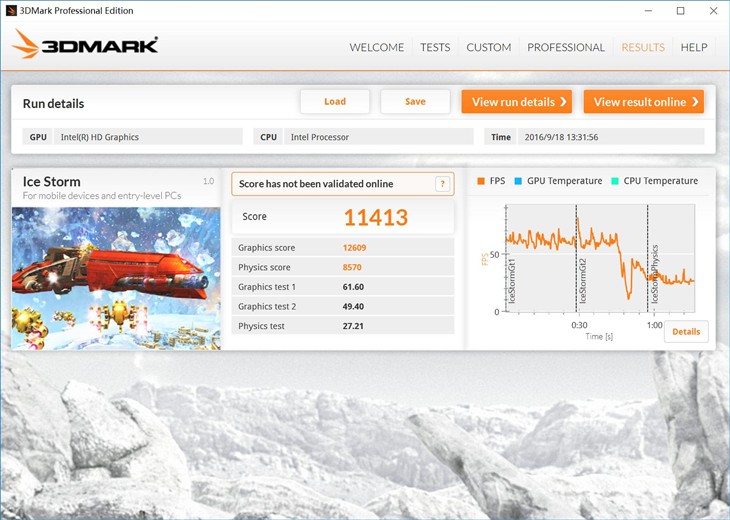 Ice Storm test result is 11413 points, which is intermediate level. Graphic score is 12609 and physical score is 8570.
AS SSD Benchmark
AS SSD Benchmark determines the performance of Solid State Drives (SSD). After testing, sequential read speed reaches 123.03MB/s and writing speed reaches 57.24MB/s, which is above average among tablets.
OS switching test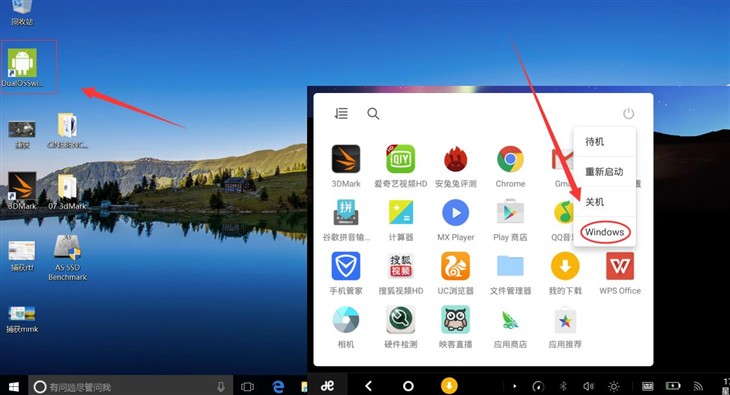 Switching between two operating systems is easy and relatively fast. Switching from Windows to Android costs around 50 seconds, while switching from Android to Windows costs 1 minute.
Game Test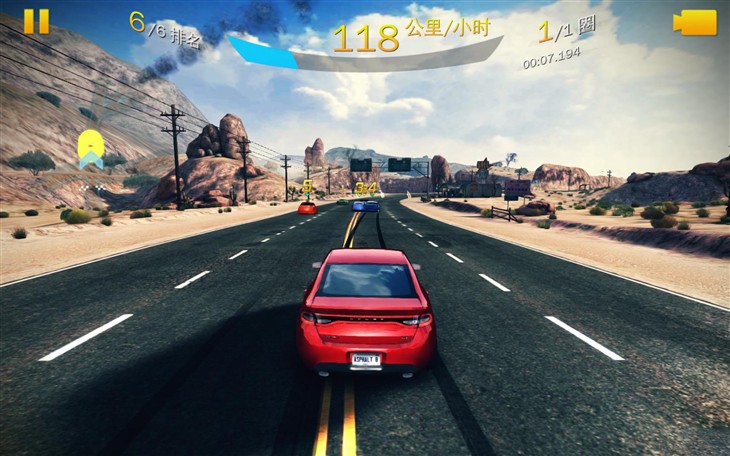 We run Asphalt 8 smoothly with no lag and no fps drops.
Good Battery life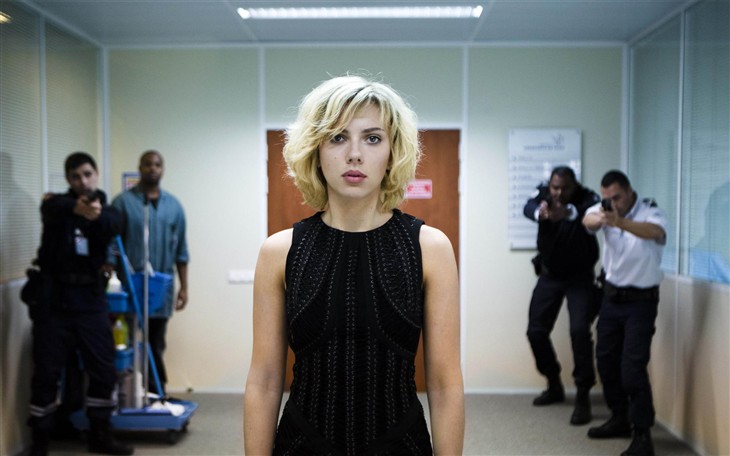 Onda Obook 20Plus is equipped with 3.7V 6000mAh battery.We played 1080P HD movie Lucy after battery was fully charged. We adjusted the brightness to 100% and volume to 12%. After 1 hour video playback, the battery capacity remains 88%. It's estimated that the overall battery life will be around 8 hours in this case.
Conclusion
Under $200, it's difficult to find fault in Onda Obook 20 plus that can handle most tasks and offers both Android and Windows operating systems. We strongly recommend you purchase the original keyboard for the extra functionality it affords, but even without it the Onda Obook 20 plus is a very decent budget tablet, with good performance and a decent screen.