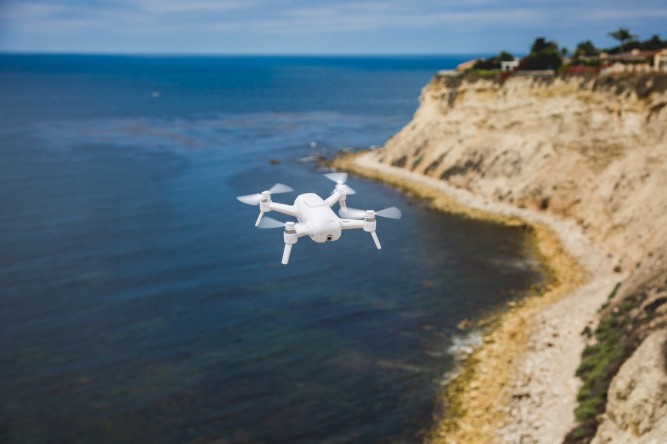 The Yunnec Breeze 4K Selfie Drone has just been launched. Yuneec Breeze is a flying camera designed with you in mind. Both convenient and compact, Breeze is controlled by your iOS or Android device with the Breeze Cam app and weighs just under 1 pound. Now capture aerial photos and video of your daily adventures effortlessly and do it in stunning 4K Ultra High Definition. Simply take Breeze out of the box and let it fly.
Here are some FAQs about Yunnec Breeze.
Q: How do I download the Breeze Cam app to my phone?
A: If you are on an iOS device go to the App Store and search for "Breeze Cam". If you are using an android device, go to the Google Play store and search for "Breeze Cam."
Q: How do I connect my phone to my drone?
A: Go into system settings and turn on Wifi. Look for the Wifi named "Breeze_xxxxxx". The default password is 1234567890.
Q: What is the flight time of Breeze?
A: Flight time can be up to 12 minutes depending on conditions.
Q: How long does the battery take to charge?
A: The battery takes approximately 30-40 minutes to charge.
Q: How do the task modes work?
Pilot: In Pilot mode you have the most control of the Breeze. Using the traditional two-stick R/C control method, you can fly the drone anywhere around you manually utilizing the Breeze Cam app.
Selfie: In Selfie mode anyone can position the drone even without prior flight experience. Use the distance, altitude, and position sliders to adjust the position of the drone.
Orbit: In Orbit mode you can easily task the Breeze to orbit around you or another object. After positioning the Breeze, you can select orbit left, right, or pause the orbit at any time.
Journey: In Journey mode the Breeze uses the Selfie mode interface for positioning the drone. The camera pitch determines the angle the drone will fly at, and you can adjust how far it goes.
Follow Me: In Follow Me mode you fly the Breeze manually to the location you want the drone to follow you from. After setting its position, the Breeze will react to your movements and follow along.
Q. How do I download images from Breeze?
A: You can download images from Breeze with two different methods. First, you can view the images in the gallery on the home screen of the app. When you view a photo it will download to your phone in full quality. You can also plug a micro USB cable into the Breeze to directly upload images onto a computer.
Q: Can I share my photos and videos on social media?
A: After you download images and videos onto your phone through the app. View the image or video you want to share in the Breeze Cam app and tap the dots in the top right. The app will pop up a text field for the respective social media site for you to write something special about your photo.
Q: What social media sites can I share to?
A: Facebook, Twitter, Instagram, Flickr, WhatsApp, Google+, WeChat, etc.
Q: The Breeze's internal memory is full. How do I clear it?
A: If the internal memory on the Breeze is full, you will want to first make sure all your images and videos are backed up on your phone or computer. Next, you will need to go into the Camera Settings menu and select "Format SD Card."
Q: Why does the image on my phone not look stabilized?
A: Breeze features Electronic Image stabilization of the recorded media and video downlink in 1080 & 720 HD settings. In 4k recording mode and Photo mode, the downlink will not be stabilized.
Q: Can I change the video resolution?
A: Yes. In the Breeze Cam app, you can select from three different options.
UHD- (4k) 2160p @ 30fps
FHD- 1080p @ 30fps with Digital Stabilization
HD – 720p @ 60fps with Digital Stabilization
Q: Can I change the downlink resolution?
A: The downlink resolution is dependent on the Video Settings.
UHD the downlink will be 848×848 @ 30fps.
FHD the downlink will be 720p@30fps.
HD the downlink will be 720p@30fps.
Q: I can only use pilot mode. Why?
A: If you are inside a building or have poor GPS signal you will be limited to using Pilot Mode. The other flight modes require a GPS signal for positioning.
Q: Will the drone hold position inside?
A: Yes. Breeze is equipped with Indoor Positioning Sensors (IPS) that use textures on the ground to hold its position. Breeze also has an infrared sensor that gives centimeter accuracy of altitude. It is highly recommended to use prop guards when flying indoors.
Q: My phone disconnected from the drone. What should I do?
A: If your phone disconnects from the drone it will hover in its current position. If Breeze does not re-connect with the phone it will fly back and land at the takeoff point after one minute.
Q: If I get a call in the middle of flying what happens?
A: If you get a call in the middle of flying, Breeze will hover in position and wait until you are off the call. The app will display the screen you left off on.
Q: If my phone dies while flying what will happen?
A: If your phone dies, Breeze will wait one minute in its current position then return to the takeoff point and stop its motors after landing.
Q. Where can I find more information about the functionality of the Breeze Cam App?
A: When you are in the app click "?" at any time. After clicking "?" an on screen tutorial for the mode you are in will pop up and walk you through each step.
Q: What is a compass calibration?
A: Breeze uses a GPS and compass to keep its orientation. When you travel to a new place it is always recommended to do a compass calibration. Press "calibrate" while the drone is on the ground and follow the animations on screen.
Q: Why are images not saving to my camera roll?
A: After downloading images from Breeze, click the icon in the top left. Select "Save" and the image will be saved to your camera roll. If the images do not show up for the download fails, make sure your smart device and app software are up to date.
Q: Why can't I land my drone?
A: When you want to land Breeze you need to tap "Land" or "Return to Home." You cannot land Breeze by holding down the throttle stick.
Q: When should I use prop guards?
A: You should always use prop guards when you are flying inside or in situations you deem the prop guards necessary.
Q: How do I get ready to fly inside?
A: On the Task Mode page, you should switch off GPS (top left). When GPS is turned off, only Pilot Mode should be available.
Q: During a flight, why does Breeze gain or lose altitude?
A: When flying Breeze, the Infrared sensor will always be scanning altitude and will hold its position in relation to the ground. If the ground loses or gains altitude, Breeze will adjust accordingly.
Click here for more information about Yunnec Breeze and welcome to feedback more questions for us.