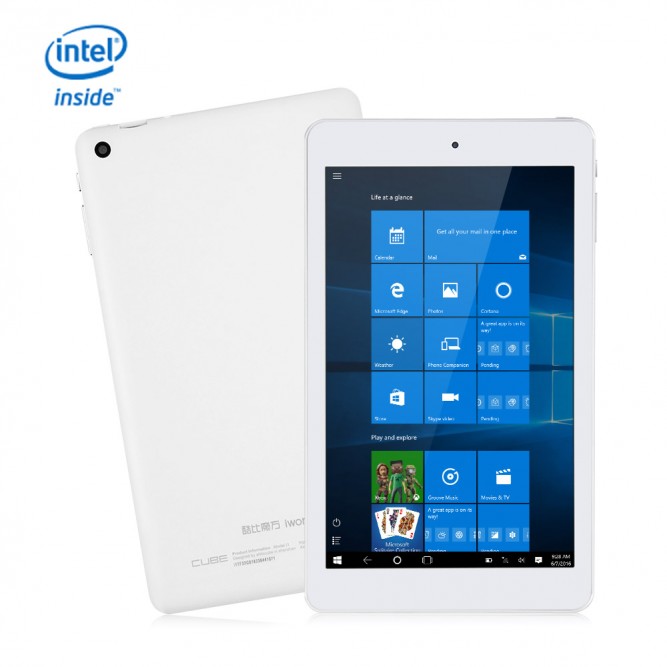 Cube iWork8 Air is a dual-OS Android 5.1 + Windows 10 budget tablet with a 8-inch IPS screen that has 1920 x 1200 resolution, a Intel Atom Z8300 processor, 2GB of RAM, and 32GB of storage with 128GB TF card support. Let's have a detailed review.
Design
Cube iWork 8 Air weighs only 339g that allows you carry it anywhere. The front of the device houses an 8 inch 1920 x 1200 resolution IPS display with front facing camera above it. The classic white back cover is full of texture. On the top of the back cover, there is a main camera.
Display
Cube iWork 8 Air features an 8.0 inch IPS touch screen with 1920 x 1200 resolution, brings you incredible visual feast. The 1920 x 1200 resolution boasts impressive color and clarity and IPS technology provides wide viewing angles.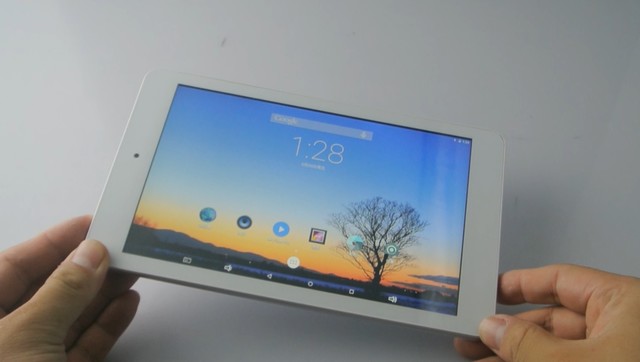 Processor and RAM
Cube iWork 8 Air is powered by Intel Cherry Trail Z8300 64bit Quad Core 1.44GHz, up to 1.84GHz and uses Intel HD Graphic Gen8 GPU which can let us enjoy high quality of images, videos, games and internet searching, etc. It is equipped with 2GB RAM allowing you to run basic games, photos and video-editing applications, as well as multiple programs and browser tabs all at once.
Storage capacity
Cube iWork 8 Air is equipped with 32GB large storage provides enough room to store pictures, videos, music and etc. The memory can be expanded by TF card up to 128GB.
Operating System (OS)
The best thing about Cube iWork 8 Air is the ability to choose your operating system whether you want a Windows 10, or you ache for Android 5.1 Lollipop. In either way, you won't get disappointed because this device has it all. Windows 10 allows you to run PC programs like Microsoft Word, PowerPoint and Adobe Reader and also browse, watch videos and play undemanding games, while Android OS brings you outstanding entertainment experience. You can choose whatever operating systems you want and dual boot switching takes about 1 minute. Applications can be downloaded from the Google play store or the windows app market installed. With excellent applications, you can shop online, contact friends, see film, or read books, or just play a game for relaxing.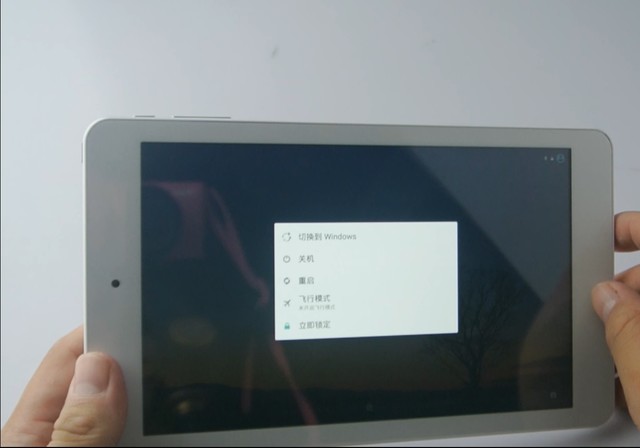 Ports & Connectivity
Cube iWork 8 Air supports WiFi connectivity and external 3G module. It also has Micro USB 2.0, Bluetooth 4.0 and more connectivity options. Cube iWork 8 Air also supports 4K ultra-clear video display, through its HDMI cable can output tablet image to TV, display and projector.
Dual cameras
Cube iWork 8 Air is equipped with 2MP front camera and 2MP rear camera. The 2MP front camera allows you to take perfect selfie and face time with friends. With a number of different shooting modes, 2MP rear camera let you capture memorable moments.
Battery
Cube iWork 8 Air uses 3500mAh lithium-ion battery, which can support at least 3 hours video playing. The standby time is around 3 days. If you turn down the brightness, switch off Bluetooth and Wi-Fi when it's not needed, the battery will last much longer.
Conclusion
For less than $100, we're really impressed with the Cube iWork 8 Air. In addition to a good-looking design and sturdy build, performance is well above the level you'd expect at this price, as is the quality of the screen. 8 inch is a perfect size for carrying in your bag wherever you go and using to check emails and social media and browse the web.