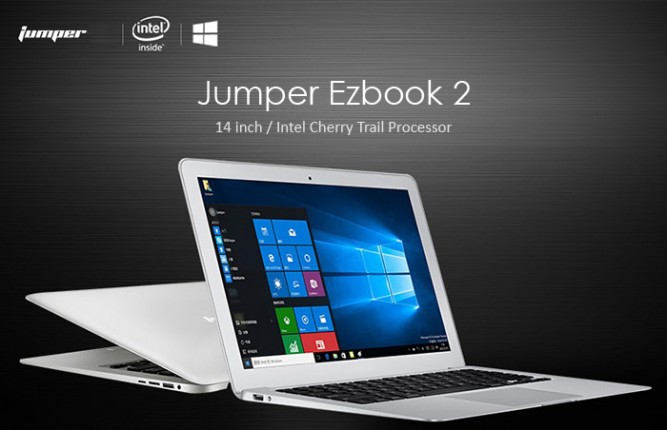 Today we are going to review a very light weight, thin, slim and powerful laptop —Jumper Ezbook 2. Jumper EZbook 2 14.1 Inch Windows 10 Ultrabook. It's time to change, thin as you can blade design, bigger and better input, 14.1 inch IPS display and HD resolution (1920 x 1080), stylish appearance, super thin and light, front case plastic materail + back case aluminium materail, Light weight of 1.4kg makes it a breeze to carry wherever you're headed.
Design
Jumper Ezbook 2 adopts aluminum alloy back cover and intelligent backlight LOGO. It weighs only 1.180 kg that allows you carry it anywhere. The front of the laptop houses 14 inch large screen with 2.0 front facing camera above it. There are USB 2.0 port and earphone jack on the right side of the laptop. On the left side of the laptop there are DC IN, USB 3.0 port, Mini HDMI port, TF slot.
What's worth mentioning, the touchpad is big and keys are evenly weighted, provide hard feedback, and are very responsive.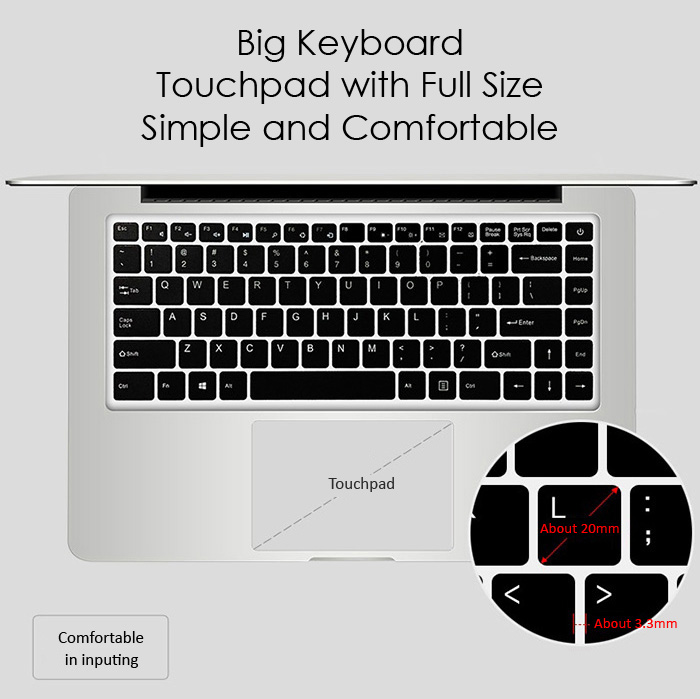 Display
Jumper Ezbook 2 is equipped with a 14.1 inch 1920×1080 HD screen. The crisp HD screen lets you enjoy your photos, videos, and web pages in detail.
Processor and RAM
Jumper Ezbook 2 ispowered by Intel Cherry Trail Z8300 processor made in 14nm technology and clocked on 1.34GHz (and can go up to 1.84GHz when needed). The device is equipped with4GB DDR3 RAM, which will provide enough ram to run games like Crysis, Battlefield 3 and etc. But some graphic intensive 3D games are not recommended. Also, 8th generation Intel HD Graphics will bring a big leap in graphics performance. Whether you are playing games or watching 4K videos, or just surfing the web, Jumper Ezbook 2 will perform all task effortlessly. Multitasking is a breeze on this device as well.
Storage
Jumper Ezbook 2 is equipped with 64GB large storage, offering enough space of daily office use and entertainment activities.
Operating System
This Jumper Ultrabook Laptop comes pre-loaded with Windows 10 operating system which supports almost all the software & applications. Windows 10 gives you a familiar experience combined with great new features like a digital assistant and a new browser for getting things done online. It's fast, great at multi-tasking, and even helps you stay up to date on the latest features and security.
Battery
With 10000mAh battery,you can use Jumper Ezbook 2 Ultrabook laptop for a long time in office or at Home. It will reduces you free from shortage of power and frequently charging trouble and delivers long battery life. You can watch at least 5-6 full-length HD movies by charging it once. Jumper Ezbook 2 is a best travel laptop for you to kill time on a long journey.
Connectivity
Jumper Ezbook 2 has many connectivity options. You can connect to the internet via WLAN. With 802.11 b/g/n standards. It has no problem keeping the connection even with the low signal strength. For better and faster media transfer, the laptop uses Bluetooth 4.0. You can use the mini HDMI port to connect the laptop to an HDTV or a high-definition monitor to set up two screens side by side. Other ways of connecting are USB port 2.0, USB 3.0 and etc.
Conclusion
This laptop is not a powerhouse laptop to do some heavy duty Photoshop editing or hardcore gaming. However, it is a perfect student laptop, or an ideal travel laptop. If your computer use is limited to streaming movies, checking Facebook and writing your memoirs on word while budgeting on excel and you don't wanna break the bank with your next laptop purchase then this laptop is just what you need.