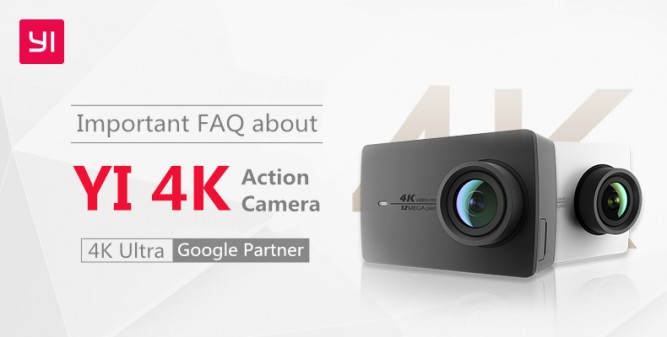 Q1. Does it have wide option like in gopro?
A1:It has. In YI 4K its named "ultra"
Q2. What about language options?
A2: International version will be English, Chinese version only with Chinese.
Q3. What photo modes are there? can you change shutter speed and iso manually?
A3: Photo, Timer and Burst mode. Those are all can be adjusted manually: Metering mode, shutter, ISO, EV, etc
Q4. What are the dimensions? And weight?
A4: 65mm (L) x 42mm (H) x 21 mm (W); 95 gram with battery.
Q5. Battery is removable?
A5: Removable
Q6. Does it have gyro stabilizer?
A6: Yes, 6 axis gyro
Q7. What bitrate that 4k is recorded? Don't want to buy an SD card that is underpowered. I saw in the camera specs that 64gb max SD but nothing about the transfer rate requirements.
A7: 60mbps the same as gopro
Q8. Remote from the old camera is compatible?
A8: Yes, it's compatible
Q9. Does the 1080 120fps and 720 240fps able to record audio?
A9: Both can record audio
Q10. How many physical buttons are there?
A10: Just one button
Q11. AV out support?
A11: Yes, supported
Q12. Can it operates(taking pictures/video) without pairing with phone?
A12: Yes, of course
Q13. What about the WiFi?
A13: 2.4G and 5G
Q14. Will the field of view change if you change the resolution? like the gopro which has a larger view when set to 4k compared to 1080
A14: Yes
Q15. Can you tell me if the timelapse video function will make a 4K/30fps video file?
A15:It will function in 4K 30fps and 2.5K 30fps
Q16. Can you give an information about ports in this camera? On the right side it has something as a cap. Can you answer please, what is under it?
A16: It's USB port support AV out and battery charging
Q17. Is there a selection of other Wide Angle degree to choose aside from 155 degree wide angle, 170 degree ,190 or 200?
A17: It doesnt
Q18. Please check the 720P 240fps The video out put is 240fps ( Gopro ) or slower 1/8 ( 30fps and NO SOUND ) ??
A18: When recording in 240fps it has sound
Q19. Does the camera have infinity focus? Will all Yi2's have the IR filter as standard?
A19: It's already infinity focusing; all YI 4K action cam will have IR filter which coating on the lens
Q20. Is it possible to use touch screen, when camera is in waterproof box?
A20: Its not possible, but you can do all the essentials with waterproof case on
Q21: If there is a 4:3 resolution for video?
A21: 2.5K 1440p 960p video is 4:3 resolution


Q22: How to update firmware of YI 4K Action Camera by SD card?
A22: Check it here.