The 360-degree cameras are the new trend in the market, companies like GoPro, Samsung have already launched their own 360 degree camera. Yet their price is too high for average users, and being such a new technology, users do not risk spending so much money, and there is why Elephone comes with its new camera —ELECAM 360. An action camera with two 220° Fisheye – Super wide angle lenses that can record 360° video for 60 minutes due to its large capacity 1,500mAh battery. The video resolution is 1080p @30 FPS and it can be uploaded straight to YouTube and WeChat.
Dual 220-degree fish-eye lens
Elephone ELECAM 360 features dual 220-degree fish-eye lens. It is an extreme wide-angle lens, commonly known as "fisheye". In order to achieve maximum photographic lens perspective, the diameter of the front lens of this camera lens is very short and showed a parabolic shape projecting to the front of the lens, rather like fish eyes, "fisheye," hence the name. Fisheye wide angle lens belongs in a special lens, its perspective and strive to meet or exceed the scope of the human eye can see. Therefore, the fish-eye lens and the eyes of the people the real world scene there is a big difference, as we see in real life scenes are a regular fixed form, and picture effect produced by the fish-eye lens is beyond the scope of this.
Two OV4689 image sensors
Unlike some other 360-degree cameras you may have come across, Elephone ELECAM 360 comes with not one but two OV4689 image sensors on both side of the body of the camera. This results in a full spherical picture, unlike single-lens 360-degree cameras which produce a dome and not a full sphere.
Sunplus 6350M chips
The camera features a Sunplus 6350M chips, the same used in the EKEN H9.
Display
Elephone ELEcam 360 features a 0.96-inch LCD display to check settings. And it can show the recording left time and photo quantities left.
Storage
Micro SD card support for cards up to 32GB; Class 10 recommended.
Connectivity & Ports
The Elephone Elecam 360 camera is WiFi-enabled as well, allowing you to live-preview video and control your camera from your Android or iOS smartphone.
The camera holds a micro USB port, on the bottom of the camera is a 1/4″ tripod thread for mounting. It's fit for the universal accessories.
Battery
The built-in battery has a capacity of 1500mAh that allows you to record up to 60minutes of 360° videos. The body is delicately designed with more space to eventually install bigger batteries.
360°video
The camera records two separate videos (spherical) which will be stitched to one 360° video using a software.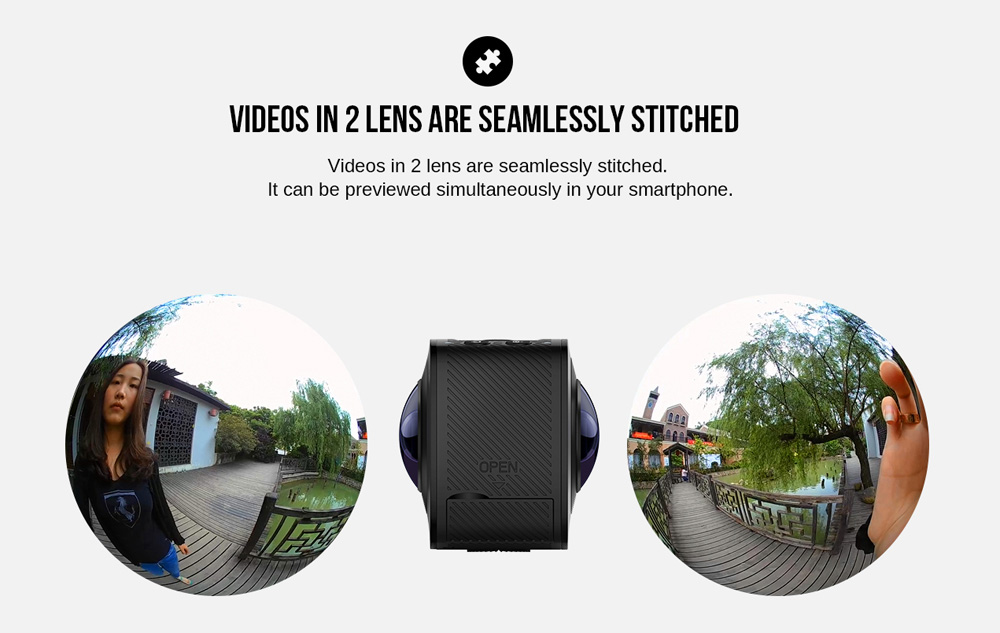 VR shooting mode
What is really good, is the VR Shooting Mode that allows you to record video and watch it on your VR box.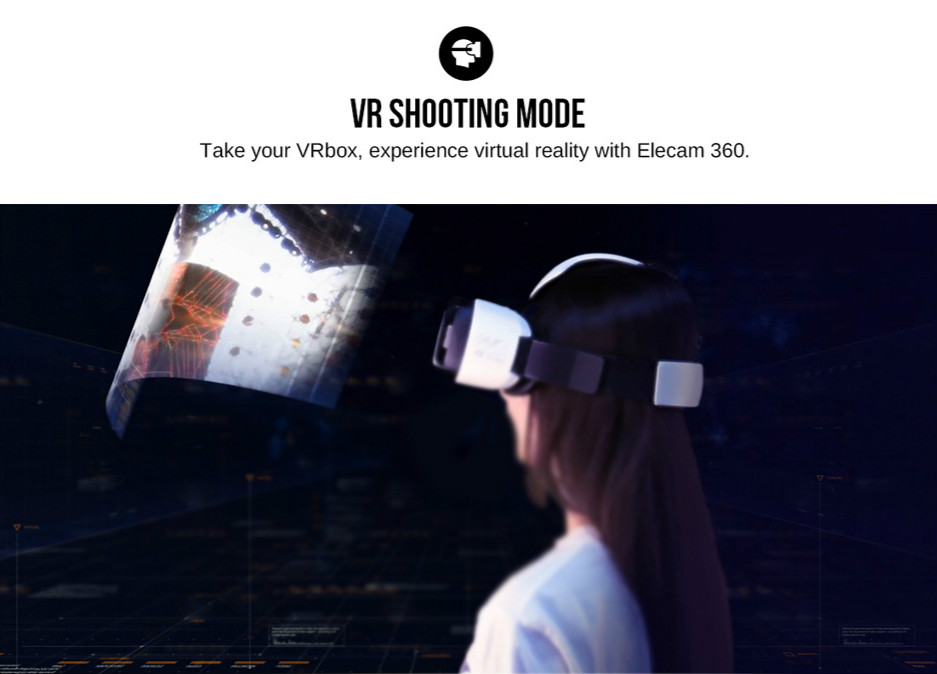 Specification
General
Brand
ELE CAM
Type
Action camera
Quantity
1
Color
Black
Hardware
Image sensor
OV4689*2
Backend chipset
CPU:SPCA6350M; Manufacturer:iCatch
Lens
Aperture:F 2.0; Effective Focal Length:f=1.1mm; View Angle:220°*2
LCD monitor
Size:0.96" LCD; Resolution:28*64
Storage media
External mem:Micro SD 8G~32G ( Requirements:Class6~Class10)
Interface
USB:Micro USB x 1; HDMI:N/A
Button/Switch
Power/Mode switch; Wifi /menu key; Shoot/Enter key
Microphone
Bulit-in Mic
Speaker
YES

Battery

Type
lithium-ion battery
Capacity
1500mAh
Battery Life
1080P@30FPS about 1 hours

Indicator & Light

Indicator LED
3*LED light
Busy light
Busy in Red / Charging in Blue

Firmware

File Format
Movie: H.264 (MOV); Photo:JPG
Movie Resolution
1920*1080P@30FPS
Photo Resolution
3008*1504
Exposure
Auto
Focus
Fixed Focus
Real Time Clock(RTC)
Yes
Micro SD card capacity
Max to 32GB (SDHC)
Mass storage
Yes

System Requirements

OS
Microsoft Windows XP/Vista/7/8
Hardware
Intel/AMD Dual-Core CPU or above; 1GB system memory; 2GB free System HD Space; USB 2.0/3.0
App Name
EleCam 360
Compatible
Android 4.2 or up / IOS 7.0 or up
Dimensions & Weight (Main Product)
Product size
6cm*5cm*3.5cm
Package size
13cm*13cm*10cm
Product weight
0.106kg
Package weight
0.435kg
Package Contents
1 x ELE CAM 360 camera
1 x Bicycle mount
1 x Helmet mount
1 x Joint buckle
1 x 3M Sticker
1 x USB Cable