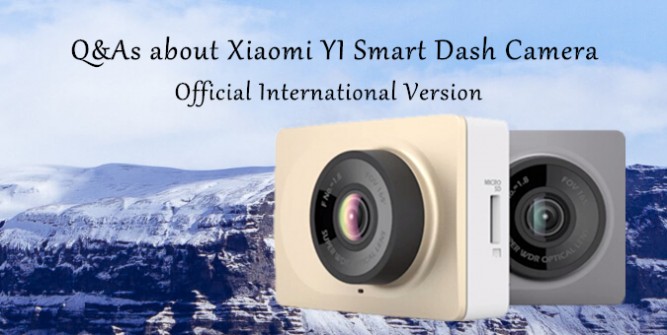 Xiaomi YI Smart Dash Camera here refers to International Version YI Smart Dash Camera. Want to know the differences between Chinese Version and International Version? Please click here: The Newest Xiaomi Yi Smart Car DVR International Version Compare With Chinese Version
Q1: What's smart dash camera / car DVR?
A1: Dash camera is a device using digital video tech to record and loop-update the road conditions in front of car or around, even the voices in car, vehicle acceleration, turn and brake information will be recorded, it provide evidences if there's a traffic accident, and it can also supervise and remind the driver to be careful, thus to improve the safety index when driving.
Q2: What can YI Smart Dash Camera do?
A2: YI smart dash cam has gathered many high standard configuration of the current market, it has ADAS Advanced Driver Assistance System to help protect safety, you can also preview and replay video with your smartphone. The operation is easy, YI smart dash cam will bring you a new experience.
Q3: What accessories are included in the package?
A3: 1 x Car charger (with one charging port, has passed CE & FCC), 1 x Bracket, 1 x Charging Cable, 1 x English User Manual.
Q4: Is there a SD card included?
A4: Not included, we suggest you to buy class 10 micro SD card, storage 8GB-64GB.
Q5: Does YI smart dash cam support loop recording?
A5: Yes, support.
Q6: How about the thermal endurance of YI dash cam?
A6: YI smart dash cam working temperature: -10~60°C.
Q7: Is there's a battery included?
A7: Yes, YI smart dash cam has a heat resistant type battery, capacity is 240mAh.
Q8: How about the night vision function of YI dash cam?
A8: YI smart dash cam adopts a big aperture lens, it doesn't need IR fill light, with only starlight YI dash cam can record videos clearly.
Q9: Can I use a USB power bank to provide power supply for YI dash cam?
A9: Output 5V/1A is compatible, we suggest you to use the original car charger in the package, to avoid battery damage caused by power shortage.
Q10: Does YI dash cam has parking monitoring function?
A10: Temporarily not supported. YI technology team is looking for a complete matching scheme, considering about the safety of users, this function will be added after passed rigorous scientific tests.
Q11: The display screen can be turn off?
A11: Yes, the screen-off time can be set in the menu, without set, it's 1 minute by default.
Q12: The videos recorded by YI dash cam can be replay on a computer?
A12: Yes, take out the SD card, then using a card reader to connect with the computer, the SD card will be read as a USB flash drive, you can view the files through computer.
Q13: Can I use my old dash cam charging cable to charge for YI smart dash cam?
A13: Micro USB cable is compatible, we suggest you to use the original cable in the package.
Q14: How to install YI smart dash camera?
A14: There's a "T" shape slot in the YI dash cam, slide to lock the bracket, then tear off the 3M paper, stick the bracket to the location you want.
Q15: How to connect the APP?
A15: YI smart dash cam has a 2.4GHz wireless module built-in, turn on the dash cam, enter setting to find wifi option, switch it on, enter your phone setting to find the YI dash cam wifi hotspot (YICarCam_fbXXXX), connect it, then open the APP, you can use it.
A16: What's the after-sale service policy?
A16: We provide after-sale service based on YI Technology Official. Please refer to our help center page here.
Q17: What languages are available?
A17: It's installed with English ROM, could upgrade firmware and could root to multi-languages including English, Spanish, French, Russian, German, Italian and Dutch.
Q18: What about certification?
A18: YI dash cam has passed CE & FCC certification.
Q19: How long is the charging cable?
A19: It's about 3.5m / 11.5ft. It meets most car's demand.
Q20: What about the updates?
A20: To improve user experience, please use the most current firmware with improvements, when the app is connected to the internet, it will automatically check for the latest firmware updates. Please follow the prompts to update. Only international version can be updated outside China mainland.