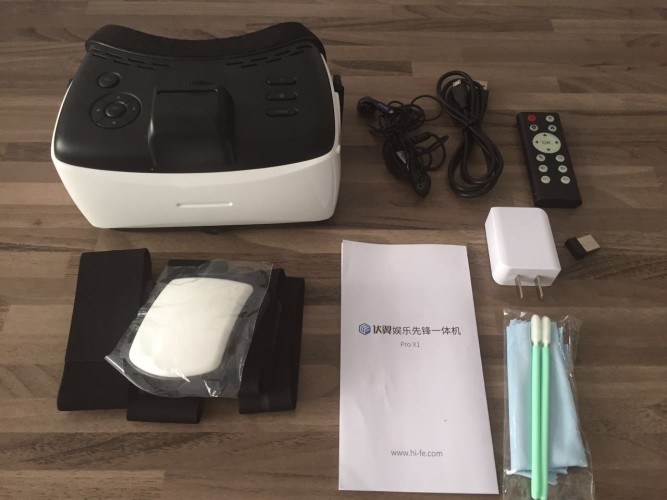 Hi, Dear Customers:
Eric here. Today I will bring the detail review for the All-in-one Virtual Reality headset, Model HA544.
Virtual Reality is the hottest and newest topic in 2016, Lots of the big name companies like Oculus, HTC, Sony and Google have release their Virtual reality headsets. We have seen a lots of reviews for the many different cardboard style VR headset, but till now I can't find any detail reviews for these all-in-one Virtual Reality HMD headsets, today I will take some time to study one of the low priced all-in-one device.
Hope this review helps you to understand these all-in-one devices
Here we go:
1 Why do we call those all-in-one VR headset?
Oculus, HTC VIVE, SONY you need to have a high end PC or Game Console to play, you connect to the device, and content will be streamed to the head set either by Wires or WI-FI
Cardboard, Gear VR is much easier, It just requires a smartphone with gyroscope as content is supplied from the smartphone.
All-in-one VR HMD is between the above, with built in screen, and system, the content is coming from within. You don't need smartphone or high-end PC to use it. just wear and play.
A lot of people are asking us what the real difference between the Google cardboard style and all-in-one VR devices.
Here are our thoughts:
1) For cardboard style VR headset, the real VR experience depends on a lot of things, including:
Your phone's screen size and screen resolution, though most of the cardboard style VR headset give you their supported screen size in specification, but the supported range doesn't mean the perfect size, because of different design , different lens, each cardboard style VR headset has their best supported phone size. You will need to take time to find the perfect fit.
Your phone display refreshes rate and gyroscope, some high-end smartphone might have better gyroscope and screen display refreshes rate , with the correct cardboard style VR headset, you might get better VR experience, but if you don't have such a high end smartphone?
Samsung and Oculus have been working a long time to release the Gear VR, why? Till now, the Gear VR just can support 5 Samsung flagship smartphones, why? We have tried GEAR VR with Samsung S7 Edge, after you insert the S7 Edge, the gear VR will block phone's gyroscope and use the gear VR built-in one, and with the help of 2K screen, it gives you one of the best VR experience you can image with a smartphone.
However, with the all-in-one device, you don't need to worry about the above at all, they put everything into one device, they consider the screen size, lens, gyroscope and in theory, it will give you the best VR experience than just those cheap cardboard style headset. Most all-in-one device support micro SD card, you can save your huge 3D movies and play them via the micro SD card.
With the correct price, We think the all-in-one VR headset should have the market.
2 Hardware Review
HA544 is the cheapest ALL-IN-ONE device we can find in market, just $154.99, Package is like this: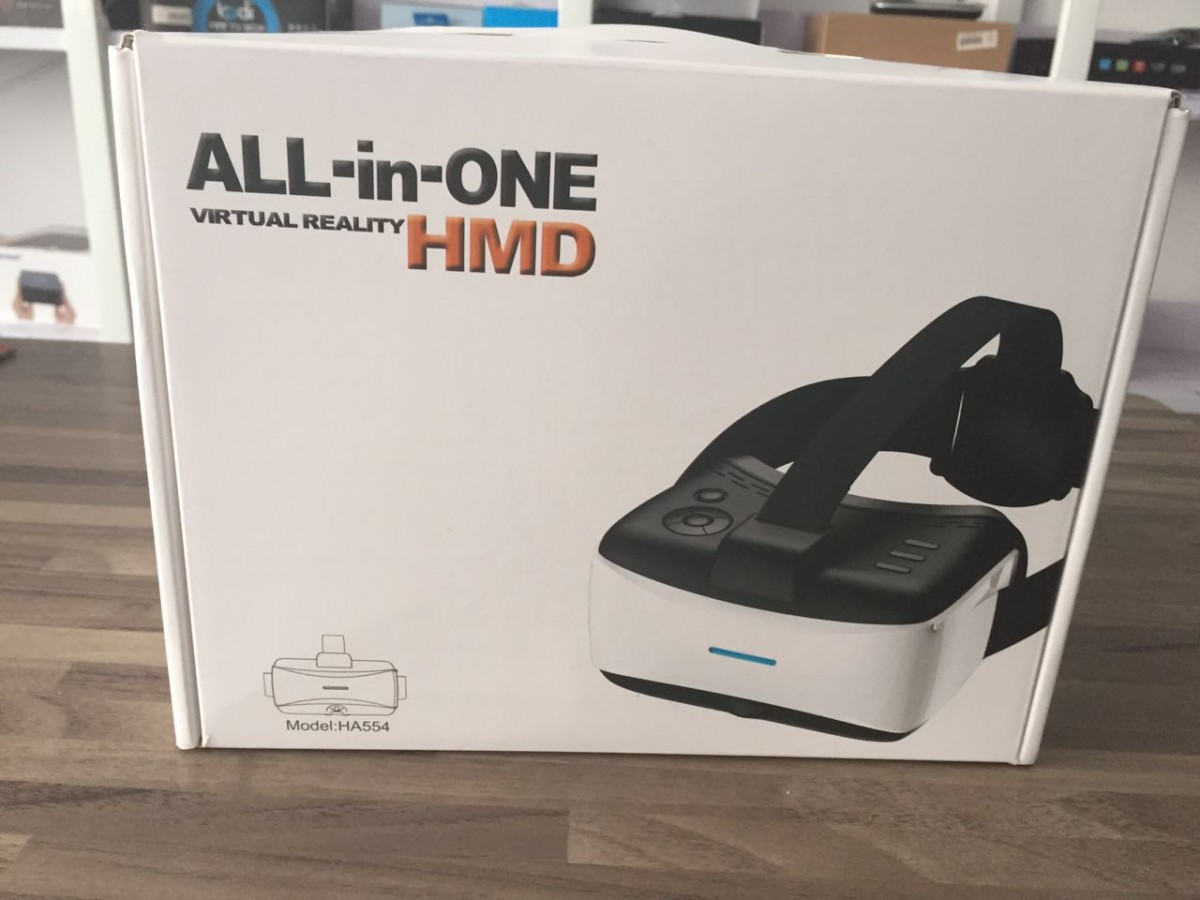 The specification is clearly listed in the above photo, It use the Rockchip RK3188 as SOC, built in 5.5inch 1080p screen, and 2800mah battery, offer up to 5 hours running time. 9 axis gyroscope. support wifi/bluetooth. also have a 2mp camera.
Package is clean and sturdy for oversea shipping.
Now open the box, we get the following: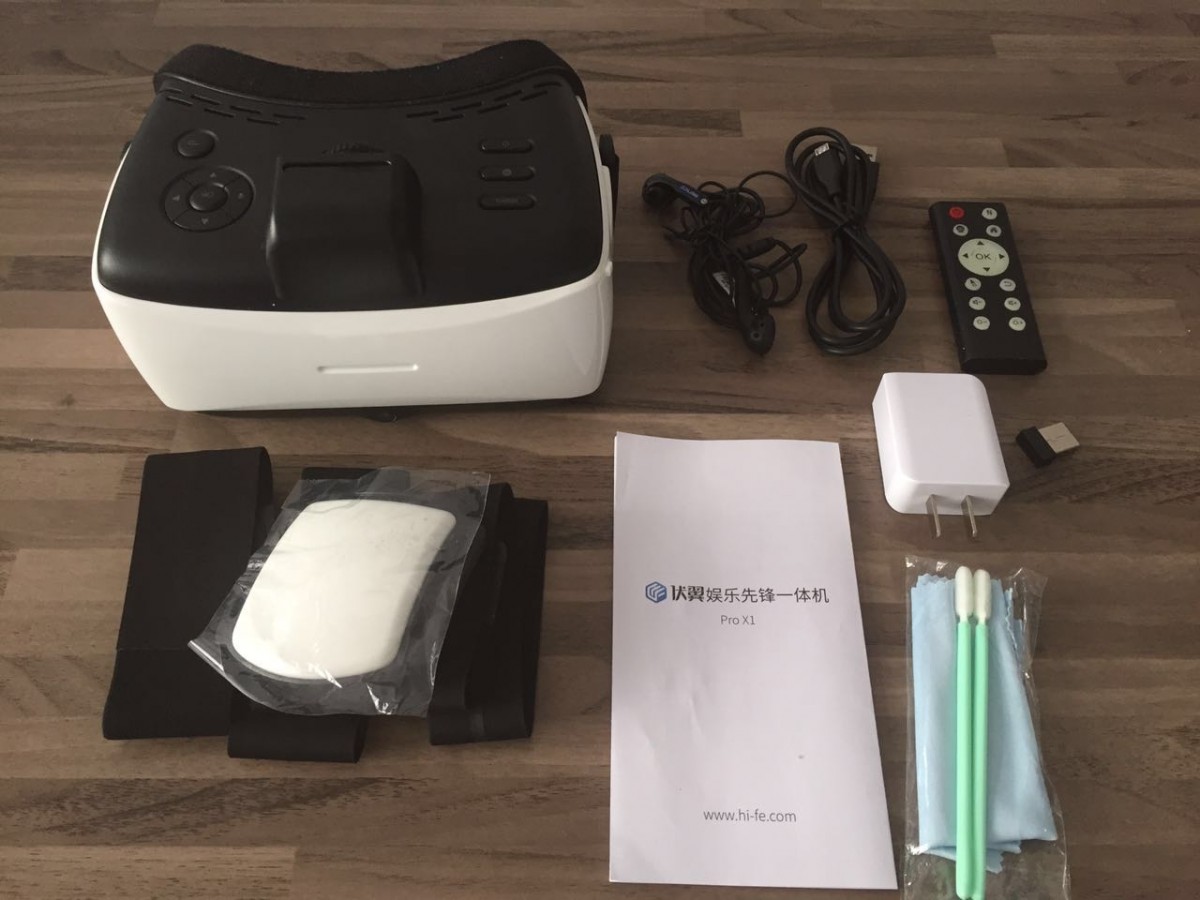 We have VR HMD, adjustable headstrap, earphone, micro usb cable, 2.4G air mouse remote controller with receiver, 5V/2A power adapter, user manual and Cleaning cloth.
The micro usb cable is used for charging and data sync with PC.
The air mouse is used for control the device, just insert the usb receiver to HMD.
Now let's check the detail about the VR HMD.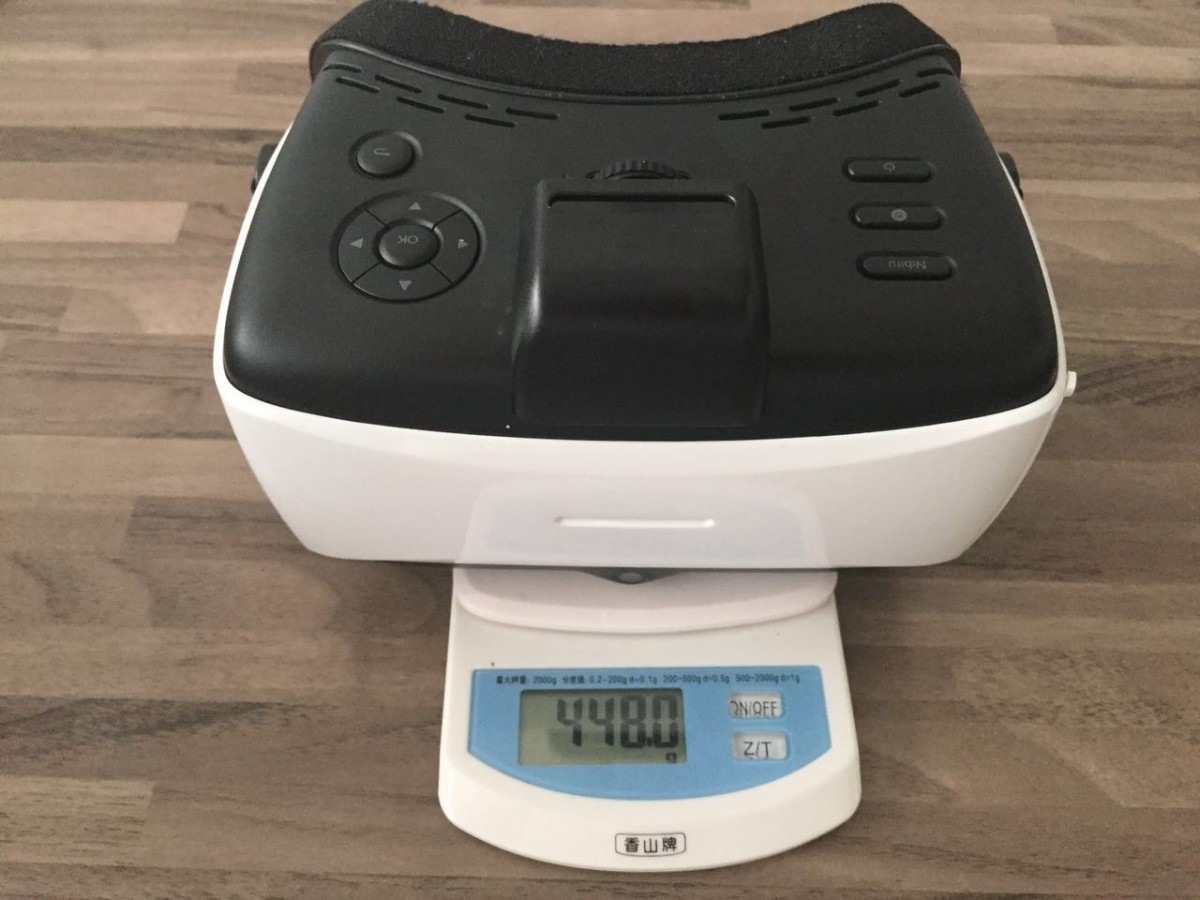 The total weight of this HA554 HMD is just 448g, for your reference, The Samsung Gear VR and Galaxy S7 edge weight is 441g. So it's almost the same.
Now let's check the buttons and ports in this HMD.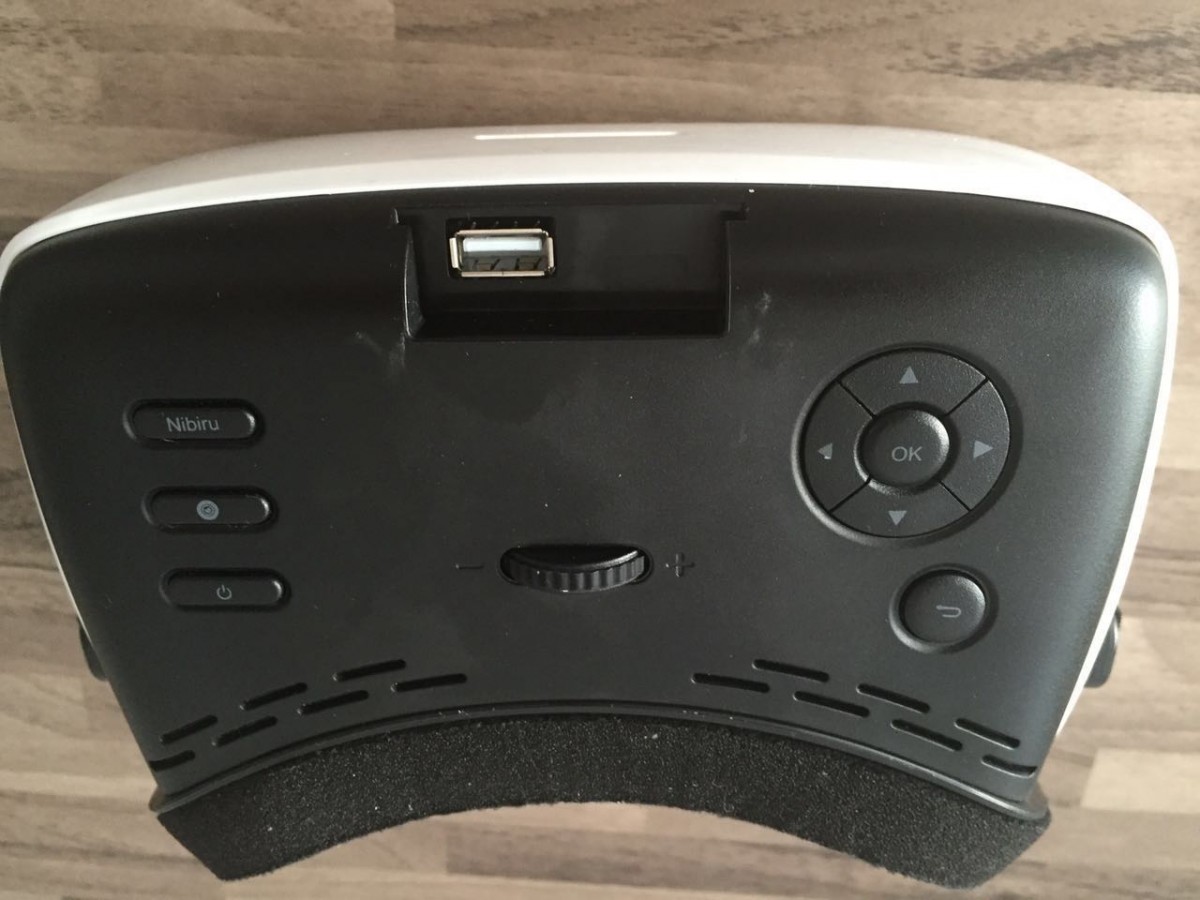 This HA554 offer the physical direction button and back button for operations. Most of the cardboard style VR headsets don't have those. and on the above photo, we can see , it also have three button in the left, the first one which marked "Nibiru" is used to for call setting menus, The second one is used for camera, the third one is power button. Long press the power on, and short press for sleep mode.
The central button is used for adjusting focal distance. so you can use this HA554 without your glasses. support 0 to 700 degree myopia.
On the other side, we have these ports:
Micro usb port for charging or data sync with PC.
Micro usb card slot for expanded, support max 32GB card;
Earphone Jack for connecting earphone;
Reset button is for manually firmware updating.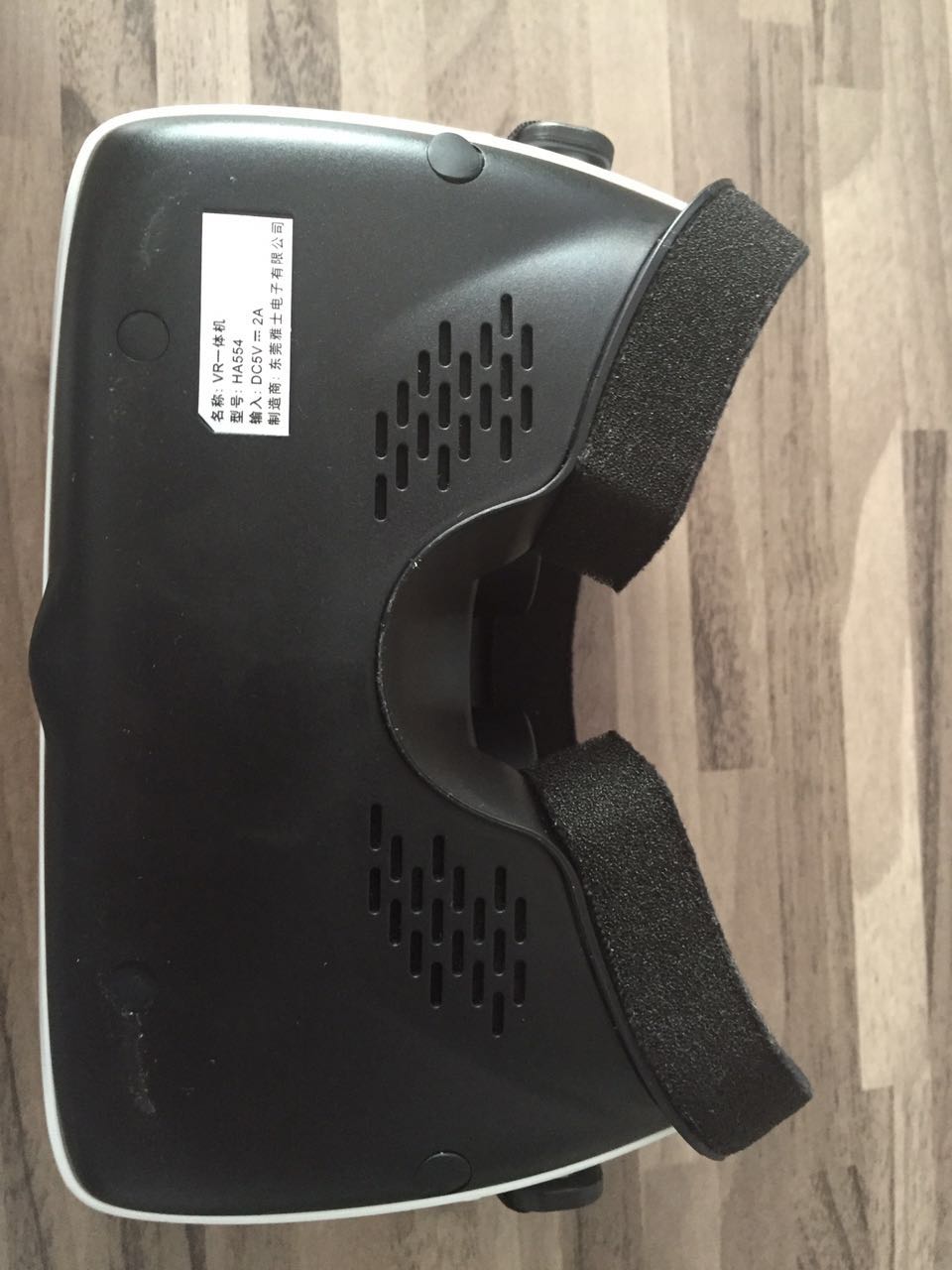 In the bottom, we just have the holes for heat radiation.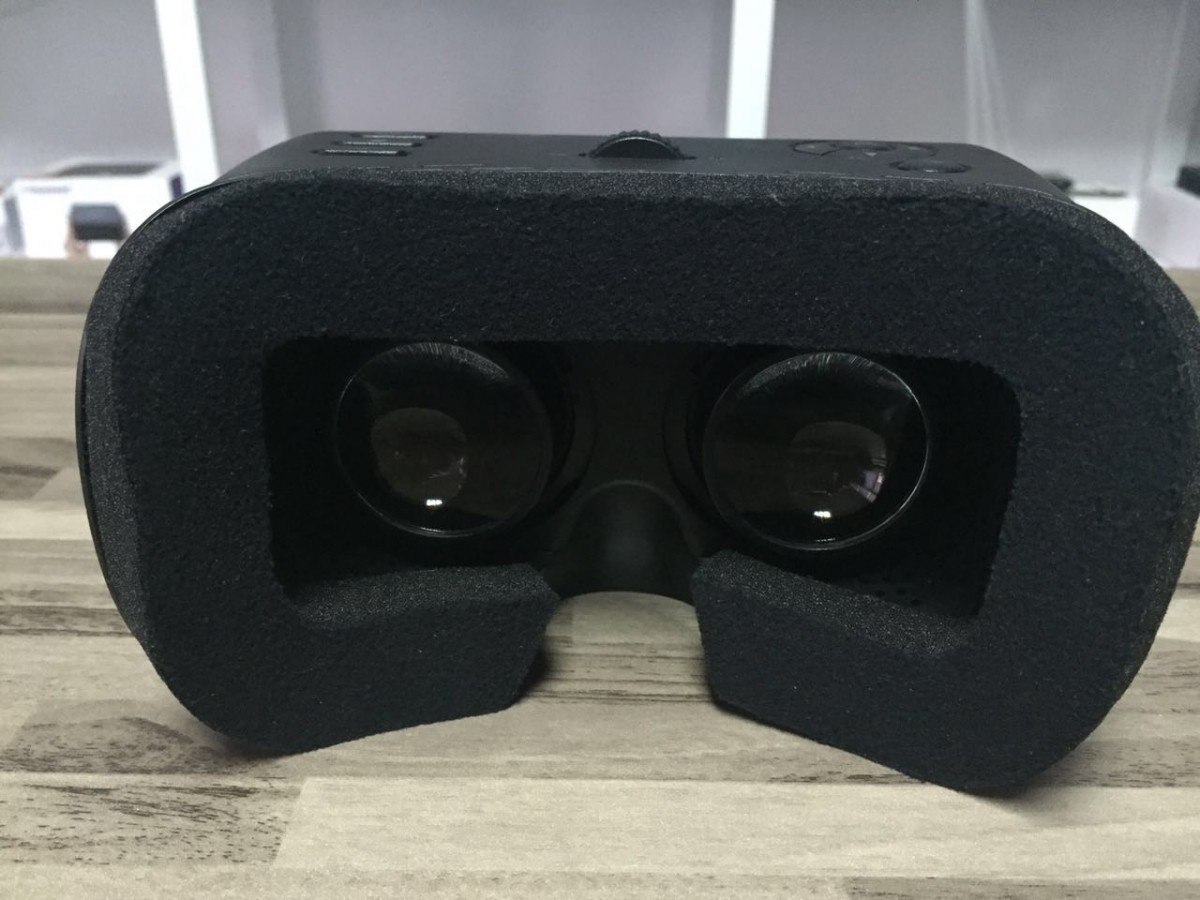 From this angle, we can see, the HA554 have the foam cushioning for better wearing experience.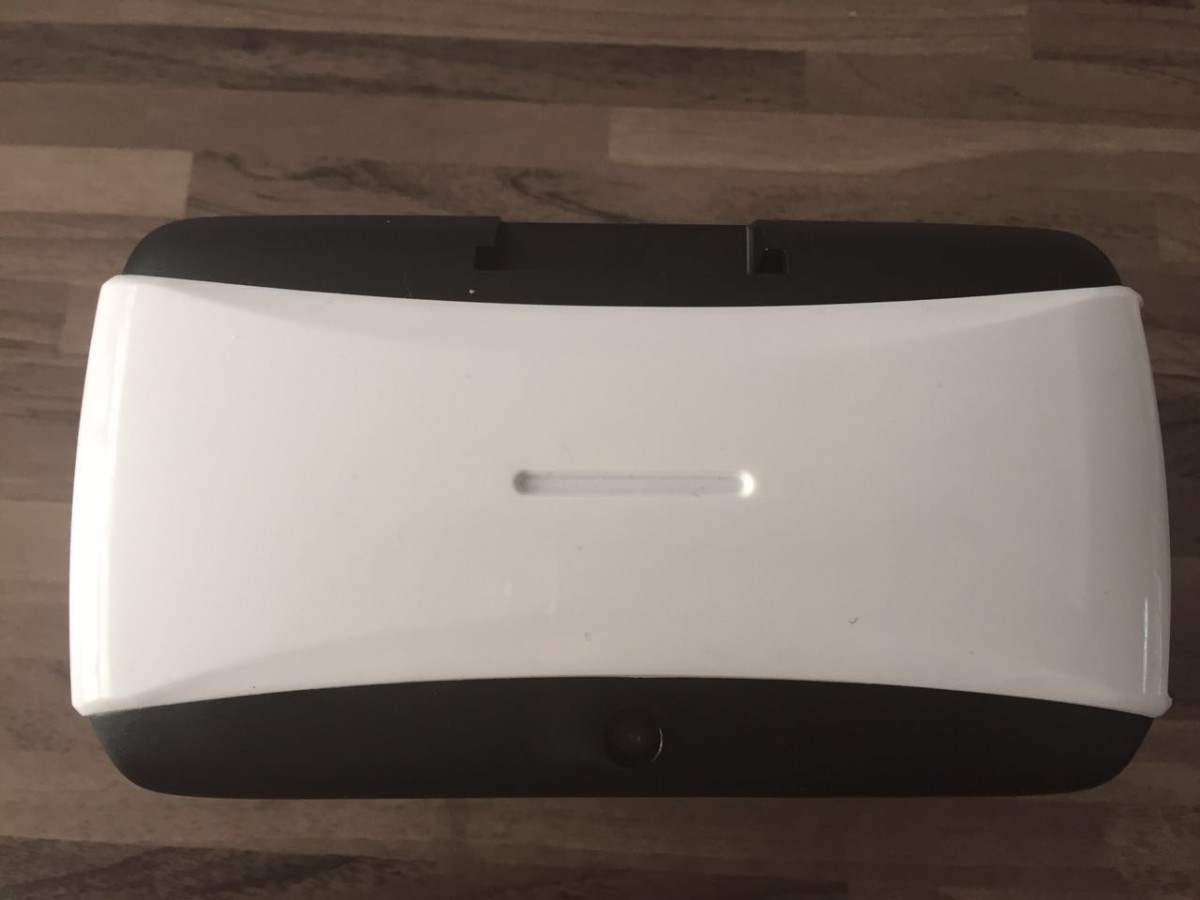 It's the front face, after power on, the blue light will show like this, and camera is on the bottom, camera is 2.0mp.
During my test, i have problems with how to adjust the pupil distance, and how to find the USB port. So i make this gif for your reference :
IPD adjustment: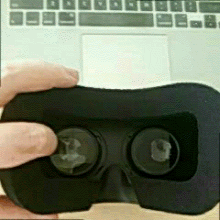 Where to find USB port?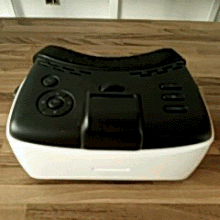 Now let's check the Lens, HA554 comes with two aspherical 42mm diameter lens, and FOV is 90 degree and the lens can be easily removed from the headset. here is the photo for the lens:
Above all is the review for the hardware, We don't feel any cheap in the quality, with the adjustment IPD , focus distance and head strap, also the big FOV and physical touch button, comfortable foam cushioning, The HA554 has the good hardware for the VR HMD. Now let's check the software.
3 Software Review
Before play with HA554 VR HMD, i already played a lot of google cardboard style VR headsets and the Samsung Gear VR.
For cardboard style headset, i need to download cardboard app from play store or app store, and run the app, put the smartphone in headset, and play. If i want to play another, need to take off the phone, and run the other app again, and then put the smartphone back, it's a little annoying when you have to do this each time.
Gear VR is much better, it built in the Oculus app, once you insert your samsung smartphone, the Oculus app will run directly, and it will bring you to a virtual scene, you can download all of the apps, games, or even watch videos from this virtual scene, it has back button, and touch pad, so you don't need to take off your smartphone all the time, so much better VR experience compare with cardboard.
So what about the HA554 all in one VR HMD? Here we go:
Press the power button for 3-5 seconds, the device will power on, and you will see blue light in front panel, and adjust the Pupil distance, and focal distance, wear the VR headset. you will see this:
First is system setting button, second is video player, third button is Nibiru VR app store, the fourth button is open camera, and the last one is viewing all of the installed apps.
In the second line, it will give the system status, including wifi, bluetooth, battery, and time.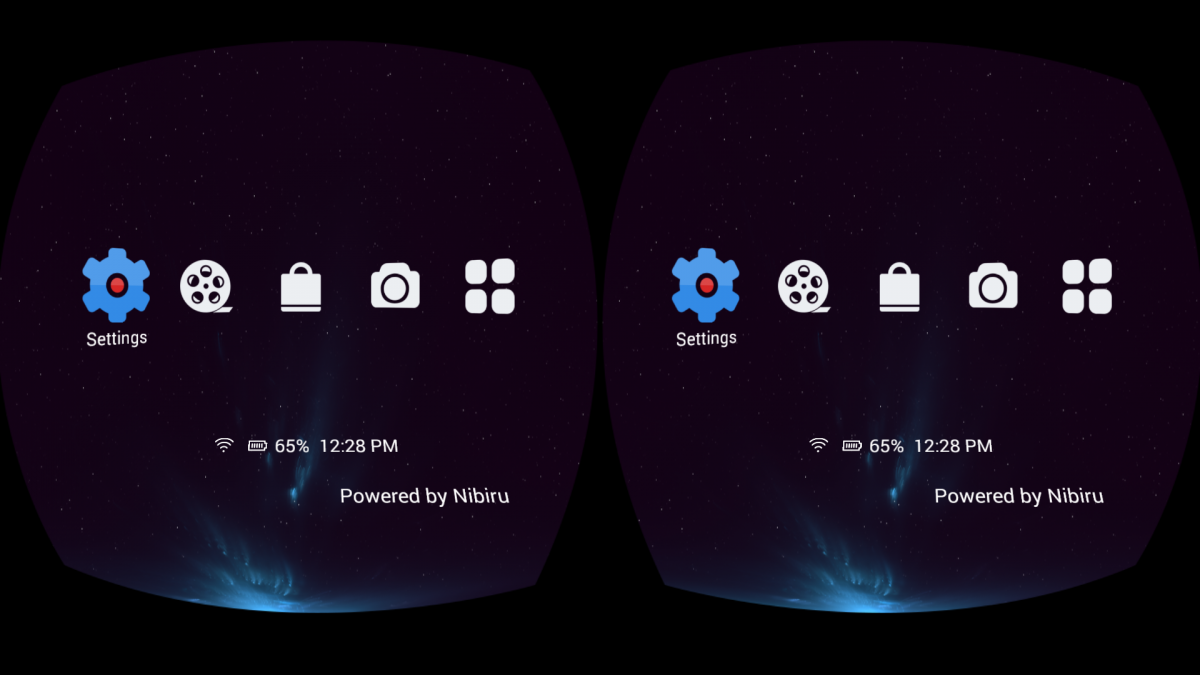 and in the last, it said : Powered by Nibiru. So what's this? It don't seem like the usual android menu, It is said " Powered by Nibiru" . What is Nibiru?
Here is their official site: http://www.inibiru.com/index.html?lan=1
Nibiru is a chinese software company, before they focus on the android gaming platform, but when the VR is coming, they put a lot of time in developing this Nibiru OS (base on android), They have got a lot of investment from some famous chinese company, and growing very fast. As far as i know, almost all of the all in one VR HMD in market are all use their OS, like Omimo, Bossnel, including our review unit HA554.
HA554 uses the new Nibiru VR OS which is also based on android, here is the software information:
Now let's check the regular setting menu: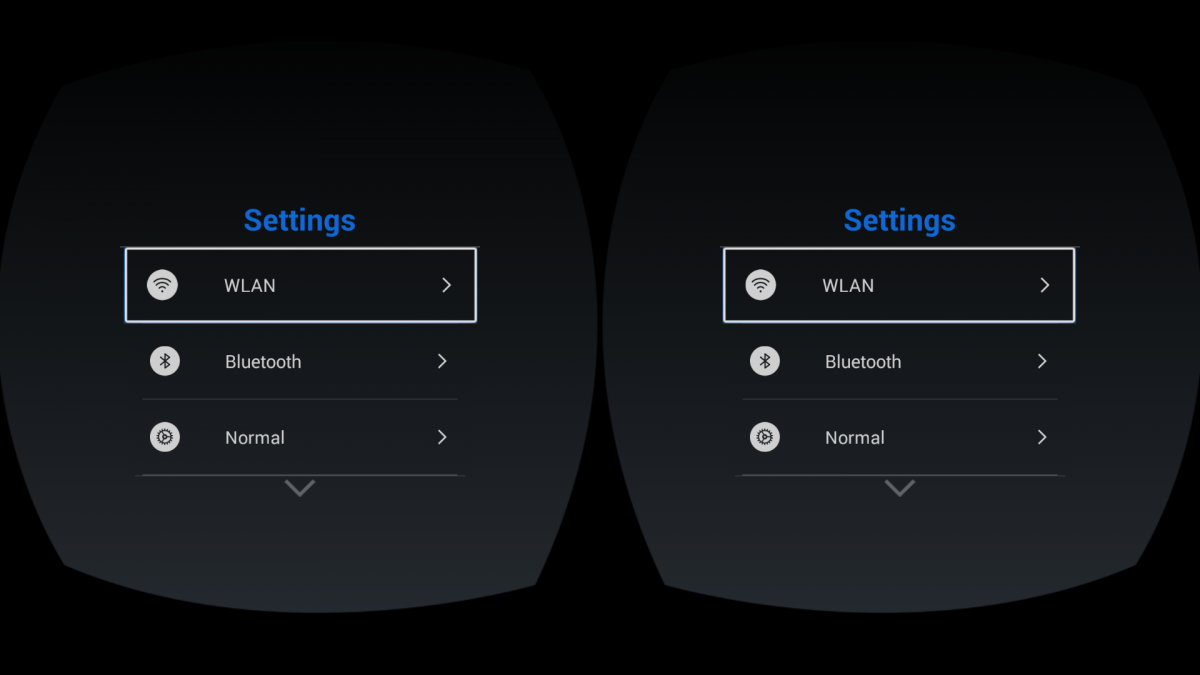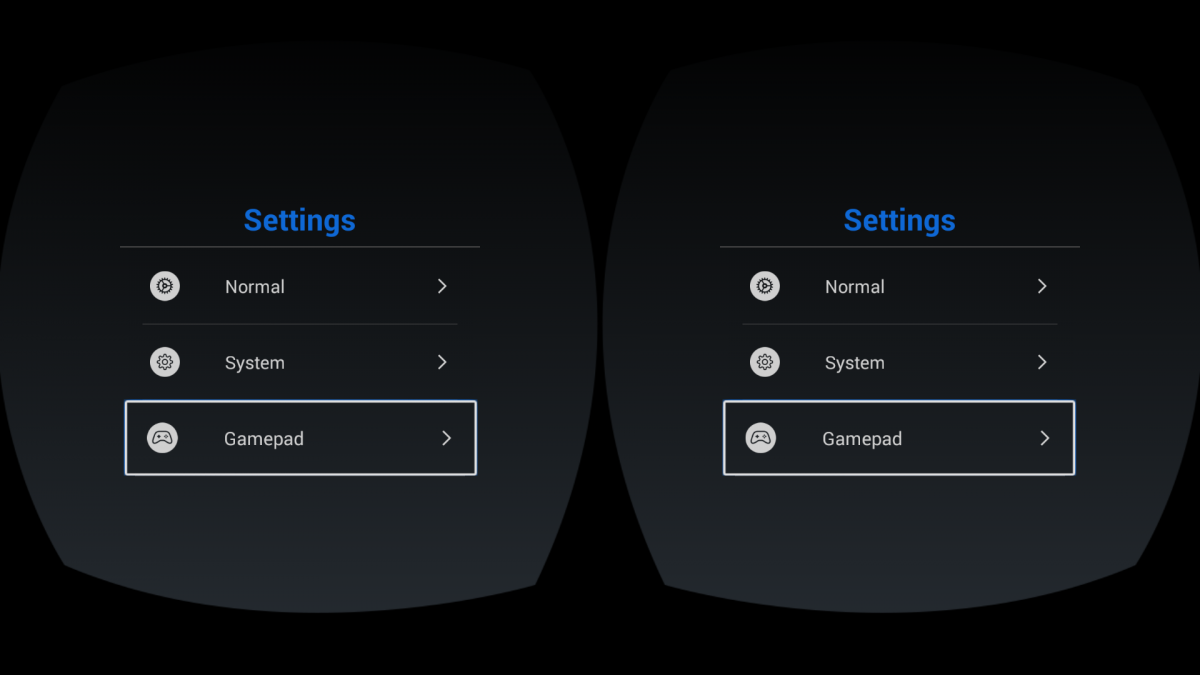 It just offer Wlan (wifi) setting, bluetooth setting, Normal setting, system information, and gamepad setting. Let's check one by one.
Wlan Setting:
Open Wlan setting, the system will scan wifi ssid, and pick one to connect, if you have password, the keyboard will pop up like this: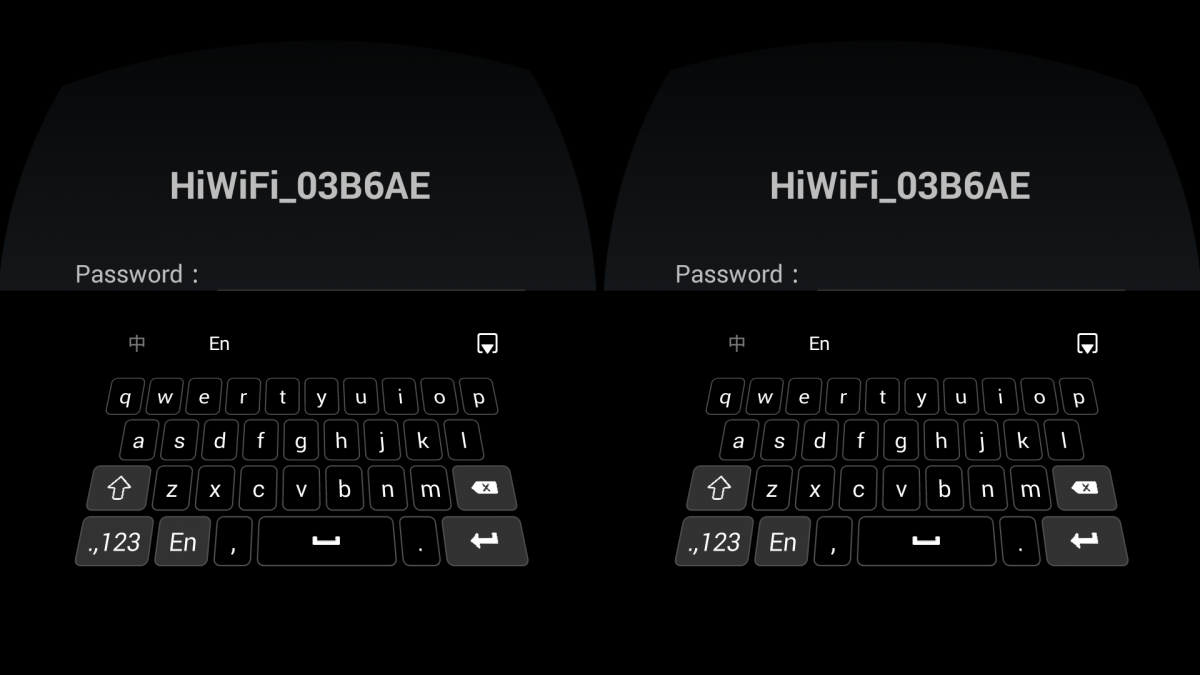 You can use the direction button to enter the password, and connect.
Bluetooth
It will just like your smartphone bluetooth setting, you can turn on / off, or scan the nearby device.
Normal setting includes this: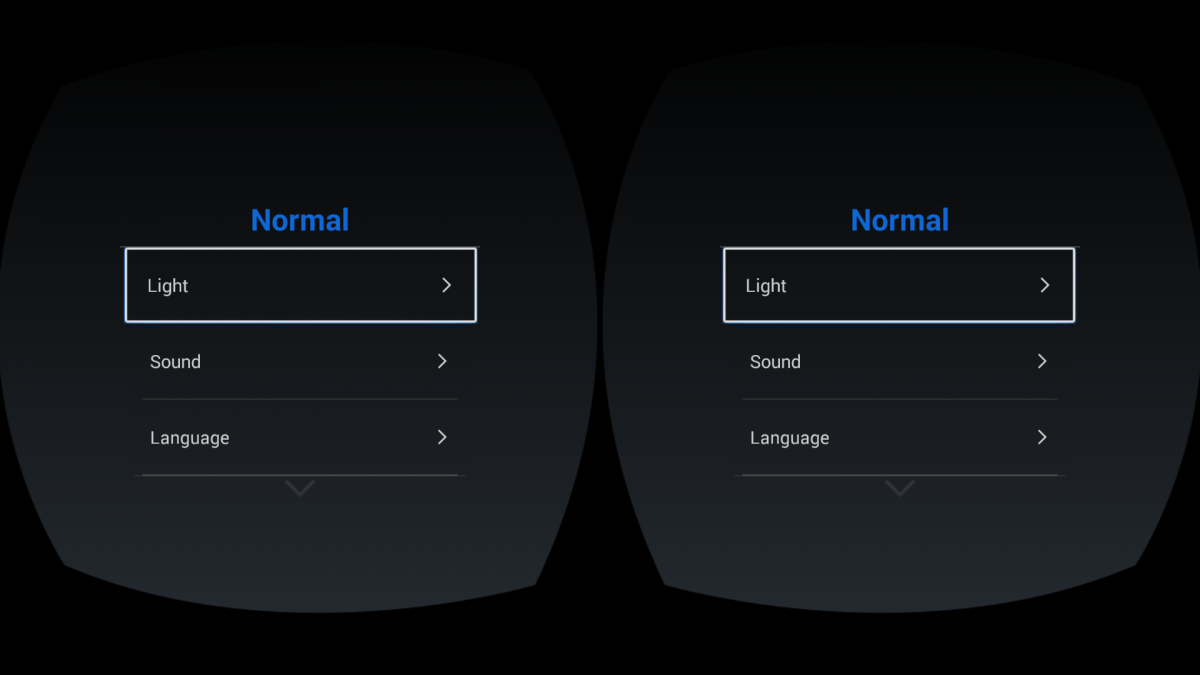 Light means screen brightness setting;
Sound setting, i find there is no speaker in my review unit, i have to insert the earphone, and have sound.
Language, Now the Nibiru OS just offer Chinese and English , no other language.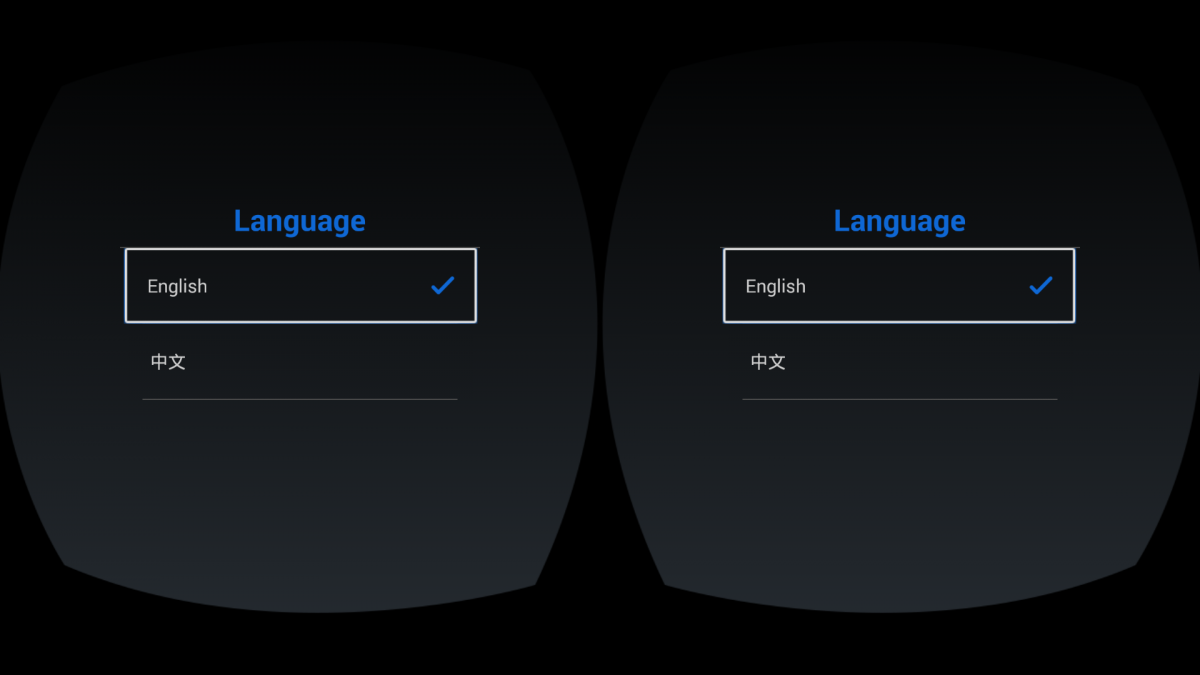 Theme, System offer two different theme.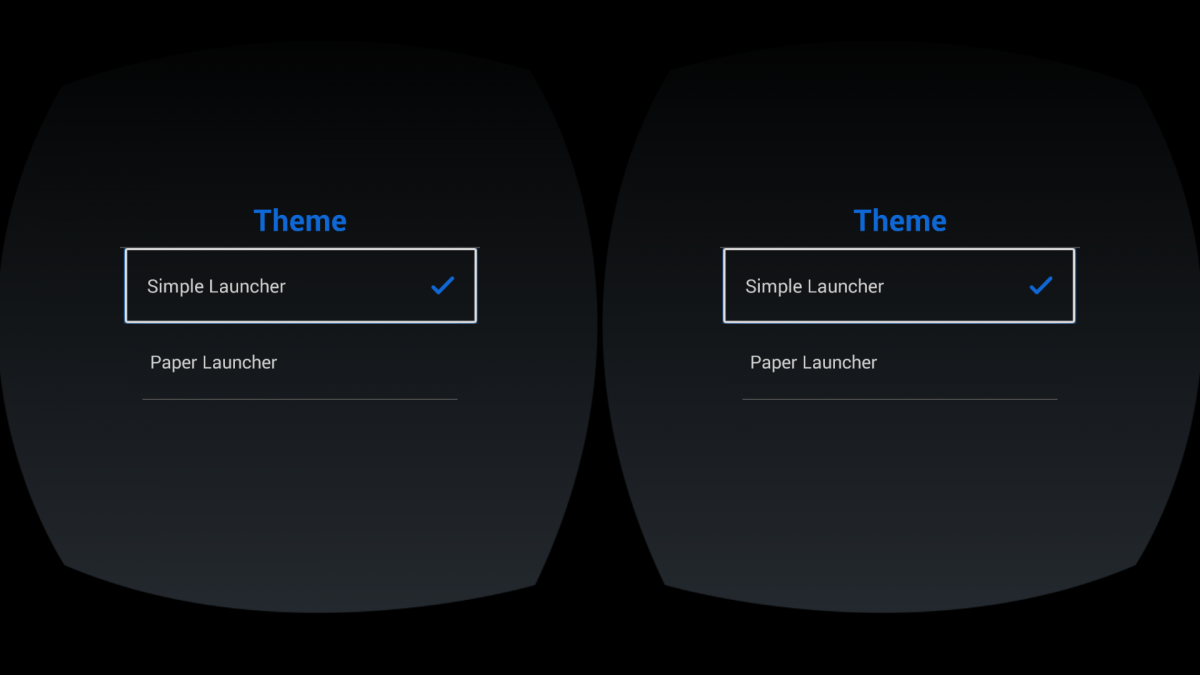 Sleep time, you can set the screen sleep time. it offer 1 mins, 2 mins, 5mins, 10 mins, 30mins and never sleep choice;
Time zone, you can set your correct time zone base on your country.
In System setting, it offer the following :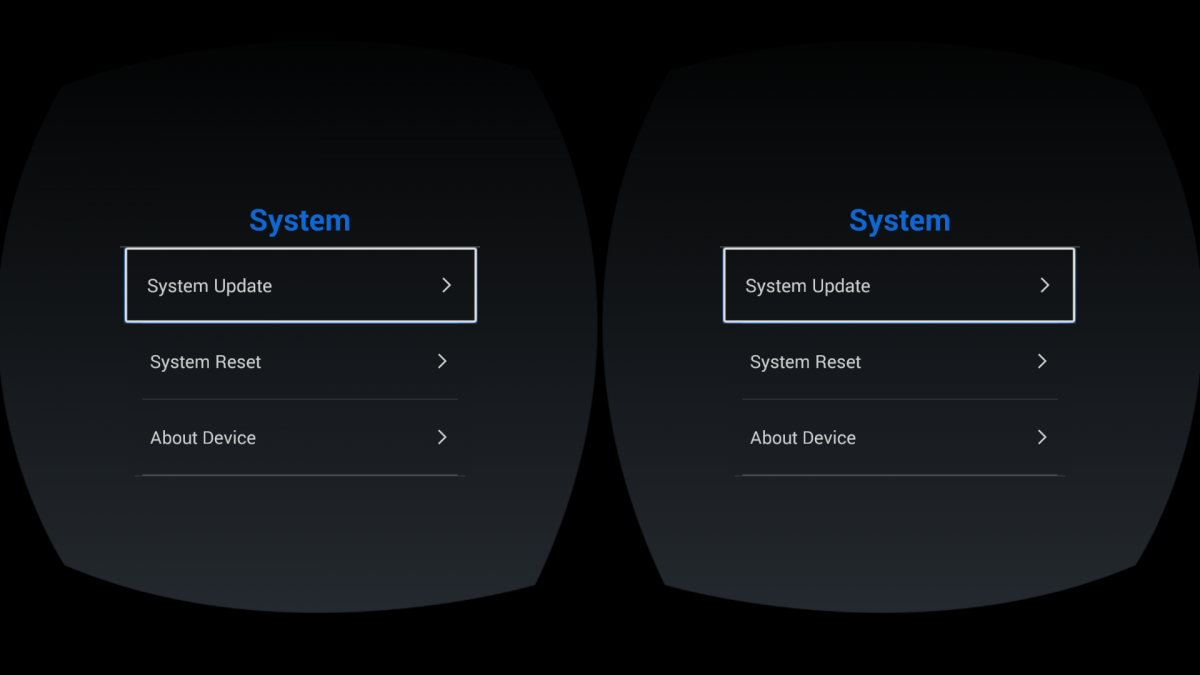 System update, offer two method to update system, OTA and update via SD card, also i find i can connect the HA554 with PC via micro usb cable, so flash firmware via PC should also work, just like what we did on rk3188 tv box 🙂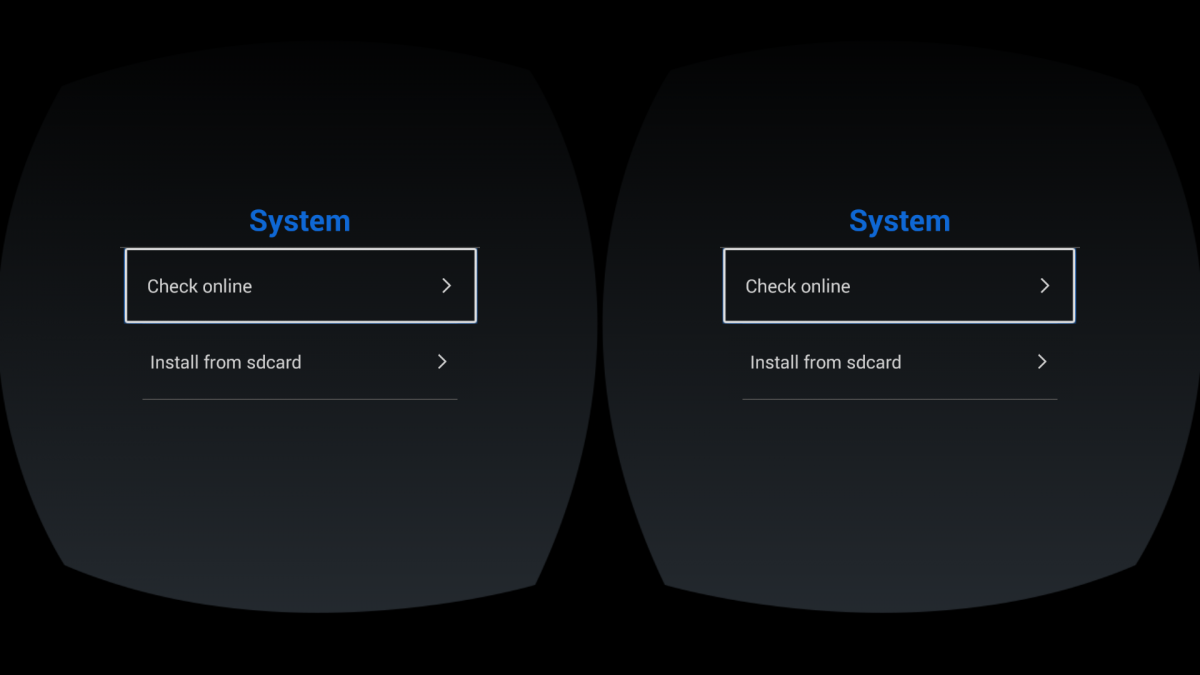 System Reset , i don't need much more explanation:)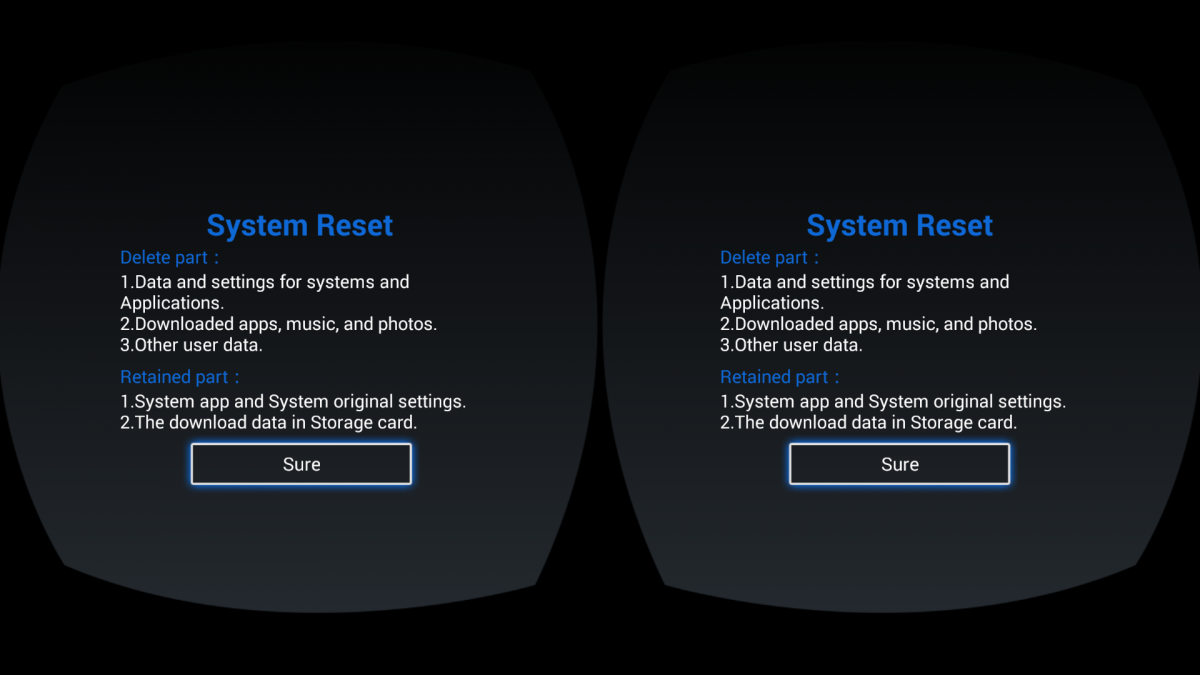 About device, we have seen the screenshot earlier:)
In the end, let's check the gamepad setting, click gamepad, it give us this option:
Seems the Nibiru OS already compatible with some 3rd party accessories, i only have the bluetooth gamepad and tested to connection, without problem.
So in the near future, we should saw some interesting accessories, like bracelet, game gun, or smart watch as input device and accessories, that will improve our virtual reality experience a lot i think.
pc-host should be an interesting thing, can i play pc games via this setting? I haven't got a time to check this function, will update this later when i have time.
Now let's back to the main menu, check the app store:
You can download games, apps from this store, now it already have 31 games for downloading, and all of them are FREE right now. I have been told, Nibiru will add much more VR games in their store this year. and they will open sdk, and hope more and more developers join them.
click "all app" , we will see this: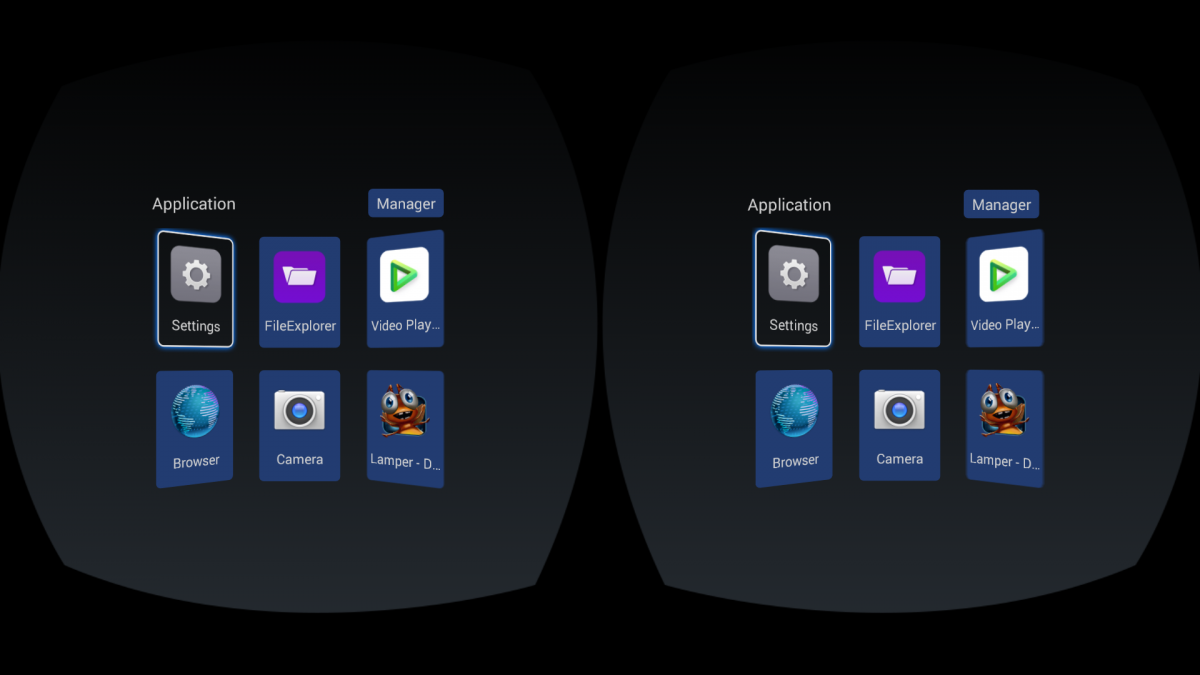 File explorer is like this;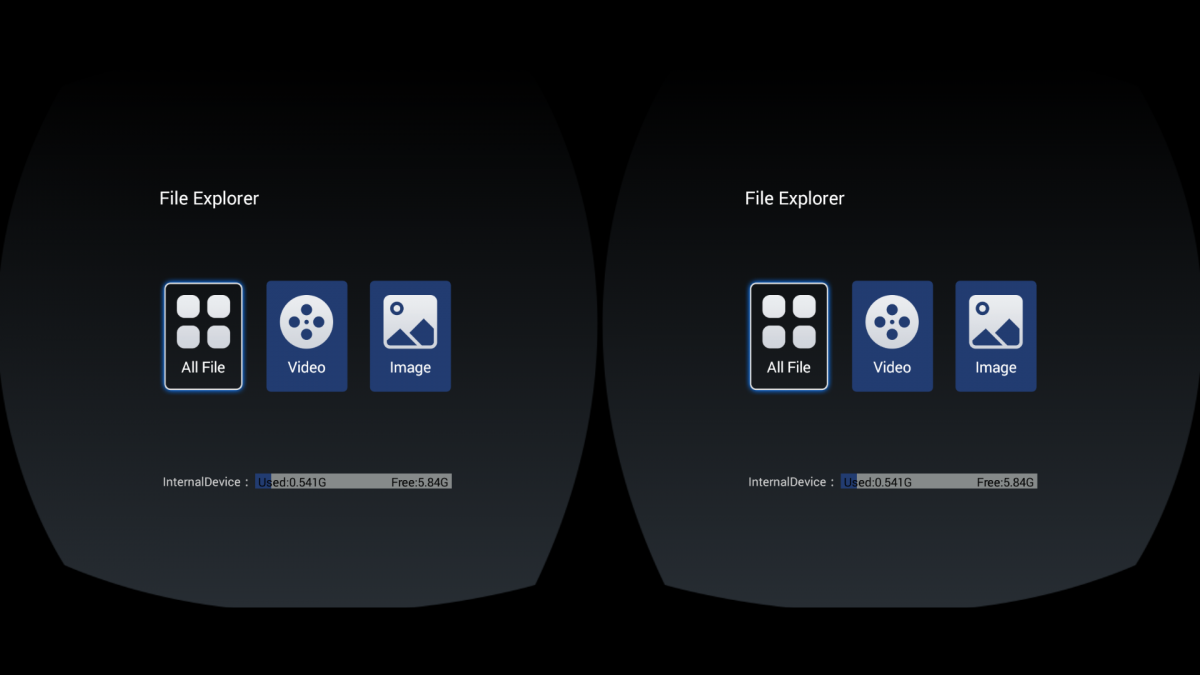 click camera app, it will open the front camera, press "ok" button to take photos.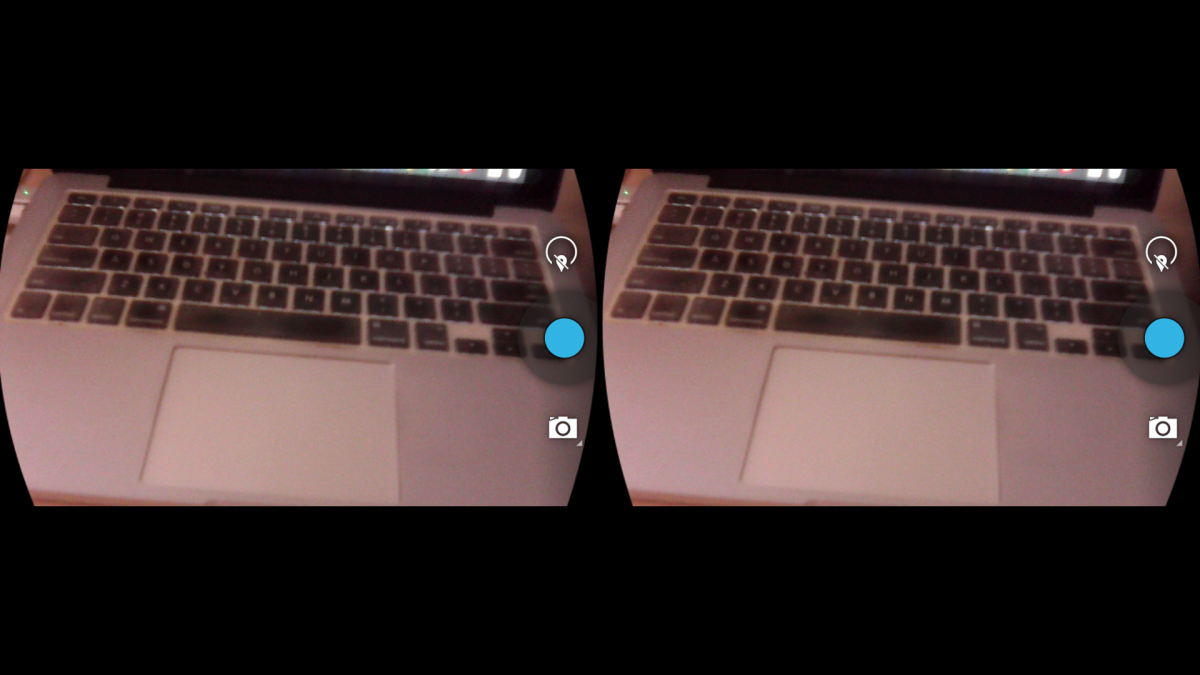 Run VR games: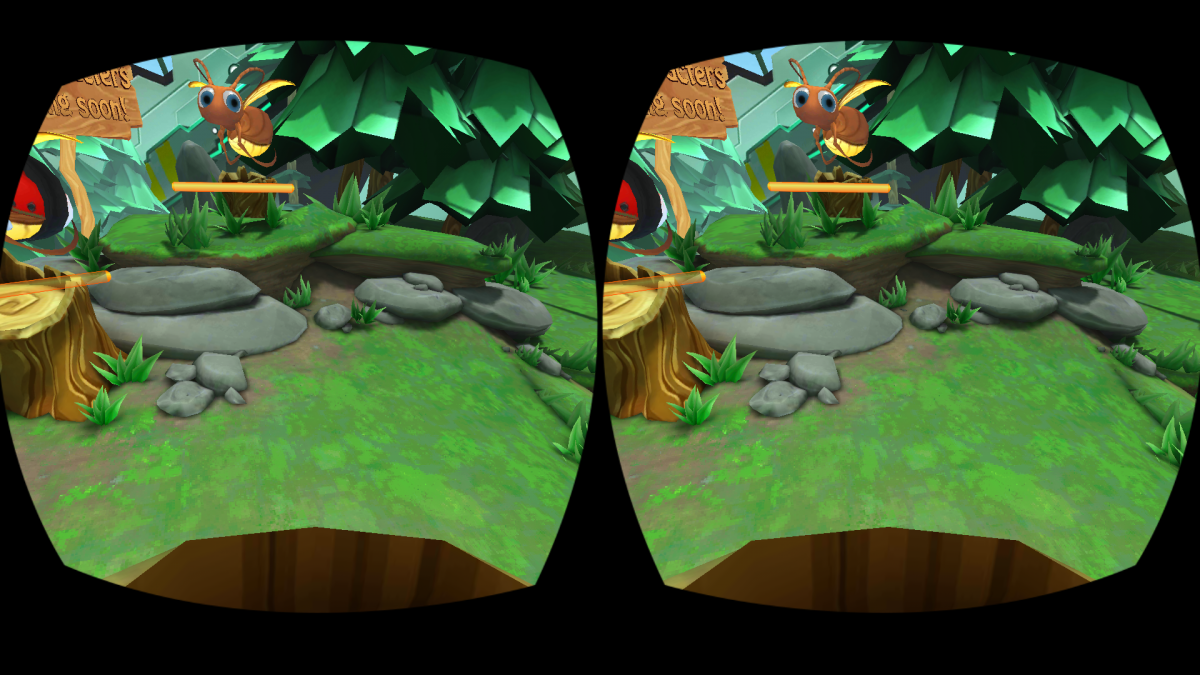 Run Cardboard: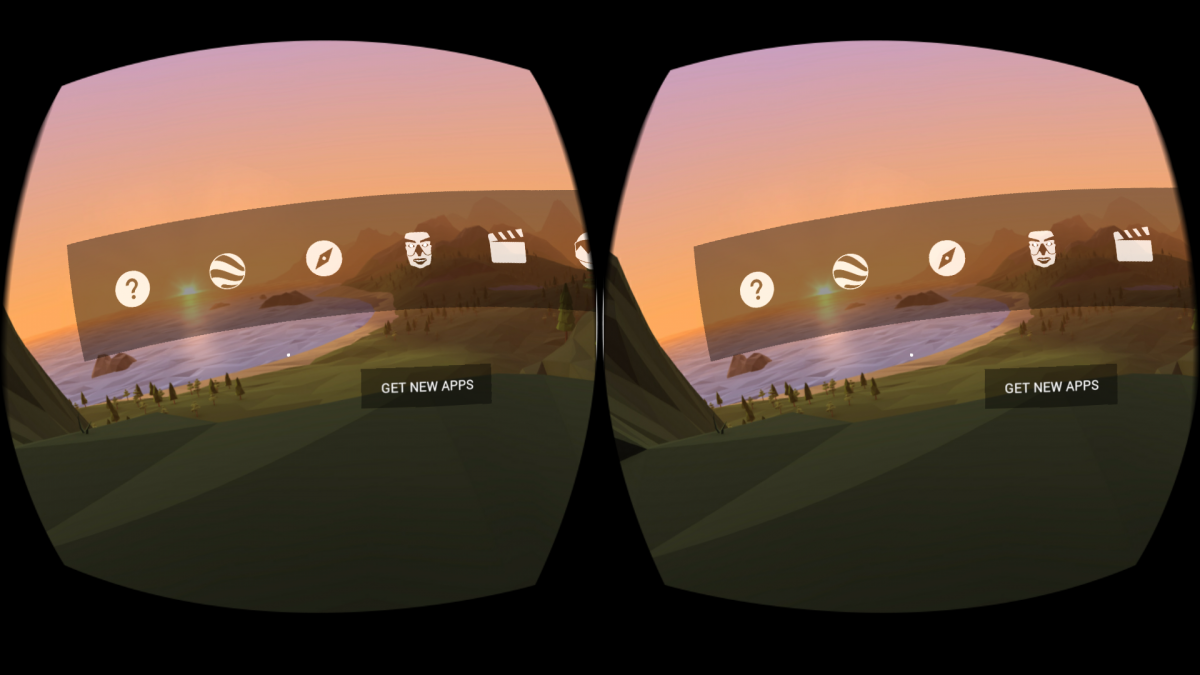 So this is the basic software / system review. If the above simple hardware and software review can help you know this product better, it will be ok for me, but now, i will talk something useful information in my testing.
1 Can i install other app like google cardboard which is not in their app store?
Yes, you can! Just download the app you need to your pc, and copy the app to micro sd card, install the app via micro sd card. or you can directly download the app through built-in browser. But google play store is not supported right now, I can't install google play store since the system is not rooted. (will try that later)
2 It just can run cardboard style VR apps?
As we all know, when we use cardboard style vr headset, we have to use special VR app, means the app must already be left/right split mode first. but when i use this HA554 HMD, i find i can directly install anything, just what i did in tablet. for example, i download the antutu benchmark app and run it in this HMD: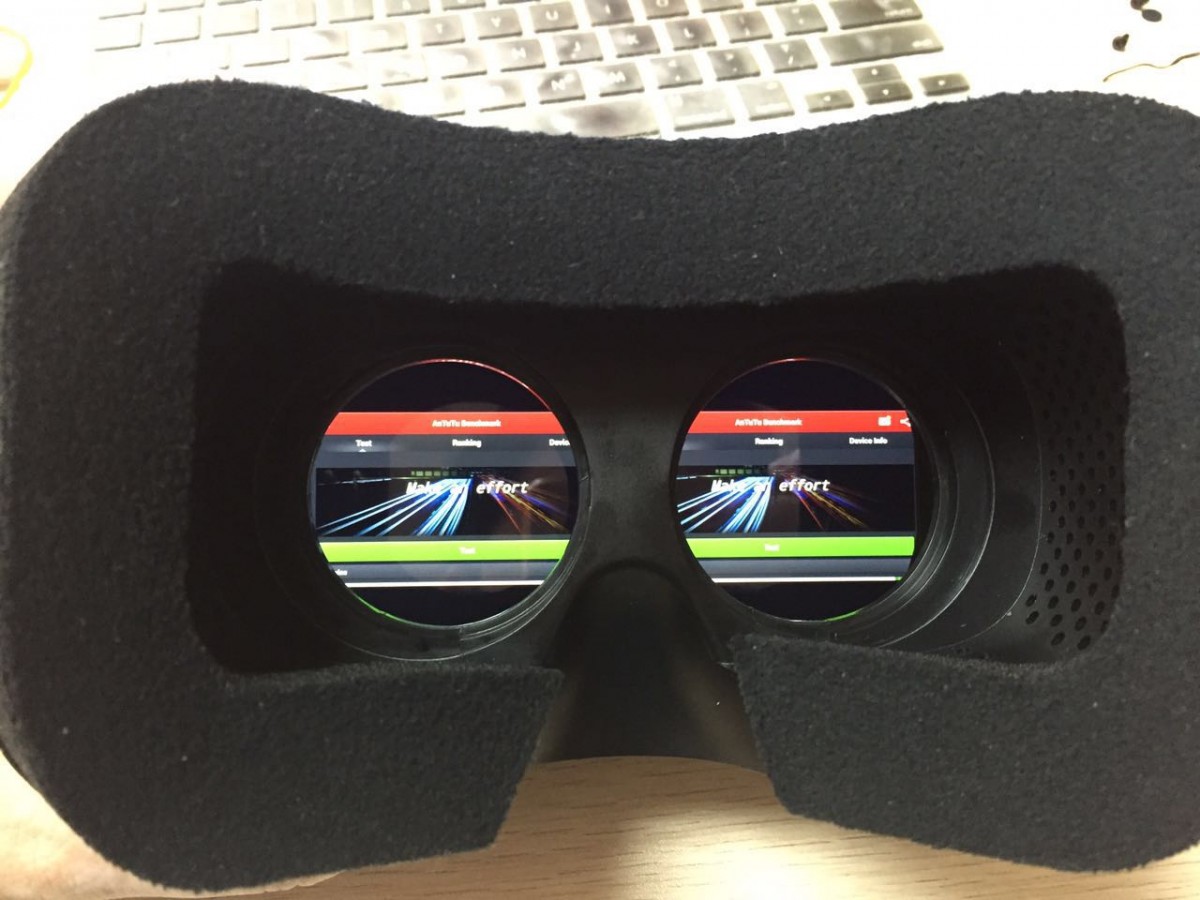 The system directly split the screen to left/right mode and i can directly use it in this VR HMD. Still confused? another sample:
This is the cardboard demo app you usually use in cardboard style vr headset: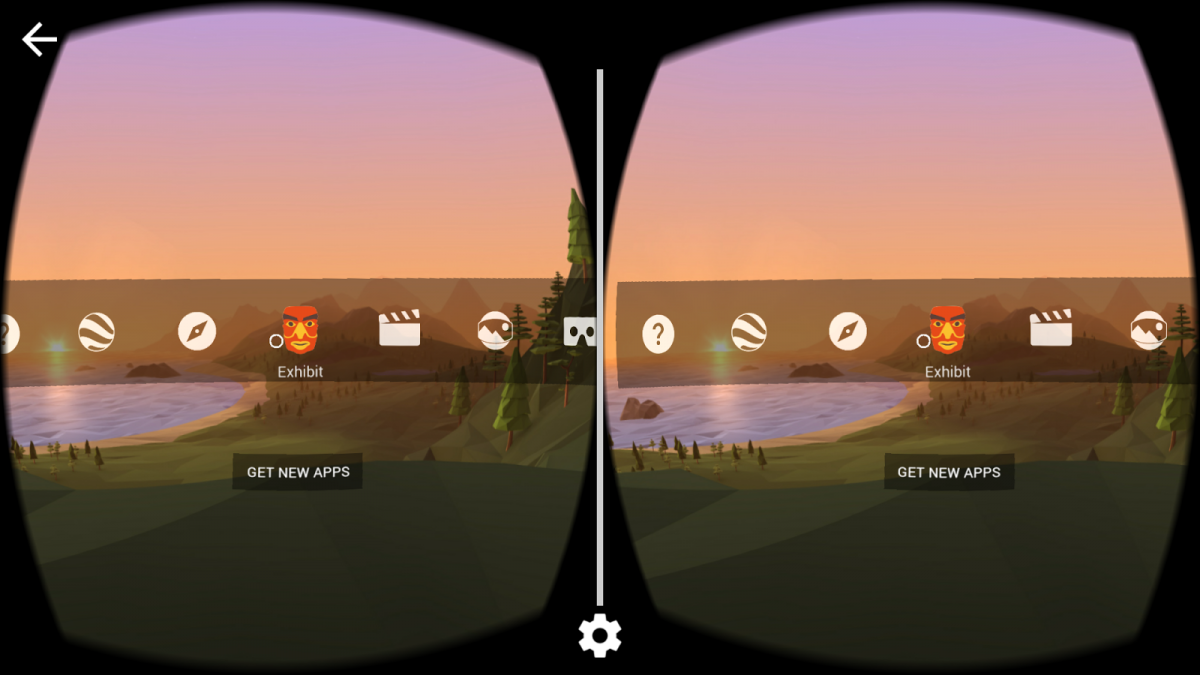 The content must be left/right split mode, and when you watch this from VR headset, it will give you the virtual reality experience. but when you directly run this app in HA554 HMD, here is what you get: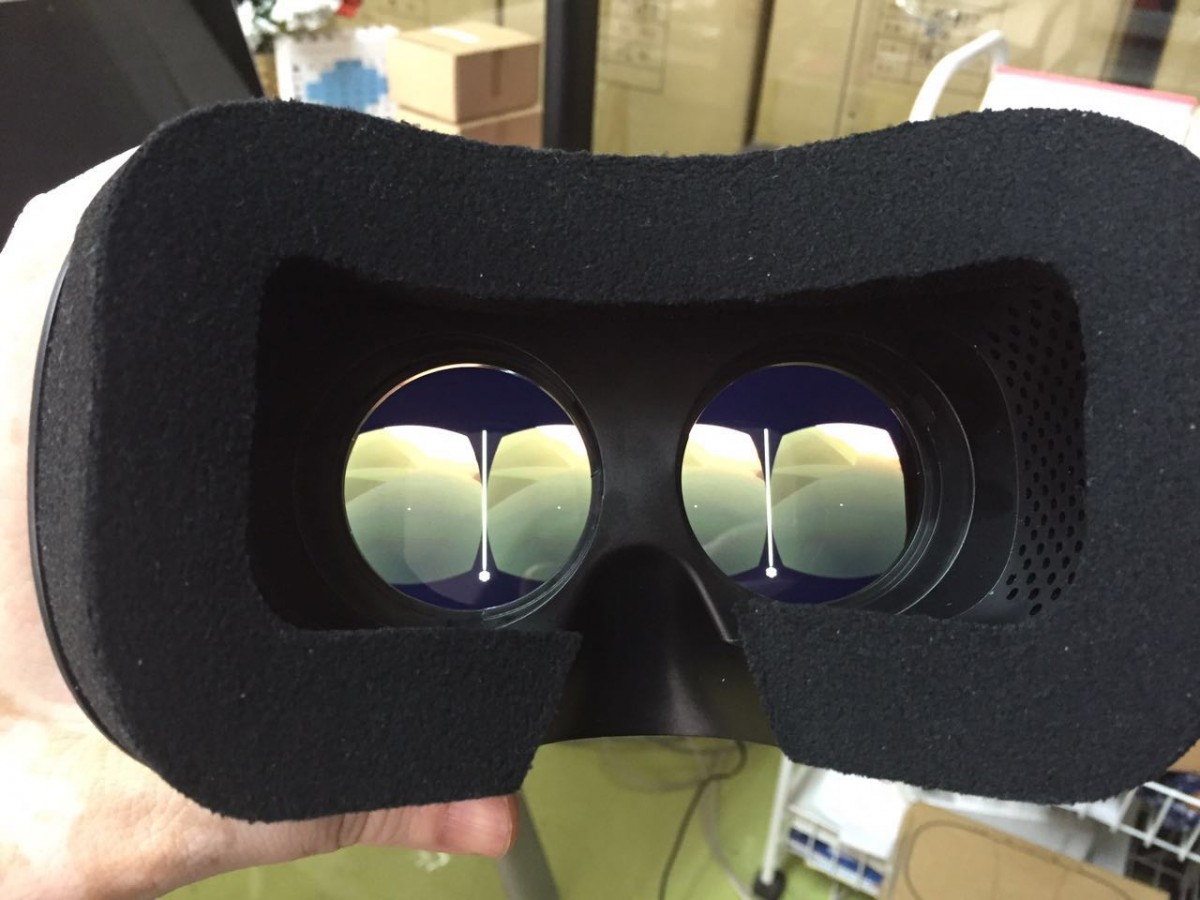 OH, NO, the screen is split to 4 part. and when we watch in the HA554, it is unwatchable. So does it means HA554 can't run VR apps? Wrong.
Press the "Nibiru" button in device or remote control, there will be a menu like this:
choose the 3rd button, open VR mode. and now you will see this on screen: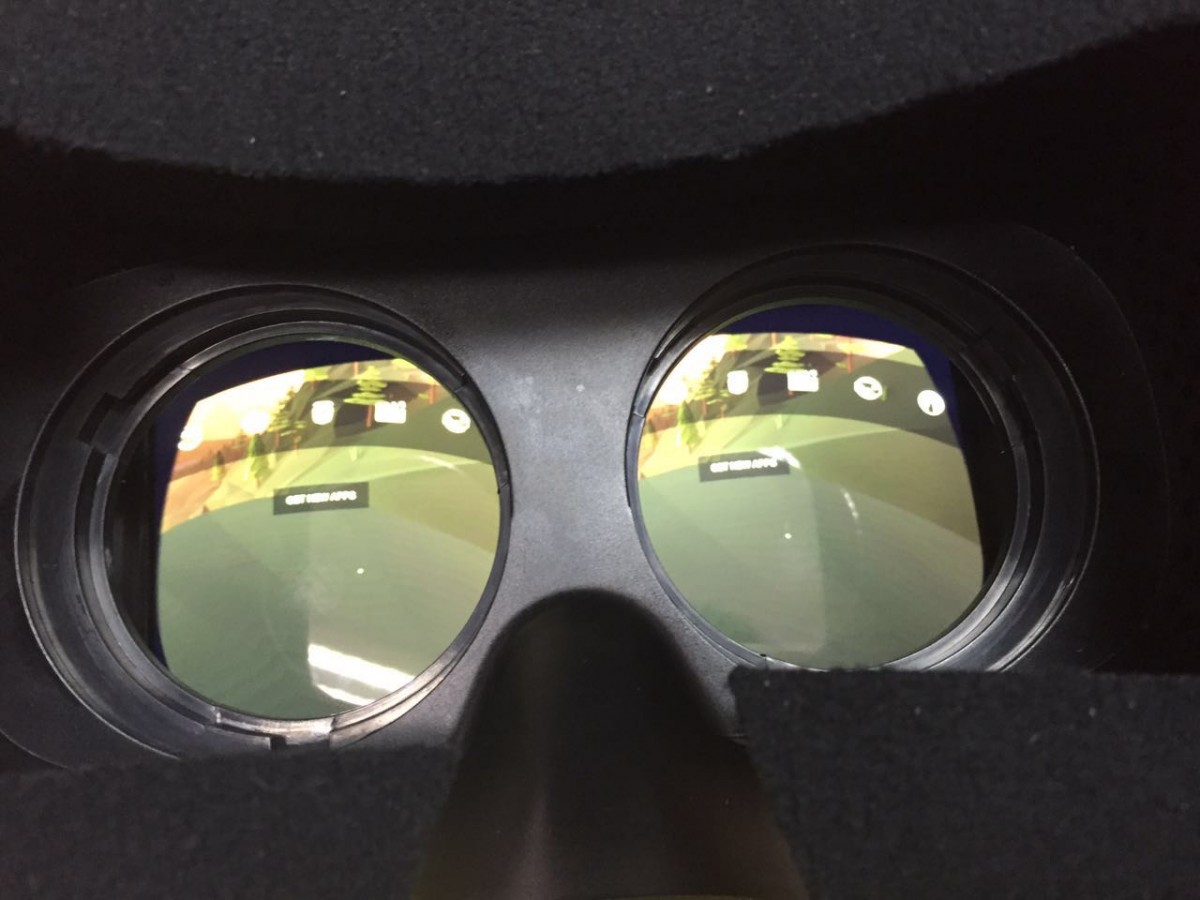 It is like what you see from any other cardboard style vr headset, and you can use cardboard app without problem.
When we open VR mode, and check the same antutu app, we saw this: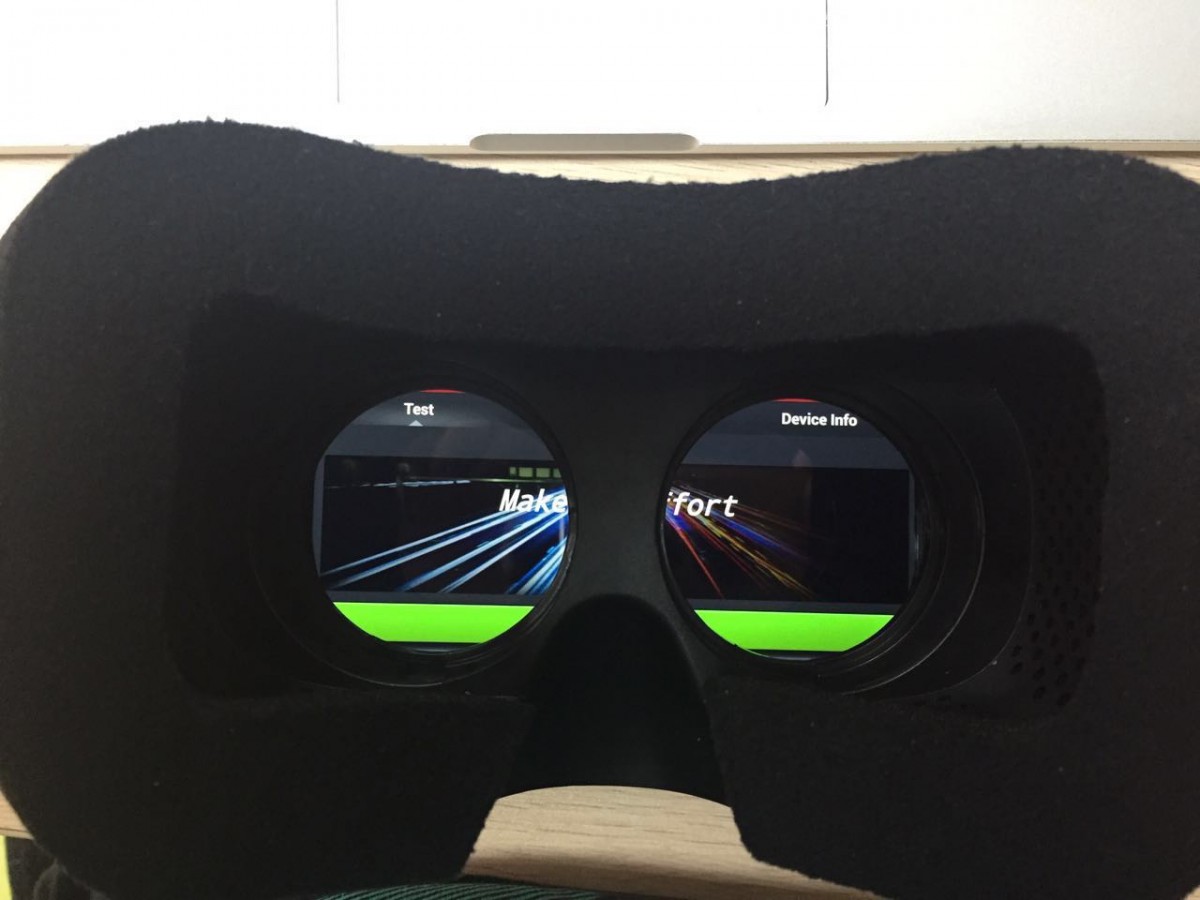 This time, screen won't be split to left/right mode, but since the app don't support VR, so it become unwatchable in HA554.
In short. HA554 can be compatible with all apps, VR or non VR, when you run VR apps, you open VR mode. when you run regular apps, just close VR mode.
3 How to operate ?
Google use magnet in v1 cardboard, and conductive foam button in cardboard v2, Samsung Gear VR use the touch pad to operate.
without those , you have take off your smartphone each time or use extra bluetooth controller. That will effect your VR experience.
HA554 offer 3 different operation method:
A) Physical button in device, you can use the direction button to move, ok for confirm, and also have back button and other useful buttons in device.
B) Air mouse, The HA554 includes the following simple 2.4G air mouse, just connect the receiver, and the little remote controller will work like charm.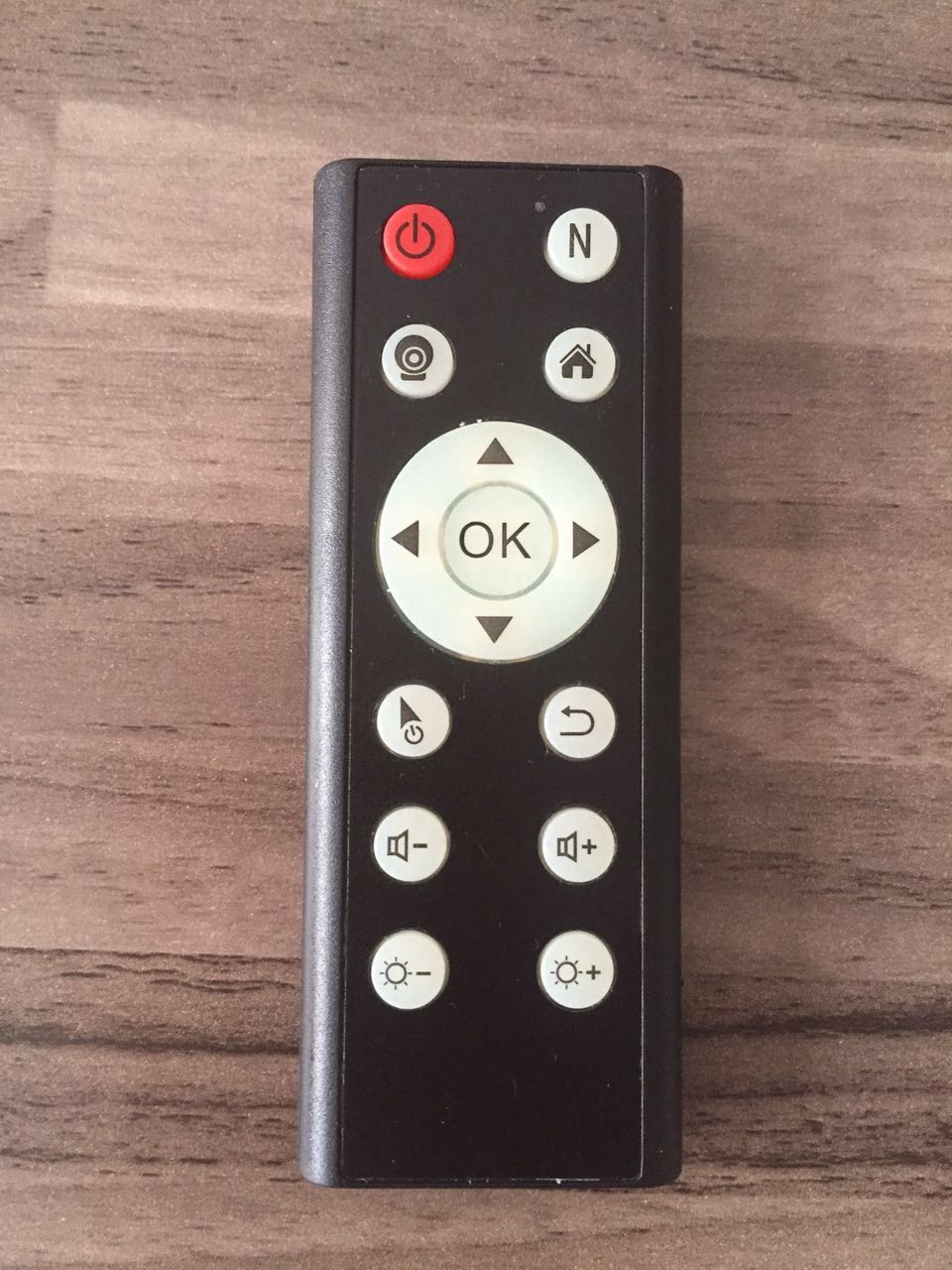 C) Head mouse, it will use the built in gyro, when you press Nibiru button, the system will give you this menu:
and the first one is opening Head mouse, after open that, you will saw Round cursor on screen, move your head, and the cursor will also move.
Conclusion
HA554 is first all in one VR HMD i have ever played, I spent some time to learn how to use it. but after familiar with the operation, i find it is really better than those cardboard style vr headset. I mainly use it for playing videos, standard, 3d, 360degree videos are all working well, the 1080p resolution screen can meet the standard VR experience. I don't feel obvious dizzy , and also heat seems no problem. As an entry-level all-in-one VR HMD, consider the low price, it worth a try.
But if you serious gamers, i suggest wait for high resolution and powerful cpu/gpu all-in-one device.
Actually, i have got the newest Deepoon M2 sample, stay tuned for a high-end all-in-one VR HMD review 🙂
Link for HA554 entry-level VR HMD is here:
http://www.geekbuying.com/item/HA544-WiFi-2MP-RK3188-1080P-FHD-3D-Immersive-VR-Virtual-Reality-Headset-1G-8G-WIFI-Bluetooth-3000mAh-for-Nibiru-Games-364781.html
Follow us on Facebook, and subscribe our RSS to get the newest VR review.
Geek buying will be the most professional VR sales channel, We will pick up the best VR glasses for our users.
Thanks
Eric
GeekBuying