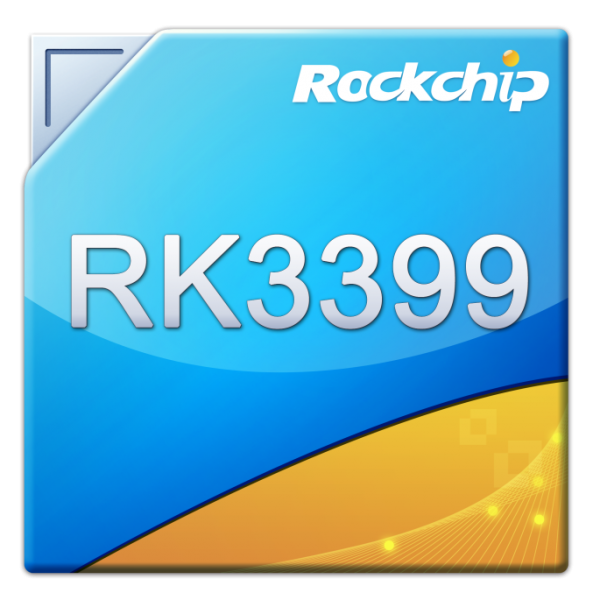 Rock chip explain a different definition about their RK3229 chip and has highlighted the support for VR (virtual reality) all-in-one device. Here is what they had to say.
1 Rockchip RK3399 can decode 4K 360 degree Panoramic video directly and compatible with traditional 2D/3D content.
2 Lower than 20ms latency, specially optimize for VR headset. 20ms or lower latency has been approved by Gear VR, Oculus and HTC, other than that people will feel dizzy and uncomfortable. Many users complain about the dizzy feeling when they use the cardboard style VR headset, reason is the smartphone SOC and VR headset has not been optimized for VR.
3 Screen refresh rate can reach 75Hz or higher, now all of the flagship smartphones can only reach 60Hz screen refresh rate, some others might have lower than that. Rock chip RK3399 can offer at least 75Hz screen refresh rate. The high refresh rate will give a better VR experience especially for VR games. For reference oculus rift and HTC Vive have 90Hz refresh rate, and Sony PS VR has 120Hz refresh rate.
4 Rockchip RK3399 can support 2K FHD screen. The high resolution screen means less blurring, in our opinion 1080p is the minimum requirements for VR headset, 2K is defiantly better.
5 Rockchip RK3399 already has built in Anti Distortion, Pupillary Distance Algorithm. Previously if you wanted to make a good VR headset you should have optics and technology specialist, with the RK3399 the factory will focus on hardware they can make their own product easily, so we may see more and more all in one VR Headset very soon with RK3399.
6 Rockchip RK3399 support left/right split screen function with hardware and software. As we all know, for all in one VR headset split screen is an important technology and the Rockchip RK3399 can be designed to suit different screens automatically to make sure of the best quality VR experience.
7 Rockchip RK3399 support different gaming engines, including Unity. As we all know the GPU is much more important than CPU in VR headset, Rockchip RK3399 base is the powerful Mali-T860. You can read the information about Mali-T860 in ARM official site here. It offers possibility for a large range of VR android games.
Besides the above highlights, Rockchip RK3399 also has built in dual USB 3.0 type C port, and supports gesture recognition and built in PCI-e port.
Here is a poster rock chip release today: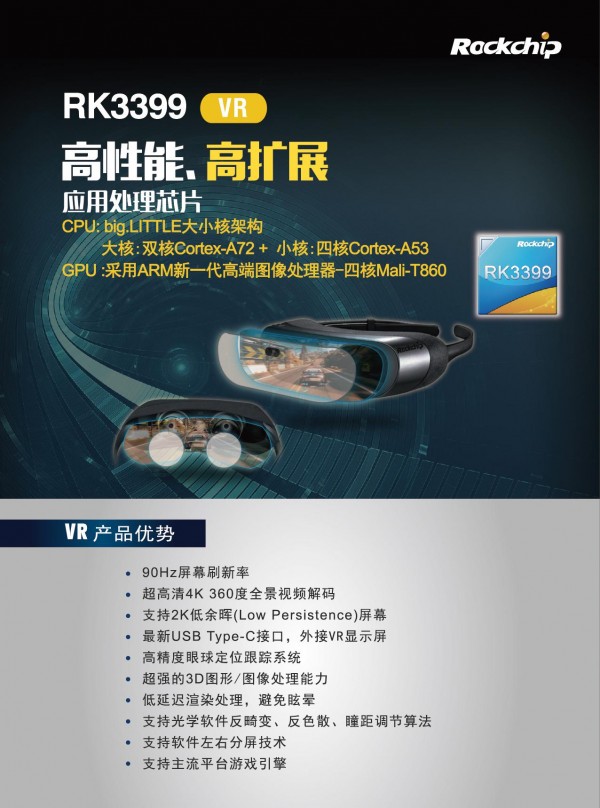 Rockchip is the first company to release the VR SOC among Chinese chip makers. They hope to make the RK3399 a high-end all in one VR headset solution. As well as the RK3399 solution Rockchip also has shown their ALL IN ONE VR headset which is based on the RK3228 at this year's electronic fair.
As usual wait will be at least 3 month until we see the new all in one VR headset base on RK3399. VR headset base on RK3228 are just around the corner.
Will you get a ALL IN ONE VR Headset ?
Leave comments below for your suggestion!
As the most professional VR headset sales channel, Geekbuying will track all of the VR headset in market, and pick up the best one to our users.
If you are interested in the all-in-one VR headset, follow and save this link:
http://www.geekbuying.com/category/Virtual-Reality-1762/Android-Headset-c-1286-v-3519.html
We will update as soon as the news hits our desks
Eric
Geekbuying