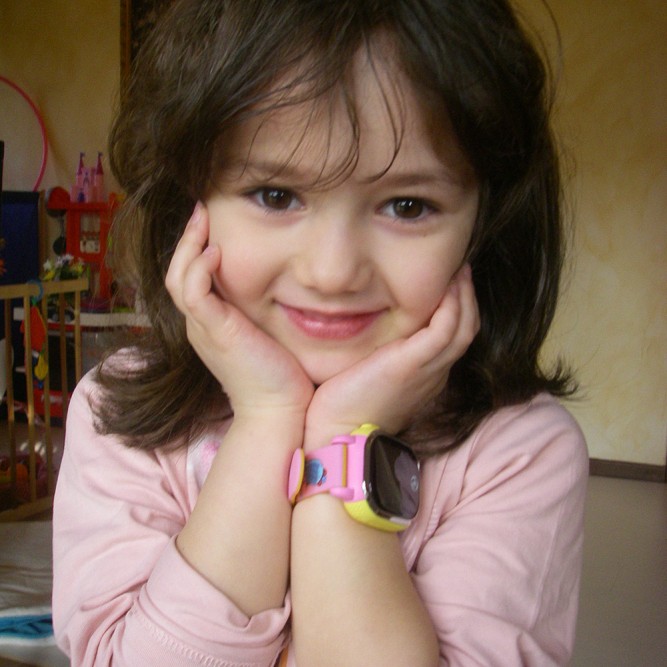 Every boy or girl is born to be a little prince or princess, and every child deserves to have a gorgeous Tencent QQ Watch.
This is one of our client's daughter. Lovely girl wears gorgeous watch!
The watch allows you track your kid's precise location through the app. It has 5 guarantee ways of positioning, including taking picture to locate, WIFI chip, GPS positioning, LBS location and Gravity sensor. And the following functions can ensure your kid's safety:
– Call monitor function: Call kids and it will automatically connected.
– Safety Area: Parents can set a area as the kids safe area. Once the kids get out of the area, parents will be alert.
– One Key SOS: press the SOS key, parents will get a SMS message.
Buy a Tencent watch to make your child smiling 🙂
It also provide the interactive effect for parents and children.
– Kids can use the watch to take picture and send it to parents. Parents can remote control the watch to take picture and get it in the chat page. Through the interaction of the image can better to accompany the child happy growing up.
– Voice message, private chat, group chat……many kinds of communication way let the invisible love accompany, accompany children grow up happy.
Let you feel relieved. Let love follow.
Also it allows kids to search nearby people and send voice message with them. In the most intimate way, let the kids get the best friend.
In addition, there are many more optimization function.
– Pedometer: It can collect the data of your steps and analysis your health.
– Alarm clock
– Weather forecast
– Story telling
"Let Go With Love. Love Will Follow!" It's time for you to buy a QQ watch as a present for your child.