MXQ 4K TV box list of features is rather impressive, as the 4K media player packs support for high bitrate (200 Mbps+) 10-bit H.265 and H.264, as well as VP9 at 4K resolution, 4 USB ports, Ethernet, and HDMI 2.0 for just $30. That price includes shipping. We just don't know how it performs, but we'll soon find out as GeekBuying sent me a sample for review. I'll start by checking out the hardware, before testing it over a few days, and write a complete review.
MXQ 4K Unboxing
The retail package shows MXQ-4K "OTT TV Box" and some of the key selling points like Kodi support, 4K, HEVC/H.265, and son on. You'll also find the Android 4.4 Kitkat logo since strangely Rockchip did not provide an Android 5.x SDK for their low cost processor.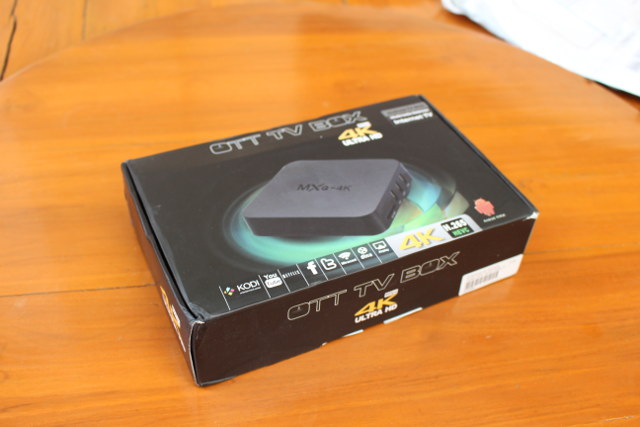 The device ships with an IR remote control, a 5V/2A power supply, an HDMI cable, and a user's manual in English.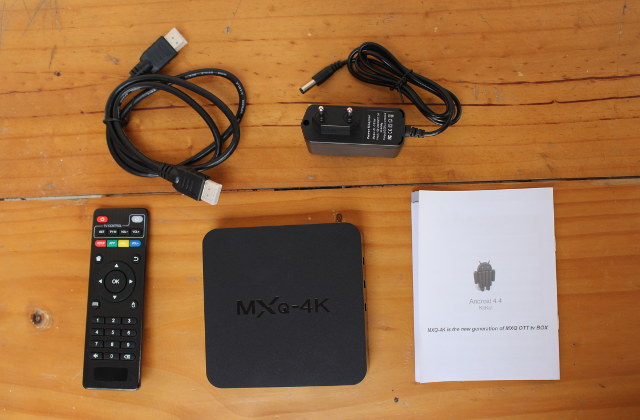 The enclosure is a standard looking black rectangular box with an SD card slot, and three USB port on one side, as well as several ports on the rear with one USB 4 port, two 3.5mm jacks for coaxial S/PDIF and AV (composite + stereo audio), the HDMI 2.0 port, a Fast Ethernet port, and the power jack.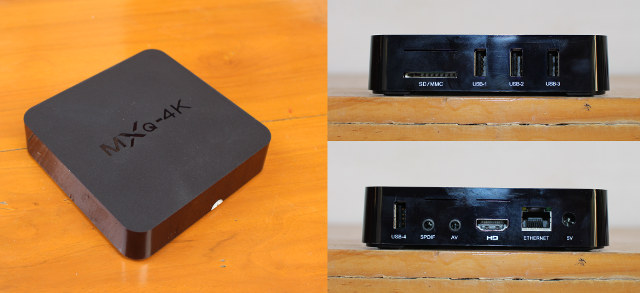 MXQ 4K TEARDOWN
It will be quite interesting to open it to better understand how they could keep the price that low. I had to peel off four sticky rubber pads, and loosen four screws to take the device apart. Pretty straightforward.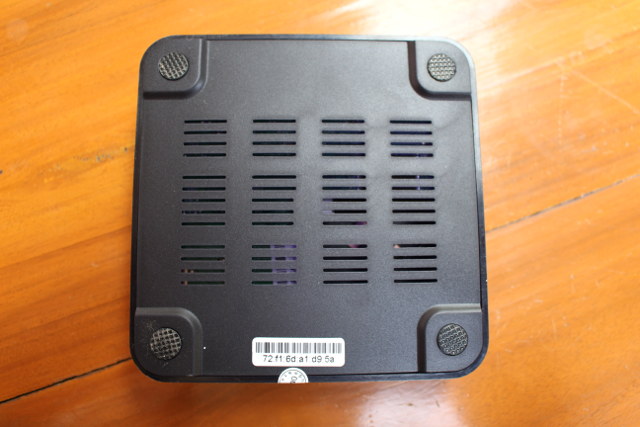 There's also a sticker with a MAC address starting with 72:F1:6D on the case, which looks up to … nothing. So either the company only recently registered, or they just made up some MAC addresses by themselves to save on registration costs…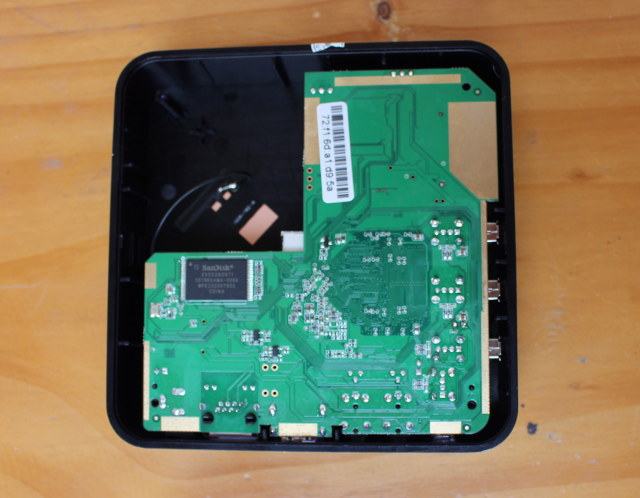 This is what the board looks after opening the case, and there's a single chip: SanDisk X505260971 NAND flash with 8GB capacity.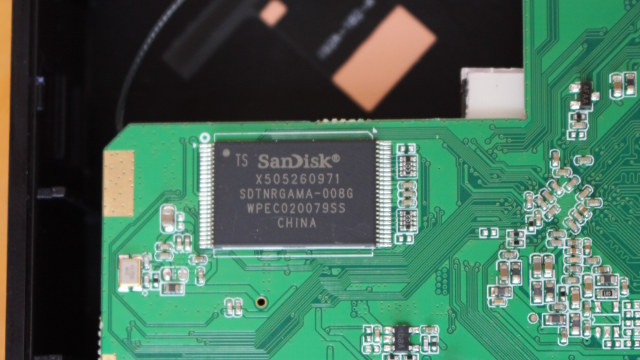 Taking out the board completely explains why the device is quite cheap, as many features are integrated into Rockchip RK3229 processor, including the Ethernet PHY and audio codec, and the four USB ports has not using a USB hub chip either.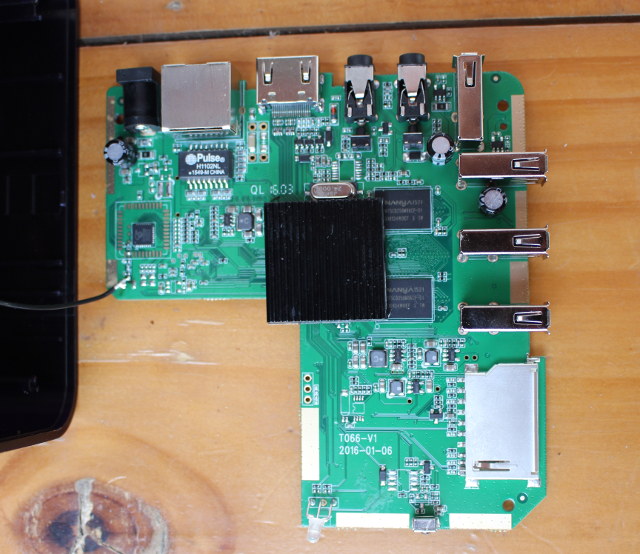 There's only RK3229 with a heatsink, two NANYA NT5CB256M16CP-D1 RAM chips, Pulse H1102NL magnetics for 10/100M Ethernet, and Espressif ESP8089 Wi-Fi chip, probably one of the cheapest, if not the cheapest WiFi IC on the market for this type of device.

You'll also have noticed two push buttons right behind the 3.5mm jack. The user's manual explain the one behind the AV port is for firmware upgrade, and but I'm not sure what the one behind the S/PDIF port is for entering bootloader mode. There is also an unpopulated 3-pin header on the bottom right which should be for the serial console, and the board is named T066-V1.
As mentioned in the introduction, GeekBuying kindly provided the sample for review, and you can purchase the device for $29.99 shipped from them if you are interested. Other shopping options include GearBest, Banggood, and Aliexpress.
Thanks for the review.
From CNXSoft