GeekBuying sent me K3 Wintel keyboard computer since I was interesting in testing a device in this form factor, and at the time I listed the specifications, and took a few pictures of the device and its internals. I've now completed the review, and found it to perform very well for a Bay Trail computer.
K3 Wintel Key Computer Setup & System Info
But the initial part of the review did not start so well, as I was asked for a license key for the device as went through the initial setup right after selecting my languages and regional settings.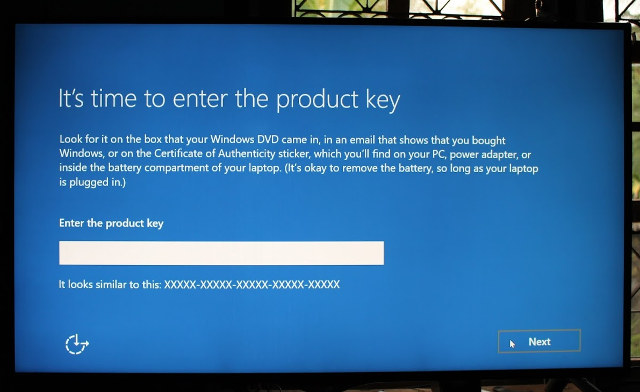 GeekBuying clearly states the mini computer comes with a "Licensed Windows 10", and I could not find any on the device or the user's guide, which appears to be a near-exact copy of a Windows 10 Lenovo tablet PC user's guide… So I contacted GeekBuying, and after a few days, they replied, not with a product key, but by asking me to click on the Accessibility icon on the bottom left corner to setup the network…
I did that, but obviously there was no network options, only options for magnifier, on-screen keyboard, high contrast, etc… But then I discovered a "Do it later" text appears on top of the accessibility icon, so I clicked that, went through the remaining of setup options, and I could finally use Windows 10.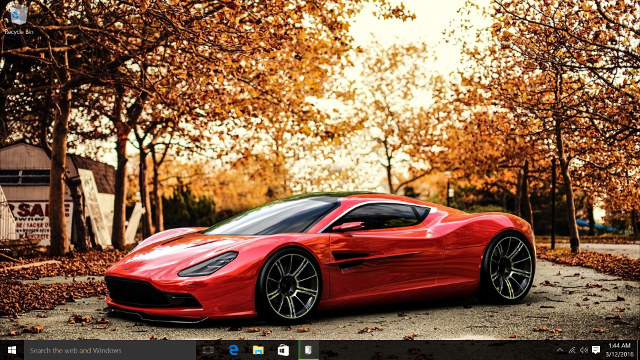 The only odd thing was that the desktop background was not the default one, but instead a sports car… However, the "System" window in the control panels confirms Windows 10 is activated. Other parameters are fine with Intel Atom Z3735F processor @ 1.33 GHz with 2.0 GB RAM running the 32-bit version of Windows 10 Home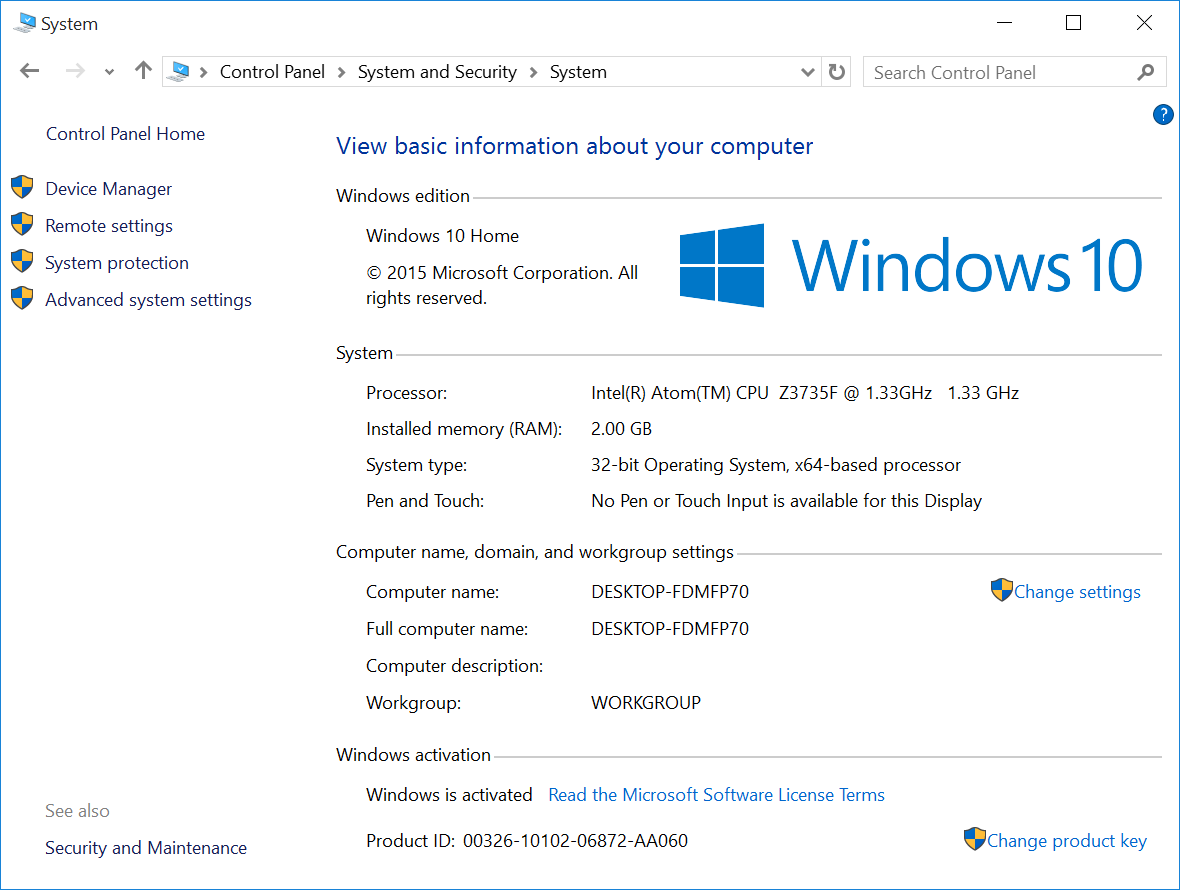 The whole setup process was a little unusual, so I'm not 100% sure if the copy of Windows 10 is legit.
Windows 10 resolution was set to 1080p50, and the keyboard PC boots very fast, as I can get to the login screen in less than 15 seconds. One annoyance was that the system would go to sleep mode automatically after a host while, even as I was downloading files in Firefox, or extracting files from a zip file. So I went to Power Options and found out the default Plan was to sleep after 10 minutes of "inactivity".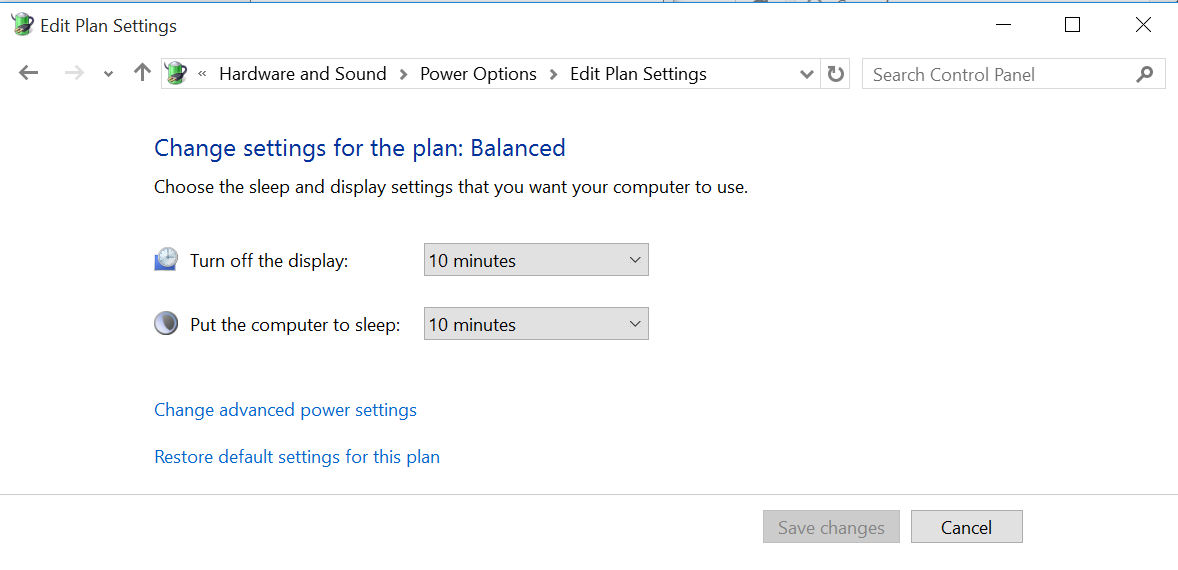 I changed that to "Never" and it fixed the issue.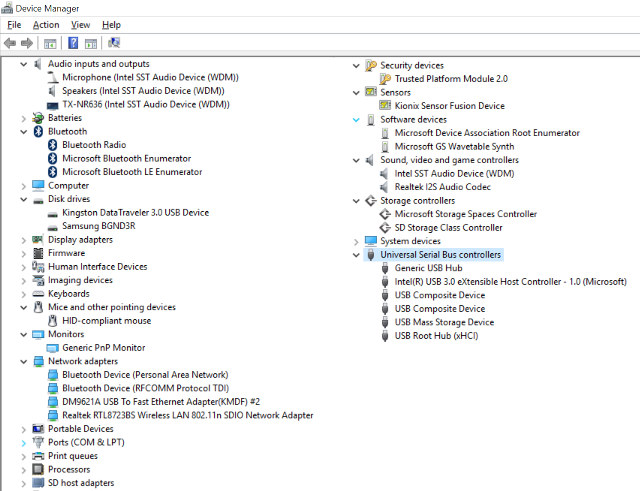 The Device Manager shows Bluetooth is supported, WiFi is done Realtek RTL8723BS module, and Ethernet via a Davicom DM9621A USB to Ethernet adapter.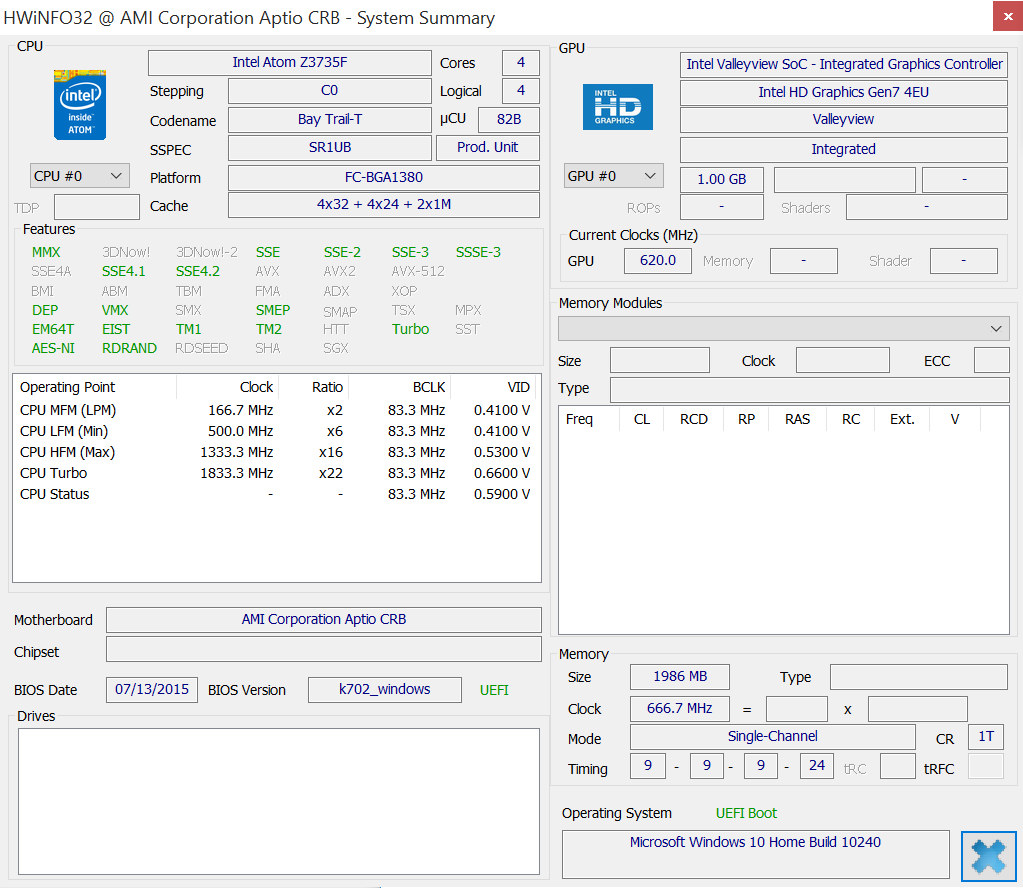 HWiNFO32 shows basically the same information as other Intel Bay Trail Z3735F mini PC, except the BIOS/UEFI binary is specific to the hardware with version k702_windows.
K3 Wintel Keyboard PC Benchmarks
As with other Windows based device, I've run PCMark 8 benchmark starting with the conventional / baseline version, and K3 Wintel got 1,021 points compared to 1,052 points for MeLE PCG03 (Windows 10) and 1,116 points with MeLE PCG01 (Windows 8.1)

You can read the detailed results on 3DMark website.
I've also run the Accelerated version of PCMark 8.0 benchmark, and the device achieved only 1,017 points, while in theory it should have been faster. I did not run the benchmark on other Z3735F devices, so it could be that OpenCL is not supported by Bay Trail GPU (TBC). Other low power devices with more recent processors achieved slightly better results, including 1,492 points in MINI NGC-1 powered by Intel Celeron N3150 (Braswell), and 1,428 points in Voyo V3 based on Intel Atom x7-Z8700 processor (Cherry Trail).

You can get the PCMark8 Accelerated results for K3 Wintel here.
The last benchmark was 3DMark, and Fire Strike 1.1 crashed the Windows drivers like on some other Bay Trail devices, but the other three benchmarks went through.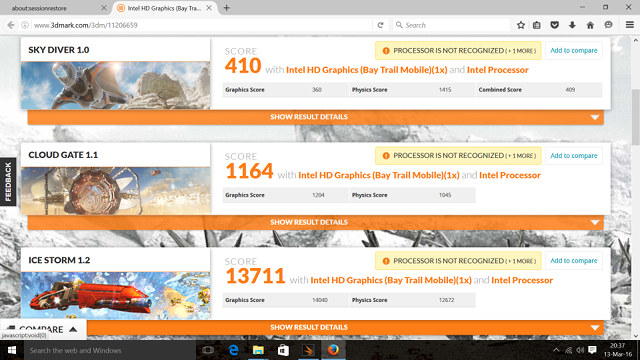 So K3 keyboard computer achieved respectively 410, 1,164, and 13,711 points in Sky Diver 1.0, Cloud gate 1.1, and Ice Storm 1.2, while MeLE PCG01 stick based on the same hardware achieved 439, 1,156 and 14,069 points, so basically the same results.
The 32GB internal eMMC flash is quite fast for a low cost device, and even faster than the results I got with MeLE PCG03, especially with regards to write speed (130.2 MB/s vs 75 MB/s).

K3 WINTEL USABILITY TESTING
Benchmarks were rather satisfying with results as expected, and in the case of internal storage even exceeding my expectations. I've also run a few typical tasks with the keyboard:
Web Browsing in Edge

Loading multiple tabs with CNX Software blog
Playing an Embedded Video
Playing a flash game (Candy Crush Saga)
Playing 1080p Video in Full Screen mode for several hours

Gaming with Asphalt 8
Kodi with 1080p and 4K videos
The performance is basically the same as experience on MeLE PCG03 thanks to proper cooling. Browsing was including YouTube video playback, and after 3 hours the device could still play videos very smoothly.Candy Crush was also playable, but it took me a little while to find out how to use the touchpad to move the candies around: double tap + move.
Actually at first during my testing, I connected a USB keyboard to my Keyboard PC, and I agree that seems stupid but I only did that because I not find the Print Screen button on the 76-key keyboard on the device. Finally, I discovered that Alt+Gr+F2 would do the trick. I'm not been able to do drag and drop or moving windows, so I decided to connected an external USB mouse, but in my case this had the side effect of completely losing keyboard and mouse control, so I have to disconnect the mouse and power cycle the device.
Asphalt 8 played fine with decent frame rate, but for people who prefer to use arrow keys they are quite narrowly positioned, and you'd have a better experience with ASDW keys instead.
Kodi 16 was able to play 1080p video, and 4K (H.264) videos at 24/30 fps with working automatic frame rate switching, and handled DTS 5.1 and Dolby Digital 5.1 pass-through perfectly, just like in my previous experience with Kodi on Atom Z3735F mini PCs. 4K H.265 decoding, and pass-through for DTS-HD and TrueHD are not supported.
The system also never throttled during my testing despite a room temperature of about 30 C, so the keyboard form factor allowing for larger cooling plates does help in this regards.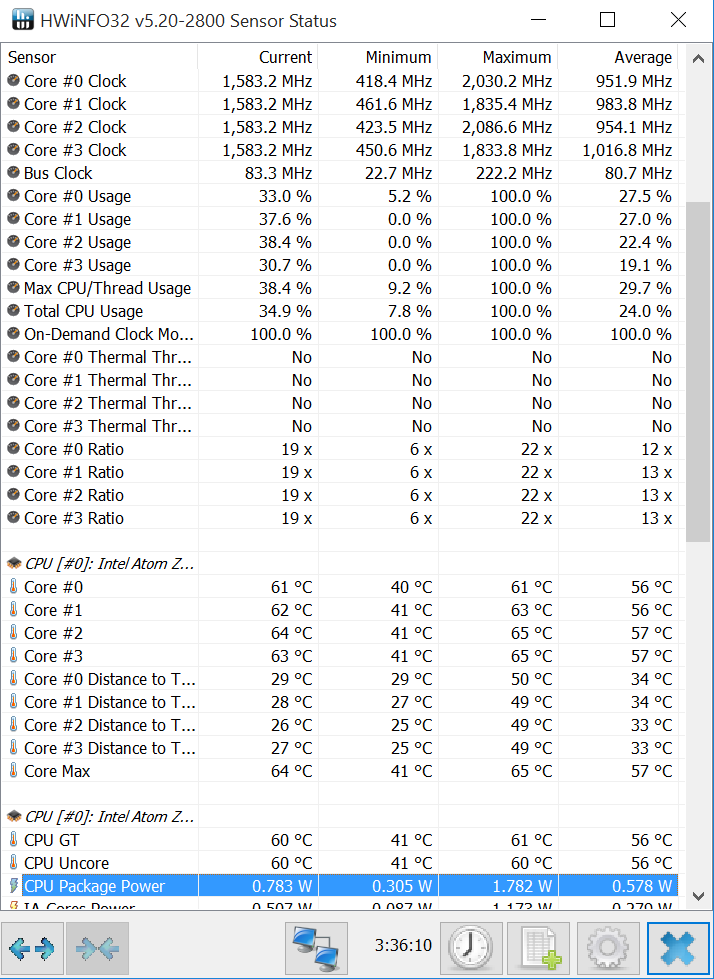 I've done most of the tests using WiFi, and I only tested Ethernet, limited to 10/100M, at the end of the review.
Conclusion
Overall, I'm very satisfied by K3 keyboard computer as it performs consistently and as fast as many other Intel Bay Trail or Cherry Trail computers I've tested, if not faster. However, the Windows 10 setup procedure was a little confusing, some default settings made the device go to sleep after 10 minutes of inactivity, and in my case at least, connecting USB mouse caused the system's keyboard and mouse pointer to stopped working properly.
You also have to wonder whether you really need a keyboard computer. It may bring back some fond memories of the Commodore 64, and it may be fun to show your cool and different gadget to your friend , but I found it awkward to use mostly because of the touchpad, and so far I have not found a way to drag and drop or move the current window, but the 76-key keyboard was also confusing at time. It's also not really portable since you've got the power and HDMI cables attached, and considering you have mini PCs and TV sticks nowadays, such system are likely more user-friendly with a proper wired or wireless keyboard.
I'd like to thanks GeekBuying for sending a review sample, and you could consider purchasing the device for $114.99 on their website. The product is only listed on few other sites such as Banggood, but K3 Wintel looks exactly the same hardware as T20 / K702 Keyboard PC that runs both Windows 10 and Android 4.4, and sold for $118.90 on Focalprice.
Thanks for the review.
From CNXSoft