Vega S95 Telos – prvi dio
Tronsmart je kineski proizvođač s bazom u Shenzhenu, a specijalizirali su se za proizvodnju Android media playera, Windows Mini PC-a, Miracast adaptera, brzih punjača, USB Type-C dodataka (kabela, adaptera, punjača i hub-ova) te Micro USB kabela. Usko surađuju s Geekbuying webshopom koji nam je i poslao ovu Vegu S95 na test.
Vega S95 inače dolazi u tri izvedbe – Pro, Meta i Telos, a nama je iz Geekbuyinga došla ova posljednja koja je ujedno i najjača. Riječ je o uređaju s MetaLogicovim S905 SoC-em, koji dolazi i s 2 GB radne memorije, 16 GB eMMC skladišne memorije i dual-band WiFi-em. Pro verzija ima 1 GB radne memorije, 8 GB skladišnog prostora i single-band WiFi (2.4 GHz), a Meta ima 2 GB memorije, 8 GB skladišnog prostora te dual-band WiFi.
Uređaj dolazi dobro zapakiran u tvrdu kartonsku kutiju oko koje je kartonski omotač s osnovnim informacijama o hardveru i mogućnostima. U kutiji se uredno posloženi nalaze i svi dodaci koji su potrebni za funkcioniranje Vege.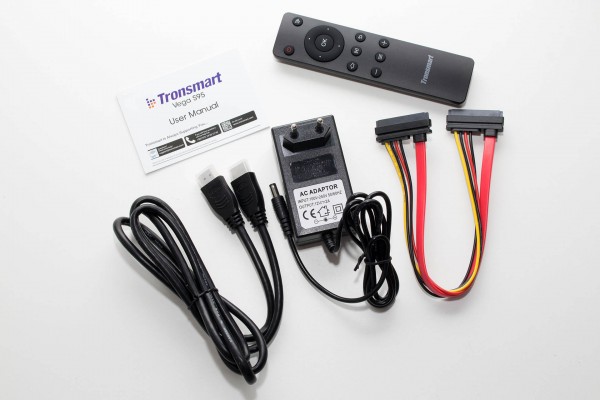 Uz dovoljno informativne korisničke upute nalazimo i HDMI kabel dužine 1.8 metara, AC adapter snage 2A (12 V), SATA produžni kabel (power + data) te daljinski upravljač koji ne dolazi s baterijama pa je potrebno kupiti dvije AAA tipa. Daljinski upravljač je jednostavnijeg tipa s tek nekoliko osnovnih funkcija no i to je sasvim dovoljno za upravljanje Vegom, pogotovo kada je multimedija u pitanju. Na njemu se nalazi i tipka koja ga pretvara u "miša" što znači kako je i na taj način olakšano korištenje. Naravno, Vega podržava i USB miševe i tipkovnice, baš kao i one sa Bluetoothom pa ju možemo koristiti i kao računalo.
Vega S95 je klasičnog dizajna za jedan TVBox, materijal izrade je plastika koja djeluje vrlo solidno. Dimenzije uređaja su 117 x 117 x 18 mm, a masa je svega 142 grama. Vega je dakle fizički vrlo malen uređaj te neće zauzeti puno mjesta uz TV ili monitor. Na vrhu je Tronsmartov logo, a prednja je stranica polu prozirna kako bi se vidjelo je li uređaj u funkciji (plava LED-ica) ili je pak ugašen ili u standby modu (crvena LED-ica). S donje strane je plastika obložena gumiranom bojom kako bi se eliminiralo klizanje po površini, a tu nalazimo i uvučenu Fn tipku koja služi kao fail-safe u slučaju da OTA nadogradnja ne prođe kako treba.
Osnovne specifikacije
Model: Vega S95 Telos
Boja: Crna
Dimenzije i masa: 117 x 117 x 18 mm; 142 grama
Čipset: Amlogic S905, Quad core 64-bitni ARM Cortex A53 procesor (do 2 GHz), Penta-core ARM Mali-450 grafika
Memorija: 2 GB DDR3; 16 GB eMMC storage (Samsung)
Operativni sistem: Android 5.1.1. (OTA), Tronsmart UI
Video formati: 4K*2K@60 Hz dekodiranje uključujući i 10-bitno H.265, AVS+, MKV, WMV, MPG, MPEG, DAT, AVI, MOV, ISO, TS
Slikovni formati: JPEG/ BMP/ GIF/ PNG/ TIF
Povezivost: IEEE802.11 ac dual band (2.4/ 5 GHz); Bluetooth v4.0
Konektori: 3x USB 2.0, HDMI (CEC podrška), SD card slot, SATA, SPDIF, Gigabit LAN (RJ45), DC-In
Zvuk: DTS-HD, Dolby True HD, 7.1 Passthrough via HDMI
Vegu smo vrlo lako otvorili kako bi vidjeli hardveraj koji skriva i odmah po skidanju donjeg poklopca uočavamo crni PCB sa dva Samsungova čipa radne memorije (svaki po 512 MB), ali i WiFi antenu (5 dB). Na gornjoj strani vidimo kako je SoC prekriven aluminijskim poklopcem na kojeg je nalijepljen aluminijski heatsink. Ispod heatsinka se nalaze još dva Samsungova memorijska čipa za ukupnih 2 GB radne memorije, ali i njihov eMMC 5.0 čip kapaciteta 16 GB. Amlogicoiv S905 je 28 nm HKMG čip, vrlo je popularan izbor kod Android TVBoxeva. Diči se s četiri Cortex-A53 64-bitne jezgre koje rade na brzini do 2 GHz, pet jezgrenim Mali-450 GPU-om, podrškom za HDMI 2.0 (UHD 4K 60fps dekodiranje) itd. Od zanimljivosti tu još vidimo i Broadcomov AP6335 WiFi kontroler, Realtekov RTL8211F mrežni kontroler te JM20329 USB to SATA bridge. Na šesto slojnom PCB-u još nalazimo i IR diodu, te LED diodu koja svijetli i plavo i crveno.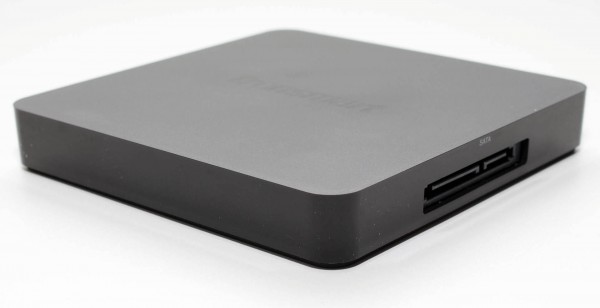 Već su nam na pločici bili izloženi svi konektori, no proći ćemo ih sve s vanjske strane. SATA konektor je na desnom boku, na lijevom su dva USB-a i SD Card slot, a straga nalazimo ulaz za napajanje, SPDIF, RJ45, HDMi i treći USB. Ovo osigurava sasvim solidnu povezivost s uređajima a Vega prepoznaje sve što smo na nju spojili – 64 GB stick, 2 TB eksterni disk, miševe, tipkovnice, eksterni zvučnik itd.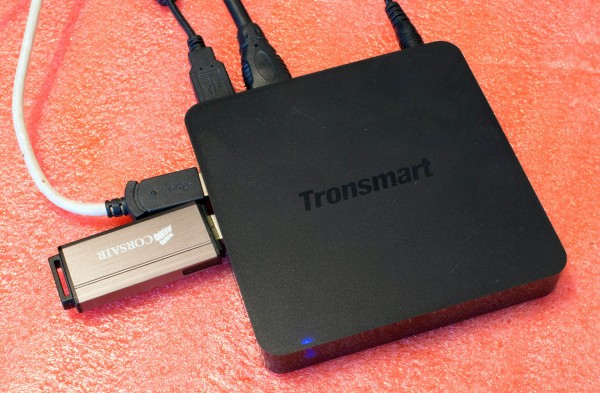 Uređaj se pali odmah po spajanju na izvor energije. Potpuno gašenje je moguće softverski, dok ga s daljinskim upravljačem stavljamo isključivo u sleep mod. Za potpunu funkcionalnost iz ugašenog stanja mu je potrebno nešto malo više od pola minute, dok je izlazak iz sleep-a trenutačan.
Thanks for your review !
From Pcekspert