Zidoo X6 Pro is a 64-bit ARM Android TV Boxes based on Rockchip RK3368 processor, promising support for HDMI 2.0 and video decoding up to 4K2K @ 60Hz. While the others I've tried so far, such as Beelink i68, are pre-loaded with some version of Kodi 14.2, X6 Pro comes with a modified version of Kodi 15.1. I published pictures of the Zidoo X6 Pro TV box and board a few days ago, and today I'll review the box' features, performance, and capabilities.
First Boot, Settings and First Impressions
I've connected a USB hard drive to one of the two USB ports, as well as a USB hub with two RF dongles for Tronsmart Mars G01 gamepad and MeLE F10 Deluxe air mouse, a USB keyboard, and a USB webcam. I've also inserted an Ethernet cable, an HDMI cable, an optical audio cable, a Class 10 micro SD card, as well as the power adapter. The boot time takes just above one minute with all those peripherals attached.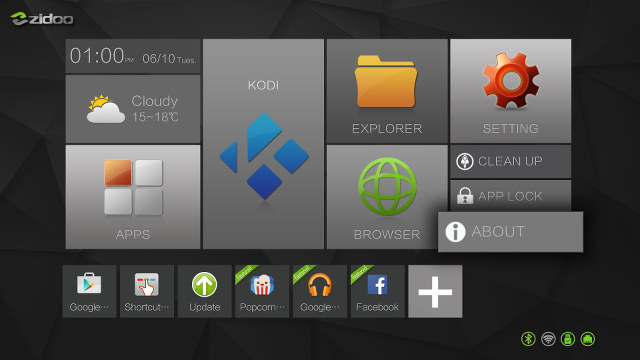 The launcher is another version of the company's ZIUI user interface and includes widgets for date & time, and weather, as well as shortcuts to Kodi, the company's "Explorer" file browser, Browser (Chrome), Setting, Clean up, App Lock, and About sections. There's also a list a customizable shorting on the bottom of the interface. App lock is some sort of parental control, where you can define a password, and lock some apps, so that only persons who know the password can launch password protected apps. There are also some icons on the bottom right to indicate Bluetooth, WiFi, USB storage, and Ethernet status. The status bar is hidden by default, but you can pull it up with the mouse pointer to show software volumes button, Home, Back & Menu buttons, as well as a screenshooting icon, and power button. The user interface resolution is 1920×1080, however video output was set to 720p50, and I had to go to the settings to change video output to 3840x2160p60 (YCbCr420) as supported by LG 42UB820T 4K UHD TV used for testing.
The settings are the same as on Android Lollipop devices, but with options specific to TV boxes. Sections, sub-section and main options include:
Wireless & Networks – Wi-Fi, Bluetooth, Ehernet (sic.), and a "More" section with three sections: Tethering & portable hotspot, PPPoE and VPN
Device

USB – Connect to PC
Sound & Notifications – Volume for media/alarm/notifications, and a Sound Device Manager to select Default Output, Spdif Passthrough, or HDMI Bitstream
Display

Screen Scale
Output Interface – HDMI or TV
HDMI Mode:

Auto
4096x2160p @ 60Hz (YCbCr420), 50Hz (YCbCr420), 30Hz, 25Hz, or 24Hz
3840x2160p @ 60Hz (YCbCr420), 50Hz (YCbCr420), 30Hz, 25Hz, or 24Hz
1920x1080p @ 60 Hz, 50Hz, 30Hz, 25Hz, 24Hz
1280x720p @ 60 or 50 Hz
720x576p @ 50 Hz
720x480p @ 60 Hz

Daydream
Cast Screen

Storage – Unified 12.91GB internal storage partition with 12.32 GB free for app and data
Others sections such as Security, Language & Input, Users… are also there, but Printing is missing. If you want the full details, watch the walk-through video embedded below.
Ethernet, Wi-Fi, and Bluetooth all worked reliably, however, I've found that HDMI output may vary if you really on the automatic detection feature, or enable automatic frame rate switching in Kodi. Once I forced it to 2160p60, it worked just fine. I also had to adjust the "Screen Scale" to 100% to make sure the user interface was not zoomed in, with some black zones on the edges.
Going into "About device" shows "Zidoo_X6 ProI68" is the model number, and Android 5.1.1 is running on top of Linux 3.10.0. A ZDrepo Identify Code is also shown, just like in Zidoo X1. OTA firmware updated is enabled, but I already had the latest firmware, so I could not test it out. This firmware is rooted, and superuser pre-installed.
I've shot a walk-through video to show ZIUI user interface, and settings details.

The provided IR remote control works as advertised, including the IR learning function which I tried with power and volume keys of my TV. The range is a little shorter than usual, and it only worked reliably within 5 meters. As long as you just use Kodi or ZIUI, the remote control is fine, but I had to switch to an air mouse to navigate and use Android app more easily, and for text input. One nice detail is that the system detected my "hardware keyboard" and did not popup the software keyboard needlessly.
Google Play Store works just fine, expect for SMS / phone apps, and apps that can't be installed due to country limitations. I also side-loaded Amazon Underground to install Riptide GP2 racing game.
There's no power button on the unit itself, but it's not needed, and Zidoo did a good job at handling power. A short press on the remote's power key will show a menu with Power off, Standby, Reboot, and Auto power off. The first three option work as expected, and auto power off let you set a timer from 30 minutes to 48 hours, in thirty minutes increment, to either power off the device, or go into standby. A long press (~3 seconds) on the power key will also turn off the device cleanly.
For those interested in power consumption these are the results with either no USB devices, or one USB hard drive:
Power off – 0 Watt
Standby – 1.3 Watt
Idle – 3.4 ~ 4.2 Watts
Power off + HDD – 0 Watt
Standby + HDD – 2.1 Watt (HDD light does turn off)
Idle + HDD – 6.0 ~ 6.4 Watts
Zidoo X6 Pro appears to get a little hotter than Beelink i68 RK3368 TV box, although still in the same range, as I measured 39°C and 58°C on the top and bottom of the enclosure after running Antutu 5.7, and after 15 to 20 minutes playing Riptide GP2 the temperature went up to 40°C and 66°C. Once I noticed Kodi started to feel sluggish, and noticed the bottom temperature reached 75°C max, and a reboot did not fix the sluggishness. So I powered off the box for a few minutes, and everything worked fine again. So there might be cases where the CPU throttles due to high temperature.
Apart from the only time Kodi felt sluggish, Zidoo X6 Pro performs pretty well, and the firmware is stable. I also appreciated some details like proper power handling, a single internal storage partition, software keyboard hidden when a hardware keyboard is detected, and so on.
Video Playback with Kodi 15
As mentioned in the introduction, Zidoo X6 Pro is the first RK3368 that comes with Kodi 15.1. Not the version from Google Play, but a version modified by Zidoo, with source code modifications available for everyone to see. Videos have been played from SAMBA shares located in an Ubuntu 14.04 computer and accessed over Ethernet.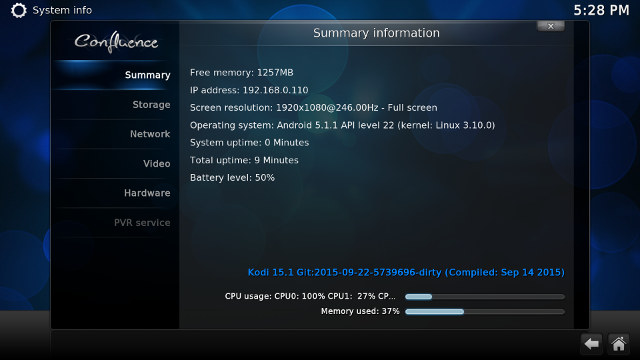 The refresh rate shown in Kodi's System Info varied a lot from 11Hz to 246Hz as shown on the screenshot above, so it's probably misreported. Before starting video playback, I went to the settings in Video->Playback, and set "Adjust display refresh rate" to "Always" to make sure I had the best playback experience. The refresh rate did change, but the output resolution changed too between 720p and 1080p, which is fine depending on the video, but the problem is that it would never go back to 2160p automatically on the video complete, and then even 4K videos were played at 1080p. So if you may want to disable automatic frame rate switching if you have a 4K TV, and plan on watching 4K videos, at least with this firmware (v1.0.15).
While I had a bad time in Kodi with Zidoo X1, Zidoo X6 Pro managed to play all samplemedia.linaro.org video samples I tried, as well as Elecard H.265/HEVC samples, and a low resolution VP9 video:
H.264 codec / MP4 container (Big Buck Bunny) – 480p/720p/1080p – OK
MPEG2 codec / MPG container – 480p/720p/1080p – OK
MPEG4 codec, AVI container 480p/720p/1080p – OK
VC1 codec (WMV) – 480p/720p/1080p – OK
Real Media (RMVB), 720p / 5Mbps – OK
WebM / VP8 – OK
H.265 codec / MPEG TS container (360p/720p/1080p) – OK
WebM / VP9 (no audio in video) – OK
Bear in mind that Zidoo disabled "drop" and "skip" fields in Kodi's live log window, so I had to purely rely on my eyes. OK does not mean perfect, as I still feel videos are a bit smoother on Amlogic devices, but these were all watchable. One small issue was the lack of Zoom option during playback, as the only option I got was for 3D videos.
However with some higher bitrate videos I started to see some issues:
ED_HD.avi

– Video plays for about 2 seconds before the image freezes. Audio is OK, and continues. I noticed one CPU core was stuck at 100%.
big_buck_bunny_1080p_surround.avi (1080p H.264 – 12 Mbps) – OK.
h264_1080p_hp_4.1_40mbps_birds.mkv (40 Mbps) – OK
hddvd_demo_17.5Mbps_1080p_VC1.mkv (17.5Mbps) – Could be smoother
Jellyfish-120

-Mbps.mkv

(120 Mbps video without audio) – I experience a long buffering before playback, and when it did play, it was not very smooth, and the next buffering occurred. I also got a message reading "cache full".
One of the key differentiating features of Zidoo's Kodi implementation is support for 7.1 audio pass-through. So I've played some HD audio videos both down-mixed to PCM using Kodi and the internal player "Video" app, and audio pass-through with Onkyo TX-NR636 using HDMI pass-through with BD/DVD input, and optical S/PDIF with TV/CD input.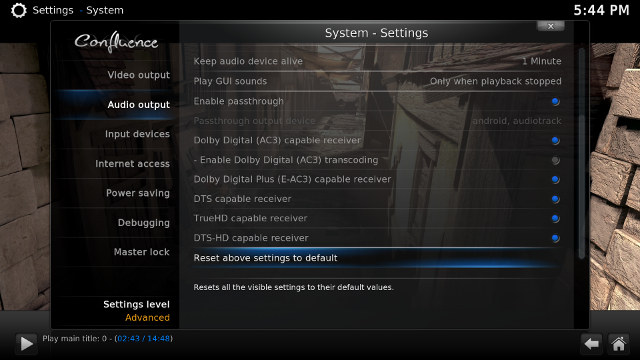 You'll notice two new options for Audio output in Kodi: TrueHD capable receiver and DTS-HD capable receiver. You'll also need to change PCM audio output in Android's Sound settings to Spdif passthrough or HDMI bitstream as needed.
Video
PCM Output
Kodi
PCM Output
"Video" app
HDMI Pass-through
Kodi
S/PDIF Pass-through
Kodi
AC3 / Dolby Digital 5.1
OK, but video aspect ratio is 1:1
OK
OK (Dolby D 5.1)
OK (Dolby D 5.1)
E-AC-3 / Dolby Digital+ 5.1
OK
OK
OK (Dolby D 5.1)
OK (Dolby D 5.1)
Dolby Digital+ 7.1
OK
OK
OK (Dolby D+ 7.1)
Audio Formats Not Supported over S/PDIF
TrueHD 5.1
OK
OK
OK (TrueHD 5.1)
TrueHD 7.1
OK
OK
Unreliable. Sometimes OK (TrueHD 7.1), sometimes no audio.
Dolby Atmos 7.1
OK
Plays 3 seconds and output a regular "beep" and stops.
Unreliable. Sometimes OK (TrueHD 7.1), sometimes no audio.
DTS HD Master
OK
OK
OK (DTS-HD MSTR)
DTS 5.1
DTS HD High Resolution
OK
OK
OK (DTS-HD HR)
DTS 5.1
These were the results I got during testing, but later I noticed the unreliable audio pass-through affected all TrueHD and DTS-HD audio streams. A reboot may fix the issue, but not always. Zidoo tested their boxes with an Onkyo AV receiver too, but a different model, so I wonder if there are some timing issues involved here which may cause the unreliable HD audio pass-through. You can see the problem first hand in the demo video I embedded below.
4K videos still played better on Zidoo X6 Pro than other boxes running Kodi 14.x, but there's still some work to do:
HD.Club-4K-Chimei-inn-60mbps.mp4 – OK at the beginning, but then audio stops and video becomes slow

sintel-2010-4k.mkv – OK.
Beauty_3840x2160_120fps_420_8bit_HEVC_MP4.mp4 (H.265) – OK
Bosphorus_3840x2160_120fps_420_8bit_HEVC_MP4.mp4 (H.265) – Mostly OK, but the video seemed to stop for a very short time (<0.5s) at one point
Jockey_3840x2160_120fps_420_8bit_HEVC_TS.ts (H.265) – Won't play, the system stays in user interface.
MHD_2013_2160p_ShowReel_R_9000f_24fps_RMN_QP23_10b.mkv (10-bit HEVC) – Stays in UI
phfx_4KHD_VP9TestFootage.webm (VP9) – Image quickly freezes.

BT.2020.20140602.ts

(Rec.2020 compliant video) – Won't play, the system stays in the user interface
big_buck_bunny_4k_H264_30fps.mp4 – OK
big_buck_bunny_4k_H264_60fps.mp4 – Audio/video synchronization issues, and the video could be a little smoother
Fifa_WorldCup2014_Uruguay-Colombia_4K-x265.mp4 (4K, H.265, 60 fps) – Looks perfect until after around 20 seconds, the audio and picture stops for a very short time, some artifacts are then displayed for 2 or 3 seconds, because normal playback resumes, and 20 to 30 seconds later the issue happens again.
As a side note, one document from Rockchip in Chinese appears to imply that while 4K H.265 @ 60 fps is supposed to work, 4K H.264 is limited to 30 fps in Kodi 15.x. You can watch a demo videos showing 4K playback and HD audio pass-through capabilities and issues I found on Kodi 15.1 on Zidoo X6 Pro.

Sintel-Bluray.iso and amay.iso (Ambra – Prism of Life) Blu-ray ISO files could play, but not very smoothly especially amat.iso (3 to 4 fps), and I noticed some buffering after a while. But with knowledge that the box may overheat, I retried one morning, and both video played very smoothly.
Both 1080i MPEG2 video samples (GridHD.mpg & Pastel1080i25HD.mpg) played fine, but as all boxes I tested so far, Hi10p failed:
[Commie] Steins;Gate – NCED [BD 720p AAC] [10bit] [C706859E].mkv – Audio OK, video with artifacts, and picture will freeze after a while
[1080p][16_REF_L5.1][mp3_2.0]Suzumiya Haruhi no Shoushitsu BD

OP.mkv

– Audio OK, video gets stuck after 3 to 4 seconds.
Bearing in my mind that my TV does not support 3D, I've still played some stereoscopic 3D videos to see if the system could decode them :
bbb_sunflower_1080p_60fps_stereo_abl.mp4 (1080p Over/Under) – Plays somewhat smoothly, audio/video sync issues or delay
bbb_sunflower_2160p_60fps_stereo_abl.mp4 (2160p Over/Under) – Audio only
Turbo_Film-DreamWorks_trailer_VO_3D.mp4 (1080p SBS) – OK
Several H.264, DViX/XVid, VOB/IFO, MKV, and MP4 movies could play without issues, while most FLV videos worked, but a few could not play staying in the UI, with only audio playing.
I could play a full 1080p MKV movie (exactly 1920×800, H.264, about 2 hours long) without interruption, and the overheating issue I saw sometimes did not occur with that movie. Dropped and skipped frames were all reported to be zero, but I suspect Zidoo disabled it for some reasons.
Antutu Video Tester was installed from Google Play (Version 2.2), and upgraded to version 3.0 before running the test. Zidoo X6 Pro got only 328 points, strangely lower than Beelink i68.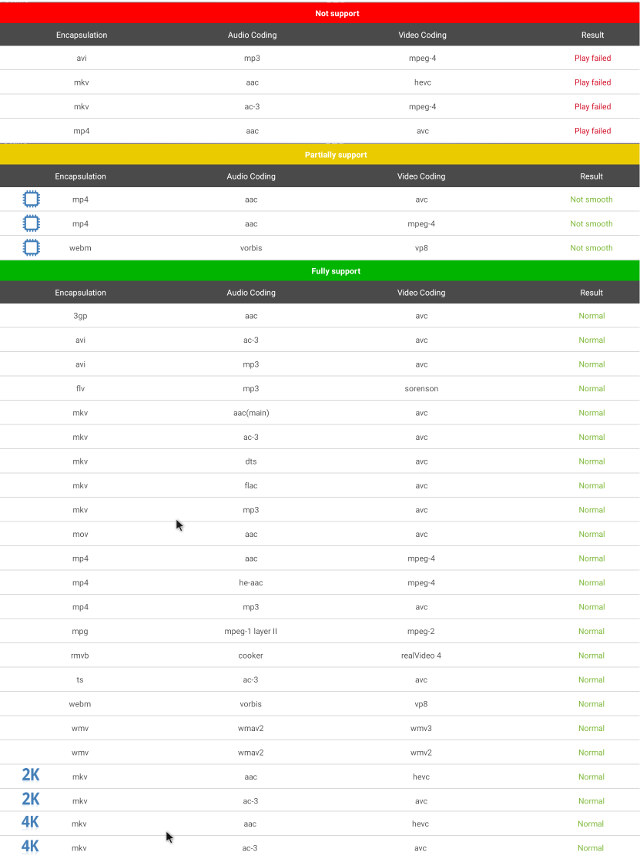 Most video samples used in this review can be found in "Where to get video, audio and images samples" post and its comments section.
Network Performance (Wi-Fi and Ethernet)
A file (278MB for WiFi and Fast Ethernet, 885MB for Gigabit Ethernet) is transferred between a SAMBA share and the internal storage three times using ES File Explorer, and I average the results to report Wi-Fi and Ethernet performance. WiFi 802.11n @ 2.4GHz performance is average @ 2.73 MB/s, while 802.11ac (433 Mbps) @ 5.4 MB/s is one of the best I've seen so far.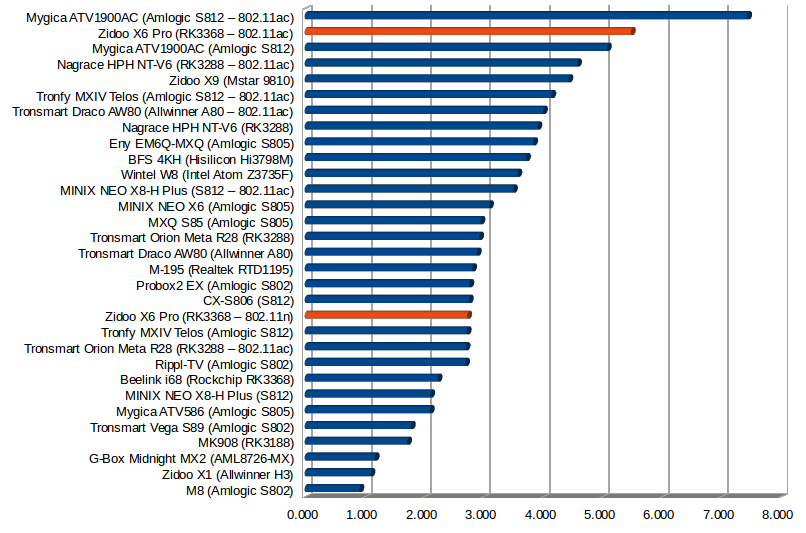 I tested full duplex performance over WiFi for 60 seconds using "iperf -t 60 -c 192.168.0.104 -d" and the results are not quite good, as I don't think WiFi is good at transferring data in both directions.
WiFi 802.11n @ 2.4 GHz (65 Mbps – Good signal)
Client

connecting

to

192.168.0.111

,

TCP

port

5001

TCP

window

size

:

85.0

KByte

(

default

)

—

—

—

—

—

—

—

—

—

—

—

—

—

—

—

—

—

—

—

—

—

—

—

—

—

—

—

—

—

—

[

6

]

local

192.168.0.104

port

40039

connected

with

192.168.0.111

port

5001

[

6

]

0.0

–

60.0

sec

120

MBytes

16.8

Mbits

/

sec

[

5

]

0.0

–

60.5

sec

147

MBytes

20.4

Mbits

/

sec
Wifi 802.11ac (433Mbps, sometimes 6 to 12 Mbps – Excellent signal) – Test 2:
Client

connecting

to

192.168.0.111

,

TCP

port

5001

TCP

window

size

:

85.0

KByte

(

default

)

—

—

—

—

—

—

—

—

—

—

—

—

—

—

—

—

—

—

—

—

—

—

—

—

—

—

—

—

—

—

[

7

]

local

192.168.0.104

port

40320

connected

with

192.168.0.111

port

5001

[

5

]

0.0

–

60.9

sec

92.2

MBytes

12.7

Mbits

/

sec
Client

connecting

to

192.168.0.111

,

TCP

port

5001

TCP

window

size

:

136

KByte

(

default

)

—

—

—

—

—

—

—

—

—

—

—

—

—

—

—

—

—

—

—

—

—

—

—

—

—

—

—

—

—

—

[

8

]

local

192.168.0.104

port

40732

connected

with

192.168.0.111

port

5001

[

4

]

0.0

–

60.9

sec

405

MBytes

55.8

Mbits

/

sec

[

6

]

0.0

–

378.8

sec

80.0

MBytes

1.77

Mbits

/

sec
The image below is a screenshot of Conky on my Ubuntu 14.04 computer used as iperf server. I shows three tests I did with 802.11ac, and while all 3 start very fast in both direction, the transfer rate collapses after several seconds. You can see that at the end of test 3 transfer rates were 688.5 Kbit/s and 16.0 Kbit/s.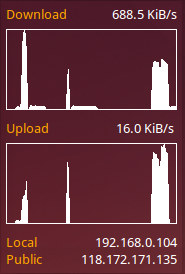 Gigabit Ethernet performance is not outstanding, but still much better than for devices with Fast Ethernet, as I could transfer a file at 11.88 MB/s on average.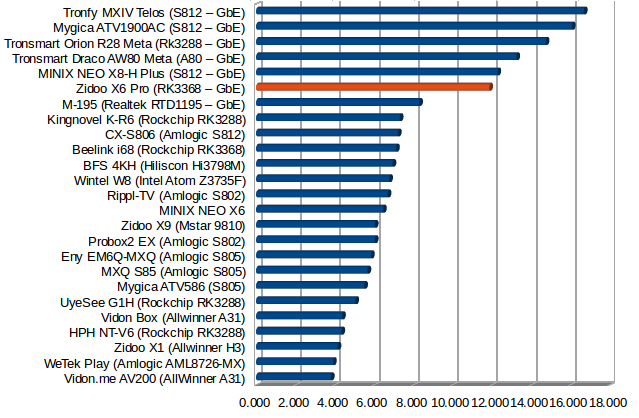 iperf shows Zidoo X6 Pro is actually pretty good, and the fourth best device with Gigabit Ethernet I've tested, when we add the transfer rate in both directions.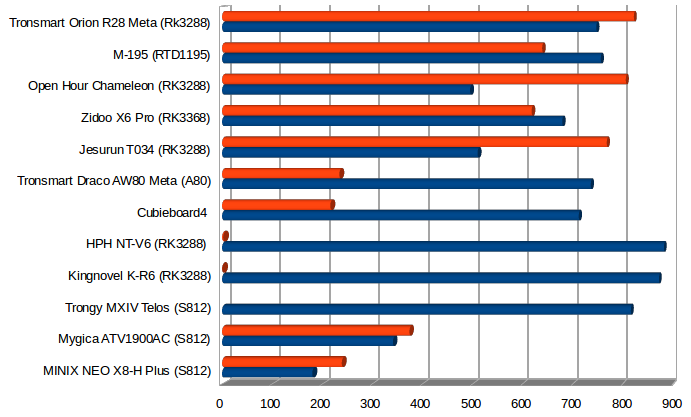 iperf output:
Client

connecting

to

192.168.0.110

,

TCP

port

5001

TCP

window

size

:

196

KByte

(

default

)

—

—

—

—

—

—

—

—

—

—

—

—

—

—

—

—

—

—

—

—

—

—

—

—

—

—

—

—

—

—

[

6

]

local

192.168.0.104

port

52463

connected

with

192.168.0.110

port

5001

[

ID

]

Interval

Transfer

Bandwidth

[

6

]

0.0

–

60.0

sec

4.74

GBytes

679

Mbits

/

sec

[

4

]

0.0

–

60.0

sec

4.32

GBytes

618

Mbits

/

sec
Miscellaneous Tests
Bluetooth
I could transfer several pictures, after pairing X6 Pro with Iocean M6572 smartphone. I did notice that the option to make Zidoo X6 Pro (Bluetooth ID: rk3368) discoverable was missing, so you can find your phone, or other Bluetooth device with the TV box, but not the way around.
A Bluetooth PS3 controller clone could work just fine using Sixaxis Compatibility check using the instructions posted on How to Play Games in Android mini PCs / STBs With a PS3 Bluetooth Controller.
I had to skip Bluetooth LE tested, as my Vidonn X5 fitness band "passed away". A Bluetooth headset pair and worked without issues.
Storage
FAT32 (micro SD card), NTFS, EXT-4 & exFAT (USB hard drive) partitions could all be mounted in read/write mode, with the only unsupported file system being BTRFS.
| | | |
| --- | --- | --- |
| File System | Read | Write |
| NTFS | OK | OK |
| EXT-4 | OK | OK |
| exFAT | OK | OK |
| BTRFS | Not mounted | Not mounted |
| FAT32 | OK | OK |
A1 SD Bench results for the 3 partitions on the USB hard drive:
NTFS (/mnt/usb_storage/USB_DISK4/USB3_NTFS) – Read: 24.83 MB/s , Write: 24.86 MB/s
EXT-4 (/mnt/usb_storage/USB_DISK4/udisk1) – Read: 27.26 MB/s, Write: 24.26 MB/s
exFAT (/mnt/usb_storage/USB_DISK4/udisk2) – Read: 25.83 MB/s, Write: 5.70 MB/s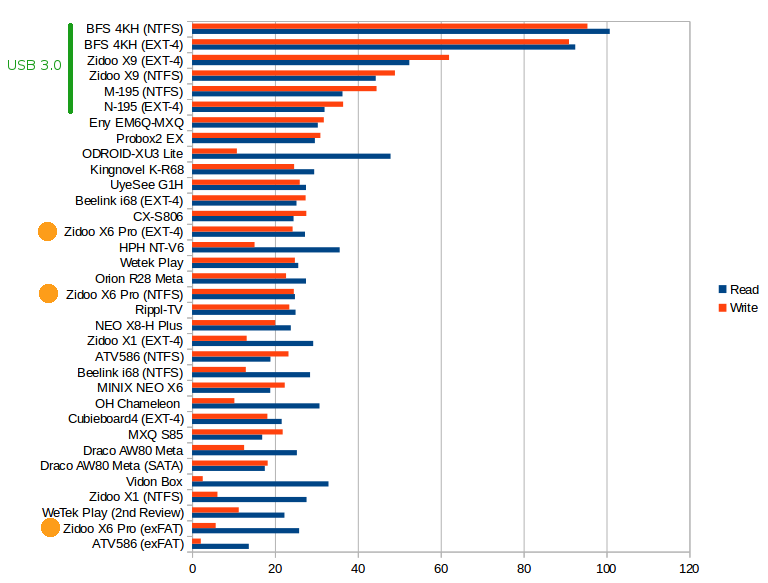 Performance is acceptable for a USB 2.0 connection, but if write speed is important to you, better stick with NTFS or EXT-4, and avoid exFAT.
The Toshiba eMMC flash in X6 Pro makes it the fastest TV box I've tested so far with a read speed of 79.50 MB/s, and write speed of 24.02 MB/s.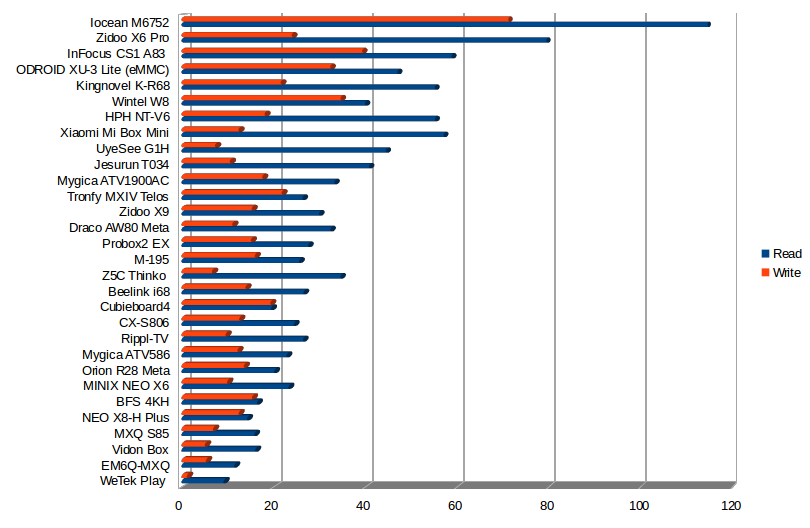 USB Webcam
A UVC USB webcam was tested successfully with both Skype and Google Hangouts.
Gaming
Candy Crush Saga was just fine with the air mouse. But when I switched to a wireless gamepad with two 3D racing games, namely Beach Buggy Racing, and Riptide GP2, I could definitely confirm this is not a gaming platform, possibly because of the overheating issues I experienced before. Beach Buggy Racing was playable, but not as smooth a I like, and if I set the graphics settings to "high resolution" the gaming would still be playable, but not enjoyable… Riptide GP2 did not have a high framerate either, maybe 10 to 15 fps, and after about 10 minutes of play I got a window telling me the game was not responding: wait or close?
Zidoo X6 Pro Benchmarks
CPU-Z has still not added Rockchip RK3368 to its database, so it's recognized as an 8 core RK3066 processor @ 1.20 GHz.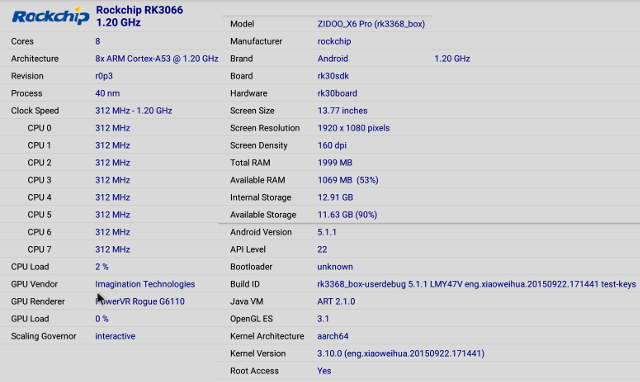 But the rest of the information appears to be mostly correct with eight Cortex A53 cores clocked between 312 MHz and 1.20 GHz, a G6110 GPU, 2GB, and 12.91 GB storage. The model is ZIDOO_X6 Pro (rk3368_box) with 1920×1080 screen resolution, and an aarch64 Linux kernel.
For some reasons the Antutu 5.7.3 score is quite low, i.e. 24,768, against a much higher 34,171 score with Beelink i68. But that score is probably more representative of the performance, as in RK3368 vs RK3288 performance comparison, I noticed some unusual results, and Antutu looked much better than some other benchmarks for RK3368.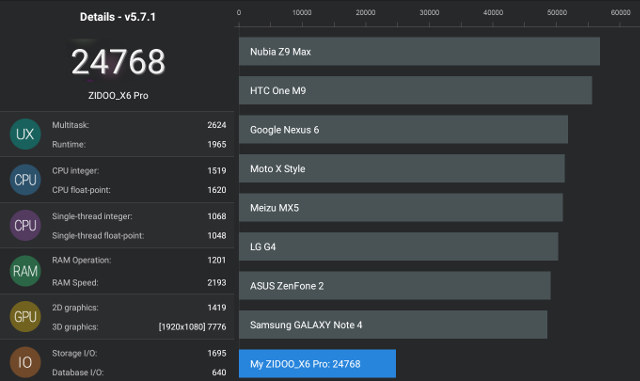 Still that's quite a difference. Only storage I/O looks better for Zidoo X6 Pro.
That's why it's important to run some other benchmark too, such as Vellamo.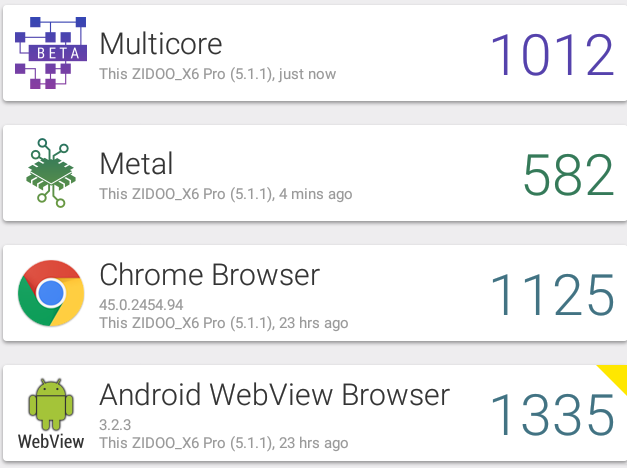 I normally run the Browser test using the Android stock browser, but in this firmware I only had Chrome Brower and WebView. The latter ended with warnings as shown by the yellow "sticker" on the right side. The Metal and multicore tests should be comparable however, and while Zidoo X6 Pro got respectively 582 and 1,012 points, Beelink i68 had significantly higher scores: 773 points, and 1288 points.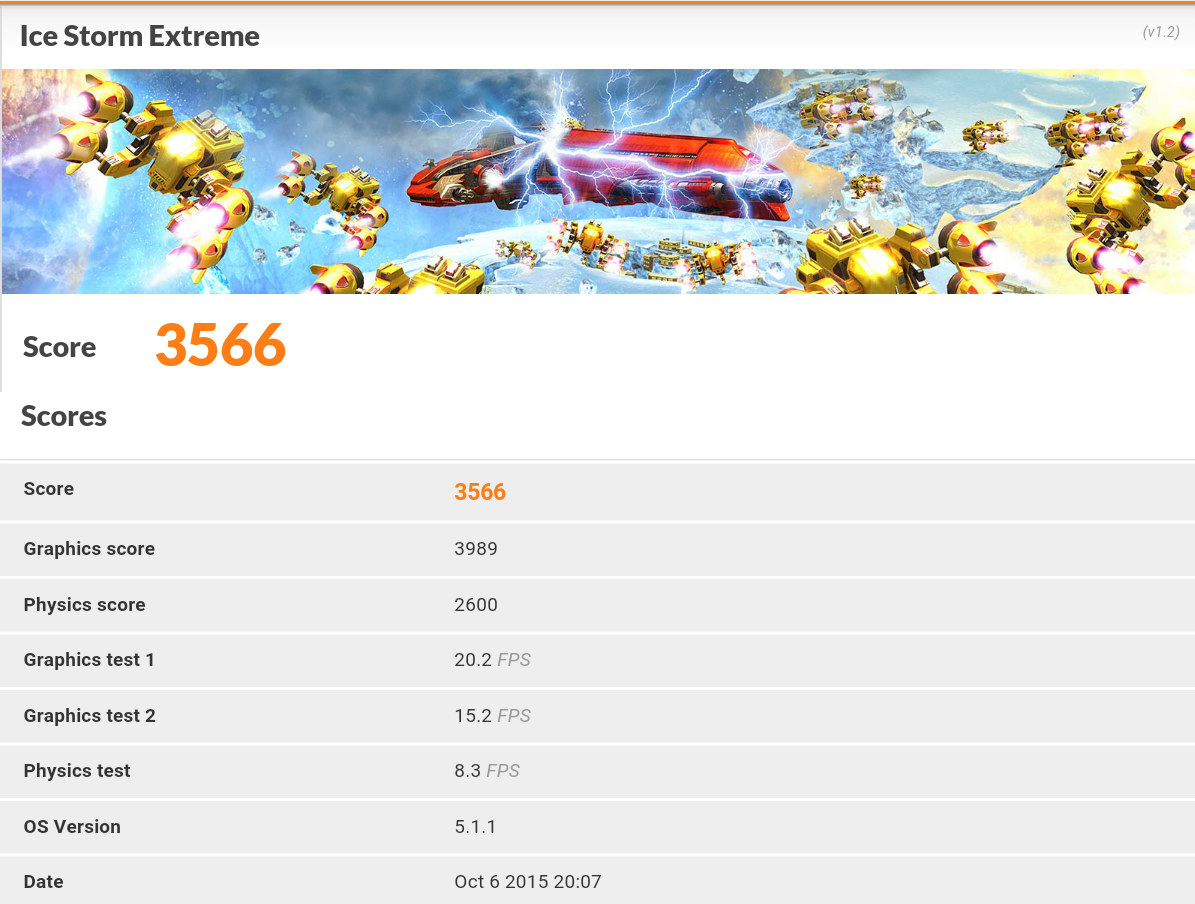 3D Mark's Ice Storm Extreme confirmed the lower performance of Zidoo X6 Pro in benchmarks, as Beelink i68 hot 4,248 points in that particular benchmark. Both system are running RK3368 at 1.2 GHz maximum with an interactive governor, so I'm not sure what may explain the differences in benchmark results.
Conclusion
Zidoo selected high quality components when making their hardware, and for example, the Toshiba eMMC is the fastest I've tested so far in any Android TV boxes, and Wi-Fi and Ethernet performance is either average (802.11n and Gigabit Ethernet) or excellent (802.11ac), but the main worry is that X6 Pro may overheat, and RK3368 processor may throttle at times, greatly reducing the performance of the system. Hopefully, this can be solved with some tweaks in the kernel governor. Kodi 15.x Zidoo edition works much better than Kodi 14.2 in Beelink i68 (also based on RK3368), with TrueHD and DTS-HD audio pass-through over HDMI, and 4K video playback (H.265 @ 60fps, H.264 @ 30 fps). However it's still far from perfect, as 7.1 channel pass-through only works intermittently using my Onkyo receiver, and a 4K H.265 video sample @ 60 fps suffered from artifacts every half minute. Hopefully, these issues will be fixed with upcoming firmware updates, as overall I find Zidoo Z6 Pro to be a promising platform with a decent firmware base and good hardware.
PROS
Recent Android 5.1 OS firmware is both responsive (most of the time) and stable
Kodi 15.1 with 3D MVC, 7 channel audio pass-through, and H.265 / 4K hardware decoding
HDMI 2.0 video output works up to 2160p60 Hz
Good Ethernet and WiFi performance
Best eMMC performance of Android TV boxes I've tested, and with a unified 12.9GB flash partition for data and apps.
Support for FAT32, NTFS, EXT-4, and exFAT file systems
Proper power handling, also including timer to power off/go into standby
USB webcam is working in Skype and Hangouts
OTA firmware update
GPL compliance for Kodi (but not the Linux kernel)
CONS
The box may overheat, leading the CPU to throttle, and bringing user experience which reminded me of single core Cortex A8 processor. Solution: et the box cool down for a little while. It happened while using Kodi, and playing Riptide GP2. I could still watch a full 2-hour 1080p movie without the heat issue occurring however.
Kodi 15.1 works better than on other boxes but there are still some issues

7.1 channel audio pass-through is unreliable, at least with Onkyo TX636-NR AV receiver. Sometimes it works, sometimes it does not (with the same video).
Automatic frame rate switching will also change output resolution. For example if HDMI output is set to 2160p60, and you play a 1080p24 video, it will switch to 1080p24 video output (OK), but once it is finished, the video output will stay at 1080p resolution, even for 4K videos
4K H.265 @ 60 fps plays, but in the video sample I used I had artifacts for about 2 seconds, every 20 to 30 seconds.
I could not access zoom options in most videos (minor issue)
Auto-repeat is ON by default (minor issue)
In some instances, Kodi may be quite slow to exit

Benchmark results significantly lower than in Beelink i68 (also based on RK3368), even with Antutu Video Tester 3.0.
3D games like Beach Buggy Racing and Riptide GP2 suffer from relatively low frame rate
Both Zidoo and Geekbuying provided a sample for this review. Distributors may consider contacting Zidoo via the product page to order in quantities, while individuals may purchase Zidoo X6 Pro on Geekbuying for $99. Few sellers currently sell the box, as Geekbuying might have the exclusivity, but I also found the products listed on on eBay ($120) and Aliexpress ($109).
— From CNXSoft