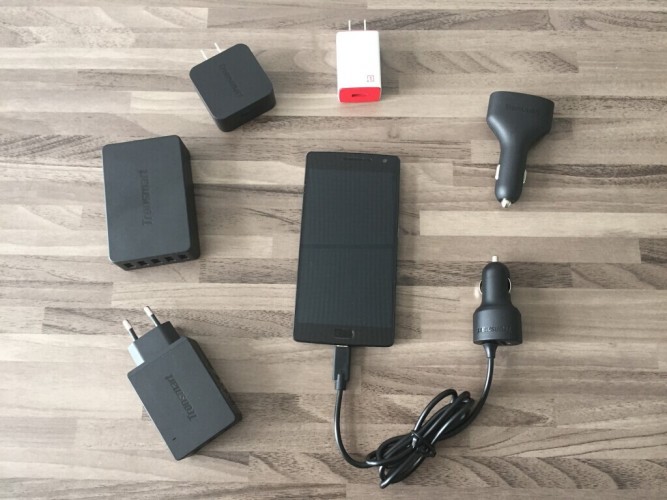 Maybe luckers already got their smartphone, the OnePlus Two. Lots of OPT reviews from various sites, but few for OPT2. The Tronsmart, specialized in chargers, comes with the charging analysis for OPT2. We will test the original power adapter, suggest for how to quick charge your device, and help pick up the correct alternative chargers. Following is the details:
Let's check the original power adapter and Usb to Type c cable:
The charger is regular 5V/2A power adapter, the specification on the charger is:
Model: AY0520
Input: 100-240V 50-60HZ 0.3A
Output: 5V/ 2A
The cable is interesting, Oneplus redesigned the usb port again,which make you never worry which side to insert, and the other port is USB type C, this cable can be used for charging and data transfer. The total length is about 3.5ft.
So this charger doesn't support higher volt,(9V or 12V) and We can confirm that, even the OPT2 use the Qualcomm Snapdragon 810 processor, however, the OnePlus Two doesn't support Quick Charge 2.0 Technology, We test with our chargers which support QC2.0, It just can get 5V volt, never get higher at 9V. You should read this news from different source, It's a pity that they drop this amazing features, but We still want to give it a test for how the charging performance.
We tested the no-load voltage of their original power adapter: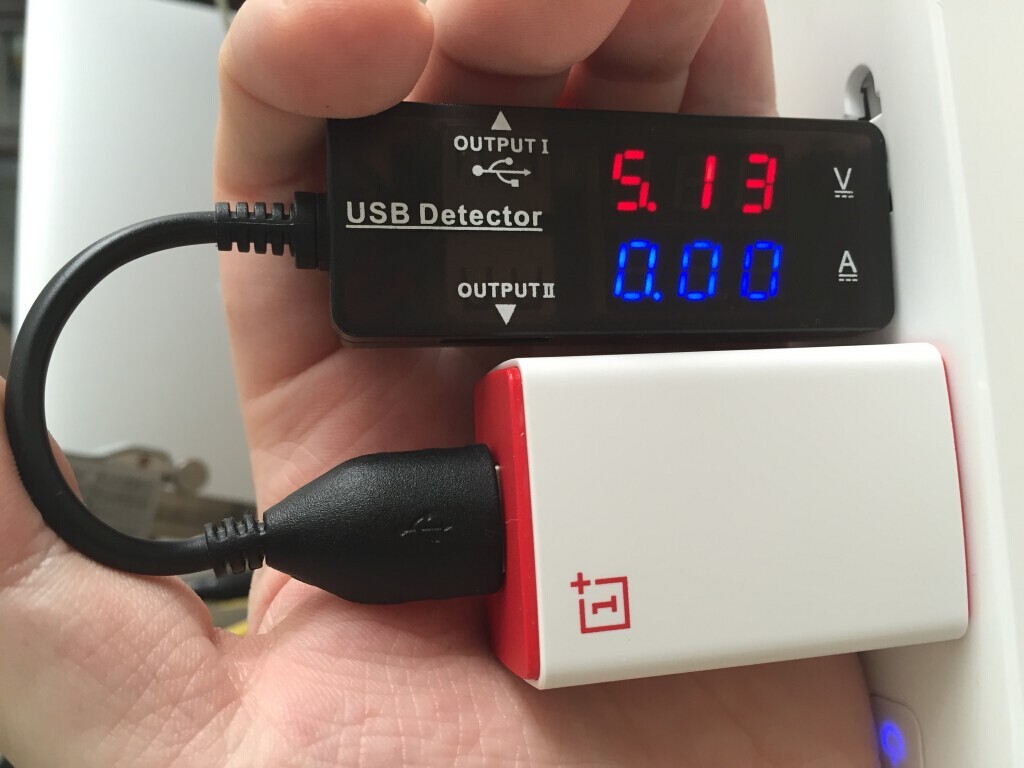 I didn't connect any device with the charger, just use the ammeter to test the volt is 5.13V. It's in the normal range ( the normal range for the charger should be 4.75V-5.25V, any chargers' no-load voltage exceed this range will have problems), and then we make the oneplus two battery to 0% and begin our test: Here is our test result with original oneplus two 5v/2a power adapter, and usb type c cable:
| | | |
| --- | --- | --- |
| Time | Baterry | Current |
| 4:40pm-4:50pm | 0%-17% | From 1.89A to 1.85A |
| 4:50pm-5:10pm | 17%-33% | Keep at 1.85A |
| 5:10pm-5:40pm | 33%-60% | Still at 1.85A |
| 5:40pm-6:40pm | 60%-98% | |
| 6:40pm-6:50pm | 98%-100% | |
From the above tablet, we can see, in the first 10 mins, the oneplus two get very fast charging, battery charged from 0%-17% in the first 10 mins, and we check the charging current, it is from 1.89A at first, then become smaller till to 1.85A. And then in the first 30 mins, it get about 33% battery. ( compare with the quick charge technology, about 60% battery in 30 mins, the oneplus two charging is slow). But the total charging performance is not that BAD, It take about 2 hours 10 mins to get the full charge (from 0%-100%). check the current tablet, before 60% battery, it get charged always @1.85A high current, and after 60%, the current will change smaller, from 1.85A to 1.83a and 1.79a, and smaller, because that change is fast, we don't record every current.
Now we begin to test the charging performance with our chargers:
no-load voltage for tronsmart wall charger and car charger ( all of our tronsmart chargers are conform with the international standard)
Use the Tronsmart Wall charger and Tronsmart USB Type C cable to charge the Oneplus Two: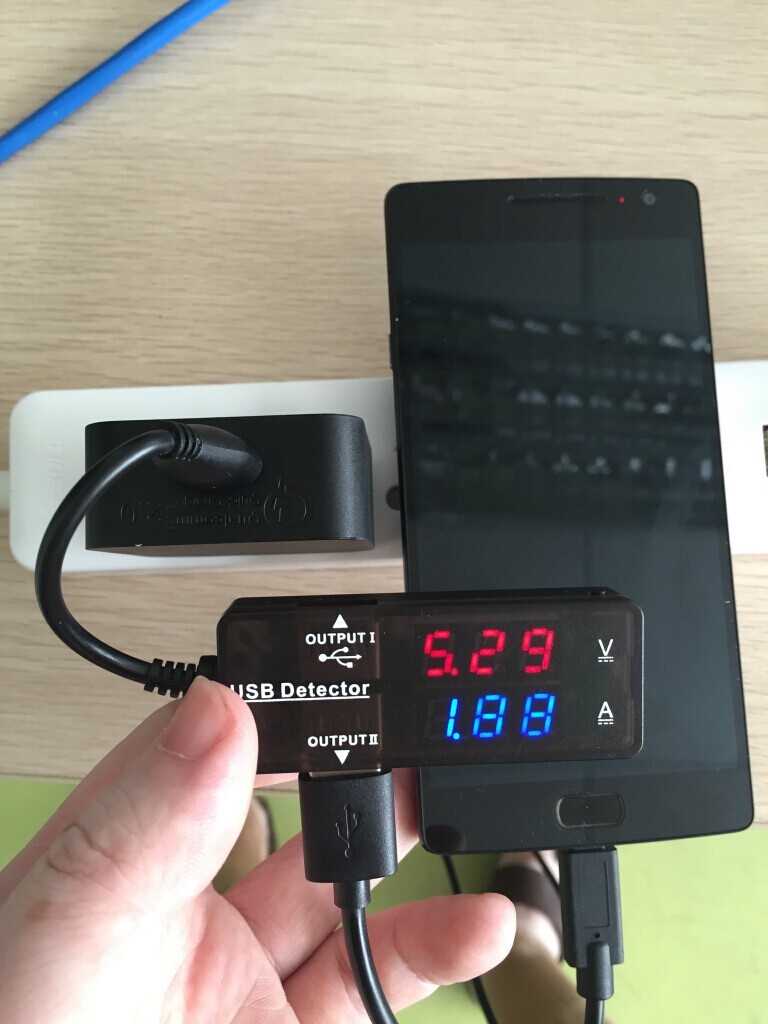 The charging current is the same as the original power adapter. The oneplus two don't support QC2.0, so our chargers can't give it faster charging speed, but at least,we offer the same good quality as the original power adapter.
In our testings, we found some interesting things:
when you make the screen on, the charging current will directly reduce to under 1amp, and with screen off, the charging current can reach 1.9a.
Without screen:
With screen: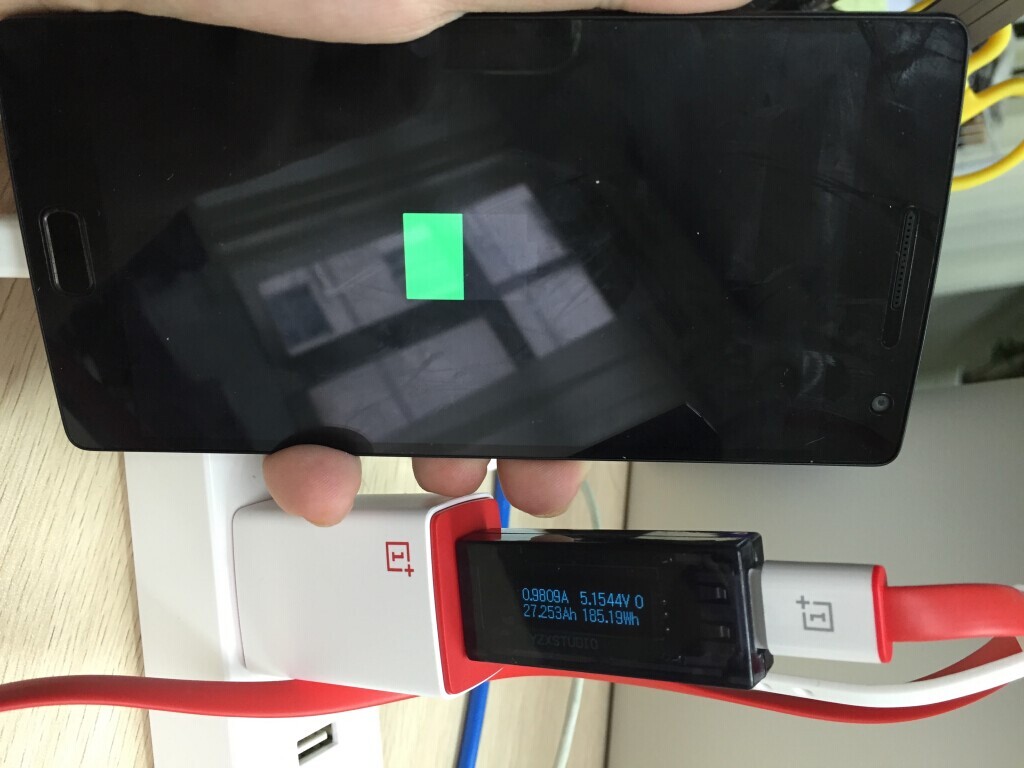 If you use a low quality charger which can 't offer enough 5V volt, the OnePlus Two charging current won't higher than 1amp, the charging speed will be super slow.
So how to make the charging speed faster on OnePlus Two, here are our suggestions:
1. Use the original or high quality power adapter and high quality USB type c cable;
2. Don't use your phone all the time when you charge it, with screen on, we can see the charging current is really small.
Why Choose Tronsmart chargers:
All of Tronsmart Chargers are get certified by CE, ROHS, FCC and other certifications, all of our quick charges are certified by Qualcomm(you can find our name in the Qualcomm quick charge list), and we are also proud to be the featured quick charge brand in Qualcomm Official site. So You don't need to worry the quality of Tronsmart chargers.
More and more flagship smartphone will support quick charge 2.0 technology, Samsung, Sony ,LG, Moto, all of these brand flag ship support quick charge, Tronsmart offer the world's most abundant quick chargers. From 1 port usb wall charger to 5 port and from 1 port usb car charger to 4 port.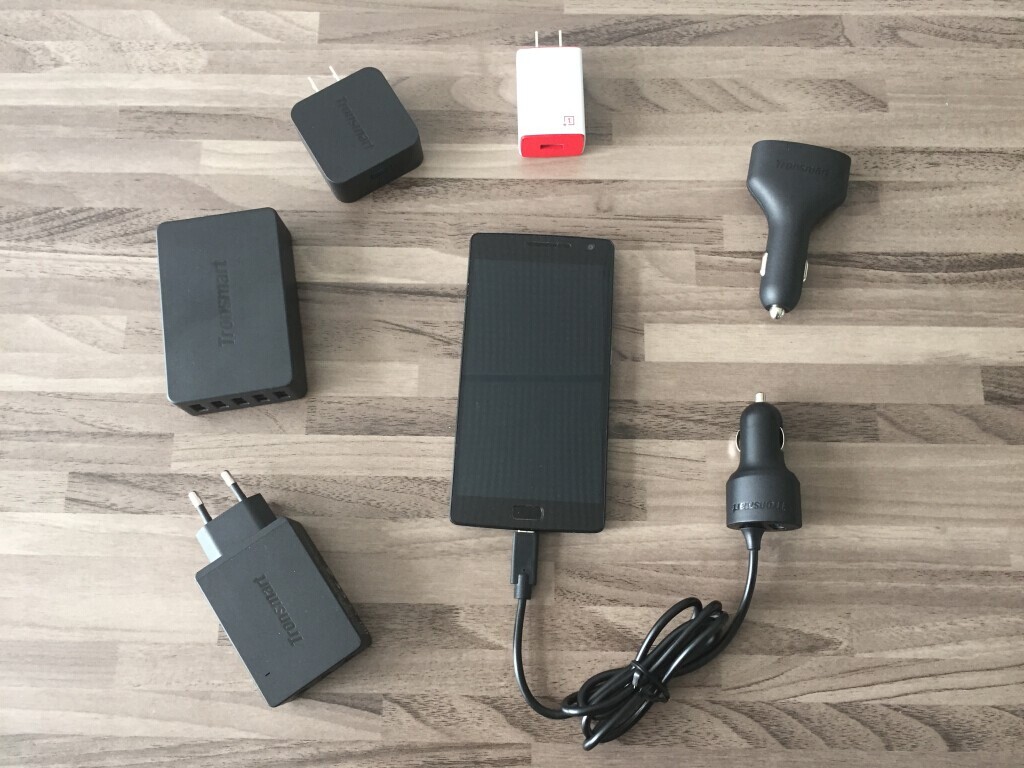 Tronsmart design a unique USB Typc C car charger for Oneplus two users, check it here: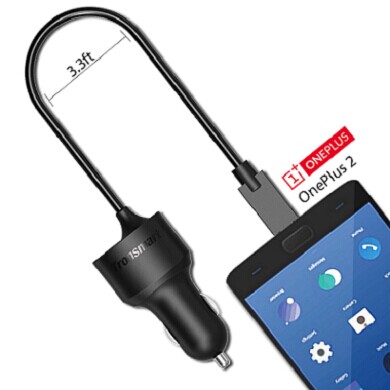 Traditional, You need to prepare a high quality car charger, and high quality USB type C cable to charge your Oneplus Two in your car, but with Tronsmart USB Type C car charger, Never bother of this, plug our car charger , and charge your Oneplus anytime. also we offer another port which support quick charge 2.0 for your family's Samsung, Sony, LG, Moto etc.
Thanks for the Tronsmart review, to get more details from GeekBuying.