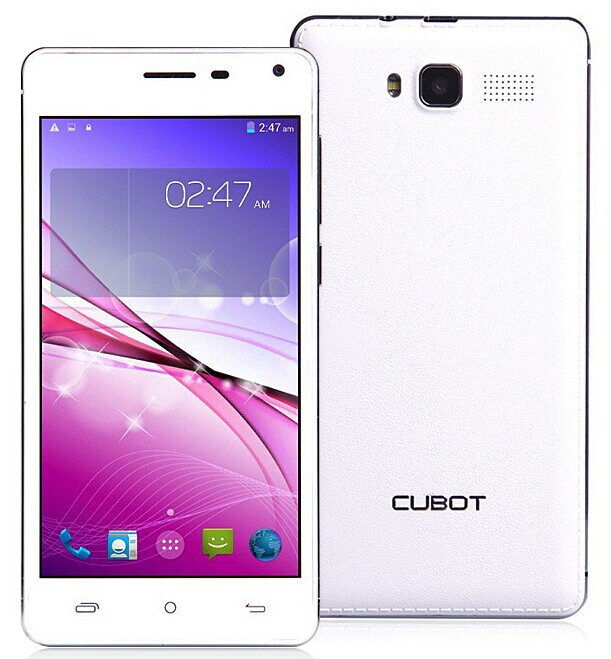 The shipping went smooth and the package arrived in an excellent condition.
In the box you will see: the phone itself, clear plastic bumper, additional protective film with a cloth, charger, USB-microUSB cable and starter manual. Here's how it all looks:
Highlights:
OS: Android 4.4.2
CPU: MTK6582M Quad core CPU, 1.3GHz
GPU: Mali-400
RAM: 1GB
ROM: 8GB (expandable with microSD)
Screen: 5.0″ IPS OGS HD 720р, 5 points capacitive multitouch
Networks: GSM 850/900/1800/1900MHz, WCDMA 850/2100MHz
GPS + Bluetooth 4.0
WiFi: 802.11b/g/n
OTG, Hot Knot, Smart Gesture, Air-Shuffle WiFi Display, FOTA
Rear camera: 13.0MP, AF + flashlight
Front camera: 5.0MP
Two SIM card slots
Battery: 3300mAh
Dimensions: 144 x 71.7 x 9.45 mm
Weight: 173 g
The phone has a nice appearance. I would say especially the white version, which I have and which would be to most women and girls liking. The black one will definitely suite men also.
The phone is not so thin as some of the modern models tend to be, but remember we got an increased battery capacity here, which I think is really worth it, and besides the difference isn't that much really.
The body has a metal like edging he buttons on the side are also made to suite it..
On the front we can see three standard silver touch buttons, a speaker, hidden light and proximity sensors.
On the back there's a flashlight, main camera, and a speaker next to it, at the bottom there's the company logo. The back cover really looks nice. It's made of plastic but is shaped like a leather covering with stitching around it, the surface isn't slick ll and the phone is very nice to hold. This type of covering also prevents annoying fingerprints which can be seen on many other models with smooth surfaces.
On the right side there the volume buttons and the power button. The left side is clear.
On the upper edge there's a 3.5 mm headphone socket and microUSB port, on the lower edge there's only the mic.
Under the back cover there are two SIM cards (standard and micro) and microSD slots, and replaceable battery.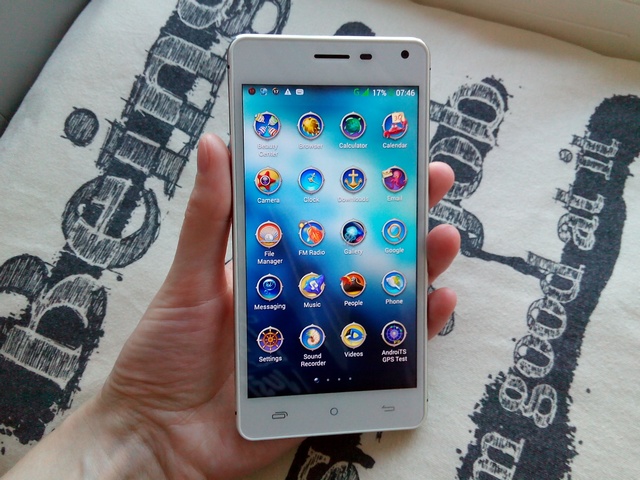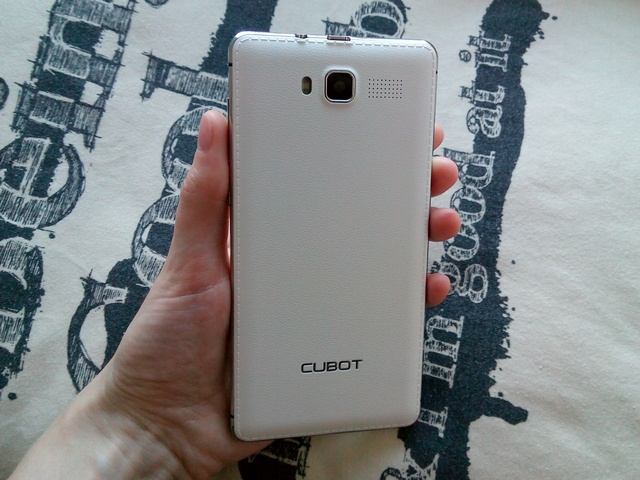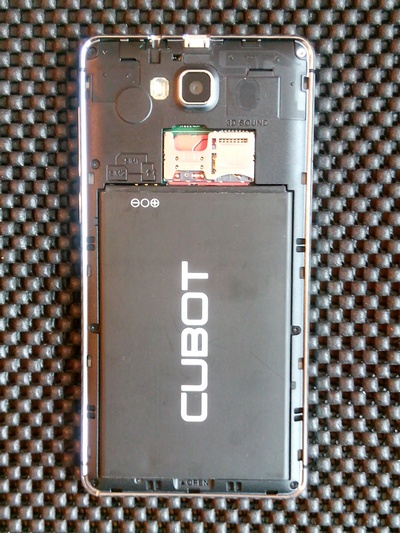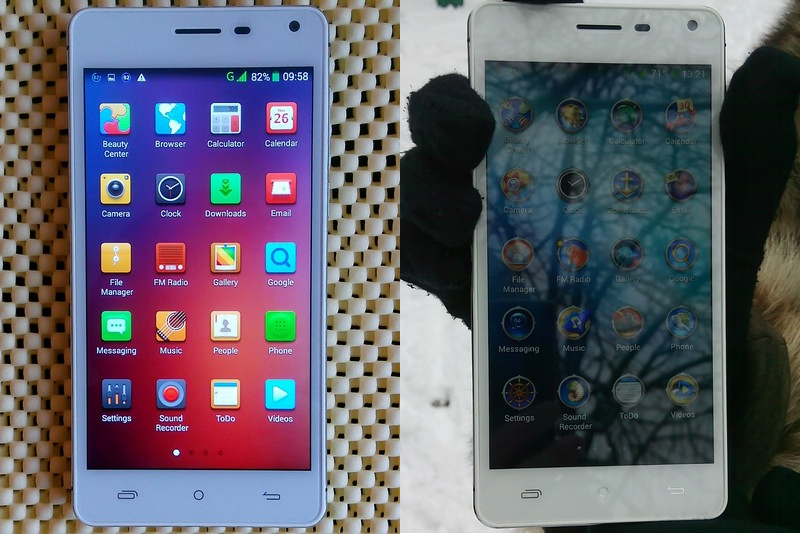 This smartphone has a 5" IPS HD screen, resolution is 1280×720. It also adopts an OGS screen technology, due to which the image on the screen is closer to the surface and looks more real.
Touch panel is capacitive and recognizes 5 points of touching, work very well and precise.
The colors of the screen are saturated and natural.
Brightness can be adjusted in a wide range to your liking from dusk to very bright. There's also the auto-brightness feature available. The screen is clearly visible both indoor and outdoors, even in bright sunlight, due to IPS technology and it's viewing angles are close to maximum of 180°.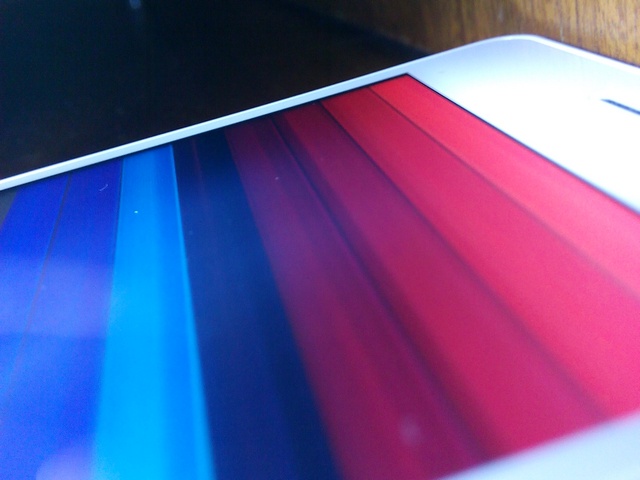 The phone has a MTK6582M Quad core CPU, 1.3GHz with Mali-400 GPU. This platform is still frequently used in smartphones as it's power is enough for almost any application or game.
The amount of RAM is 1GB and ROM is 8GB. Internal memory isn't divided into two parts as usual, but has one partition with 5.9 GB space, which is all available for installing applications or saving your own files to it. If you insert a microSD card to extend the phone memory you can also choose it to be the default option for installing applications.
There's only one notice: to see the internal phone memory when connecting to your PC one should choose an "MTP" connection option. If you choose the usual "USB Mass Storage" you'll only see the SD card if you have it installed. But it's not so much of inconvenience I think.
The smartphone's interface works smooth and without any lags, it handles many applications and 3D games with ease. It doesn't overheat under any load.
Here are some general info and synthetic tests results screenshots: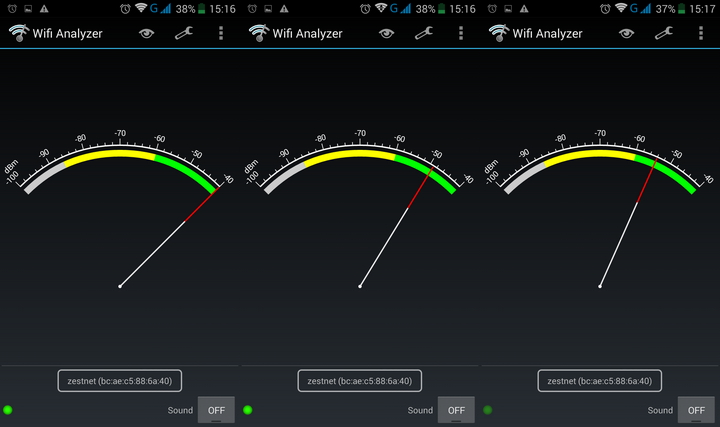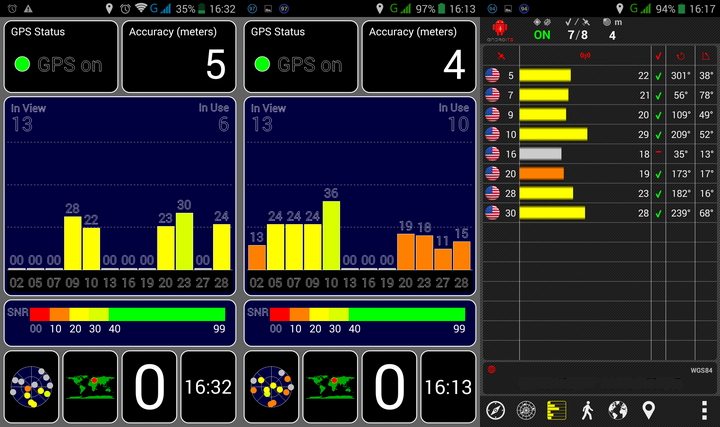 This phone supports two SIM cards in dual stand-by mode, supported frequencies are GSM 850/900/1800/1900MHz, WCDMA 850/2100MHz. The signal quality is pretty good, it copes with network connection even in distant places. The front and back speakers are both loud and clear.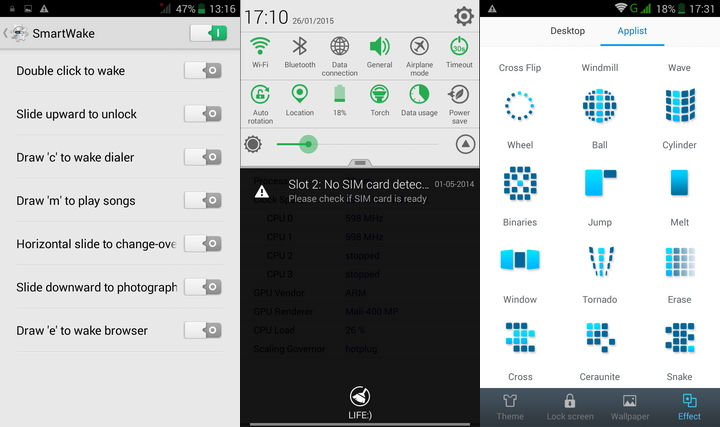 WiFi connection is stable, the signal is high in different places of the house.


Bluetooth version is 4.0 and it works with low power consumption due to this protocol, so you can use your accessories more often and for a longer period of time for the same amount of charge.
GPS works good in this model. For the first start it did took some minutes to find and to connect to satellites, now the start takes just less than one. In my location GPS finds 10-11 satellites and maintains the connection with 8-9 outdoors and 4-5 indoors near the window even on a cloudy day.
This smartphone has Android 4.4.2 KitKat installed and it supports the FOTA or wireless firmware update. There are already several firmwares release by the manufactures and available for update.
The manufacturer changes the standard Android interface. In this firmware some additions were made and some standard programs changed.
The firmware includes Google services and Play Store by default. There's also the Beauty Center application which allows to change many aspects of the interface appearance.
This smartphone supports Smart Gesture feature, which is very convenient and allows to turn on the phone or launch some applications by using gestures on the touch panel. There's also the Air-Shuffle function due to which you can control some applications by moving your hand over the phone.
There's also the Hot Knot function available in this smartphone. It's a special protocol with application which allows to share your files with other supported devices fast and convenient.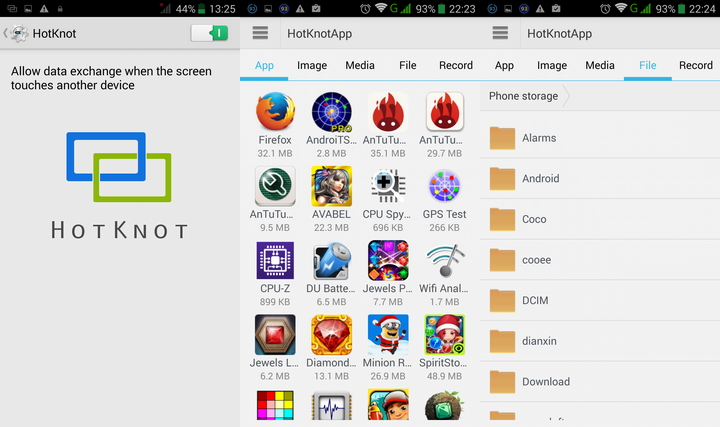 It also features the OTG function which can come in handy and allows to connect external devices to your phone, such as external memory or a gamepad/keyboard, etc.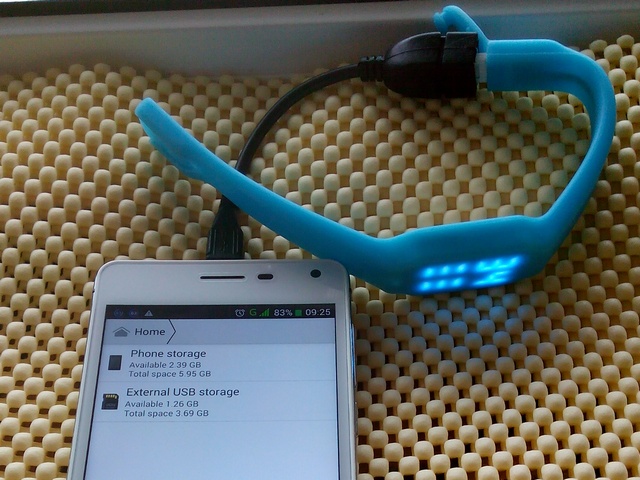 The phone has a 5MP front camera and 13MP back with autofocus and flashlight, which are interpolated from 2MP and 8MP correspondingly. The flash is really a bright one and allows to make some night photos. Both cameras are decent for this price and you can make some really good pictures with the main camera if there's enough lighting. This camera also shoots video up to 1080p with 30fps.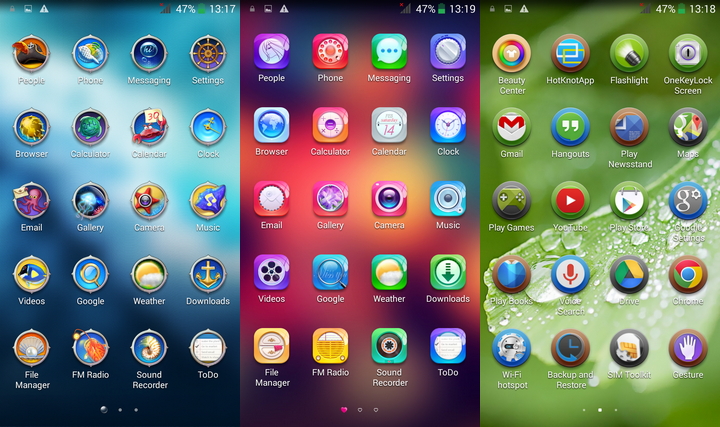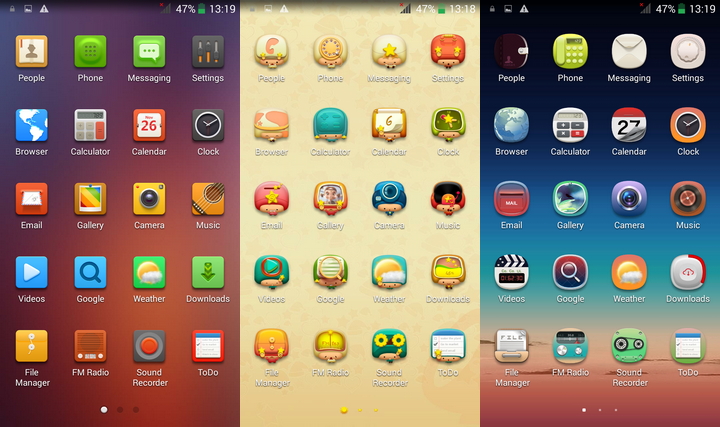 The battery has an increased capacity of 3300mAh. It's more than average amount installed in similar smartphones nowadays and this is really convenient, when you can use your phone for a longer period of time without charging.
The smartphone is capable of 7 hours of continuous Youtube video playing or of 4.5 hours of 3D gameplay.
Under the average episodic usage the phone lives for about 2-3 days on one charge, of course it depends on the ways you use it it can last really even longer. When the phone is idle and in the sleep mode it consumes very little of charge, only several percent a day, so in the time of need it can last more than a week if you'll use it for the calls.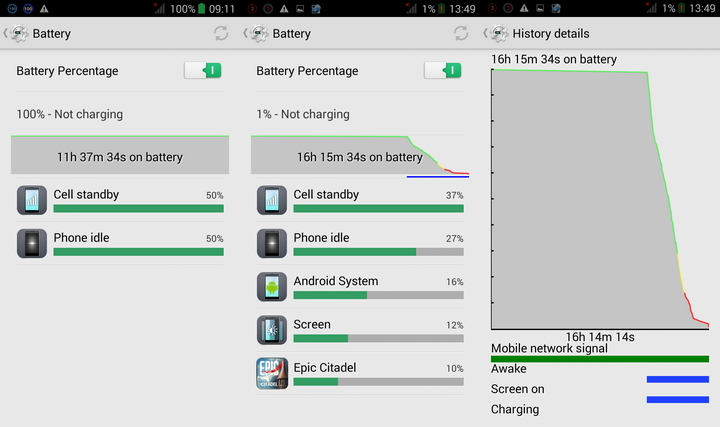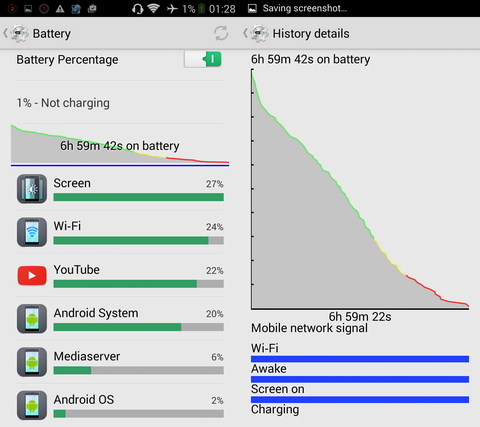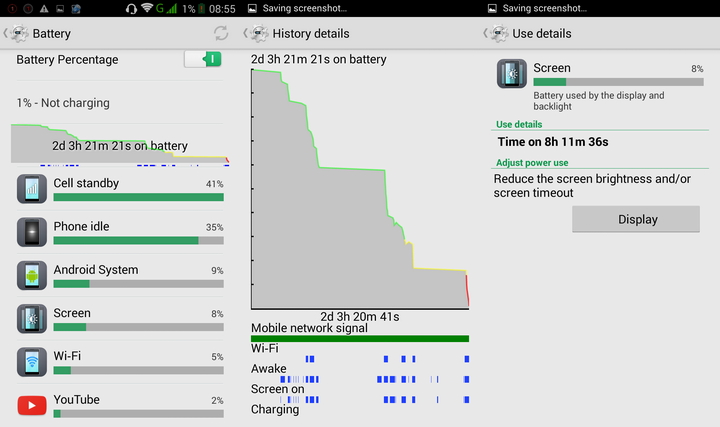 So all in all this model from CUBOT appeared to be a decent choice. It's not only pleasing to the eyes but also has decent specifications.
Thanks for the review from Olgao,more details of CUBOT S200 from Geekbuying.com.