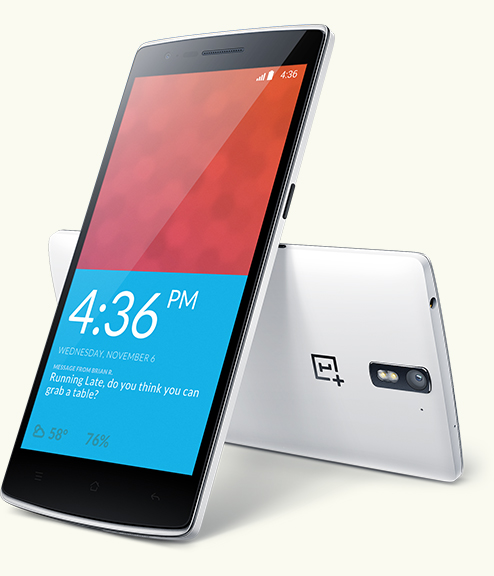 Recently, We sold a lot of OnePlus One Smartphone, and collect some feedbacks, so i take a little time to check this smartphone, and make this post, hope it can help some users before you make your decision to buy.
1 About China Version and International Version
Oneplus is a company which base in shenzhen ,China. They are working with CYANOGEN to release this smartphone.
In china market, they sell it in different platform, and the china version usually coming with their Color OS which lack the Google Play store service, and only have english and chinese language.
In the market out of china, they have a international version which base in the CM11S , however, you have to get a invite before you buy from their offical site, and as far as i know, it is not easy to get the invite.
so the question is why so many sellers in ebay, amazon or similar like geekbuying are selling this device which marked built in cm11s, are they china version and international version?
We must be honest with my customers, the OnePlus ONE which sell in geekbuying is china version, and we have to say all of the similar site which you can get the oneplus one are all china version, and before we ship the order, we flash the oneplus one from colour OS to cm11s. We are not trying to cheat our customers, in fact, we only know this china version and international version story some days ago, and we want to inform our customers. BUT is there really big difference between china version with cm11s and the original international version? I have did some search, and here are some information for you reference:
http://www.gizchina.com/2014/06/12/differences-international-chinese-oneplus-one/
so the above link has clearly told us the difference between this two version, In one word. European customers wont be able to worry about the version problem, only North American customers, we suggest you check this post first before you buy:
http://www.gizchina.com/2014/06/14/will-chinese-version-oneplus-one-work-north-america/
we understand how upset you are when you receive the OPO, but it can't work with your carrier. so make sure to read this before you buy:
If you are in the U.S and 3G is enough for you then you can check out the following carriers (please keep in mind that we are going off the specs and listing what the phone should support);

Chinese OnePlus One WCDMA support United States. [ Source ]

AT&T 850/1900 bands 5 and 2.
AlaskaComm / GCI 850/1900 bands 5 and 2.
Viaero Wireless 850/1900 bands 5 and 2.
West Central Wireless 850/1900 bands 5 and 2.
If you are in Canada then you might be able to use the Chinese OPO on LTE too.

Chinese OnePlus One LTE support Canada. [ Source ]

Rogers wireless uses 2600Mhz band 7 FDD-LTE
Chinese OnePlus One WCDMA support Canada. [ Source ]

Bell Mobility 850/1900Mhz band 5 and 2.
Tellus 850/1900Mhz band 5 and 2.
Sasktel 850/1900Mhz band 5 and 2.
MTS 850/1900Mhz band 5 and 2.
Rogers Wireless 850/1900Mhz band 5 and 2.
2 About the China version OnePlus One i received
If you have understand the above explanation about china version and international version, and already placed your order with us, let me tell you what you will received:
Geekbuying has the OnePlus One in stock, and we try our best to offer the competitive price,. Because the Oneplus we get is coming with Color OS first, so we have to open the package, and flash the CM11S for you guys, and then do the quality check, and then seal the package, pack your order.
When we flash the CM11S, we have to unlock the fastboot first, and then use the tool to flash the CM11S. So when you receive your device, the OPO's fastboot should be unlocked, please don't feel strange about this, As far as i know, all of the similar seller do the same things. but most of the are still using the old XNPH22R firmware, but we will always flashing the newest cm11s official firmware for our customers from now on. (the lastest one should be XNPH44S).
So in short, the Oneplus one you will get from geekbuying should built in the official / pure cm11s firmware , with the fully google service and multi-language. We have tested the camera, wifi, phone signal, earphone,microphone, screen, and the whole body to make sure you get a perfect working Oneplus one. After all ,it is not a cheap phone. We hope our customers can happy with that.
3 About ROOT / Custom Recovery
The OnePlus One you get from Geekbuying won't come with root, because we flash the official / pure cm11s for you, and it don't come with rooted.
Here is the instruction for how to root, install custom recovery and unlock bootloader(don't need to do this, since your OPO from us already make the bootloader unlocked)
https://forums.oneplus.net/threads/guide-oneplus-one-how-to-unlock-bootloader-install-custom-recovery-and-root.64487/
and here is a video from xda:
4 Firmware
For you the best choice should still the CyanogenMod 11S. You can always find the lastest CyanogenMod 11S firmware for Oneplus One here:
https://cyngn.com/products/oneplusone/
at the bottom of this page. Now the official lastest firmware should be the XNPH44S. and i have found a step by step instruction for how to flash this firmware for you, check it here.
Except the CyanogenMod 11S, you also can try a lot of other ROM in your Oneplus One,such as Paranoid, MiUi or others.
you can google the information and get what you need
So that's all what i have found today, if you still have any questions about the OnePlus One, welcome to leave comment below. I will try to answer all of the questions.
Get the OnePlus One from Geekbuying here:
http://www.geekbuying.com/item/ONEPLUS-ONE-Qualcomm-Core-Smartphone-5-5Inch-Gorilla-Glass-Quad-Core-2-5GHz-3GB-RAM-16GB-ROM-13-0MP-4G-FDD-LTE-OTG-NFC–White-329440.html
Eric
Geekbuying