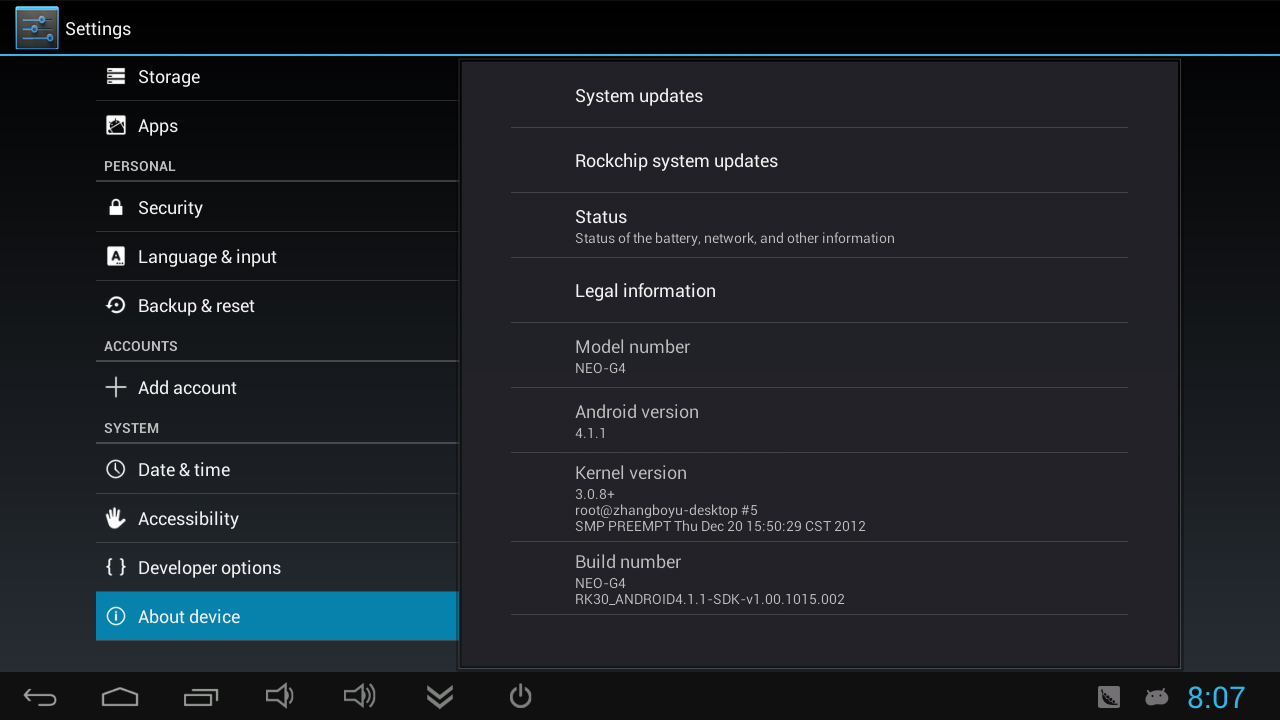 Hi guys:
We get the Android 4.1 Update for NEO G4, and we already mirror it to dropbox for better download speed, here is the download link:
https://www.dropbox.com/s/l09acto76zibr4t/geekbuying%20NEO_G4_4.1.1.zip
Changelog:
soft power suspend button, soft power off button, screen sleep option, auto hide bar feature, Ethernet setting for external usb LAN, screen capture,cell phone control;
If your NEO G4 come with Android 4.0 ICS, and if you want to update to this Jelly Bean Firmware, then you can following this update method:
1 Download the firmware from above link,and decompress it to one folder; you will get the the following file:
" rkbatchflash tool" it is the tool for you flash your neo g4;
"usb driver" it has the neo g4 driver for different windows operation system; ( if you are using the newest windows 8, you can get the driver here: https://www.dropbox.com/s/flyz58dxxujrc1v/Rockusb-win8.rar
also you will get the firmware file,format is .img;
2 Get your Neo G4, and find the "recovery" button here:
find a paper clip and then press the recover button, you can feel it when you insert to that hole.
3 Press the recover button, and then at the same time, connect the NEO G4 with your PC via OTG cable;
4 Your PC will find a new device, and inform you to install the driver, then you can go to "Device Manager" and find the unkown device, install the driver from the folder you just download;
5 Open the "RKBatchtool" the flash tool, if you have installed the driver correctly, you will see a green button, if not, you will see a pink button,then try to install driver again;
6 Choose the firmware you just download, and click Restore button.
Please do not interrupt the power supply when you do the upgrade!
At last, we find a video instruction to show you how to do the correct update,please check here:
after you finish the upgrade, here is the screenshot for about device: