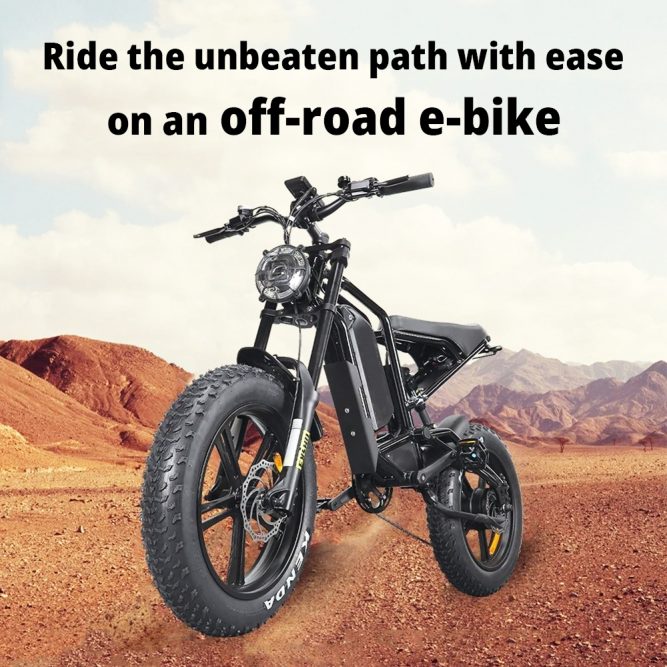 What is an off-road electric bike?
When we are talking about a simple way to get exercise, most people will recommend riding a bike. Yes, cycling is definitely a healthy and natural method of sports and travel, with which one can fully enjoy the beauty of the nature during travel process.
Cycling does good for enhancing our memory, and helps relieve Parkinson's and improves activity in areas of the brain associated with exercise. Keeping riding bikes in the long term can enhance cardiovascular function, especially aerobic exercise, and improve human metabolism and immunity. In conclusion, starting a bike trip gets welcomed by people with countless benefits.
The Bike originated in Europe. Later, with the increasing demand for off-road cycling, the off-road mountain bike was designed for hills, trails, fields, and gravel roads. These bikes have wide and multi-toothed tires for grip, comfortable straight handlebars, and front and rear shock absorption. It rides more smoothly, with a rigid frame and flexible movement, suitable for mountain climbing, off-road cycling, and for leisure. Now, off-road electric bicycles come with a powerful motor and long-lasting battery to help the bikes handle more challenging terrains and road conditions and prolong the mileage.
What are the main features of off-road electric bikes?
1. Large Tire
The Off-road electric bikes usually have wider tires than traditional road bikes, with a more aggressive tread pattern to provide better traction and greater friction on loose or uneven surfaces to make the riding stable. Most off-road bikes install at least 3 inch wide tires, and 4-inch tires are more common.
2. Large Electric Motor
Electric motors with higher power tend to provide greater driving force and output stronger torque, making electric off-road vehicles more stable and flexible in complex road conditions. What's more, the off road e-bikes can overcome more resistance, improve both off-road ability and mountain climbing ability The motor is typically located in the hub of either the front or rear wheel, or between the two wheels.
3. Large Battery
As it's known the bike's mileage is mostly determined by the battery. In theory, the larger the battery capacity, the longer the battery life. Most off-road electric bikes can travel between 20-50 miles on a single charge. What's more, a high-capacity battery will offer higher power output for the bike's performance.
4. Suspension
Suspension has much importance of electric off-road bikes, as well as an indispensable safety feature, because bikes usually need to travel on rough terrain, and shock absorption can help to reduce vibration and bumps, and improve the stability and bring more comfort for the cyclists. In addition, shock absorption can also protect the structure and parts of the electric bicycles and prolong the service life of the trail e-bikes.
5. Frame
The frame of an off-road electric bike is designed to be sturdy and durable, with a geometry that is optimized for off-road riding. The geometry of the frame is so important, as it can affect the bike's handling and stability on different types of trails. The frame material can vary, with aluminum and carbon fiber being common options. The aluminum alloy is the most common one with the light weight and good price.
Based on the above 5 principles, we have carefully selected 6 superior electric off-road bicycles from Geekbuying.com. These bikes are designed for outdoor off-road at the beginning. They comes with wide and rough tires, super-power output motors and more sufficient batteries to provide sufficient energy support for your outdoor trail cycling. The shock absorption is also an essential feature of these electric off-road bikes.
6 Best Off-Road Electric Bikes
ELEGLIDE M1 PLUS 27.5in Upgraded Version
I believe Eleglide electric bikes are familiar to most people who ever bought or are planning to purchase an e-bike. In the hearts of cycling enthusiasts, Eleglide is synonymous with high cost performance and excellent riding experience. Eleglide M1 Plus is a star product of Eleglide brand, a masterpiece of Eleglide.
Though ELEGLIDE M1 Plus 27.5in electric bike does not install wide tires, its 27.5*2.1 inch CST pneumatic tires has bigger roller and adapt to various road surfaces, making the bicycle a smoother runner even in rough terrain. The suspension is a must for off-road bikes. The upgraded hydraulic suspension comes with a lockout, bringing you a more comfortable cycling experience. ELEGLIDE M1 Plus mountain bike boasts a 21-speed Shimano gear, providing variable speed that gets you pretty fun and promises multiple speeds of riding. Besides, there're 5 levels in power assist mode with the speed of 12km/h, 16km/h, 20km/h, 23km/h, 25km/h (the maximum one).
The 12.5Ah battery supports up to 100km in assist mode, and the battery is detachable, which means you can take it out to charge. When you don't need to ride the bike for a long time, just remove the battery and put it away in case it is stolen. Driven by a 250W high-speed brushless motor, ELEGLIDE M1 Plus can speed up to 25km/h. It's max power can reach to 500W power with a output torque of 45N.m and 15 degree mountain-climbing.
ADO A20F Beast Foldable E-Bike
As ADO's newest mountain bike, the A20F Beast is undeniably fierce, passionate, and powerful. It features a 36V 250W Brushless DC rear motor with a peak power of 500W, providing enough power for your trip. At the same time, the maximum torque value provided by ADO A20F Beast reaches 65 N.m, and the torque sensor can help the bicycle to accelerate faster, ride on slopes more easily, and provide better cycling performance. It can easily deal with slopes within 30 degrees. The maximum speed of 25km/h allows you to travel quickly in heavy traffic and provide a certain sense of challenge.
ADO A20F Beast has upgraded to a larger battery with a capacity of 36V 14.5Ah, which is more conducive to maintaining the continuity of the drive system, thereby effectively improving the endurance of A20F Beast. A single battery mileage of up to 120km can effectively shorten the charging time and save a lot of use costs, thus making the electric bicycle a longer life. At the same time, this battery features a smart management system that has to overheat, short circuit, over-current, and overcharge protection. No need to worry about accidents due to battery damage during the journey.
ADO A20F Beast especially uses 20*4.0 rubber pneumatic tires, which can provide greater grip and stability on different grounds, especially on rough, bumpy dirt roads or muddy roads. It allows you to drive more safely and comfortably on these types of road surfaces. The front fork also has shock absorption; the front and rear hydraulic disc brakes bring you safer braking.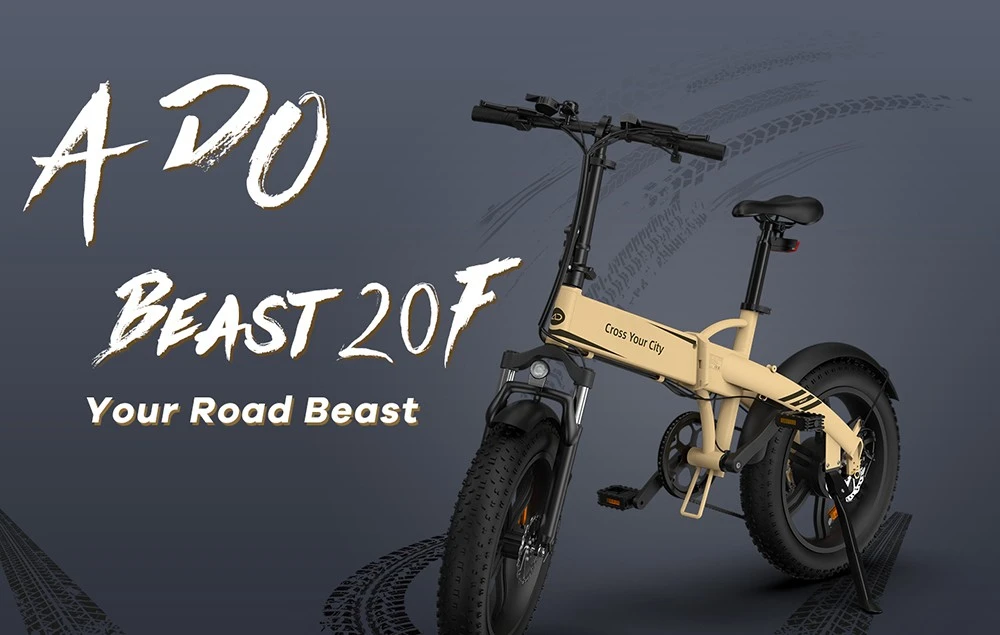 Riding' times Z8 Electric Trail Bike
I guess anyone will be caught sight by Riding' times Z8 electric bike's fat and rough tires! Riding' times Z8 is a veritable off-road electric bicycle from its appearance. It looks more like a electric motorcycle than an electric bike with the amazing tires! You can ride it in the snow road with its 20*4.0 inch fat tire, not to mention the muddy road in mountains.
Featured a powerful 500W motor and a large capacity 48V 15Ah battery, Riding' times Z8 can reach 45km per hour as the top speed. It has two driving modes, a thumb throttle and 5 levels of pedal assist system (PAS), which can provide a travel distance of 40-60km by throttle and 80-120km by PAS. Both front and rear tires are equipped with mechanical disc brakes for enhanced safety and reliability. To smoothly handle the rough terrain, Riding' times Z8 off-road e-bike has adapt a front aluminum hydraulic suspension fork and double spring suspension at the rear wheel for a pleasant ride. When the light turns dim or ridng at night, please do not get panic. Riding' times Z8 electric bike has a high beam headlight to allow a safer night rides with proper line of sight and expanded field of view.
Exclusive offer for Z8 E-bike: €829 after CODE: NNNFRZ8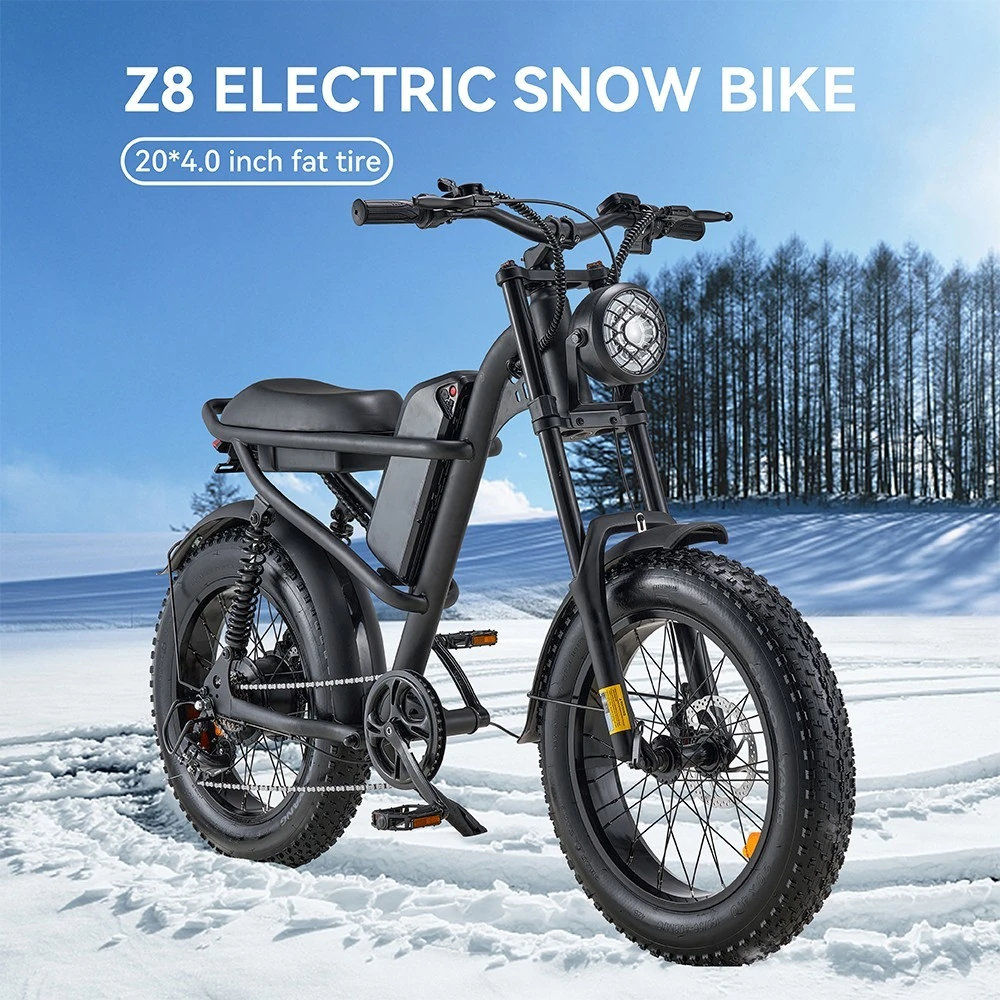 BEZIOR X1500 Fat Tire Folding Electric Mountain Bike
BEZIOR X1500 off-road electric bike installs 48V 1500W high-speed brushless motor, which is light in weight. Its internal use of star gear design can amplify torque and improve energy conversion rate. This is reflected in reducing enerfy consumption and slient energy consumption while increasing cruising range, improving speed and climbing performance. The 48V 15Ah 18650 lithium battery pack is completely hidden inside the frame, which is waterproof and dustproof. With the strong output, BEZIOR X1500 provides up to 45km in pure electrci mode and 100km in power assist mode.
The dual oil spring suspension and lockable front fork are used to provide the rider with a stronger comfort experience during a collision. Large potholos and muddy roads with a wheel diameter of 26*4.0 inches can easily pass the speed bump. The tires have anti-skid and aiti-vibration function with a width of up to 10cm, ensuring a longer span.
Thanks to its four-bar linkage structure (front fork of the lower frame, front fork of the upper frame, shock absorber joint, 650-pound rear oil spring absorber) BEZIOR X1500 off-road electric bike enhances shock resistance and loads the riders up to 200kg and provides excellent performance. The steamlined widening seat are ergonomic design, friendly for long-time riding.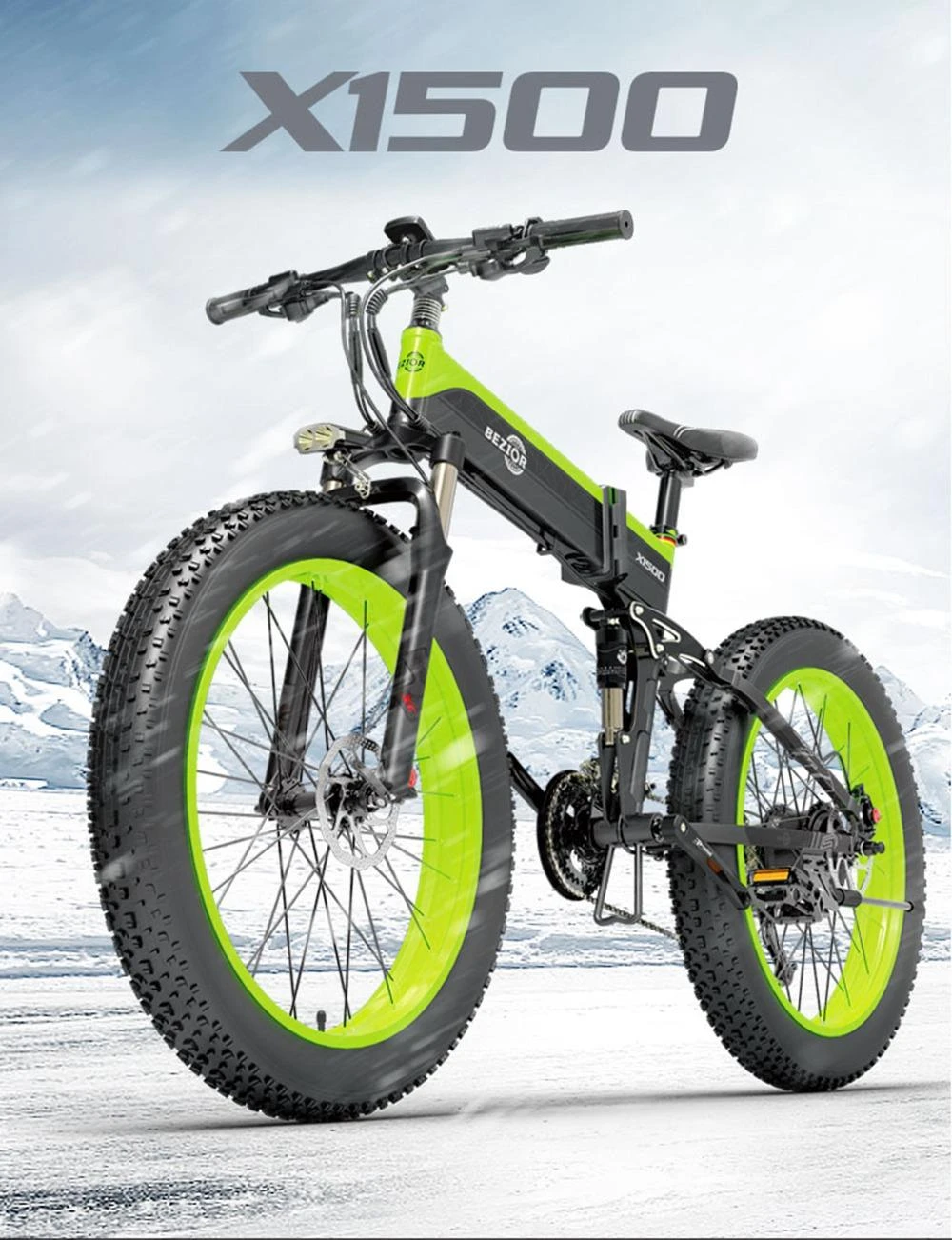 DUOTTS C29 Electric Bicycle
DUOTTS C29 is simple a fantastic off-road electric bike for wilderness lovers. It has multiple high-end features like a 750W high speed brushless gear motor, and provides enough power for you to easily reach up to 50km/h, go to the destination in a shorter time. The Shimano 21-speed gear increases stronger hill-climbing power, further range variation, and greater terrain adaptability. The removable 15Ah battery can be charged on or off the frame with a BMS system to protect the battery, decreasing charge times, and increasing service life.
A high-quality bike frame will prolong its lifespan, and brings a cozy cycling experience. Made of aluminum alloy, DUOTTS C29 trail e-bike has higher strength, corrosion resistance and rust resistance, and ensures the support strength of each part. A larger size with air-filled rubber wheels for shock absorbency and better traction, you can breeze up hills, mounds, and any incline up to 25 degree. The aluminum alloy front fork suspension on DUOTTS C29 trail e-bike works for a smoother and more comfortable riding experience.
ENGWE EP-2 Pro Folding Electric Bike 2022 Version
The ENGWE EP-2 PRO is a powerful and versatile off-road electric bike designed to handle various terrains including sand, snow, trails, or rock road with ease. It features a sustained 750W hub motor with a peak of 960W, and outputs 50N.m explosive power, easily assisting you to travel at 42km per hour.
The ENGWE EP-2 Pro trail e-bike installs one-piece wheel with 4 inches fat tires, which enables you through all rough terrain. The wider tire surface greatly enlarges the contact area with the ground, increases friction and grip, and reduces bumps and discomfort when riding at a fast speed on steep or uneven roads.
The uograded version EP-2 Pro 2022 version has more cells with a higher power rating, and the mileage increased by 20%, up to 120km in pedal assist mode. The bike's aluminum alloy frame and front suspension fork provide a smooth and comfortable ride, even on bumpy and rocky trails. The Shimano 7-speed transmission system allows riders to adjust the speed and resistance to their preference, making it easier to tackle steep climbs and descents. The front and rear disc brakes provide reliable and responsive stopping power.
Safety is the top priority for the ENGWE EP-2 Pro off-road e-bike. In addition to front suspension and dual disc brakes, it is also equipped with a comprehensive lighting system, including an LED headlight in the front, brakelight indicator light in the back, and reflective stripe on the inner tubes. This illuminates the path ahead for the rider while also alerting pedestrians to the presence of the EP-2 Pro electric bike. In the middle of the handlebar is a rectangular display, all the data including speed, range and gear info is available at a single glance.