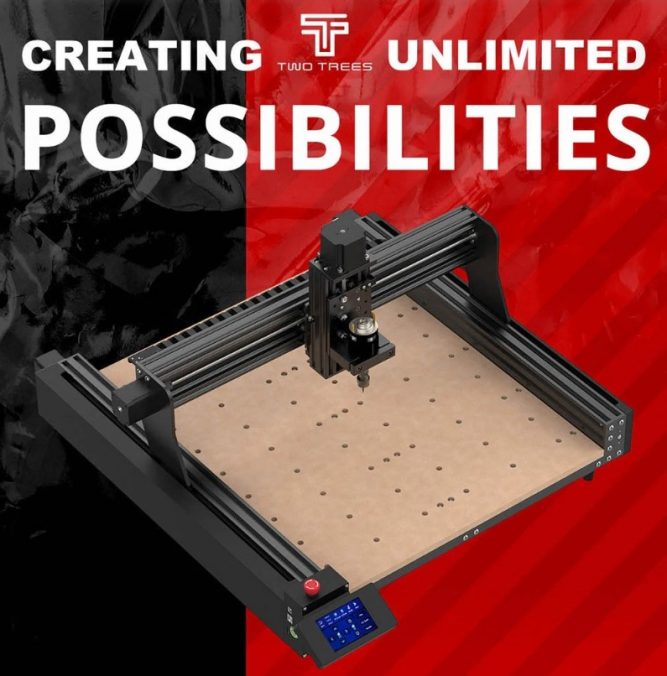 TWO TREES TTC 450 CNC router is designed for 2D and 3D precision cutting with a working area of 460x460x80 mm. All the bears and whistles that a typical CNC router is supposed to have can be found in this machine, such as 3-axis X, Y, and Z movement, a 32-bit microcontroller, a touchscreen control display, and support for WiFi network connection. Two Trees TTC 450 CNC router enables offline operation via SD card. Besides, it handles materials such as wood, acrylic, Plastwood, carbon fiber sheet, aluminum, metal, and various engineering plastics.
TWO TREES TTC 450 CNC Router Machine Main Features
80W Spindle Motor
3-Axis Movement Control
0.1mm Dimensional Accuracy
Max 800mm/min Engraving Speed
Wireless Control
Touch Screen
460*460*80mm
Definition Of CNC
The acronym CNC is somewhat confusing. It stands for computer numerical control, that is to say, a computer controls the movement of a machine. As such, 3D printers, laser cutters, and even vinyl cutters (i.e., a Circut) are all technically CNCs. The term CNC is typically referred to as a machine that utilizes a rotating spindle and an end mill bit to remove material. However, there are also larger industrial CNCs that use a plasma cutter instead of a rotating end mill bit, but that topic can be discussed another time.
Specifications
Engraving Area: 460mmx460mmx80mm
Body Material: Metal Frame 8& Alluminium 4080U Profile
Drive System: Translation Screws Drive with Double Y-axis System
Main Board: DLC32 V2.1
Stepper Driver: A4988 1.3A
Stepper Motors: 17HS8401S, NEMA23 20mN.m
Spindle: 80W, 8000RPM / 500W, 12000RPM
Engraving Speed: Max 800mm/min
Running Accuracy: ±0.1mm
Z-axis Movement Accuracy: ±0.0025mm
Power Supply: 120W, 24V, 5A
CAM Software: Candle, Carveco, Artcam, Easel
Homing Switches: X, Y, Z double limit switch + ESTOP
Leadscrew Size & Type: T8 2mm Pitch, 4mm Lead 5 Start Acme Lead Screw
Motherboard: 32-bit ESP32 highly integrated chip
Video Demonstrations
The Verdict
TWO TREES TTC 450 CNC router is a functional machine with a large working area. There is a learning curve, but the rewards are huge, You can make things on this device, learn about the CNC process, and hone your skills.