Music exists everywhere. It is more than an indispensable seasoning in our lives, and it represents the attitude of modern people. As the demand for music and entertainment is growing, portable Bluetooth speakers have become popular ones of audio products. There're various usage occasions for which we'd love to bring a Bluetooth speaker with us and makes it a spiritual companionship, such as outdoor activities, climbing, cycling, trekking, travel, parties, indoor and outdoor sports, and more. It boasts great convenience without the need to connect to power or cables, just turn the portable Bluetooth speaker on and connect it to your devices like phones, tablets, or laptops, and enjoy high-quality and enjoy sound effects anytime, anywhere!
In recent years, there're various brands and models of Bluetooth speakers with portability coming out, featuring varying functions. Consumers tend to choose the wanted product based on factors including brand reputation, sound quality, appearance, portability, battery life, and price.
Tronsmart specializes in the design and production of audio products, committed to providing users with high-quality music. This brand not only offers outstanding products with sound quality but also has excellent value for money. We recommend the 5 best portable Bluetooth speakers for you.
Tronsmart T7 Lite
T7 Lite is a cylindrical Bluetooth speaker. It has full-range drivers with 3 passive radiators, which presents booming and punchy bass. Both on the bottom and top there's Rainbow lights show, which will rhythmically pulsate with the beat, creating a relaxed and romantic atmosphere at parties. T7 Lite supports pairing up 2 speakers, thus doubling the joy of the party. Battery capacity and battery life are also a test for portable speakers. Tronsmart T7 Lite features a 4,000mAh battery and offers a 24-hour playtime. It has a lanyard in the package, which helps you to hold it with your backpack or install it on your bike. You can take it to camp, have a picnic, and go hiking.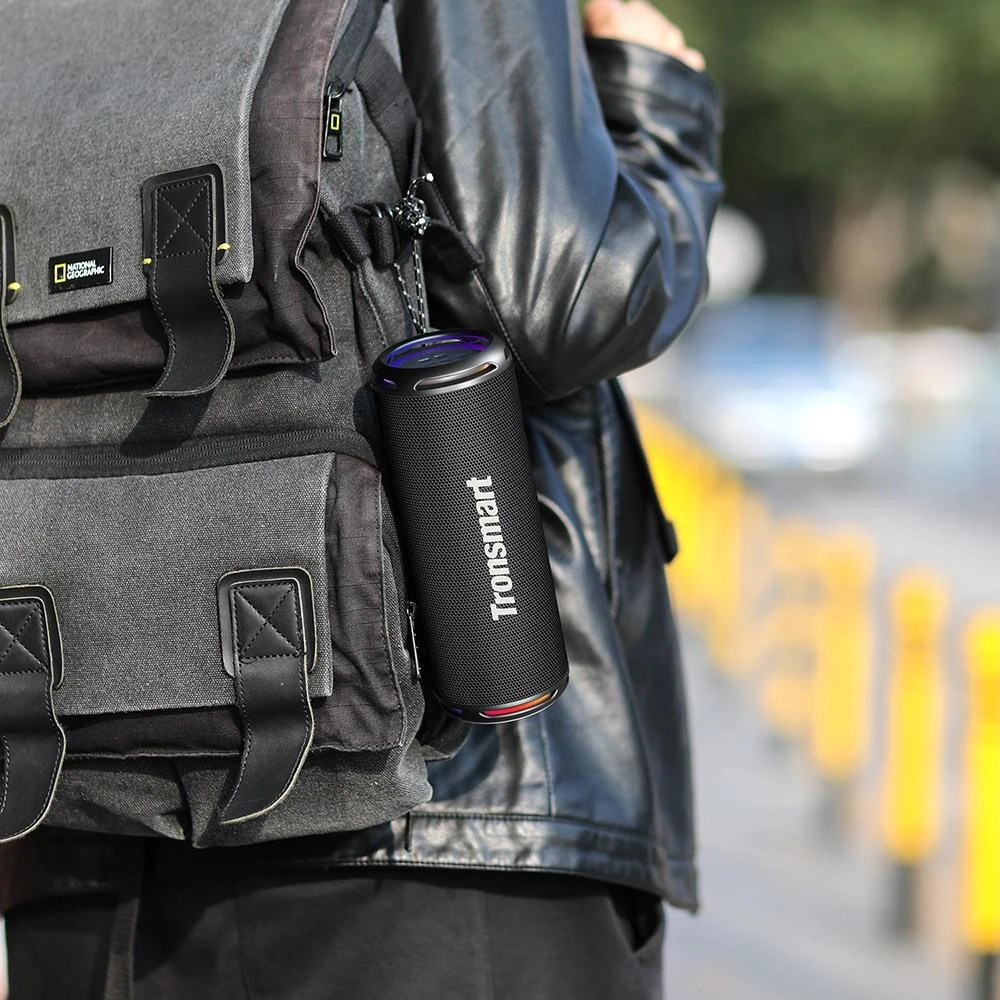 Tronsmart T7 Mini
Compared with T7 Lite, T7 Mini seems more cute. It has a smaller body and lighter weight (646g). Bringing it with you while hiking, trekking, or engaging in any outdoor activity will also be effortless. With its 15W output, it delivers powerful and clear audio, making it ideal for use in a variety of settings, including at home, in the office, or outdoors. It is equipped with Bluetooth 5.3 with a range up to 18 meters (59 feet) in the open area. T7 Mini boasts 3 playing modes: Aux-in, insert a Micro SD/TF card, or Bluetooth, bringing you multiple ways to play, without space limited. It can also work as a voice assistant, supporting Siri, Google Assistant, and Cortana.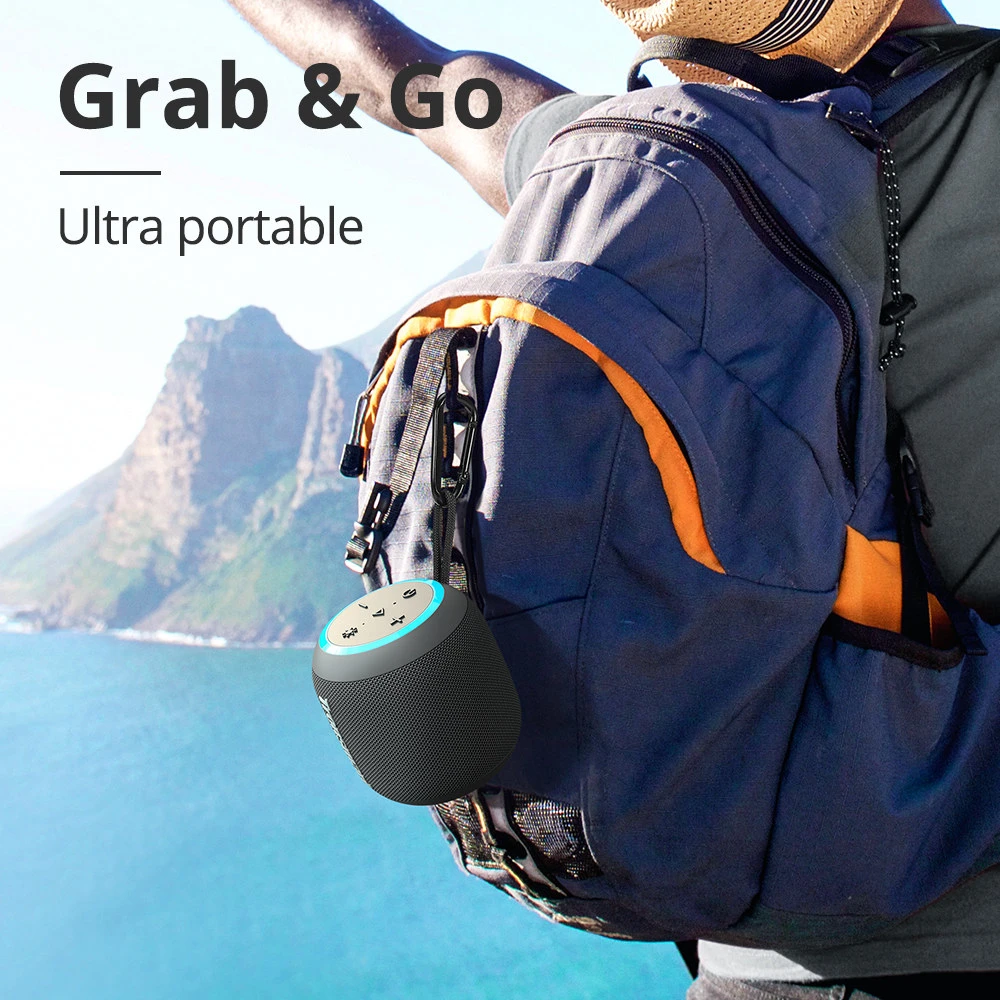 Tronsmart Bang SE
The 40W Bluetooth speaker looks bigger than T7 Lite, in fact, it also has more power than the T7 Lite. The Tronsmart Bang SE speaker provides excellent sound quality, thanks to the product using high-quality materials. IPX7 water resistance protects against moisture and makes it ideal for use by the water or on rainy days. You can pair it with another speaker for stereo sound and an unforgettable music experience. The speaker supports popular voice control programs. Thanks to the application, we can gain access to the full range of device functions – EQ control. This is the perfect equipment to use it outside the home because it allows you to listen to music for up to 24 hours. In addition, Bang SE has built-in LED lighting with 3 different modes and the Powerbank function, thanks to which we can charge, for example, a smartphone and SoundPulse Audio responsible for a better musical experience.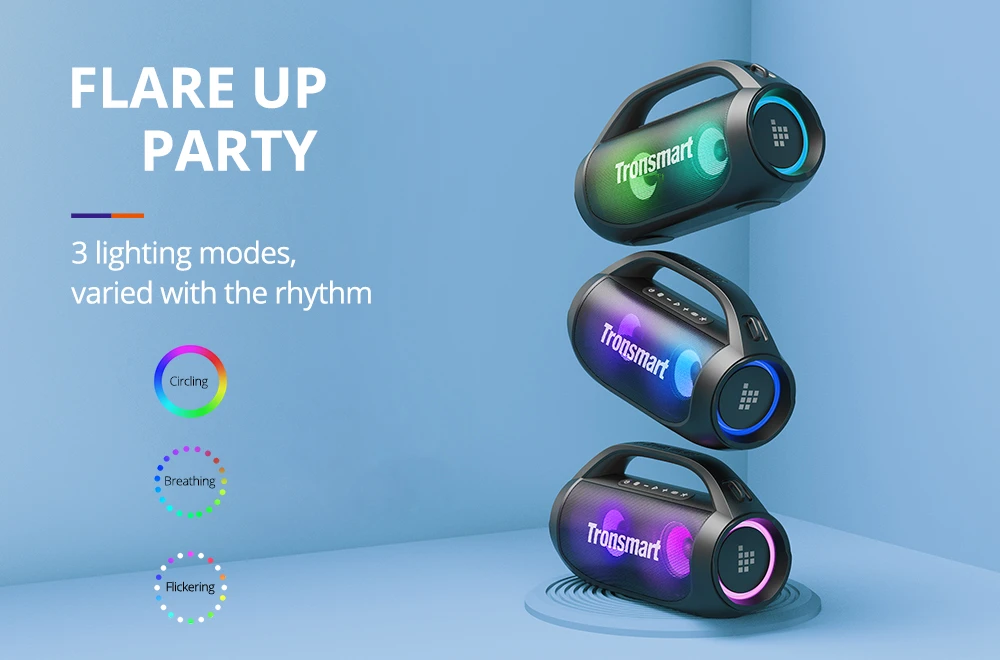 Tronsmart Bang Mini
Tronsmart Bang Mini is a truly party blaster with a 50W popping sound. If you play it in a room or kitchen or any enclosed space it will sound loud and awesome! If it is an open space it sounds normal but a little loud but not by much. It has 3 light effects: circling, breathing, and beat-driven, and freely switching among them. There is a sturdy handle on the top for better portability, and you can hold it strongly in your hand. Built-in a 7.4V 4,000mAh battery, Bang Mini provides 15 hours of playtime with LED off and 13 hours of playtime with LED on.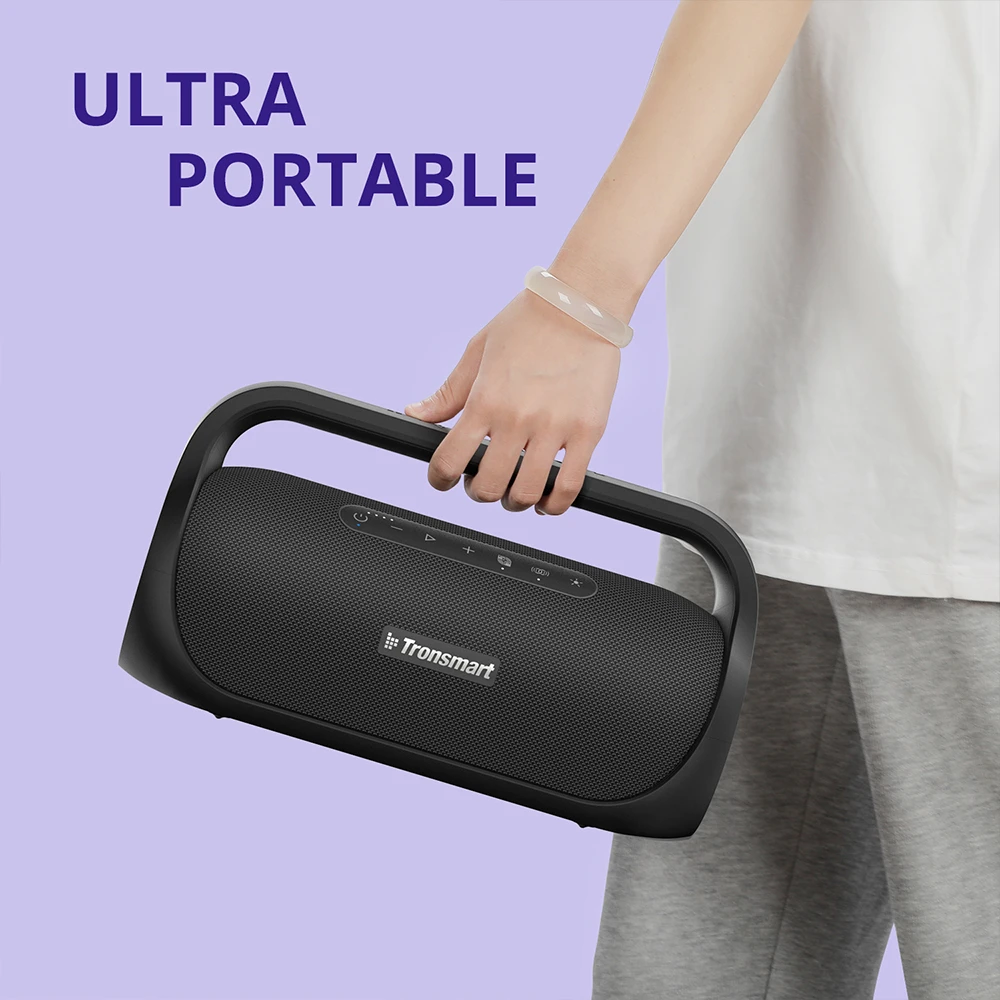 Tronsmart Groove 2
Tronsmart Groove 2 is a compact Bluetooth speaker and weighs 600g. It boasts IPX7 waterproof grade, Tronsmart Groove 2 has outstanding waterproof ability, and can be used in the shower room. Born for outdoors, It has an impactful sound, and you can hang it on your knapsacks, bikes, scooters, trekking sticks, etc. It supports dual EQ modes, the normal and SoundPulse mode. The Bluetooth 5.3 ensures a quick and stable connection and robust streaming within 59ft. Tronsmart Groove 2 offers up to 18 hours of playtime on a charge.