Which transportation is best for commuting? Well, it depends on various factors such as distance, traffic, availability of public transportation, cost, and personal preferences. Riding an electric bike can be a good option for short to medium distances, as it is cost-effective, eco-friendly, and can avoid traffic congestion. Driving a car can be more convenient for longer distances or areas with limited public transportation, but it can be expensive and contribute to traffic jams and pollution. Taking the bus or subway can be a good option for those who live in urban areas with good public transportation systems, as it is often affordable and can avoid traffic, while it usually takes a long time, you may need to get up much earlier to wait for the bus.
Now, increasing numbers of people choose to ride electric bikes for commuting, and we recommend the Samebike RS-A01 city e-bike to you. The Samebike RS-A01 is an electric bicycle perfect for commuters, city dwellers, or anyone who desires a convenient, eco-friendly way to get around. With a sleek design and powerful motor, this bike is sure to impress.
Despite its compact size, the Samebike RS-A01 is a powerful bike. It's equipped with a 750W high speed motor with an output of 70N.m, which provides enough power to tackle steep hills and rough terrain with ease. With a top speed of 25-35 km/h, this bike can help you get to your destination quickly and efficiently whether on urban roads or countryside roads.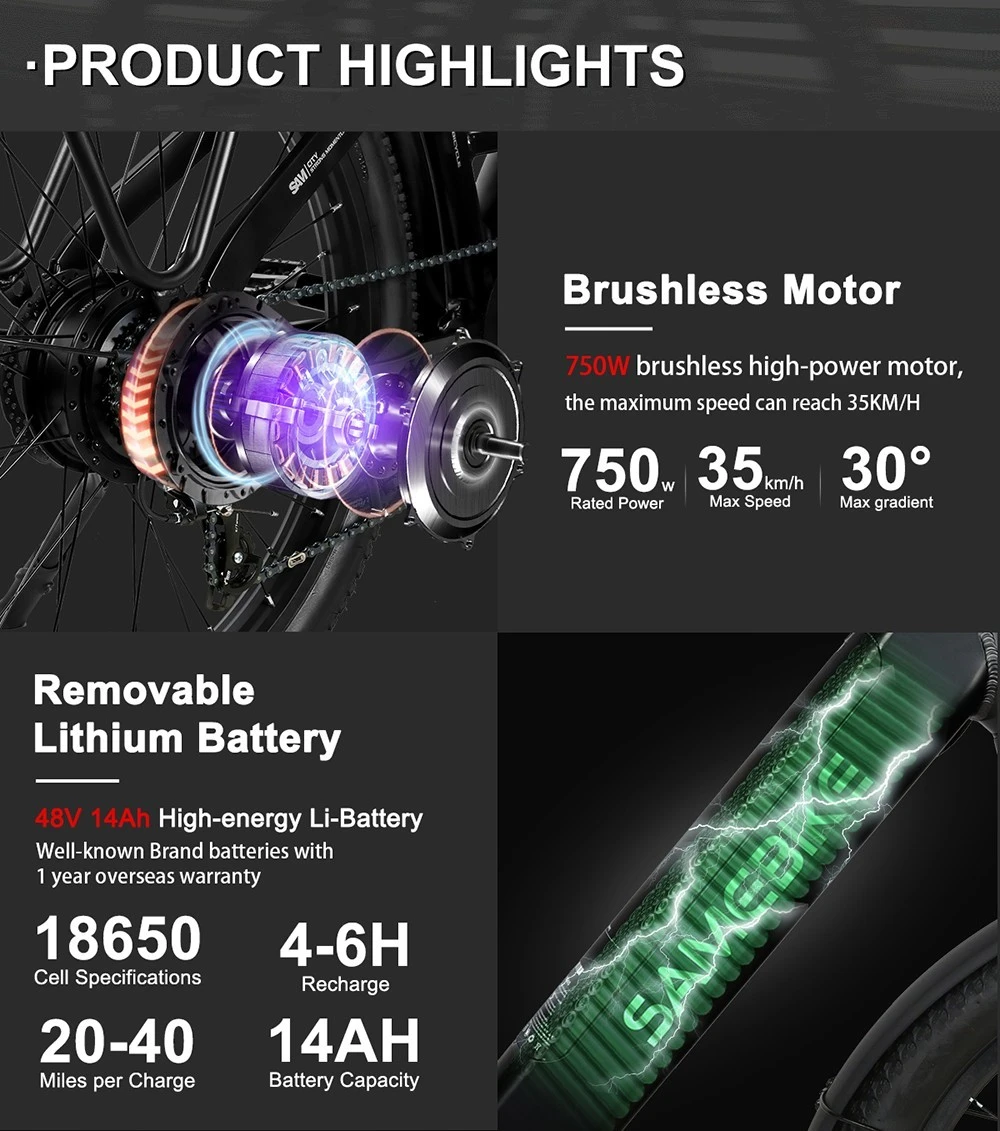 The most frustrating problem during a journey is running out of battery on an electric bike, but this will definitely not happen with the Samebike RS-A01. The bike boasts a 48V 14Ah /672Wh battery, and has a range of up to 40-45 miles on a single charge, so you can ride all day without worrying about running out of battery. Besides, the battery is detachable, you can take it out and charge it in the house to avoid theft.
The Samebike RS-A01 features a 26*3.0 inch wheel size, which is perfect for navigating city streets and sidewalks. The wheels are also equipped with 200Kpa/30 PSI CHAOYANG tube tires, which provide a smooth and comfortable ride. The bike also has a suspension fork and suspension saddle which helps absorb shocks and vibrations for an even smoother ride.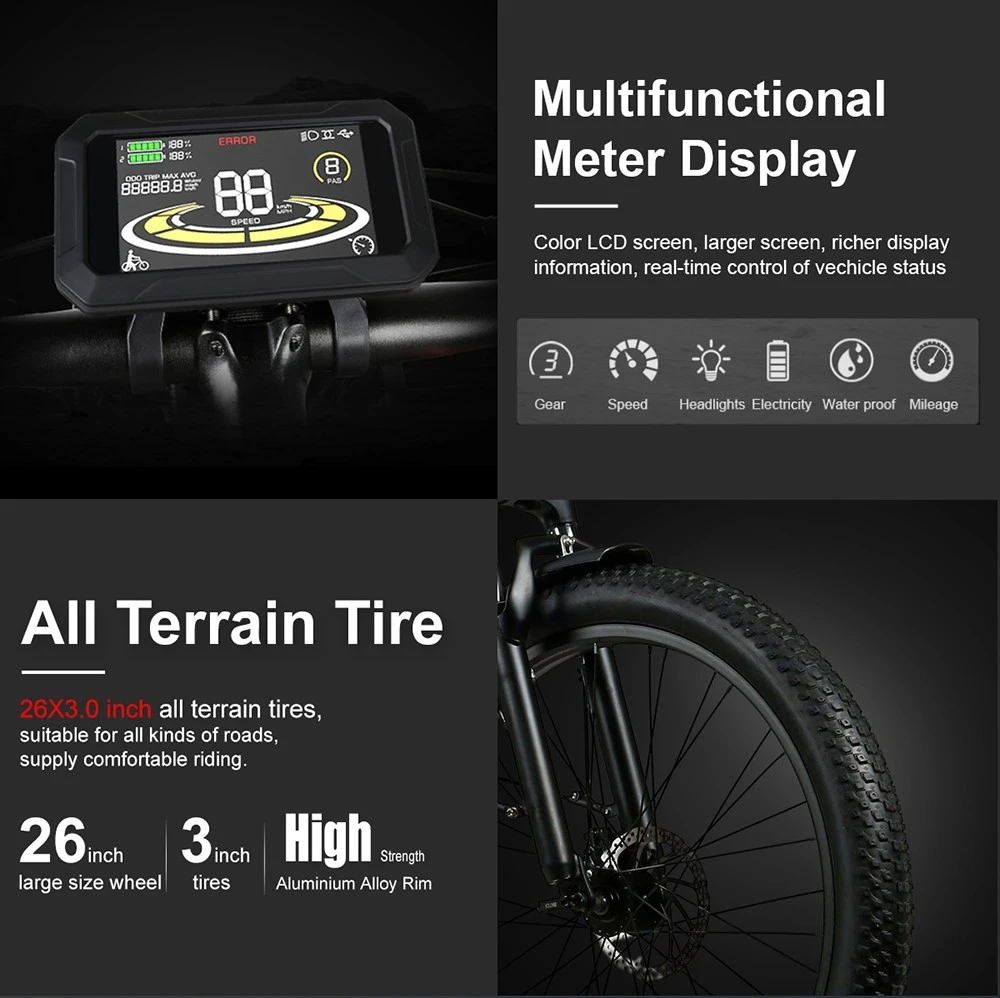 In terms of braking, the Samebike RS-A01 has an advanced dual-disc brake system, which provides riders with excellent stopping power even at high speeds. This feature is particularly important for commuters who need to navigate busy streets and crowded intersections. The bike also has a Shimano 7-speed transmission system, which allows you to easily adjust your speed and tackle hills or inclines with ease.
Lighting becomes especially important when riding at night or on cloudy days. Samebike RS-A01 includes an LED headlight and a reflector, which help you stay visible and safe while riding at night. The bike also has a comfortable saddle and ergonomic handlebars, which allow you to ride for long periods of time without experiencing discomfort.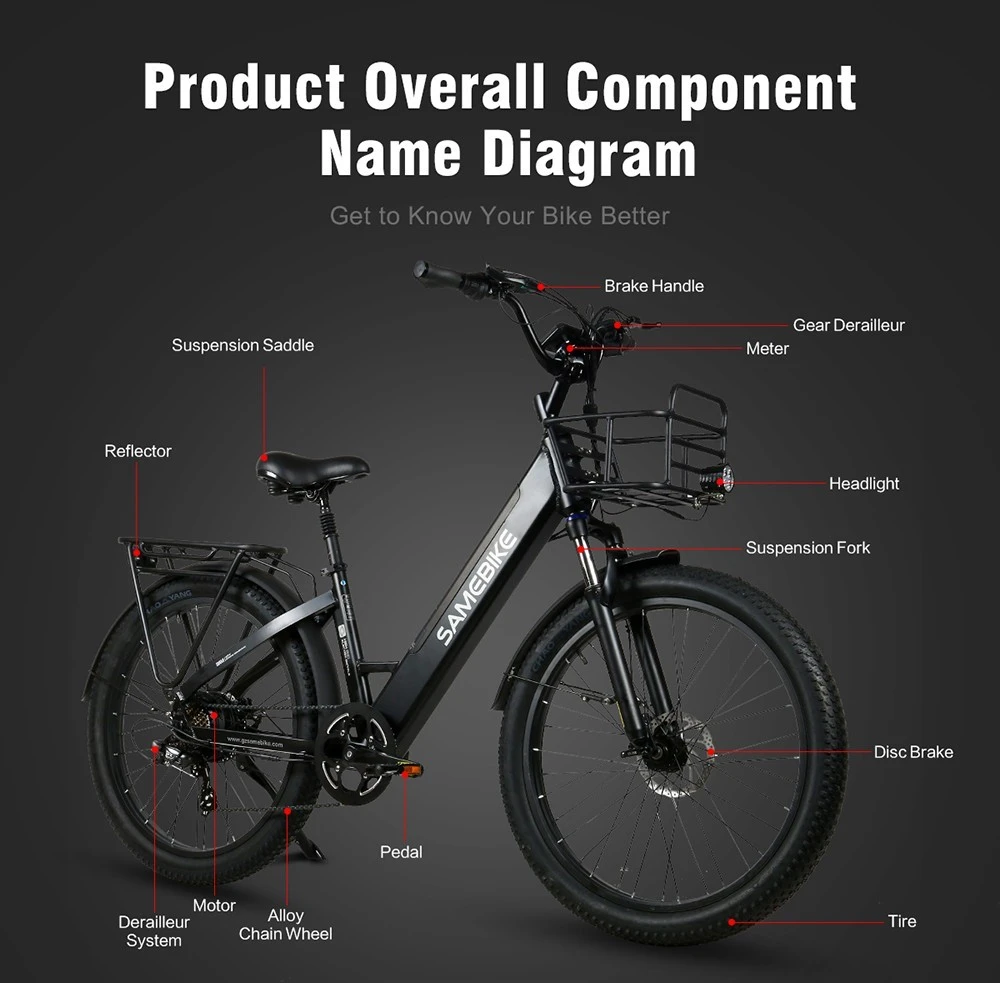 Overall, the Samebike RS-A01 is an excellent choice for anyone looking for a convenient, powerful, and eco-friendly way to get around. Its sleek design, powerful motor, and range of features make it a top choice for commuters, urban dwellers, and anyone who wants to enjoy the freedom and flexibility of cycling.