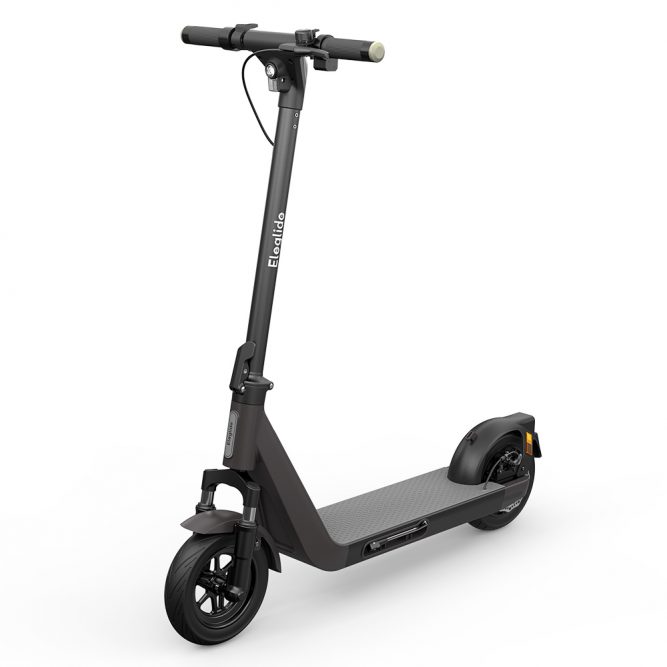 Eleglide launched the latest electric scooter, Eleglide Coozy, at the beginning of August, which is designed for cozy riding, and it also provides long range for traveling needs.
Eleglide engineers believe comfort is as important as safety, when they design and manufacture Coozy, they tried to produce a high-performance electric scooter taking electrics, mechanisms, components and other aspects into consideration. They expect a comfortable electric scooter to make the trip more pleasant.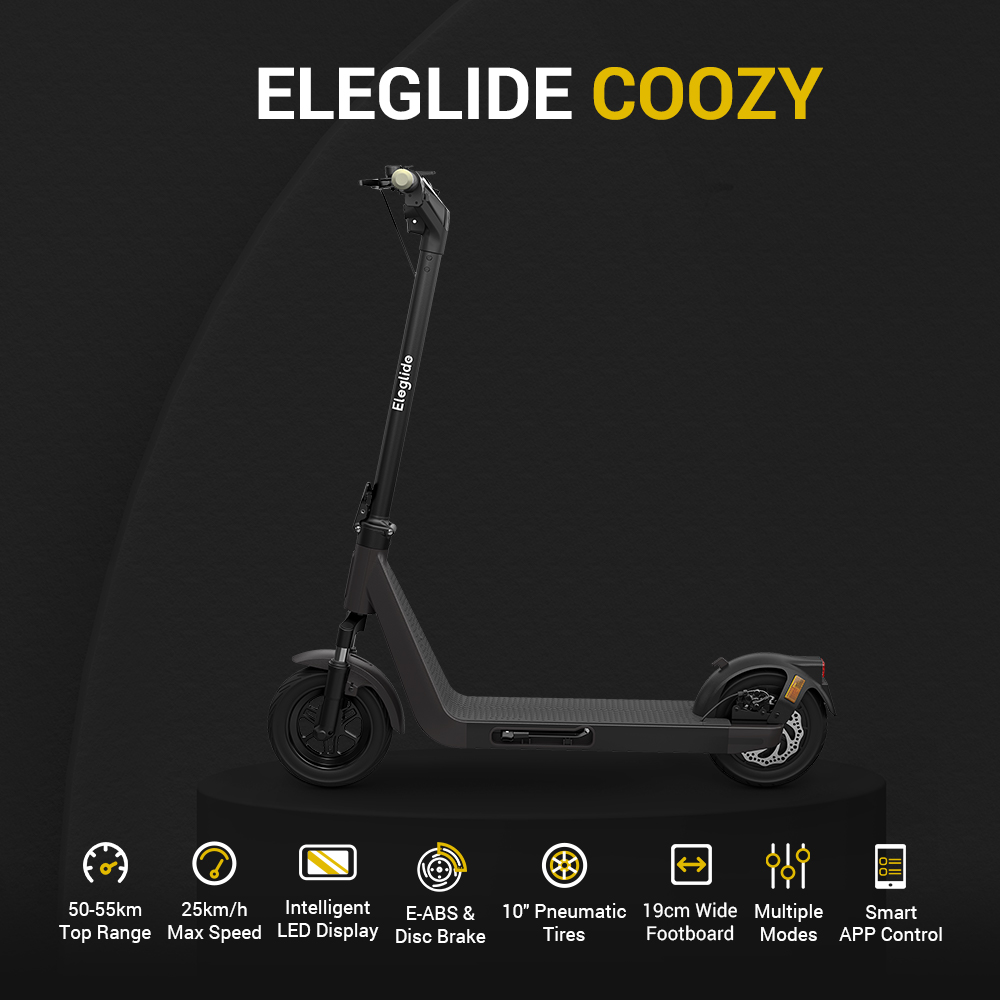 Why We Call It "Coozy"
We ride electric bike scooters as one of most convenient and straightforward transportation, and Eleglide has upgraded its new product for a more comfortable riding. With the 10 by 2.5 inch pneumatic rubber tires, Coozy scooter has wider ground contact area for more stable riding, and it can adapt to more types of terrain and roll more smoothly. The 19cm footboard is wide enough to let you stand steadily and comfortably. Covered by a non-slip rubber pad, it protects you from skidding on the footboard.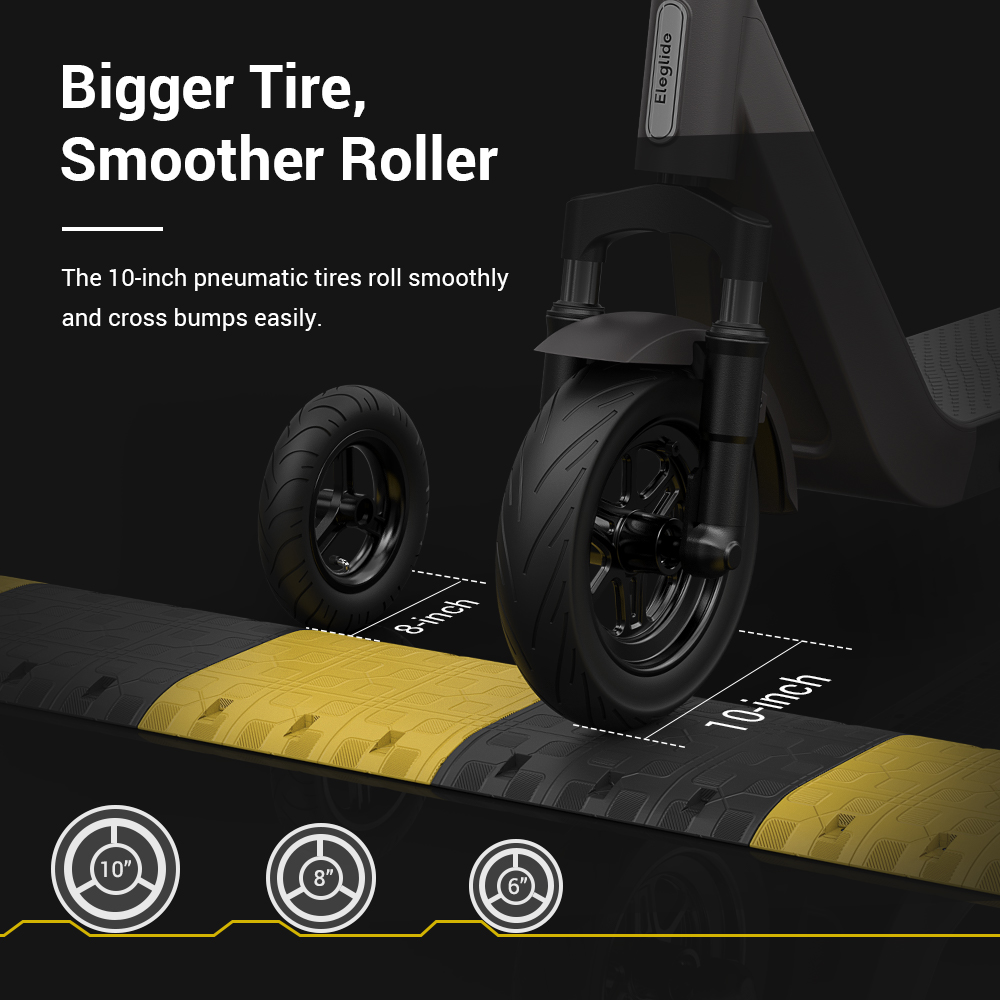 Safety Comes First
Eleglide Coozy has an innovative lighting system with a headlight, a taillight and 2 steering lights. The taillight can work as an illuminating light and a brake light. The left/right steering light will flash when you switch it on, enabling you to make a safer turn. The innovative lighting system makes your commute ride safer.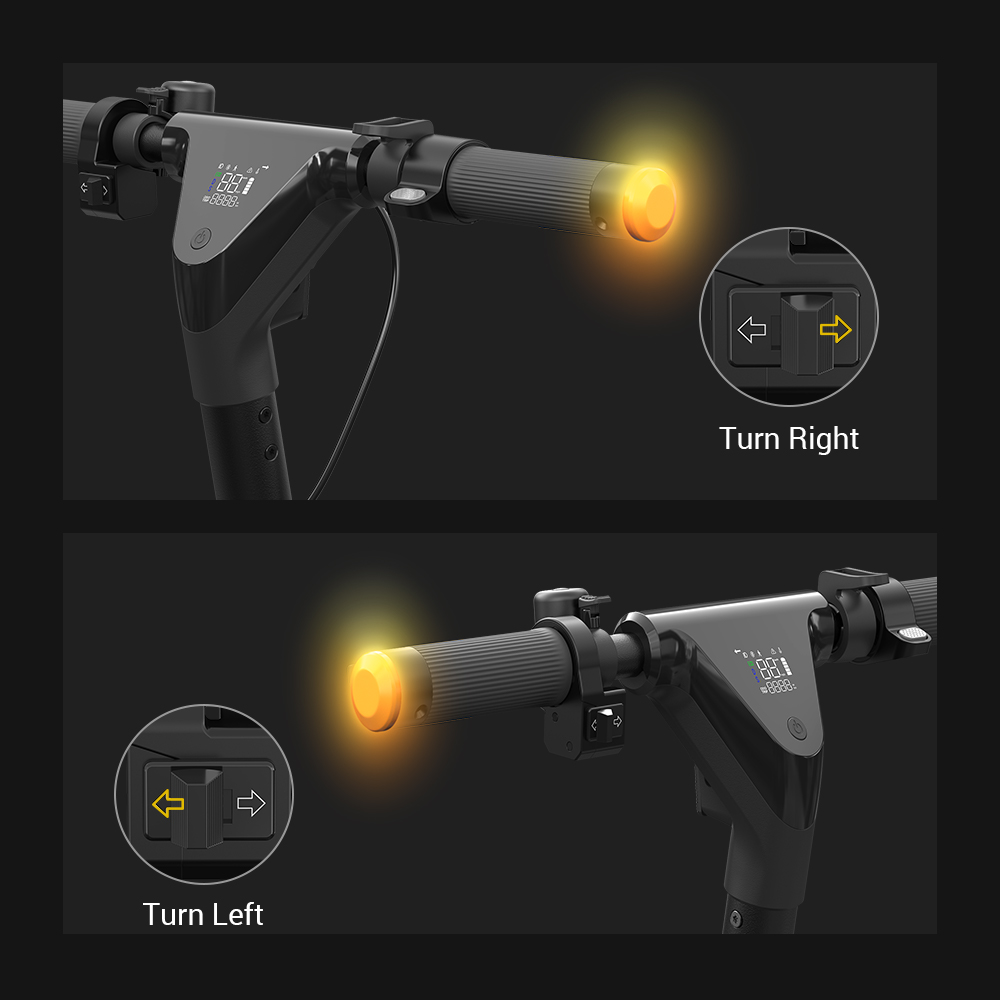 Eleglide Coozy features multiple speed modes to correspond to different road conditions and the needs of cyclists, including 10/15/25km/h and the 6km/h push mode. The ECO mode allows you to enjoy the roadside scenery over the commute ride. The standard mode enables you to enjoy the fun of riding without being too fast to miss anything around. Shift to the sport mode, and you will have a faster ride.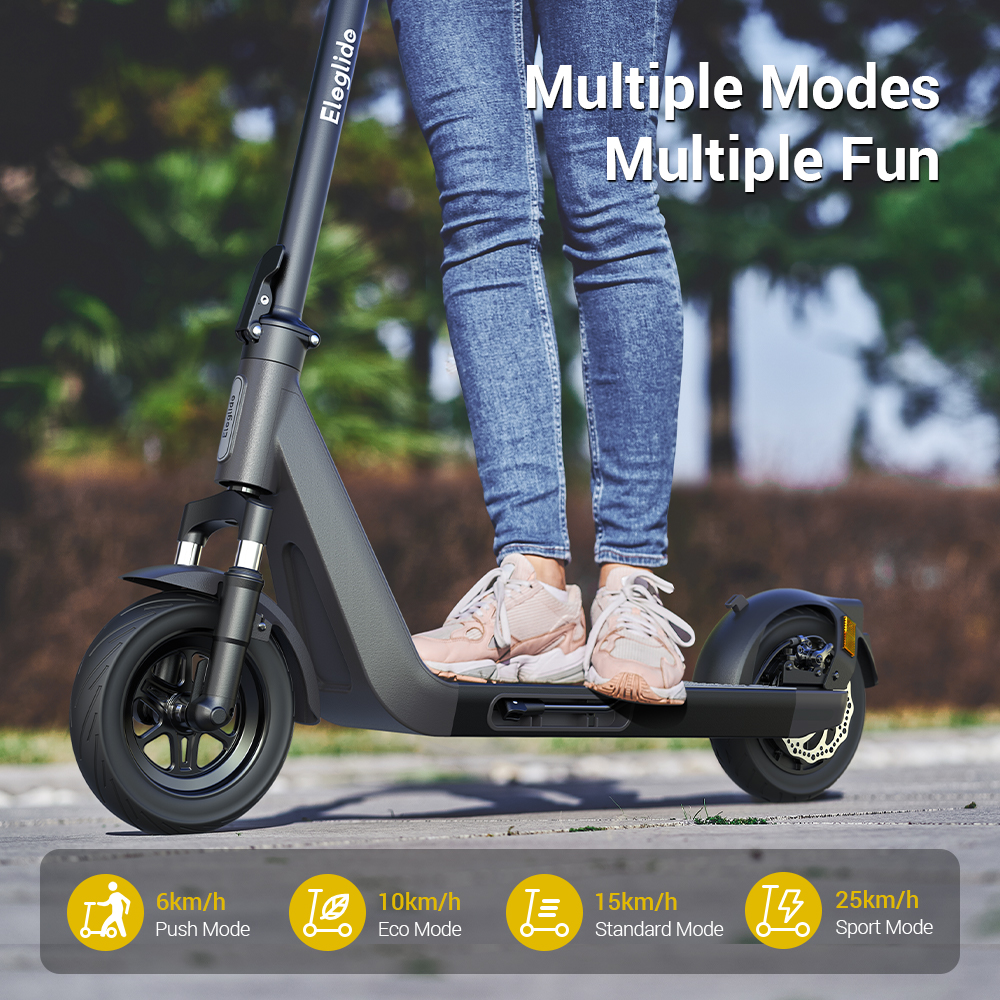 The braking is extremely critical for the safety of electric scooters. Coozy boasts a dual braking system that consists of E-ABS and a rear disc brake enabling faster and safer braking. Besides, it's designed with a front suspension for reducing the shock impact, providing you with a comfortable ride.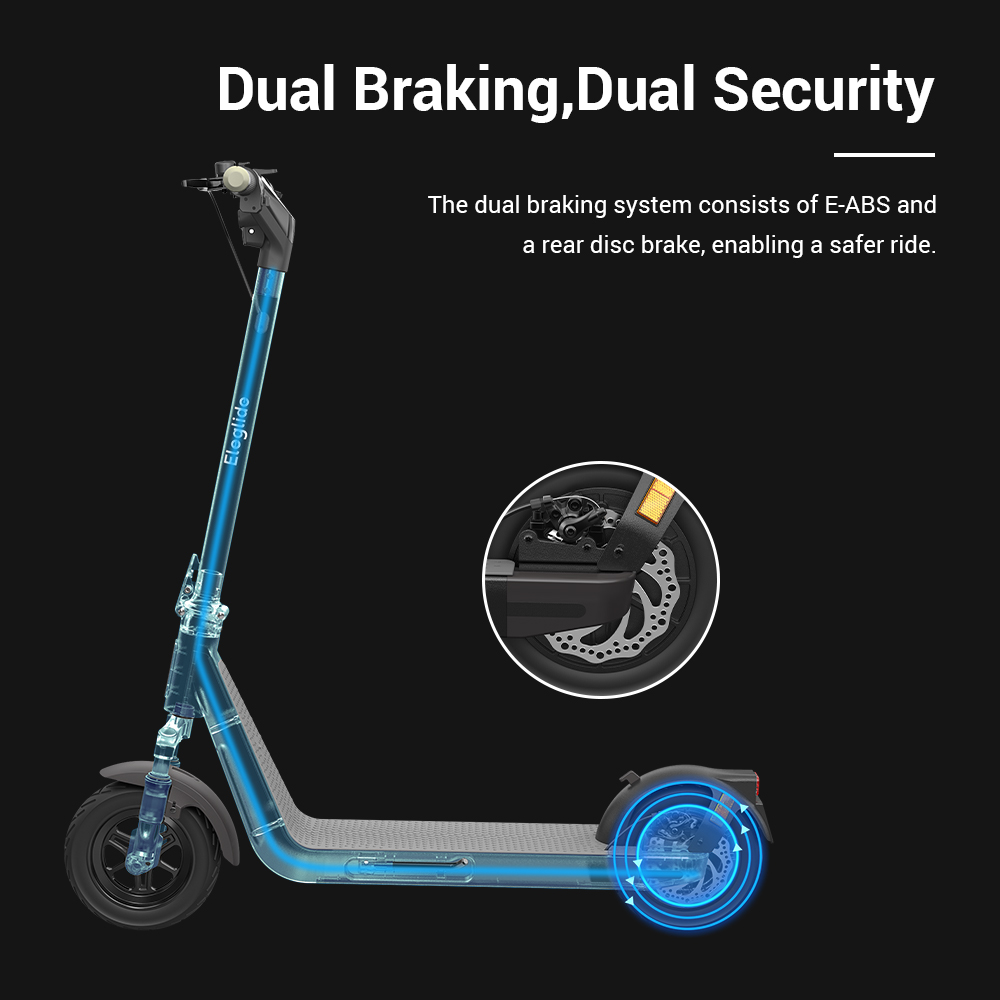 The handlebars are anti-slip to increase the sense of safety when riding. Meanwhile, the battery has multiple protections like waterproof, explosion, and fire-proof.
Excellent Performance
The rear tire is equipped with a 350W motor, while Eleglide Coozy can reach a maximum power of 540W and a maximum speed of 25km/h, enabling you to have a powerful and exciting ride. It has a 15% climbing, and you'll not feel very tired even going uphills. Equipped with a 450Wh battery pack, Eleglide Coozy offers a maximum distance of 50-55km on a full charge that is longer than a majority of commuter scooters and long enough for daily commutes and day trips. With the 8.8cm height footboard and 10 inch tires, Coozy can easily cross obstacles.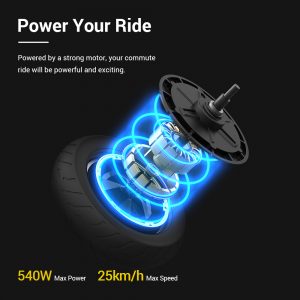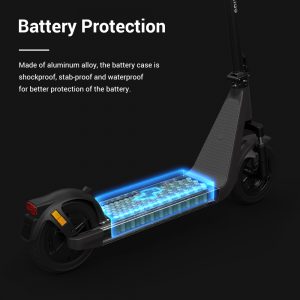 Intelligent App Control
There is an LED display in the middle, you can press the power key to turn it on and choose the speed modes. You can connect the scooter with the Green Drive App, where it will show nearly all the info you need like speed, battery, mode switch, etc. More functions can be activated like shifting speed modes, changing the speed unit, activating the cruise mode, etc. The app is compatible with iOS 12.0+ and Android 4.3+.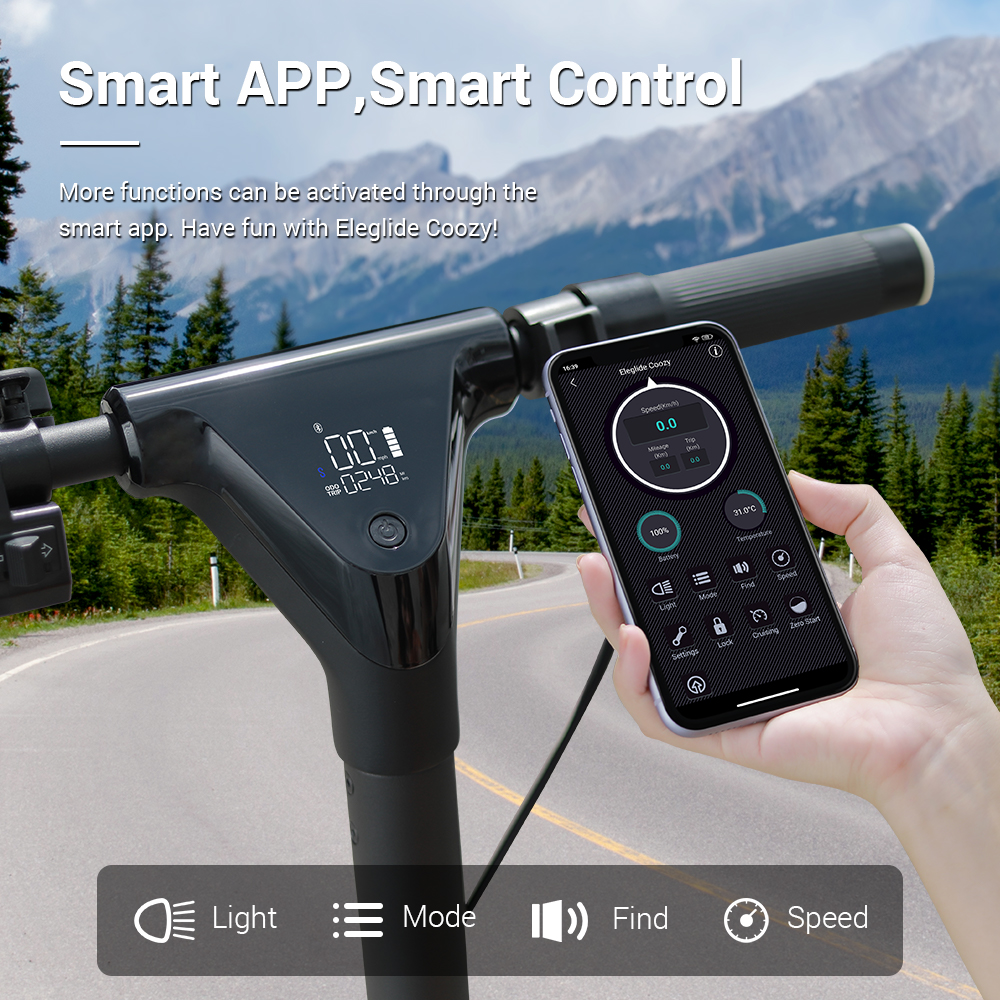 Eleglide Coozy Electric Scooter will launch on August 23rd. Eleglide Coozy, which is designed for cozy riding, but also for long distance travel.
€549.99 for Eleglide Coozy Electric Scooter with the coupon: ELECOOZY
(The coupon is valid from August 23rd, 2022 to September 5th, 2022)
https://promotion.geekbuying.com/promotion/eleglide_coozy_electric_scooter
https://www.geekbuying.com/item/Eleglide-Coozy-36V-12-5Ah-350W-55KM-Range-Electric-Scooter-510153.html