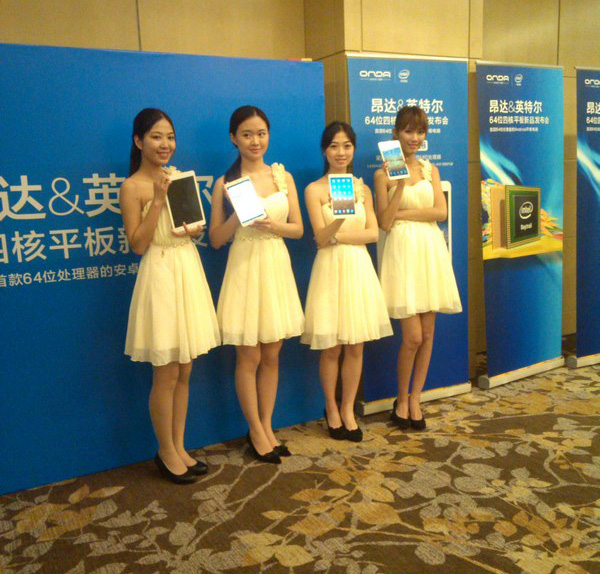 Recently, Intel announced a 64 bit Intel BayTrail quad core CPU, and Onda V975i is one such model. Onda V975i Tablet, among the first come with quad core 64 bit Intel CPU.
This is Onda's first 64 bit processor device, with Intel inside. This one is a quad core CPU and specs here include 32GB eMMC ROM and a 9.7 inch G+G 2048*1536 Retina display (the same as iPad Air). V975i is actually related to the V975M model, that shares some specs with it, obviously not the CPU. The V975i has a more narrow screen frame and lighter weight, among other differences.
Inside we find the Intel Bay Trail-T Z3735 chipset, a quad core 22 nm chip clocked at 1.33 GHz, but with Turbo function that makes it reach 1.83 GHz. The tablet also does WiDi 2.0 via Intel's Wireless display tech and it comes with Bluetooth 4.0, 2 GB of LPDDR3 RAM and 32GB eMMC ROM, with a 5 MP back camera, plus a 2 MP front shooter.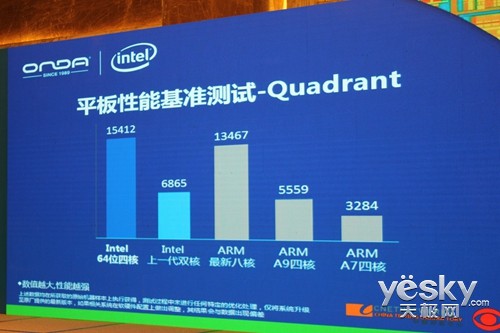 Onda has officially release their first Intel 64 bit Android tablet in the market with Onda V975i tablet. Based on the new Intel Bay Trail T-64bit platform that designed to running well on the Android OS platform and boasts a big Retina display, the V975i 9.7 inch tablet provides more than enough performance for daily multimedia and entertainment use, even for running multi thread demanding applications at the same time.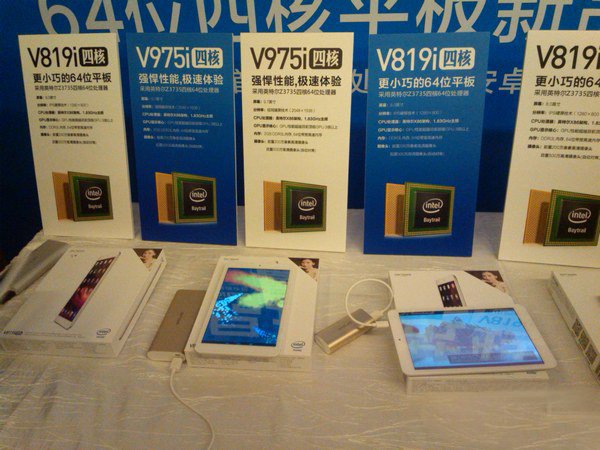 The high quality material for casing that combined with stylish "White" cover offers premium and solid appearances. The Lithium 8500 mAh battery also promises more than enough battery run time for streaming video or watch your favorite movies from Netflix. In term of size, the latest Onda Intel based tablet brings slimmer and lighter profile than the 590 gram V975M tablet with measures around at 8.3mm thick. Measures around at 242 x 179 x 8.3mm and weighing only at 550 gram, the V975i 9.7 inch Retina tablet is easy to carry around and fit perfectly in your small carry bag.
Onda's tablet will delivers fast and seamless performance for multitasking applications. There is also a Google Android 4.2 Jelly Bean as the operating system and Intel Burst Technology 2.0 that provides extra performance when you run most demanding multimedia applications and games.
Onda V975i tablet boasts a 9.7 inch Quad High Definition Capacitive touch screen display that supports DirectX 11 provides very bright, very crisp and stunning color for video, photo and Android games. The screen resolution around at 2048 x 1536 pixels, more than enough to watch your favorite video in 1080p HD formats.
As a multimedia and entertainment tablet, V975i also equipped with dual stereo speakers that delivered crisp and stunning audio experience. Other specs are micro USB 2.0 port, 3.5mm audio jack, Bluetooth and WiFi 802.11 b/g/n for wireless internet connections.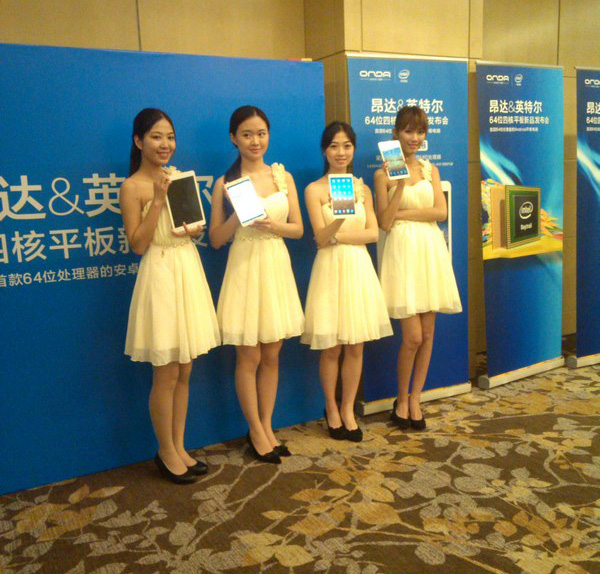 B.regards!
GeekBuying