Hi, girls! Winter is on going and Christmas is coming! In this season, all kinds of parties are waiting for us. Beside excitement, are you worried about something? How to dress? How to match all the accessories?How to select gift?
In my opinion, two powerful weapons help a lot – Watch and Jewelry.
Be an extraordinary princess, you may like this watch.
Women's PU Analog Quartz Bracelet Watch – Brown
It will grasp everyone's attention by the first sight. Elegant Crown is on the top of the dial. Exquisite numbers and pointers are so cute. A retro strap integrates the feelings of rock. You are unique and charming with the watch.
Bracelet, ring, earring, necklace, which one do you like best? I like bracelet and this one best. 18KRGP Silver Exquisite Fashion Diamond With Blue Crystal Bracelet
How to choose jewelry easily? It should anchors any style of your dresses. Concise, liberal and creative, this one seems perfect.
How do you feel now? Make up is not so difficult with right accessories. Then, I have another secret to share with you. How to show your affinity with smart ways? Give everyone in your team a Led Watch with different colors. So cool! 10 pcs Colorful Touch Screen LED Watch with Red Light Rectangle Dial and Silicon Band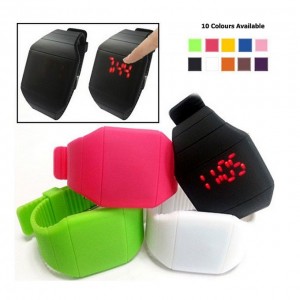 Finally, it is the most important secret. Do you want to choose a gift for your boyfriend? I have a latest and stylish ring for you.
GalaGreat GalaRing Smart Ring G1 NFC Ring for Smart Phone/Tablet with Unlock Doors, Exchange Cards Function M Siz
Ring is the best thing to show your sweet love, but a simple ring is not enough. As technology continues to progress, smart chips, smart terminals, and high-speed wireless networks popularize, smart wearable devices rapidly emerge, such as smart wristbands, smart watches and other products. Technology itself, like magic, makes ordinary things attractive. Galaring G1 is one of the novel devices which integrate technology and life.
It integrates the latest NFC technology to the high-end fashion ring G1, making it a beautiful and practical accessory. It can also transmit information between the ring and the phone via the latest NFC technology, providing personal social information storage and exchange functions. Meanwhile, it provides privacy lock software that allows the user to protect their privacy programs, privacy information and personal passwords effectively.
It looks simple but exquisite; low-key but advanced; steady but luxurious. It can highlight your boyfriend's self-personality among the crowds in the top international cities, as well as add his charm in high-class business and social activities.
The best gift for your boyfriend, isn't it?
Girls, I am very happy to share all the small secrets with you, do you like the accessories above? You can find them here and many others are waiting for you!
Black Friday – Watches and Jewelries