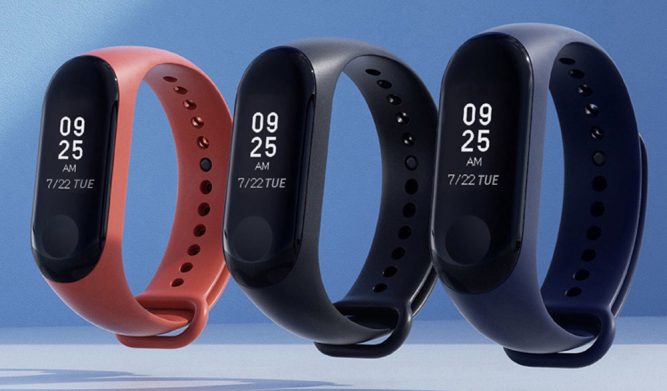 We collect some FAQs about Mi Band 3, and put here, will always update, the more you ask, the better FAQs here.
1.Q: what're the new features of mi band 3?
A: Mi Band 3 equipped with 0.78" OLED 128*80 resolution, 193 PPI pixels, 110mAh battery, 5ATM water resistant, 3 pages notification, sports detailed function, continuous heart rate monitor, steps, alarm, etc.
2.Q: Does it have swimming mode? Will the heart rate sensor work when swimming?
A: No, it does not have swimming mode or count laps function. And it cannot monitor the heart rate when swimming.
Q: Does it have NFC function?
A: No, this version does not have NFC function at present, the NFC version will be come out about in September.
4.Q: Does it have English language?
A: No, this version does not have English language, only the weather displays in English now.
5.Q: Can you read your whatsapp notifications (in English) on it?
A: Yes, it can read the app notification in English.
6.Q: How does the display brightness compare to the Mi Band 2?
A: It is brighter than mi band 2, here is the picture.Imgur
7.Q: Can I swimming with it?
A: Yes, it can. It is 5ATM water resistant, withstands pressures equivalent to a depth of 50 meters, can be worn in normal cold showers (cannot be worn in baths, saunas).
8.Q:If it has continuous heart rate monitoring, as in displaying on the band itself, not through the app?
A: It is continuous heart rate monitor, It needs to monitor the heart rate every time to press the touch button and see it through the app, and set the detection frequency 1 minute, 10 minutes, 30 minutes.
9.Q: Does it have always-on screen?
A: No, it doesn't. it has the raised wrist to wake up screen function.
10.Q: Can notifications with content be displayed from all applications we have on the phone or is there a list of allowed applications?
A: Technically, there would be no problem with displaying full notifications from any application.
11.Q: Does it have GPS function?
A: No, it doesn't.
12.Q: Is there a list of older notifications or its disappears immediately as in Mi Band 2?
A: There is a new function that is 3 pages notification display, it will show the details of message, can show 48 letters ( Up to 3 pages can be displayed).
13.Q: How long to charge the battery?
A: it needs to charge about 2 hours and a half. It can be used about 20 days. (Different usage levels consume different power)
14.Q: How does it monitor sleep?  Does it have to touch or input anything when go to sleep?
A: Mi Band 3 does not have to touch anything, it will monitor the sleep automatically, and have the sleep assistant function to improves accuracy of sleep monitor, reduces battery life.
15.Q: Will this show the pace while running or only speed?
A: Yes, it will show the pace, speed, distance, heart rate, total time while turn on the sports mode.
16.Q: Will we get alert for Heart rate going high?
A: No, it won't.
17.Q: Can this sync with Strava application?
A: No, it can't.