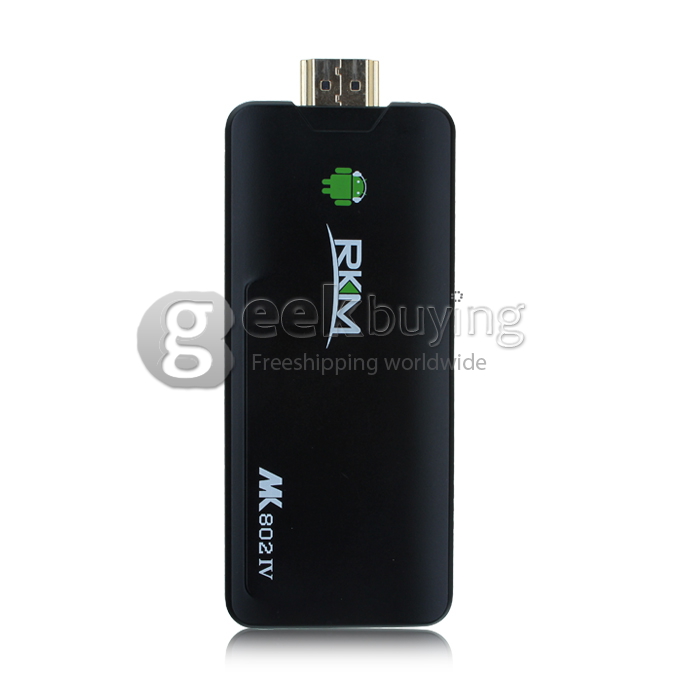 ok, guys, Again, Geekbuying get the first Rikomagic MK802IV sample, and give you guys the first review. 🙂 Hope you like it!
Rikomagic MK802IV( or called RKM MK802IV) is the newest products from Rikomagic company, as we all know, the Rikomagic is famous in their tv stick, such as the first mk802, and  then they release the mk802 ii ,mk802 iii, and the hot selling rikomagic MK802IIIS.
Today the newest MK802IV use the powerful rockchip RK3188 quad core CPU,and Mali-400 mp4 GPU. 2GB RAM and 8GB Storage, Build in WIFI/Bluetooth. Ship with Android 4.1 Jelly Bean OS now, but will upgrade to Android 4.2 soon.
Ok, let's first check the package for Rikomagic MK802IV: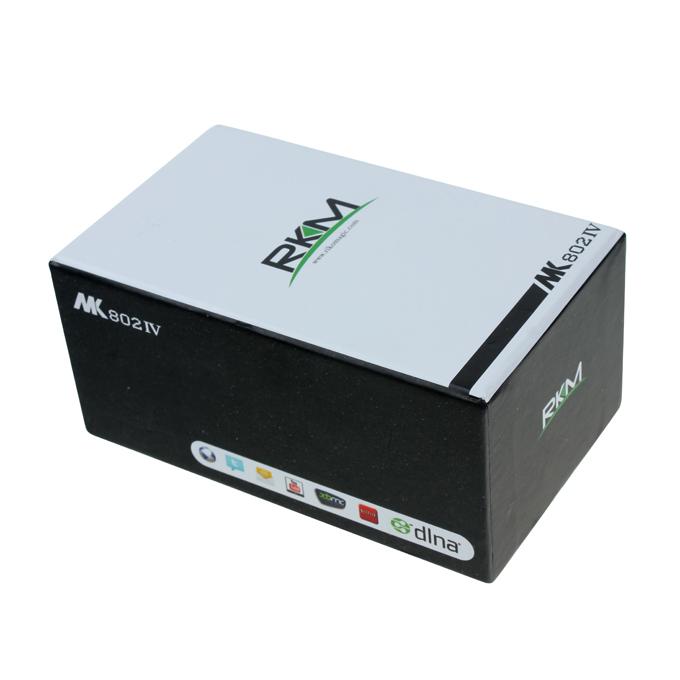 The accessories include: charger, hdmi cable, english user manual; micro usd to usb adapter;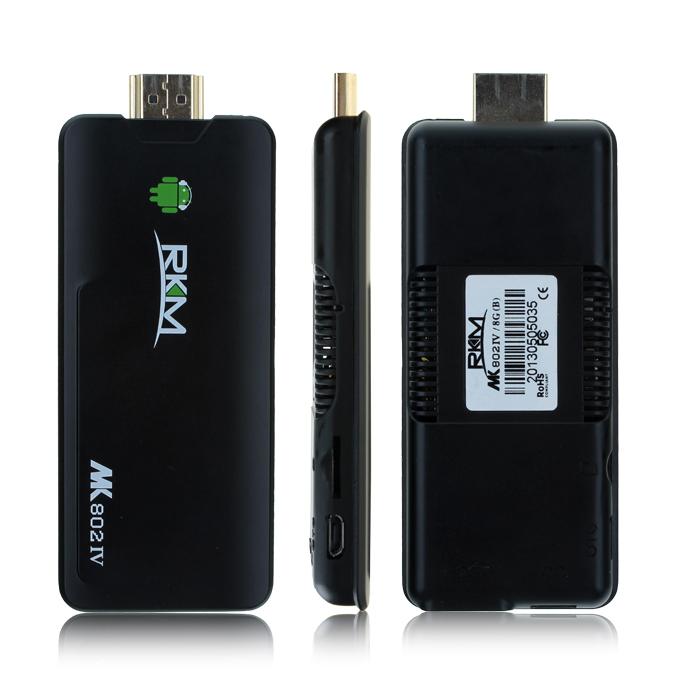 Rikomagic MK802IV comes with male HDMI port, one USB 2.0 port, two micro usb port, and one micro sd card slot. also you can find a recovery button hide in it, with this recovery button, you can flash the firmware easily; so from the appearance, we can say, there is no much change compare with the Rikomagic MK802IIIS. We take a unboxing video ,you can check here:
http://www.youtube.com/watch?v=HrCvOJXr_Lg
Now let's check the system performance:
1 Menu
Like what i said, The Rikomagic MK802IV will come with Android 4.1 Jelly Bean now, and you can see, rikomagic add the soft power off, and hide status tool bar function in this ROM, very nice.
2 WIFI/BLUETOOTH
Rikomagic MK802IV build in wifi and bluetooth, wifi model is realtek 8189, bluetooth model is rda5876a, which is the same as iMito QX1 and QC802 we have reviewed. with this wifi chipset, our max wireless speed can reach 150MBPS;
3 Ethernet
We know this Rikomagic MK802IV don't come with Ethernet port, so you have to use a USB TO Ethernet adapter to make the Ethernet working.
4 HDMI Resolution
Like other quad core tv stick, the Rikomagic MK802IV still don't come with the real 1080P output, still scale up from 720p. but a 1080P kernel or a 1080p custom rom will come in future for sure to support the real 1080p output.
5 Storage
I should give Rikomagic a big plus in this, they give 2GB Internal Storage for this mk802iv, while other mini pc just leave 1GB, that is good!
6 System setting:
7 Google Play Store is still built in,i upgrade play store to the lastest version when i do this review:
8 Droidmote :
After root the Rikomagic MK802IV, you can install the Droidmote app from play store, and enjoy the smartphone control on this device, it's really cool.
9 Benchamark:
Antutu Benchmark on Rikomagic aliexpress store is 15000+, however, when i test, the real score is aroud 14000+, I notice some customer ask in the Tronsmart MK908 or Tronsmart T428, said the antutu crash when do the benchmark, that is because the power charger, you must use the 5V/2A power charger, if lower than this, antutu will crash.
Nenamark Benchmark result:
Vellamo:
10 Netflix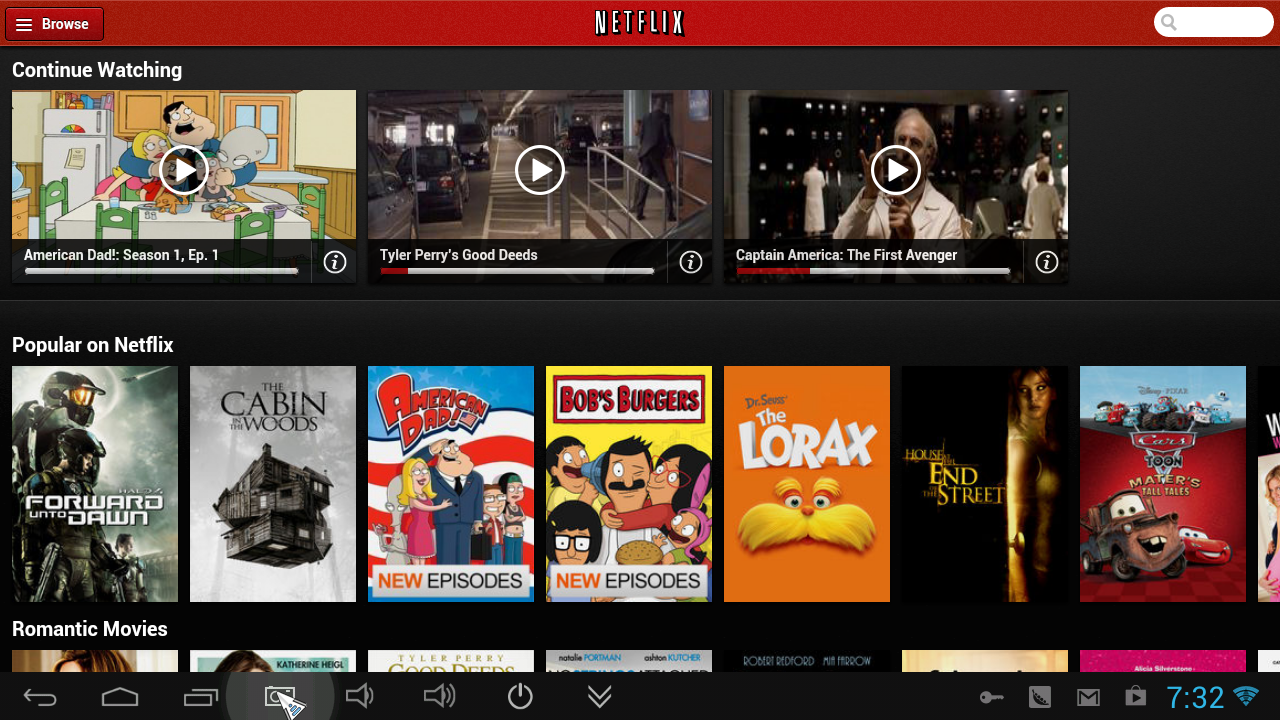 Just tried Netlifx app on MK802IV, working great ( I really spent lots of time in learning how to visit netflix in china,but i love to test this for you guys, because it is important for you!!!)
In the end, we take a video for you guys to show the perfoamance:
http://www.youtube.com/watch?v=uoe8HU08jzo